Note: Toys by Troy shut down their operation at the end of 2007. Instead of removing this write-up, I am leaving it on the web site for a couple of reasons. The steps for installing it are pretty much the same as one from another manufacturer and so you'll get an idea of what is involved if you decide to do this type of modification. If you happen to come across one on the used market, you'll have some information about it that can help you do the installation correctly.
I got home from work last night and picked up the TJ from Troy. ScottK gave me a ride over (thanks Scott!) and hauled the suspension parts back in his truck. The TJ's handling on the street is second to none, in my opinion. The steering is responsive with no dead zones. I am still adjusting the RS-9000 shocks a little since the Skyjacker coil springs are diffferent than what I was running on the old lift (rear REs and front Procomps). I will have that dialed in after a couple more jaunts around town. Anyway, here are a few pics of the steering.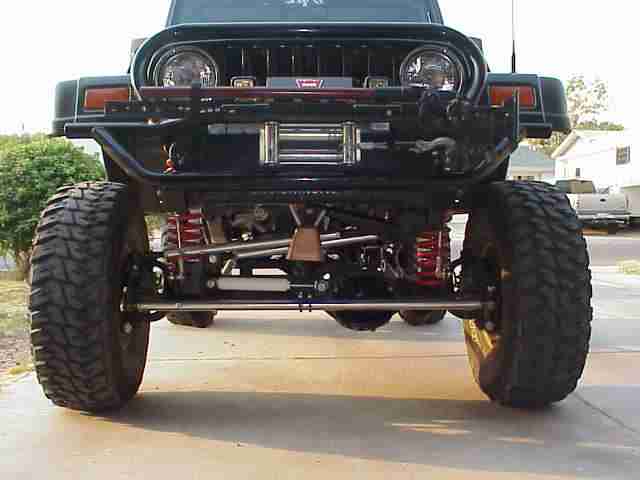 This is some pretty beefy steering components. The tie rod is 1.5″ diameter alumi-flex that uses 1 ton Chevy rod ends. The drag link and track bar are both 1.25″ diameter alumi-fiex. The tie rod is tapped for right and left hand threads, as is the drag link, for easy in-place adjustment.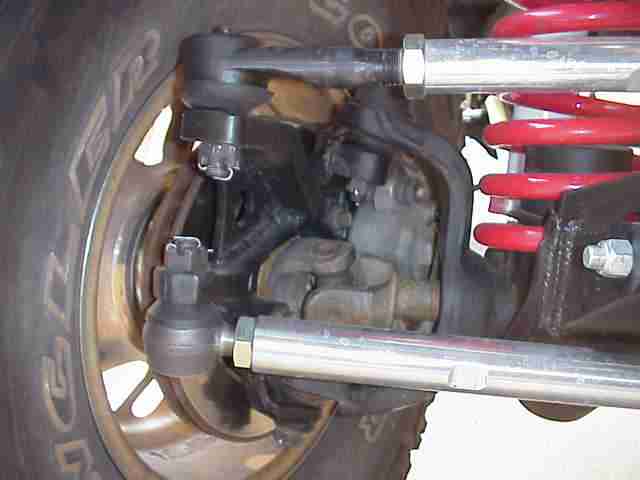 The passenger side steering knuckle is modified to provide separate mounting locations for the drag link and tie rod. The steering is now being sold as a kit. You'll pay a core charge on the steering knuckle which is later refunded when you return your stock knuckle.
OK….off topic a bit…..this past December, I had some vacation time stored up and had to use it or lose it prior to year's end. Since TBT is about 25 minutes from me, I often times stop by on my day off to see what is happening. OK….so I spent a few extra days (weeks?) there in December….but it was neat as I got some first hand experience on just what all goes into machining the alumi-flex arms and rods and then installing a complete lift and steering system. I spent the better part of day on a lathe and milling machine making some of the steering components. I had no idea just how many man hours were spent by the "other" side of the shop in making these components. A lot of steps go into each one before they are slipped into their plastic sleeves and placed on the parts shelf. Many thanks to Greg for allowing me to try my hand at some basic machining tasks.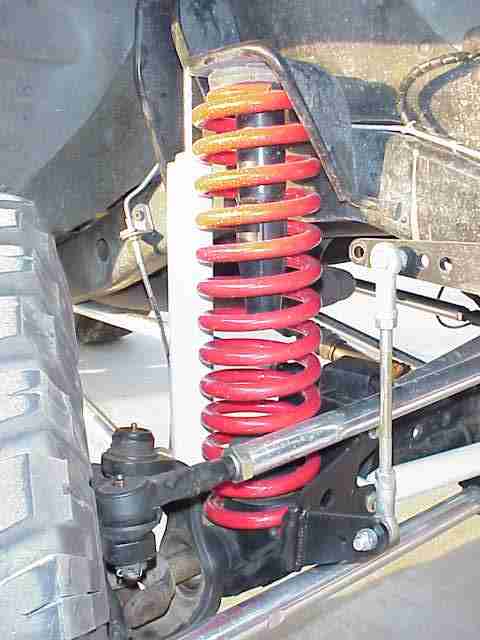 Sitting in the driveway at ride height. The original Currie links are still attached to the Antirock sway bar. They are maxed out as far as their adjustment is concerned. Those links were moved to the rear sway bar and a new pair built from locally procured heim joints and appropriately sized all-thread. Yeah, I know my new ones do not have a left and right hand threads on them, but just how many times am I going to adjust them once they are set and installed?
Here is a pretty good pic of the new bracketry that must be welded to the front axle. The front track bar mounting location is raised up to help maintain good geometry. As can be seen in the first picture on this page, the drag link and track bar are nearly parallel to each other.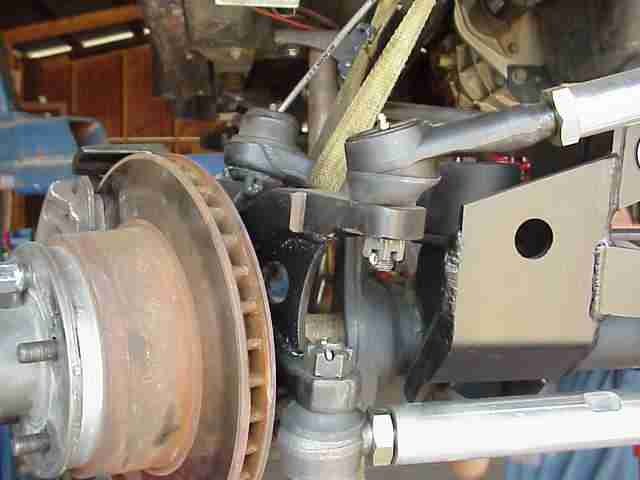 Another pic of the the passenger side knuckle and bracketry. This one was taken when the vehicle was still on the lift and the axle was hanging from ratchet straps.

More Alumi-flex Steering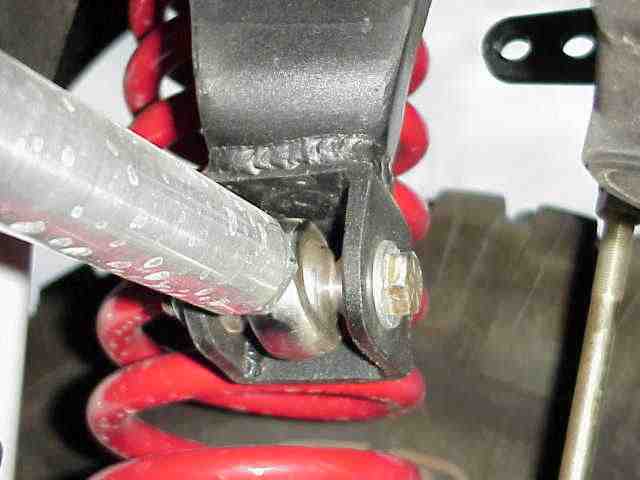 Since I had a RE adjustable track bar which required me to drill out the factory mount, Gordon improvised a bit to get the new alumi-flex track bar to hook up with my bracket. As I've discovered time and time again, there is no such thing as a bolt on kit. Because of prior mods to my rig, the TBT lift had to be "tweaked" a bit here and there to adapt to existing conditions. This make it more of a challenge to do these advanced lifts in your drive way (without the help of welders, plasma cutters, grinders, tubing benders, and all of those other pieces of equipment that a well stocked 4×4 shop has available for such projects).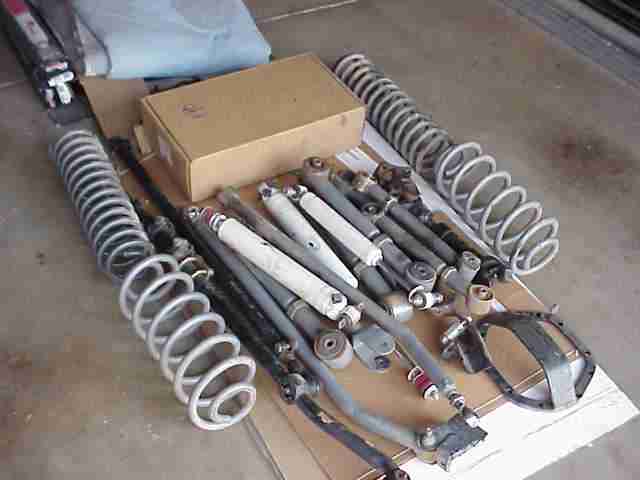 Got parts?
This was the pile of parts that were removed during the new lift and steering system install . They had a lot of good miles left. No sag in the springs, RS-9000 shocks, all adjustable control arms and track bars, D44 guard. All were sold during subsequent months to other Jeepers, both local and distant.
We'll, that is about it for now.
Good trails and TREADLightly!