The next chapter of the growing HUMMER legacy, the 2006 H3 delivers authentic HUMMER style and off-road capability in a smaller, more fuel efficient package. Just as its legendary H1 and H2 siblings did in the full-size segment, the H3 will create a new leader in off-road capability among midsize sport utilities when it arrives at dealers in spring 2005.
"H3's arrival establishes an extraordinary new presence in the previously ordinary world of midsize SUVs," said Susan Docherty, HUMMER general manager. "HUMMER has developed a passionate following because of its unmatched style and capability, and the H3 extends that appeal by making the brand accessible to a broader range of potential owners."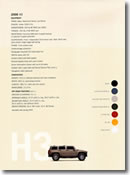 H3 packs uncompromising HUMMER style and capability into its midsize dimensions. Compared to the H2, the H3 is 16.9 inches shorter in length, 6 inches shorter in height and 6.5 inches narrower. Roughly the same length as a midsize family sedan, H3 comfortably navigates city traffic and delivers HUMMER's trademark incredible crawling and climbing capability.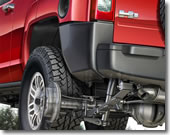 Powered by the Vortec 3500 engine with dual overhead cams and variable valve timing, the H3 features a combination of power and greatly improved fuel economy. H3 is projected to reach peak fuel economy of up to 20 miles per gallon. H3 will be the first HUMMER to offer the choice of a manual or an automatic transmission, as many off-road enthusiasts value the ultimate control of a manual.
The H3 was engineered for off-road leadership among midsize SUVs. The heart of the truck's capability is its electronically controlled four-wheel-drive system. That system is augmented with features such as a fully locking rear differential, traction control, underbody shielding and GM's StabiliTrak vehicle stability enhancement system. H3 offers two tire packages, a Goodyear 32-inch all-terrain tire and Bridgestone 33-inch, both larger than any other midsize SUV.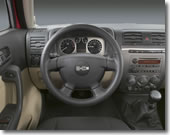 In addition to its uncompromised off-road capabilities, the H3 also provides the refinement, comfort and convenience required for enjoyable on-road driving. It offers premium options such as heated leather seats, a large electric sliding sunroof, a DVD-based navigation radio and numerous customized accessories.
The H3 represents a significant step in the HUMMER brand's rapid growth, and an important product for its new network of dealers. It joins the H1, the cornerstone HUMMER that was based on the legendary military vehicle; the H2 SUV, the more modern and civilized full-size HUMMER; and the H2 SUT launched in 2004 that features an innovative reconfigurable cargo bed.