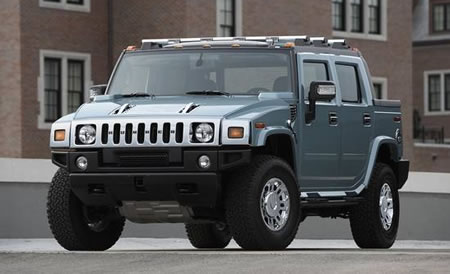 The 2007 HUMMER H2 and H2 SUT are pretty much a carry over from the previous year with the exception of a few additions. Two new colors are being added, Glacier Blue Metallic and All-terrain blue. An optional rear-vision camera system will be a welcomed upgrade for some owners who have problems seing behind them when backing up.
New For 2007 – Highlights
All-Terrain Blue – (48U)
Limited edition Glacier Blue Metallic H2
Limited edition Victory Red H2 – More Details
Optional rear-vision camera system
Chrome exterior door handles are now standard
Desert Sand exterior color has been dropped
2007 HUMMER H2 Overview
With its rugged good looks and incredible off-road capabilities, the HUMMER H2 and H2 SUT have brought a whole new level of capability and flexibility to the marketplace.
For 2007, the H2 unveils a new Glacier Blue limited edition with a rear-vision camera system. The package features body-color fender moldings and rocker moldings with an integrated assist step, and a lower-profile roof-mounted lightbar with integral lamps. Chrome hood handles, hood latches, hood louver, exterior side vents, rear D-rings and fuel filler door, and 17-inch flangeless chrome wheels complete the exterior. Inside, the limited edition has new carbon fiber appearance accents. The exterior hue is a light, silvery blue.
In addition, the Glacier Blue limited edition has a heated windshield wiper system with warm fluid on demand that removes snow, ice and debris, and a rear-seat DVD system with dual headrest-mounted viewing screens, each with individual DVD-players and wireless headphones. It debuts in late summer as a 2007 model, and will be available in the United States , Canada , Mexico and the Middle East .
Other changes for all 2007 H2 models include an optional rear-vision camera system and a new rear-seat DVD system with dual headrest-mounted viewing screens.
The rear-vision system features a 3.5-inch full-color display housed in the rearview mirror, which receives its picture from a universal rear mounted camera. When the vehicle is put into Reverse, the video display automatically deploys from the side of the mirror, providing the driver an image of the area behind the vehicle both day and night. The display is in the driver's natural line of sight, and the slide-out display won't compromise a driver's traditional field of view or create distracting glare. The screen then retracts back into the mirror when the vehicle is shifted out of Reverse.
H2 at heart, HUMMER in the soul
Every H2 starts with a fully welded ladder-type frame that features a modular, three-piece design incorporating a number of hydroformed components. The result is outstanding strength, stiffness and dimensional accuracy. Ensuring on-road ride comfort and control, as well as off-road capability, is H2's standard independent front torsion bar and five-link coil spring rear suspension. The solid rear axle ensures durable sure-footedness, particularly in tight, off-road situations. A self-leveling rear air spring suspension system is available for severe off-road and towing requirements.
The H2 and H2 SUT have short overhangs for radical approach and departure angles and exceptional ground clearance for minimal impact on trails. The 17-inch wheels, heavy-duty independent front suspension and five-link rear suspension provide superior handling, carrying and towing capability.
H2's power is derived from the standard Vortec 6.0L V-8 that generates 325 horsepower (242 kW) at 5200 rpm and 365 lb.-ft. of torque (495 Nm) at 4000 rpm. The engine is mated to a heavy-duty Hydra-Matic 4L65 four-speed rear-wheel drive electronically controlled automatic overdrive transmission. H2 also features a standard, powertrain-integrated Borg-Warner two-speed electrically controlled full-time 4WD system. It's capable of further reducing H2's gear ratios by 2.64:1 when necessary, for highly controlled obstacle climbing.
A Bosch four-channel anti-lock braking/traction control system (ABS/TCS) provides optimum control on slippery surfaces. In addition, the ABS can detect and adjust its braking capabilities to rough off-road surfaces like gravel and potholes. The TCS also includes the ability to gain traction through a single wheel, if necessary, and more wheel slip in a second traction control mode for sand and desert racing conditions.
Styling matches uncompromising off-road ability
Daring and attention-getting is how the H2's exterior design is often described. The H2 and H2 SUT are instantly recognizable as belonging to a highly exclusive brand at the top of its class in off-road performance. The look and feel conveys the sense of power, authority and complete control that buyers seek.
H2's square-shaped body and upright windshield and windows combine to create significant interior room. The vertical glass opens up a broader front and wider side view. In a nod to the functional aspect of design, exposed components, like hood lift handles, hood latches and fasteners, give H2's appearance an individually component-assembled quality. Exposed components and mechanical elements are functional and convey ruggedness.
Luxury meets ruggedness in H2's interior
H2's rugged exterior gives way to a luxurious interior. It begins with standard leather seats with eight-way power adjustment for the front seat cushions and backs. Also standard is a memory feature for the driver's seat that allows two drivers to select and set their preferred positions. The leather seats include heated seat backs and cushions with three temperature settings for the front occupants. Heated cushions serve to keep second-row occupants comfortable. For maximum flexibility, the second-row seats can be individually folded. With the SUV, a single-passenger seat is available for the third row, giving the SUV six-passenger capacity.
H2 SUT
Like its brother, the H2 SUV, the SUT carries passengers and cargo with comfort and ease. With four passengers on board, the bulkhead at the rear of the SUT's passenger compartment remains upright, still providing ample cargo-carrying capacity.
When cargo requires more space, a 4-foot by 6-foot (122-cm by 244-cm) pickup bed can be created by powering the rear window into the Midgate, then folding forward the Midgate and rear seat.
Practicality aside, there's a side to the H2 SUT that's just plain fun. At the push of a single button, the driver can lower all four side windows and the rear window. Using a separate switch, the standard sunroof can also be opened, giving SUT a truly open-air feeling.
Of course, the H2 SUT is an H2 at heart, and the H2 is every bit the truck that first captured the market's fancy in 2002. It's also a HUMMER first and foremost. That means it's capable of traveling through streams 20 inches (508 mm) deep, climbing 16-inch (406-mm) steps and rocks, paddling through deep sand and outdistancing competitors in high-speed desert runs.
Ask for directions? Never!
The beauty of a HUMMER is the ability to go pretty much anywhere. And on road it's not a problem if the driver is unsure of how to get there, thanks to the available Navigation Radio. With the push of a button, the navigation operation will instantly map routes with 2-D and 3-D full-color map views on a 5.8-inch (147-mm) display screen, making navigation on highways and streets effortless.
Also available is XM Satellite Radio (continental U.S. only), which provides more than 120 coast-to-coast, digital-quality channels of original commercial-free music and premier news, sports and talk as well as advanced traffic and weather information for select major metropolitan areas nationwide. Consumers can subscribe to the basic service for $12.99 a month. In addition, GM customers with GMAC financing can choose to include the XM subscription in their car payments.
H2 safety, comfort and convenience features include standard frontal air bags; four-way adjustable headrests, arm rests and seat-mounted lap-shoulder belts for front passengers; lap and C pillar-mounted shoulder belts for second-row outboard passengers and a seat-mounted lap-shoulder belt for the center passenger; and a seat-mounted lap-shoulder belt and adjustable headrest for the optional third-row seat.
The OnStar safety and security system is standard on every H2 and H2 SUT, and features OnStar Dual-mode (analog-digital) equipment. OnStar's digital equipment also includes enhanced hands-free voice recognition capabilities including more intuitive continuous digit dialing and improved voice recognition accuracy. OnStar is the leading provider of in-vehicle safety, security and information services in the United States and Canada . Using the GPS satellite network and wireless technology, OnStar features core safety services and OnStar Hands-Free Calling that allows drivers to make and receive voice-activated phone calls using an externally mounted antenna for greater reception. For more information about OnStar, see the OnStar Overview in the Product Information Guide Corporate Book.