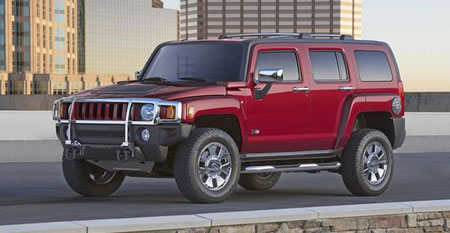 New for 2007 – Highlights
Vortec 3.7L I-5 inline five cylinder with 242 horsepower (180 kW) at 5600 rpm* and 242 lb ft. of torque (328 Nm) at 4600 rpm*
H3X model with chrome elements and two exclusive colors
StabiliTrak now standard on all H3 models, previously standard only on automatic
Chrome wheel for 33-inch tire
Midnight Blue exterior finish replaces Superior Blue, and Shadow Green exterior discontinued
Ebony/Green cloth interior is discontinued
The 2007 Hummer H3 will be a carry over from the previous year with a few changes. The changes include an engine upgrade from the 3.5L to a 3.7L Inline-5 that will deliver 242 horsepower and 242 lb.-ft. of torque at 4600 rpm. Also new for 2007 on all H3 models including the H3X is Stabilitrak which is a standard feature. A few new colors will be added to the mix along with the addition of the Hummer H3X model that will sure add some excitement to the lineup.
Colors:
37U – Imperial Blue Met (New)
??? – Midnight Blue (New)
59U – Boulder Gray
43U – Yellow
46U – Slate Blue Metallic
41U – Black
66U – Sonoma Red Metallic (H3x Only)
74U – Victory Red
50U – Birch White
85U – Desert Orange Metallic (H3x Only)
Engine:
3.7L Inline-5 – 242 horsepower, 242 lb.-ft. of torque
Pricing:
H3X – $38,065
H3 –
HUMMER H3 Press Release
The midsize H3's iconic HUMMER style and unparalleled off-road capability have earned it a prominent position in the growing HUMMER legacy, and extend the brand's passionate following by making it accessible to a broader range of owners.
For 2007, H3 receives a new engine: the Vortec 3.7L I-5 with dual overhead cams and variable valve timing. This inline five-cylinder engine offers an excellent combination of power and efficiency, delivering 242 horsepower (180 kW) at 5600 rpm* and 242 lb.-ft. of torque (328 Nm) at 4600 rpm.
And less than a year after the H3's debut, HUMMER expands the line with a new model called the H3X*, based on the H3 Street concept shown at the 2005 Specialty Equipment Market Association (SEMA) show.
The 2007 H3X injects new energy into the HUMMER lineup, appealing to buyers with an interest in a customized appearance available directly from the factory . The H3X begins with an H3 equipped with leather seats and a six-disc changer with Monsoon sound system, chrome tube steps, chrome appearance package with bright roof crossbows and chrome fuel door. The package also includes a body-color grille and unique spare tire cover, tires, wheels and center cap, and a brush guard. The interior features headrests embroidered with the H3 logo.
Consumers can further personalize their H3X with any of the H3's eight exterior colors and three leather interiors. It also is available in two exclusive colors: Sonoma Red Metallic and Desert Orange Metallic.
The H3X arrives in dealerships the third quarter of 2006, and is available in the United States and Canada
Other 2007 changes include standard StabiliTrak on the manual and automatic transmissions; a new chrome wheel for 33-inch tire; Midnight Blue exterior finish replaces Superior Blue; and the discontinuation of the Shadow Green exterior and E bony/Green cloth interior.
Unparalleled capability
The H3 packs trademark HUMMER capability into a midsize package. Compared to the H2, the H3 is 16.9 inches (429 mm) shorter in length, 6 inches (152 mm) shorter in height and 6.5 inches (165 mm) narrower. Roughly the same length as a midsize family sedan, H3 comfortably navigates city traffic and fits nicely in parking garages.
Like all HUMMERS, the H3 delivers exceptional rock crawling and climbing performance. The H3 was engineered for off-road leadership among midsize SUVs. The heart of this capability is its electronically controlled four-wheel drive system. The system features traction control, underbody shielding, an optional rear locking differential and StabiliTrak stability control. H3 offers two tire packages, a Goodyear 32-inch, all-terrain tire and Bridgestone 33-inch off-road tire, both larger than those found on any other midsize SUV. Also available is a specific off-road tire for the H3X, an 18-inch 265/65R tire.
Among its off-road credentials, the H3 can ford 16 inches (407 mm) of water at 20 mph or 24-inch (610 mm) streams at a 5-mph pace, climb 16-inch (407 mm) vertical steps and rocks, make its way through deep sand and race easily over sandy surfaces.
H3's more maneuverable size provides advantages, such as a 37-foot (11.3 m) turning circle, about the same as a typical compact car, making easy work of parking lot maneuvers and tight turns when off-roading. The 9.1-inch (231 mm) ground clearance and maximum breakover angle of 25 degrees (with 33-inch tires) both make it possible to clear large obstacles in off-road driving. Serious off-road performance is also aided by the maximum approach angle of 40 degrees and maximum departure angle of 37 degrees. These approach and departure angles permit the H3 to drive into a hole and back out again, without getting hung up in the front or rear.
The H3 also provides the refinement, comfort and convenience required for enjoyable on-road driving as well. It offers premium options such as heated leather seats, a large electric express open/close sliding sunroof, a DVD-based navigation radio and numerous customized accessories.
Iconic HUMMER design
H3's bold looks make it readily identifiable as a HUMMER. Features such as its wide track width, short overhangs and huge tires provide stability, outstanding ground clearance and quick rock-climbing capability in off-road driving.
The H3's flat, chiseled surfaces; upright windshield and windows; signature seven-slot louvered grille; round headlamps housed inside square openings; and pronounced fender flares are all pure HUMMER. Power and strength emanate from its cube-like metal billet form.
The H3's interior is inviting and modern, blending premium cues with world-class craftsmanship. Upscale touches include a perforated, leather-wrapped and stitched steering wheel and automatic transmission shift handle; bright-accented instrumentation; brushed, machine-finished trim plates; chrome door release handles; chrome bezel for the automatic transmission shifter; and a chrome H3 emblem in the center of the steering wheel.
Safety, security and OnStar
OnStar-equipped H3s will feature as an option (with the upgrade to Directions and Connections) a new service called OnStar Turn-by-Turn Navigation, the first factory-installed, fully integrated GPS navigation system from OnStar by GM. Turn-by-Turn allows consumers to talk to a live advisor, who in turn sends complete step-by-step directions to customers' vehicles through their OnStar system. These audio directions automatically play through the vehicle's stereo as needed, triggered by the OnStar system's GPS capabilities. This enables drivers to be led to their destination while keeping their hands on the wheel and eyes on the road. For more information about OnStar, see the OnStar Overview in the Product Information Guide Corporate Book.
The H3 incorporates structural enhancements and advanced safety systems to assist in crash avoidance and protection, including a reinforced passenger compartment safety cage that helps provide protection in the event of side and frontal impacts. The strong, rigid steel structure surrounds the passenger compartment, runs from the A-pillars to the roof rail, back to the D-pillars and includes the bottom rocker panels, under-floor longitudinals and frame. The all-steel body panels and exceptionally strong frame further help protect occupants in a collision. The fully welded, ladder-type frame optimizes crash performance, in addition to standing up to rigorous off-road requirements.
Additional crash protection is provided by a standard frontal dual-stage air bag system. The H3 has GM's Passenger Sensing System, which uses weight-sensing technology to turn the front passenger air bag on or off as appropriate. If the sensor system detects an unoccupied front passenger seat or the presence of a smaller occupant, the front passenger air bag is designed to automatically turn off so it would not deploy in the event of a frontal collision. Even with this system, GM strongly recommends restraining child passengers 12 and under in an appropriate child seat or, for older children, lap-and-shoulder belts in the second or third row of the vehicle.
Optional roof rail-mounted, side curtain air bags drop down to the belt line to help provide head and rollover protection for the driver and front passenger. A rollover protection sensing system also helps protect occupants against impending rollovers by triggering side curtain air bags to increase the likelihood of occupant containment in a rollover event. Seat belt pretensioners help keep occupants in the proper position, reducing their likelihood making contact with the inside of the vehicle