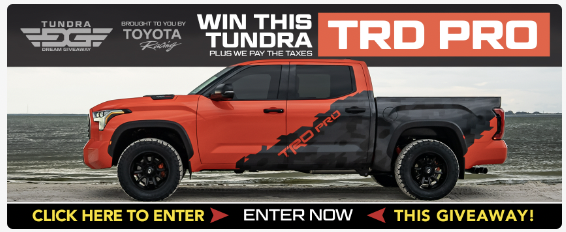 In 1979, AM General began preliminary design work on the M998 Series High Mobility Multi-Purpose Wheeled Vehicle (HMMWV, pronounced Humvee®); a 1.25-ton truck intended to replace the M151 and other light tactical vehicles. The U.S. Army awarded AM General a prototype contract in 1981 and the development and operational testing was conducted over a five-month period in 1982. In March 1983, AM General won an initial $1.2 billion contract to produce 55,000 Humvees to be delivered in five basic models and 15 different configurations over a five-year period. The Army subsequently increased their order with over 15,000 additional vehicles, raising the total contract order to 70,000 Humvees valued at $1.6 billion.
The Humvee offers exceptional speed, mobility and agility and is built upon a multi-purpose platform, which will accommodate a broad range of configurations. Humvees feature full-time four-wheel drive, independent suspension, steep approach and departure angles, 60 percent gradeability and 16 inches of ground clearance. Humvees are currently in use by the U.S. Army, Marine Corps, Air Force and Navy at locations throughout the United States and overseas.
In 1979, AM General began preliminary design work on the M998 Series High Mobility Multi-Purpose Wheeled Vehicle (HMMWV, pronounced Humvee®)
In 1983, the LTV Corporation bought AM General from American Motors Corporation and established it as a wholly owned subsidiary of the LTV Aerospace and Defense Company.
In 1984, the AM General headquarters moved from the American Motors AMTEK Building to Livonia, Michigan, and two years later to South Bend, Indiana, where the primary manufacturing operations were located.
On January 2, 1985, AM General rolled the first HMMWV (aka. HUMMER) off the assembly line of their new South Bend facility. The first HMMWV was a standard Military vehicle.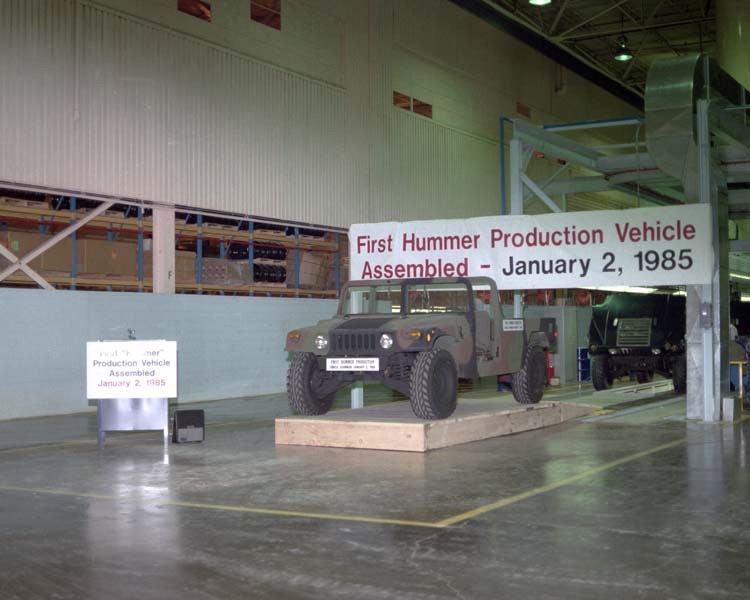 In 1989, AM General completed its remaining medium truck business and closed the Chippewa Avenue facilities in South Bend which had been acquired from Studebaker in 1964. In early 1990, the AM General headquarters relocated from Chippewa Avenue to its current offices in downtown South Bend.
In August 1989, the U.S. Army awarded AM General a new multiyear contract for continued production of more then 33,000 Humvees. First deliveries under this new contract began in January 1990. Total value of this second multiyear contract was approximately $1 billion. Options raised the number of vehicles produced to nearly 50,000.
The U.S. Army awarded AM General an additional contract in 1994.The latest U.S. Army contract, awarded in 2000, calls for the production of up to 31,474 additional Humvees through 2007. Over 175,000 vehicles have been built and delivered to the U.S. Armed Forces and more than 50 friendly overseas nations.
The workhorse Humvee was very prominent in the U.S. military action in Panama in 1989-90, and even more so in Operation Desert Storm in 1991, where some 20,000 Humvees won high praise from U.S. troops. More recently, Humvees have played important roles in Somalia, the Balkans, Afghanistan and Iraq. Wherever American soldiers go, their Humvees go with them.
In April 1992, The Renco Group, Inc. of New York City purchased AM General Corporation from LTV
In 1992, AM General began production of versions of the Humvee, called the HUMMER for civilian use. Known as "the world's most serious 4×4," the vehicle has found favor with commercial users who appreciate the value of HUMMER's long life and amazing performance, and individuals who seek the ultimate in toughness and mobility.
In 1999, AM General incorporated a wholly owned subsidiary, General Engine Products, Inc., (GEP) and constructed a new plant in Franklin, Ohio, to build 6.5-liter diesel engines. GEP supplies service engines to General Motor's Service Parts Operation (SPO), and builds engines for AM General's use, as well as for other customers.
In December 1999, AM General and General Motors Corporation finalized an agreement to jointly pursue product, marketing and distribution opportunities for HUMMER. GM acquired the exclusive ownership of the HUMMER brand name worldwide and the current HUMMER was renamed the HUMMER H1. In 2002, AM General began assembling the HUMMER H2, a new "next generation" sport utility vehicle designed by GM, at a new factory in Mishawaka. GM now has responsibility for marketing and distributing all HUMMERs.
In April 2002, AM General was converted to a limited liability company.
AM General also provides parts and training support for all its products and its Engineering and Product Development Center provides systems technical support for several military vehicle systems in addition to the Humvee.
During eight decades of growth, AM General has established a reputation as the world leader in the design, engineering and production of military and special purpose vehicles.
Humvee is a registered trademark of AM General LLC.
HUMMER, H1, and H2 are registered trademarks of General Motors Corporation.
In 2005 General Motors is rolling out the 2006 HUMMER H3 midsized SUV.
Souce: AMGeneral.com
Titlemax Resources and Reviews:
Working at Titlemax
Titlemax Reviews
HUMMER H3T Concept Truck
Design Collaberation
To complement the H3T's solid structure with a "go anywhere, do anything" aesthetic, GM and Nike designers collaborated on several key aspects of the vehicle's design.
The H3T's tires evolved from discussions between GM Design and Nike Design regarding the question of off-road performance footwear influencing off-road performance tires. The result is the innovative ACG TA tire, which addresses multiple traction environments with sand paddles, traction pads and multiple durometers of rubber defined by different-color breakouts – much like the design of Nike's ACG trail and hiking shoes. BFGoodrich partnered to engineer and build the striking, groundbreaking tires.
Nike's influence on the interior includes the use of its Sphere material on the H3T's seats. The lightweight material, used by Nike in specialized clothing, can cool or warm the body without mechanical means. It also conveys a technical aesthetic that looks perfectly at home in the H3T. The seats also are enhanced by Nike Epic backpacks, which are integrated into seat-back clamshells and released with elastic bungees.
"The Nike collaboration is unique and exciting," said Dean. "It allowed us to share ideas and thoughts, while comparing our design process with a world leader in design innovation. The experience has enhanced the whole H3T project."
HUMMER design language
The H3T's classic proportions reflect its off-road ability, but also symbolize HUMMER's expressive styling – an American design that says as much about driver freedom as HUMMER's off-road experience.
"It's a minimalist approach that conveys purpose," said Dean. "The H3T represents the continual approach to HUMMER's overall design theme – simple in appearance yet strong to the touch. From parts like the door handles to the dashboard details, the H3T looks and feels as if it's been milled from a solid billet of steel or aluminum."
That purposeful appearance is delineated from the HUMMER H1's military roots.
"We evolved the HUMMER design language with the H2," said Dean. "But we're continuing that vision and progressing the brand."
The H3T's purposefully premium interior environment includes a rugged shifter handle that folds completely forward and military-inspired toggle switches for various controls. An altimeter, compass and inclinometer also are mounted on the dashboard.
The technical leather and Nike-designed Sphere seat fabric continue to support the athletic, performance theme of the H3T, as do the chamois, petrol and paprika orange interior colors.
"It's not necessarily a luxury environment in the classic sense – it's a new type of luxury," said Dave Lyon, interior design director for body-on-frame vehicles. "The expression of quality through the use of specific materials conveys a premium look without the use of traditional luxury appointments like wood or leather."
The same goes for the H3T's exterior, which features high-tech, yet durable, LED headlamps and taillamps, an integrated winch and tow hooks, as well as front and rear skid plates that are stamped out of aluminum and joined with side "rock sliders." There also are control arm and rear axle skid plates, along with a carbon fiber skid plate/belly pan, which protects the vehicle when off the road and aids aerodynamic efficiency on the highway.
A brush guard is integrated with the front skid plate and the taillamps have integrated lens protectors. Driving/marker lamps are built into the side-view mirrors.
The exterior colors, Petrol Blue Metallic and Satin Titanium Alloy, fuel the H3T's theme of a rugged vehicle with serious attitude. The forward-opening hood is aided by trigger-operated latches, which integrate into the trademark HUMMER hood louvers. An exposed radiator is another classic HUMMER styling cue and a camera mounted on the hood can be used to record off-road excursions in DVD format.
At the rear, the tailgate features exposed hinges (with integrated gas struts) and cantilevers to provide an unbroken load platform for the bed. The bed is more than 4 feet wide and has very small fender intrusions.
"The H3T supposes a new realm of rugged, yet premium choices for drivers who find larger vehicles don't fit their needs," said Lyon. "With the H3T, a whole new group of driving enthusiasts benefits from the relevance of HUMMER's unflappable capability. There simply is nothing like it in the midsize truck market."
HUMMER H3T Concept Truck
PowerTrain
The H3T is built on a modified GM midsize truck platform, including the coil-over front and rear suspensions. Fox remote-reservoir shocks are used for the ultimate in off-road dampening. An automatic transfer case locks the vehicle into four-wheel drive when needed.
The locking front and rear axles on the H3T are borrowed from full-size GM trucks. Braking is accomplished with four-wheel discs from Alcon. The 15-inch-diameter rotors are clamped down upon with Baer six-piston calipers in the front and four-piston calipers in the rear. Nineteen-inch wheels are mounted at all corners.
A 350-horsepower, turbocharged version of GM's new Vortec 3500 inline five-cylinder engine powers the H3T, and it's backed by the heavy-duty Hydra-Matic 4L65-E electronically controlled four-speed transmission. The turbocharged five-cylinder produces more power than most six-cylinder engines, but is more compact. The engine also makes 350 lb.-ft. of torque, which helps the H3T tackle steep terrain with ease.
Fuel-saving variable valve timing technology, which is available on some of GM's four-, five- and six-cylinder engines, boosts the five-cylinder's efficiency by varying valve timing, lift and duration. It also improves emissions and overall performance.
Although currently a concept vehicle, the H3T was built with production-type components, including chassis and suspension components that were leveraged from existing GM truck architectures.
"Everything about the H3T says HUMMER," said Dean. "The package may be a little smaller, but the personality, functionality and, most importantly, the off-road superiority is all there."
HUMMER H3T Concept Truck
Specifications
General

Body/chassis structure:

body on frame; steel body panels

Suspension

Front:

torsion bar with SLA

Rear:

5-link with coil over shocks/springs

Wheels:

19″ x 8.5″

Tires:

285/65R19

Tire brand:

Nike-inspired BFGoodrich

Brakes:

disc with 15″-diameter rotors, 6-piston calipers

Dimensions

Height (in / mm):

70.6 / 1795

Length (in / mm):

174.9 / 4443

Width (in / mm):

74.5 / 1893

Wheelbase (in / mm):

118.6 / 3012

Track (in / mm):

Front:

65 / 1650

RearP

65.5 / 1664

Weight (lb / kg):

4650 / 2109

Bed storage (cu ft / L):

40 / 1133

Bed dimensions:

5 ft wide x 5 ft long x 1.6 ft deep(1.5 m wide x 1.5 m long x 0.5 m deep)

Powertrain

Engine:

3.5L turbocharged Vortec I-5

Technologies:

variable valve timing, variable intake manifold, 2-step variable valve actuation

Turbo intercooler type:

air-to-water

Displacement (cu in / cc):

211 / 3460

Horsepower (hp / kw @ rpm):

350 /260 @ 6000

Torque (lb-ft / Nm @ rpm):

350 / 474 @ 3600

Transmission:

Hydra-Matic 4L65-E 4-speed auto with AWD
Exterior:
Two-door unit body pickup truck (single-piece body and box)

Bed has two side access doors with fold-down tool box/step below door

Large, fabric, power-operated sunroof

Aluminum rocker covers/rock slider skid plates

Aluminum "Exoskeleton" structure (windshield surround, door opening)

Aluminum roof trim around sunroof with integrated LED marker lamps

Aluminum grille and brush guard (milled billet)

Hood-mounted air box on driver side and passenger side

LED marker and taillamps
Interior:
Seating for two

Nike-inspired materials throughout

Nike backpacks integrated to seatbacks

Cast rubber floor

Portable MP3 player/radio with docking station

Portable GPS/navigation system with docking station

Hood-mounted video camera (records events and displays in center console)

Analog/LCD combination gauge cluster (LCD portion is a vehicle inclinometer)

Fold-flat passenger seat