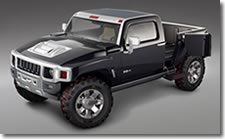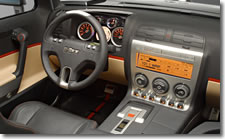 H3T Concept HUMMER Truck
No matter the size or configuration, a vehicle adorned with the HUMMER name must deliver the best-in-class capabilities that have made the brand the standard against which other off-road vehicles are measured. That's certainly the case with the dynamic H3T, a midsize truck that infuses all of HUMMER's military-derived DNA into an efficient, refined package and carves a new niche in the midsize truck market. HUMMER introduced the ruggedly refined H3T concept vehicle at the 2004 Greater Los Angeles Auto Show, providing a glimpse at a growing family of expressive, versatile vehicles.
"The H3T concept expresses a vision of the potential of future HUMMER vehicles, targeted at enthusiasts who desire the HUMMER image and capability, but in a smaller, non-SUV configuration," said Clay Dean, design director for small trucks and HUMMER. "It also provides a visual clue to the evolution of HUMMER's design."
Innovative features abound in the H3T: The pickup box incorporates side-access doors, along with drop-down assist steps that also double as weather-tight storage compartments. The H3T's unique tailgate forms an unbroken load surface when down, contributing to the H3T's versatility.
There's also a large, power-operated folding canvas sunroof and drop-down rear window that combine to offer an open-air driving experience. There wouldn't be a HUMMER badge on the H3T if it didn't have the capability to dive into twisty terrain that would leave lesser 4x4s spinning their wheels. Its wheels-at-the-corners stance, along with 34-inch-tall tires and 11.5 inches of ground clearance, gives the H3T a 51-degree approach angle and a 50-degree departure angle – critical measures on HUMMER's internal "off-road performance metric" of capabilities.
And while the H3T delivers on the promise of its familial looks, it does so with a youthful, masculine flair. "Regardless if you're a man or woman, it brings out a rebellious side to you that harks back to younger days," said Dean. "It's an irreverent vehicle – a bad boy in a black tie."
Riding on a 118.6-inch wheelbase and measuring 74.5 inches wide, the H3T embodies the classic HUMMER proportions – wide stance, low roofline, and wheels at the corners – that have made the H1 and H2 instantly recognizable around the world. And like the H1 truck, the H3T incorporates the cab and bed in a single structure for enhanced strength and an integrated appearance.
"This is a different size vehicle, but it's a HUMMER throughout," said Dean. "The cab configuration is personal and the smaller size makes the H3T more manageable and less intimidating to some drivers than larger vehicles. The smaller size also gives the H3T a more sporting and dynamic driving sensation."
H2H – Hydrogen Powered HUMMER

Design:
HUMMER is like nothing else, and the H2H carries that tradition forward. Not only does the H2H carry HUMMER's iconic design, it creates a bold and striking visual statement on the future of hydrogen.
HUMMER designers took the opportunity to make the H2H a unique expression of HUMMER's trademark appearance. The H2H is based on an H2 SUT (Sport Utility Truck) body, with several enhancements. The SUT rear cargo bed is covered by a special composite tonneau, giving the truck a "slant back" appearance. The slant back shape is a new interpretation of a body style created for the military HUMVEE, the precursor and inspiration for HUMMER itself.
The H2H is immediately recognized by its Laser Blue exterior paint, a rich, deep color never before used on a HUMMER. A special graphic on each side of the body announces the truck's hydrogen fuel application, along with HUMMER's support for California's Hydrogen Highway Network initiative. A special integrated roof rack and light bar sits atop the truck, with a unique chrome grille guard on the front.
On the inside, designers again took the opportunity to integrate some one-of-a-kind touches. These additions not only make the H2H more distinctive, they are also styling experiments allowing designers to test ideas that may influence future vehicles. These include special water-resistant seats made of a prototype nylon-based material. Rather than splattering and soaking, spilled water hits this material and immediately gathers into droplets perched on the surface of the seat that can be easily brushed aside.
H2H is equipped with a rear entertainment system, featuring DVD players with screens mounted into the headrests. The headliner of the H2H is made of Ultra-Suede, a material that is especially soft, luxurious and durable. The instrument panel features a carbon fiber-patterned appliqué evoking the material used for the H2H's fuel tanks.
H2H – Hydrogen Powered HUMMER
Technology:
Many worthy experiments regarding hydrogen fuel are being conducted on smaller, less expressive and less rugged vehicles. The H2H is a rare opportunity to apply this concept to one of the world's most rugged and distinctive vehicles – a HUMMER H2.
The H2H features the same Vortec 6000 (6.0-liter V-8) engine utilized in all HUMMER H2s on the road today. This experimental vehicle achieves much of the same on-road driving characteristics and comfort of the H2, a major accomplishment for such an advanced technological effort.
The dynamics of fuel delivery to an internal combustion engine are much different for gaseous hydrogen fuel, compared to gasoline, due to the different combustion dynamics of these fuels. Specially designed fuel injectors deliver hydrogen to the engine more conservatively than in a gasoline fuel system, thus reducing engine power. The H2H adds a supercharger mounted onto the Vortec 6000 to help the engine reclaim some of that deficit, reaching a peak of approximately 180 horsepower (134 kw).
The truck's powertrain, fueling and electrical systems have all been extensively reconfigured to operate with a dedicated 350-bar compressed hydrogen fuel system. This includes three on-board carbon fiber fuel tanks. Two tanks are mounted underbody in the approximate location of a traditional gasoline fuel tank. The third is mounted in the H2 SUT's rear cargo bed. The three tanks combine to create 5.5 kg (12 pounds) of total hydrogen storage.
The H2H's hydrogen fuel system including fuel injection, electronic controls, ultra-light composite hydrogen storage, complete with integral pressure regulation and safety systems, was developed in collaboration with Quantum Technologies (NASDAQ: QTWW), a California-based leader in packaged fuel systems for hydrogen and one of GM's fuel cell technology alliance partners. In 2002, GM acquired a substantial minority ownership position in Quantum to collaborate on improving the range of GM's fuel cell vehicles through the development of hydrogen storage, hydrogen handling and electronic control technologies for fuel cell applications.
The hydrogen refueling interface for the H2H follows the prototype design set forth in California. It consists of two connectors (one in the traditional fuel-fill location, the other on the rear bumper) that enable the fastest fuel fill currently available in California's growing hydrogen infrastructure. In its early testing and development, it is estimated that the H2H can travel roughly 60 miles (97 km) between fill-ups.
GM's foremost powertrain and vehicle development engineers in the U.S., Canada and Germany collaborated to create the H2H's hydrogen fuel system. The electronics and safety systems of the H2H are state-of-the art for a hydrogen-powered vehicle. In fact, the H2H's safety system is modeled after that used on GM's Hydrogen3 minivan, GM's record-setting hydrogen fuel cell vehicle.
GM is moving very fast on reducing the cost of fuel cell stacks and proving technology and commercial viability of fuel cell technology, and is committed to perfecting fuel cells because they are more efficient and cleaner than internal combustion engines. Therefore, there are no plans at GM to produce the H2H or pursue hydrogen internal combustion engine technology long term.
H2H – Hydrogen Powered HUMMER

HUMMER Vision:
GM is moving very fast on reducing the cost of fuel cell stacks and proving the technology and commercial viability of fuel cell technology. GM is committed to perfecting fuel cells because they are more efficient and cleaner than internal combustion engines.
"As part of our 'march toward zero' with fuel cell vehicles, we need to learn many things about the handling and storage of hydrogen and its use as a motor vehicle fuel," said Lowery. "We believe the H2H will improve our understanding of using hydrogen as a motor vehicle fuel and of creating a viable hydrogen-refueling infrastructure."
In addition to its experimental use, HUMMER will use the H2H to bring attention to the promise of hydrogen, especially the public and private partnerships required to create a hydrogen economy. For example, H2H will be used to help illustrate important milestones in the development of California's Hydrogen Highway Network, an initiative that combines the efforts of industry and government to develop that state's infrastructure, research and economic development efforts.
The H2H was created by a team of GM engineers from the U.S., Canada and Germany, in collaboration with Quantum Technologies (NASDAQ: QTWW), a California-based leader in packaged fuel systems for hydrogen and one of GM's fuel cell technology alliance partners.
HUMMER's bold experiment
The H2H also makes a bold statement for HUMMER.
"The H2H is a bold experiment showcasing HUMMER's support for long-term solutions to energy and environmental challenges," said Susan Docherty, HUMMER general manager. "It is something we can do right now to help support GM's long-stated goals of pursuing commercially viable fuel cell technologies."
Along those lines, HUMMER fuel economy will improve in 2005. The midsize H3 debuts in the spring as an authentic HUMMER in a smaller and more fuel-efficient package. Also in 2005, the original HUMMER, the H1, will see a fuel economy increase of up to 15 percent with the introduction of the H1 Alpha model equipped with the Duramax diesel engine.