Over the years, Chrysler has produced no shortage of memorable powerplants, many of which proved more than capable of standing the test of time while also producing no shortage of power. This has served as a point of praise for the legendary automaker, which has overcome its share of struggles throughout the decades (none of which centered around a lack of performance acuity).
One of the most noteworthy (yet often overlooked) Chrysler-derived powerplants is the 4.7L PowerTech V8. This potent performer served as the motivating force behind numerous Jeep models, as well as a host of Dodge trucks and SUVs during its tenure.
By nearly all accounts, the PowerTech V8 was the right engine for the generation in which it was produced. Here's why it's still fondly recalled by many motorists today.
4.7L PowerTech V8 History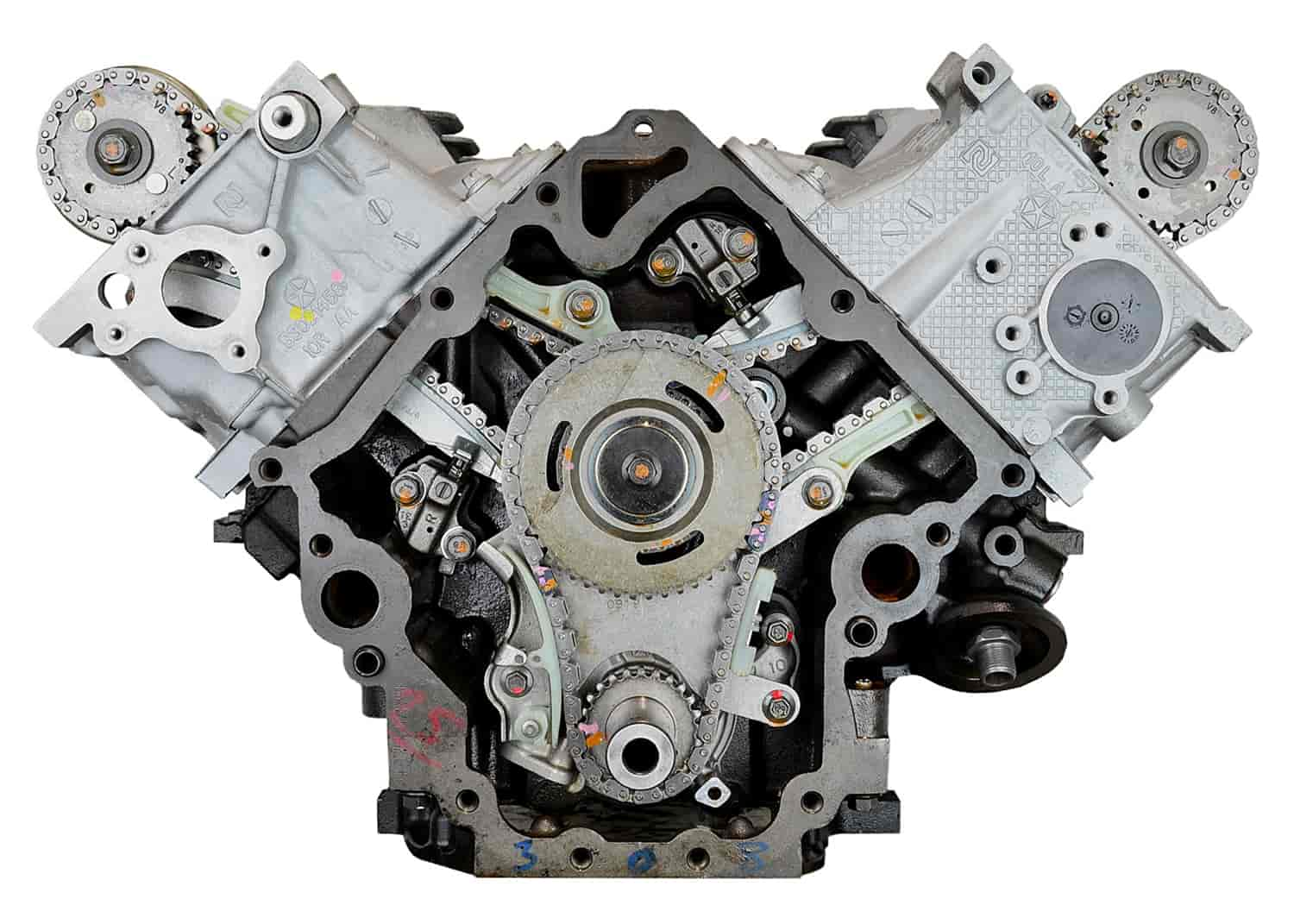 As the turn of the new millennium rapidly approached, those at the helm of Chrysler dove headlong into the idea of replacing the company's aging 4.0L I6. The 4.0L inline six-cylinder had served as the mid-range powerplant of choice for the majority of Jeep models—for more than a decade.
Though still popular with consumers, the 4.0L inline-six was often seen as archaic by the standards of the day, being incompatible with a number of technical industry advancements. As such, the end of an era was ushered in, with the inline-six ultimately being slated for retirement.
The inline-six's replacement came in the form of a modernized 4.7L V8, which carried the "PowerTech" designation. This powerplant was the first in a series of engines to feature the PowerTech name, each of which would find its way into the engine bay of various Chrysler vehicles.
The 4.7L PowerTech V8 itself would serve as the motivating force behind a number of Chrysler creations and experience a significant production life, spanning nearly 1 ½ decades from debut to retirement. During this time, the PowerTech V8 would undergo several key revisions.
4.7L PowerTech V8 Specs & Configurations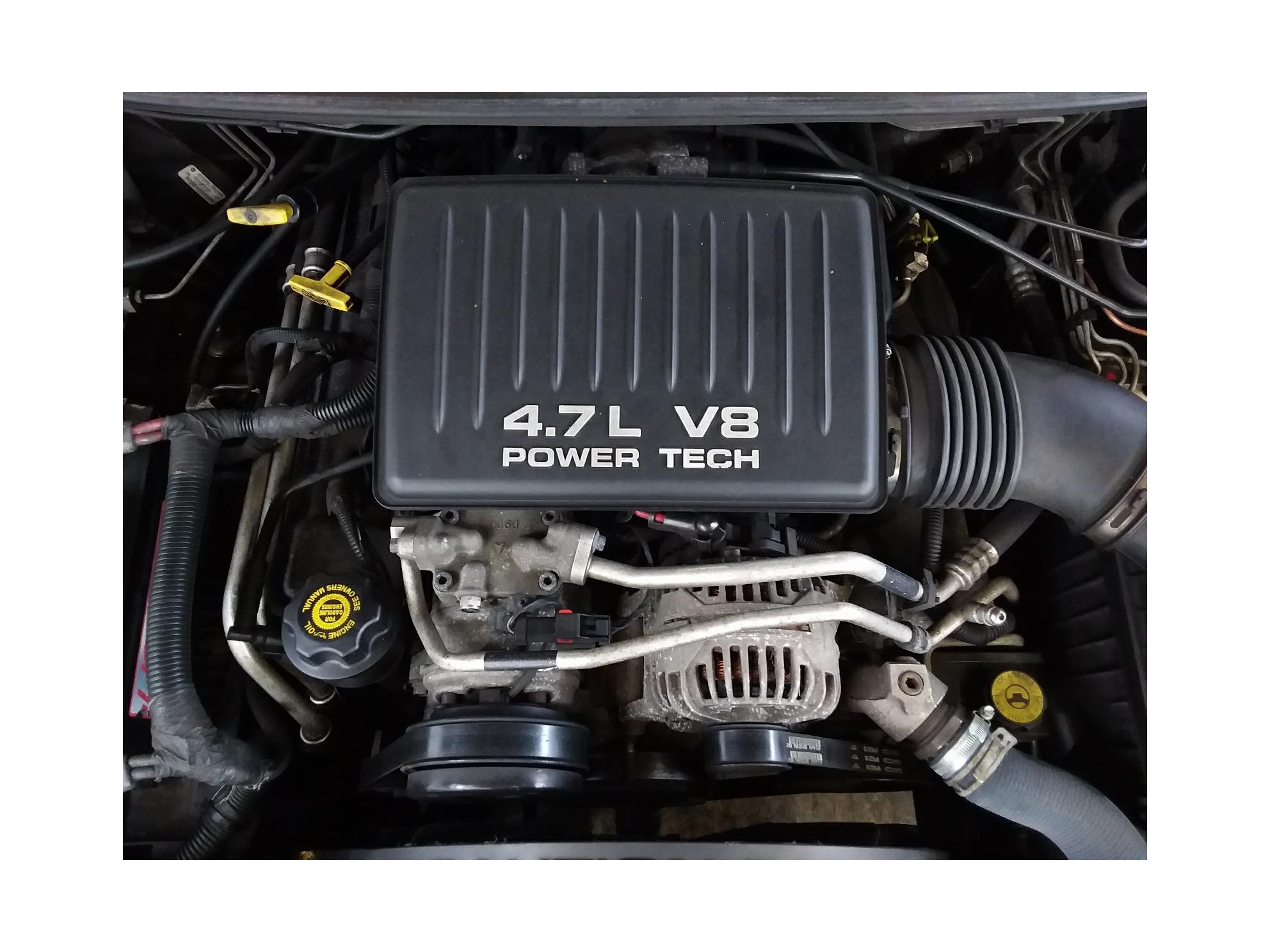 The 4.7L PowerTech V8 featured a cast-iron engine-block complete with a 9.09" deck height, and it bore spacing measurements of 4.09". Within this engine-block resided a nodular cast-iron crankshaft, anchored in place via a single graphite-iron bedplate (as opposed to individual dedicated main bearing caps).
Attached to the 4.7L PowerTech V8's crankshaft was a set of powder-forged metal fracture-split connecting rods, which measured 6.12" in length. These connecting rods were fitted with ultra-durable cast aluminum pistons featuring moly-coated skirts for reduced surface friction.
Atop the PowerTech's engine block sat a pair of cast aluminum alloy cylinder heads fitted with 1 intake valve (1.89") and 1 exhaust valve (1.46") per cylinder. The PowerTech V8's camshaft was hollow by design, and featured valve lift measurements of .443" (intake) and .429" (exhaust). The camshaft's duration values measured 244-degrees (intake) and 254-degrees (exhaust).
The 4.7L PowerTech V8 featured sequential multi-port fuel injection, wherein each injector is affixed directly to the head's intake port. Additionally, spark was contributed via a standard coil-on-plug ignition system. A polymer intake manifold was fed air by an electronic 2.56" throttle body.
In 2008, the 4.7L PowerTech V8 underwent significant revision, which included the addition of new cylinder heads tapped for the fitment of two spark plugs per cylinder. The engine's camshaft, pistons, and connecting rods were also revised. In turn, these changes yielded an increase in compression, now measuring 9.8:1.
4.7L PowerTech V8 Specs Index
Horsepower: 235 hp @ 4,800 rpm
Torque: 295 lb.-ft @ 3,200 rpm
Compression Ratio: 9.8:1
Displacement: 287CI (4.7L)
Cylinder Bore: 3.41" (86.5 mm)
Stroke: 3.66" (93.00 mm)
4.7L PowerTech V8 Additional Uses
Aside from its use in the Jeep Grand Cherokee and Jeep Commander, the 4.7L PowerTech V8 was also offered in conjunction with a number of additional vehicles. This, of course, most notably included the Dodge Ram 1500, which was offered with the PowerTech V8 for a number of years. Other vehicles to feature this engine included the Dodge Dakota, Dodge Durango, Chrysler Aspen, and Mitsubishi Raider.
Forward Progress
Just as the 4.0L inline-six outlived its useful existence, so did the 4.7L PowerTech V8, which was officially retired from production in 2013. Nonetheless, the PowerTech V8 carved out a legacy all its own during its 15-year long tenure. All told, it would be impossible to calculate the number of total miles traveled by Chrysler products powered by this engine, though the final count, undoubtedly, would be quite staggering.