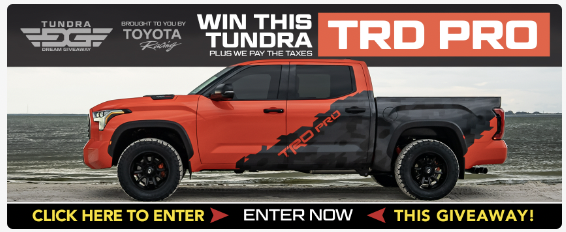 A couple of weeks ago, I attended a 4×4 run in Payson, Arizona. After the run, Troy and I drove back into town to get ready for the trip home. I had to air up my 35″ MT/Rs and he needed to get his TJ on the trailer and strapped down for travel.
While I was uncoiling my air hose, Troy asked if I wanted to try a new compressor he had borrowed from a friend for this trip. If it did the job, he intended to stock them for sale in the front office area. I was the guinea pig to see how the little shiny compressor did on my 4 tires. To be honest, I didn't expect very much. I had seen too many little 12V compressors with little battery cables on them and none impressed me. Most (all?) were slower than my QuickAir 2 compressor and that unit was what I considered the absolute minimum for 35″ tires.
So…..I agreed to give this little compressor a try to see how it stacked up. Boy, was I taken by surprise! This little compressor was quite the work horse and amazingly quiet too. I didn't take any time measurements while filling the tires but I can say that it cranked out the air faster than I expected. I packed it back up into its little carry case and returned it to Troy with a smile. It was a keeper, in my opinion, and worth some more testing.
Troy returned the compressor to his friend and so I didn't get a chance to try it again until today. Troy had attended the Parker Desert Splash 4×4 run in Parker, Arizona this past weekend and had picked one of these compressors up for the trip. When I stopped by the shop to wrench a bit on my TJ, he asked if I wanted to check out the compressor again and provide a better run down of what it was capable of doing. I jumped at the chance as I wanted to get a product review up on the site so folks could get some real world information on this unit.
So with all of that as an introduction as to how this all came to be….here is the product review on the Viair 440P portable air compressor.
This 440P compressor is one of many offerings from VIAIR. Viair lists a number of compressors, accessories, fittings, tanks, etc. at their web site. As I write this, the 440P doesn't show in their product lineup but I was able to Google to a page on their site with the 440P specs.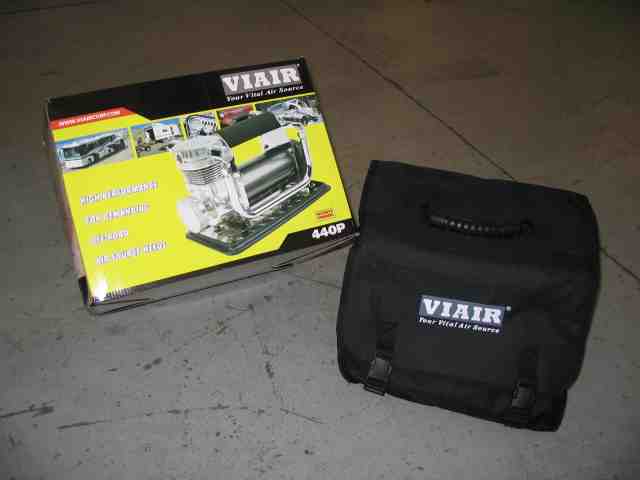 The compressor with accessories is packed in a nylon (I believe) carry case. Take a few minutes and read all of the information on the packing box. You'll find out lots about what your new compressor can do and you may even be able to skip the owners manual.
Unzipping the bag reveals some styrofoam packing and various pieces and parts all packed in little bags. The air hose is stored in an attached pouch.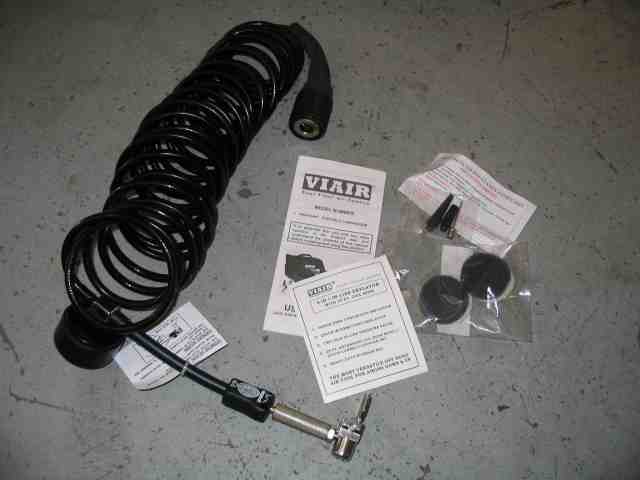 The compressor comes with one of those little adapter kits that inflates rafts, volley/basket balls, your rubber boat, etc. While I am not totally taken with the coily air hoses, this one seem to do the job very well and it wasn't too difficult to extend it to its maximum length. There are two spare air filters and another is already installed in the yet to be screwed into place air cleaner assembly.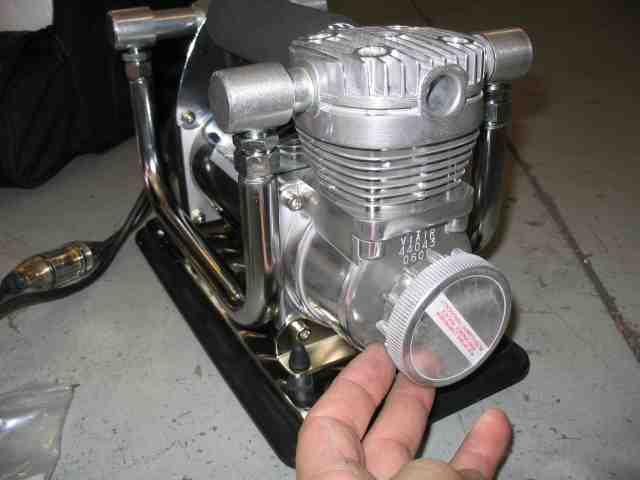 As already mentioned, the air cleaner assembly has replaceable filters. Removing the rubber plug in the compressor provides a threaded port for screwing in the air cleaner assembly. Little compressors commonly "dance" around the vehicle when running….I guess it is some kind of a happy dance performed during the air up ritual? Anyway, the 440P has a plate to which the compressor is mounted via rubber shock absorbing feet. I am glad to report that if you are expecting the compressor to happy dance around your tires while doing its job, you will be sadly disappointed. I found that this one simply sits there, looking very much like a compressor and not making the traditionally loud noise that is common with these small units.
VIAIR 440P Portable Air Compressor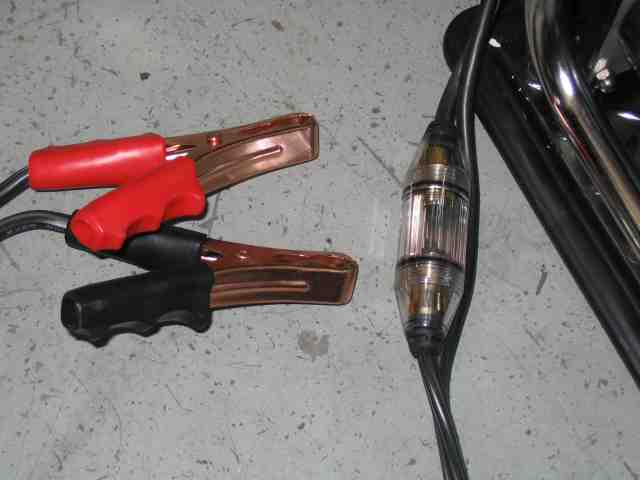 The battery clamps were a notch or two above what one normally expects on a portable compressor. They are attached to the end of 10 gauge wiring that also includes a 50 amp in-line fuse. The compressor is also protected by an internal thermal overload device that will shut down the compressor if the heat build becomes excessive. Although I mentioned earlier that you may be able to skip the owners manual, I do suggest you read it as it does contain some of the dos and don'ts for using the compressor.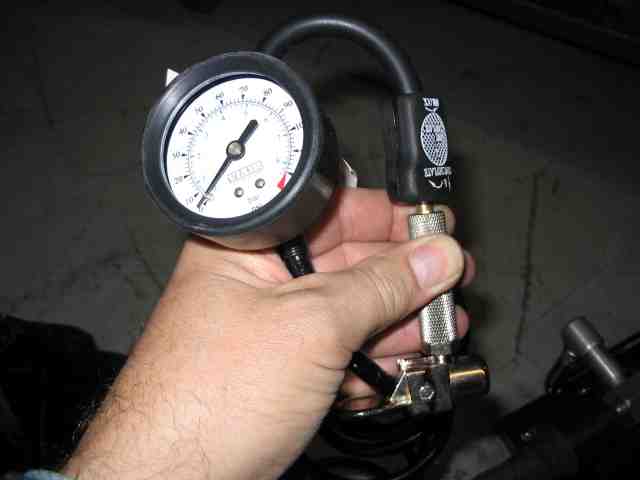 The air hose has a quick disconnect that attaches it to the compressor and also makes it easy to disconnect the hose for storage. The business end of the air hose has a nice quality clamp on air chuck that doesn't leak when you snap it onto the tire's valve stem. The handle of the air chuck has a feature in it that allows you to deflate the tire should you fill it a little too full….a nice touch. The in-line pressure gauge maxes out at 120 PSI and appears to be accurate. I compared it against the gauge I normally use (I am not saying that one is calibrated) for airing up my tires and they both read the same when used on one of my tires.
One thing I did notice while reading through the compressor specs was the maximum ambient air temp which happens to be 158 degrees F. I've seen folks mount compressors under the hood. For this compressor, that would not be a suitable location as under hood temps will easily exceed 158 degrees F. Keep it some place else, folks!
I did a few air-up times and found it to perform pretty good. On my 35″x12.5″ MT/R tire, which I aired down to 10 PSI, it filled the tire to 30 PSI in 2 minutes, 25 seconds. My ExtremeAire does the same tire from 10 to 30 PSI in 2 minutes flat…..and it makes a fair amount of noise while doing so.
Where my compressor really pushes past the 440P is in the duty cycle rating. My compressor runs 100% duty cycle. The 440P can be run for 30 minutes at 30 PSI @ 72 degrees F. I didn't seen any specs on how this rating is down graded when the ambient temp goes up, but for here in Arizona, airing up at 115 degrees F would not be at all uncommon. None the less, the 440P should be able to air up 3 vehicles with 35″x12.5″ tires before its time to let it cool down (that would be pushing it right about to the max time limit).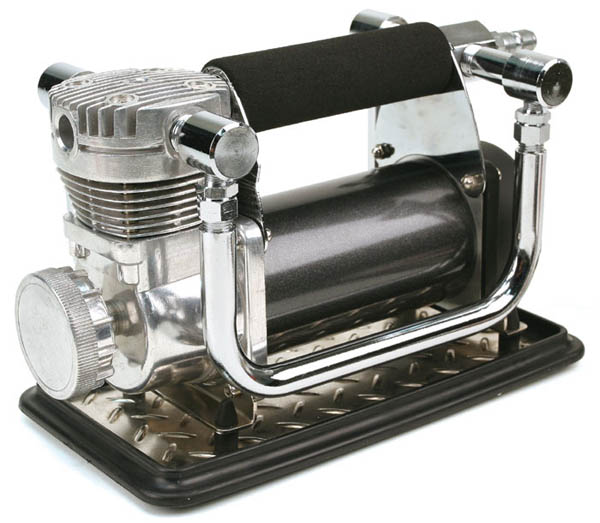 I have to admit that I was quite impressed with this little 12V compressor that will suck down just short of 38 amps when it nears its max pressure rating of 150 PSI (which by the way is then flowing less than 1 CFM). The VIAIR web site states the 440P flows 2.26 CFM at 30 PSI and 2.79 CFM at 10 PSI.
I've no idea how this compressor does for the long haul. I recently retired my QuickAir 2 compressor after 6+ years of service and it is still doing a good job of airing up tires. If the 440P lasts for 6+ years, then I would say you got a good deal and then some. If my ExtremeAire should require replacement, I will certainly look at these higher end Viair compressors as a potential replacement.
Good trails and remember to TREADLightly!
Update: 12/15/2006
I received an e-mail today from a site user who had read this review. He wanted to pass along a personal experience he had concerning the Viair customer support folks and the coiled air hose that came with his 400C compressor. He wrote….
I've never seen a coiled hose break and when I contacted VIAIR, they had not seen one either. Long story short, they immediately sent me a replacement hose (the black braided coil hose) and asked several questions about the conditions present when the plastic hose broke. Finally, they asked me to send the broken hose to them (they are paying the shipping) so they can evaluate why the hose broke, All through our correspondence, I have been impressed with their concern that a product of theirs failed. I have long been impressed with the quality of their compressors, fittings and accessories; now I can add their customer support to the list.
So I say thanks for sharing your customer service experience with all of us. It is always good to hear about this good kind of service.