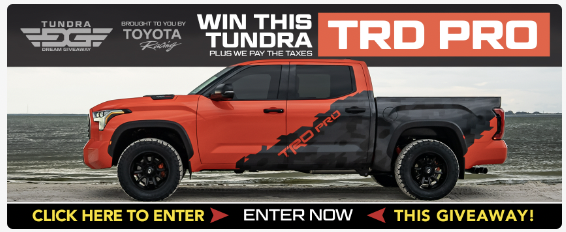 Welcome to the JeepSpecs.com in-depth page on the Mopar NAV system NAVMate 2.0. We have organized as much information as we could find into a helpful article below. Is something incorrect or missing? Please get in touch with us and we'll fix it!
Mopar NAV system NAVMate 2.0
(discontinued in 2002, supported for disc upgrades until 2005)
Available starting in 1999 as an Mopar accessory for the Grand Cherokee, Durango, Intrepid, Liberty, PT Cruiser, Ram 1500 and Dodge minivans, the Mopar Navigation System was designed to mount next to the radio via a special dash bracket. According to the brochure, using the Global Positioning Satellite (GPS) Network orbiting the earth, along with information from sensors inside the vehicle, the navigation system quickly and accurately determines your position within 30 feet. Then, using this information, it leads you through the exact route to driving using large, easy to understand icons. In addition, the system uses voice commands that guide you through your trip, mile by mile, turn by turn, until you reach your final destination.
The Mopar NavMate system had an original list price of $1800, which did not include installation. The U.S. maps were originally divided into 3 discs (Eastern, Central, Western), one of which was included free with the system (the latest updates now feature 9 discs for the U.S.). The screen is small, and the system is CD based. Many users have stated it is very accurate. Other companies offer DVD based systems with larger screens but some require changing or adding a CD/DVD head unit. Pioneer also offers NAV units in the $1000-$2000 and up range. Another popular model is the Garmin Streetpilot III, which can be used as a portable or dash-mounted system.
NAVMate Features:
3.2″ color LCD display module with control switches and speaker for audible directions
Navigation controller contains GPS receiver, gyroscope, computer board and CD-ROM to accept one of three geographic CDs
Turn-by-turn route guidance with easy-to-read turn icons and voice commands
Destination selection by specific address intersection, freeway entrance/exit, POI, previous destination or personal address book
Easy to use — menu driven with simple controls
Automatic re-routing if turn is missed
Detour function
Only three CDs cover entire United States
Map display — zooming ability for detailed map viewing
Detailed current location information
Large points-of-interest selections (hotel, restaurant, landmark, etc.) including DaimlerChrysler Motors Corporation dealerships
Smart spelling for quick destination selection
Off-road trail mapping using "Bread crumbs"
Provides longitude, latitude and altitude
Original discs – Geographical coverage areas

West:Arizona
California
Colorado
Idaho
Illinois
Kansas
Louisiana
Minnesota
Mississippi
Missouri
Nebraska
Nevada
New Mexico
North Dakota
Oklahoma
Oregon
Tennessee
Texas
Utah
Washington

Central:Illinois
Indiana
Kansas
Kentucky
Louisiana
Michigan
Minnesota
Mississippi
Missouri
Nebraska
New York
North Dakota
Ohio
Oklahoma
Pennsylvania
Tennessee
Texas
West Virginia
Wisconsin

East:Alabama
Connecticut
Delaware
Florida
Georgia
Kentucky
Maryland
Massachusetts
New Hampshire
New Jersey
New York
North Carolina
Ohio
Pennsylvania
Rhode Island
South Carolina
Tennessee
Virginia
Washington, D.C.
West Virginia
Mopar Navigation kit parts list
NOTE: Most if not all parts are no longer be available from Mopar.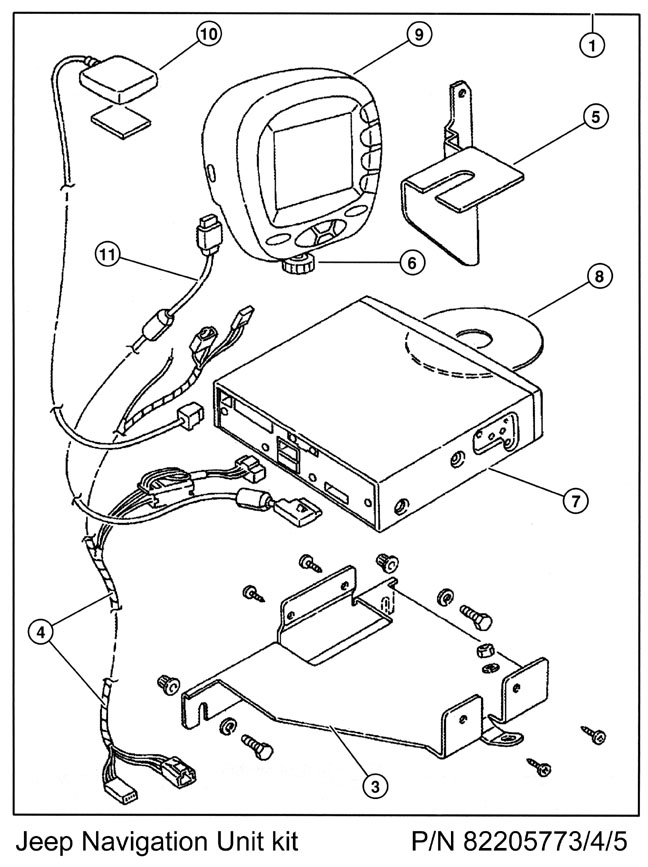 . Navigation kit
(includes all parts in drawing above)
82205773 (Western U.S.)
82205774 (Central U.S.)
82205775 (Eastern U.S.)
2. Installation kit
82203459Includes (see drawing above):
#3. Bracket, navigation controller (p/n 5017423AA)
#4. Wiring, navigation system (p/n 5017421AA)
#5. Bracket, navigation display (p/n 5017422AA)
#6. Screw, thumb (p/n 5017434AA)
7. Control unit, navigation
5017419AA
8. Compact disc, navigation
5017415AA (Western U.S.)
5017416AA (Central U.S.)
5017417AA (Eastern U.S.)Note: These were the original part numbers and are now discontinued.
9. Module, navigation display
5017418AA
10. Antenna, navigation
5017420AA
11. Wiring, navigation display
5017433AA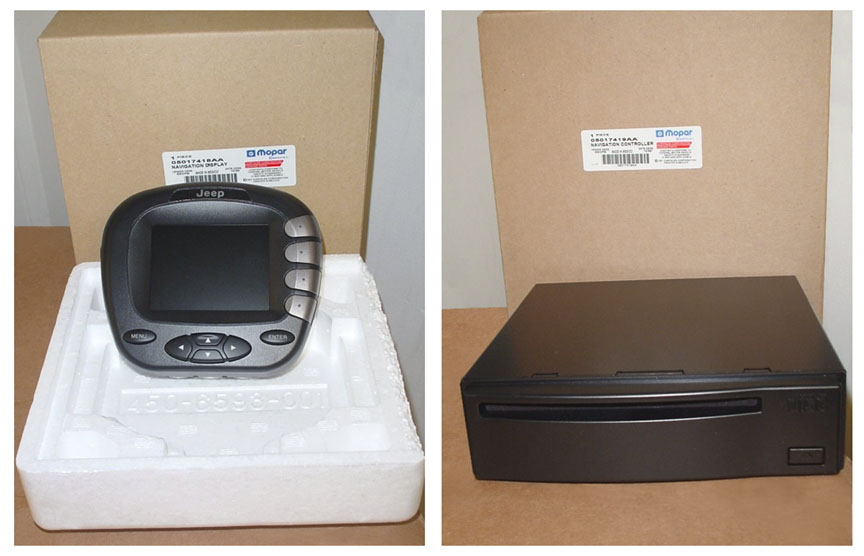 Navigation main unit and receiver
Horizon Update Discs:
As of 2005, update discs are no longer available. They were originally sold by Horizon Navigation for $125 each. Improvements in the map database content had required an increase in the amount of CDs needed to cover the US from three discs to nine discs. The last software release was version 4.7.2, released September 2004.
1. California / Nevada, USA (P/N NM20-1100101) CA, NV
2. Pacific NW / Mountain, USA (P/N NM20-1100102) AZ, CO, ID, MT, NM, OR, UT, WA, WY, TX
3. Upper Midwest USA (P/N NM20-1100103) IA, KS, MN, MO, NE, ND, SD, plus parts of IL, MI, WI
4. South Central USA (P/N NM20-1100104) AR, LA, MS, OK, plus parts of TN and TX
5. Great Lakes, USA (P/N NM20-1100105) IL, IN, MI, OH, WI
6. Ohio Valley, USA (P/N NM20-1100106) KY, WV plus parts of IN, MD, NY, OH, PA, TN
7. Northeast USA (P/N NM20-1100107) CT, ME, MA, NH, RI, VT, plus parts of NJ, NY
8. Mid Atlantic, USA (P/N NM20-1100108) DE, VA, DC, plus parts of MD, NJ, NC, PA
9. Southeast USA (P/N NM20-1100109) AL, FL, GA, SC, plus parts of NC