Welcome to the JeepSpecs.com In-Depth page on MyGIG radios – lockpick II interface. Have any other recommendations? Please get in touch with us and tell us about it!
Return to MyGIG navigation radio page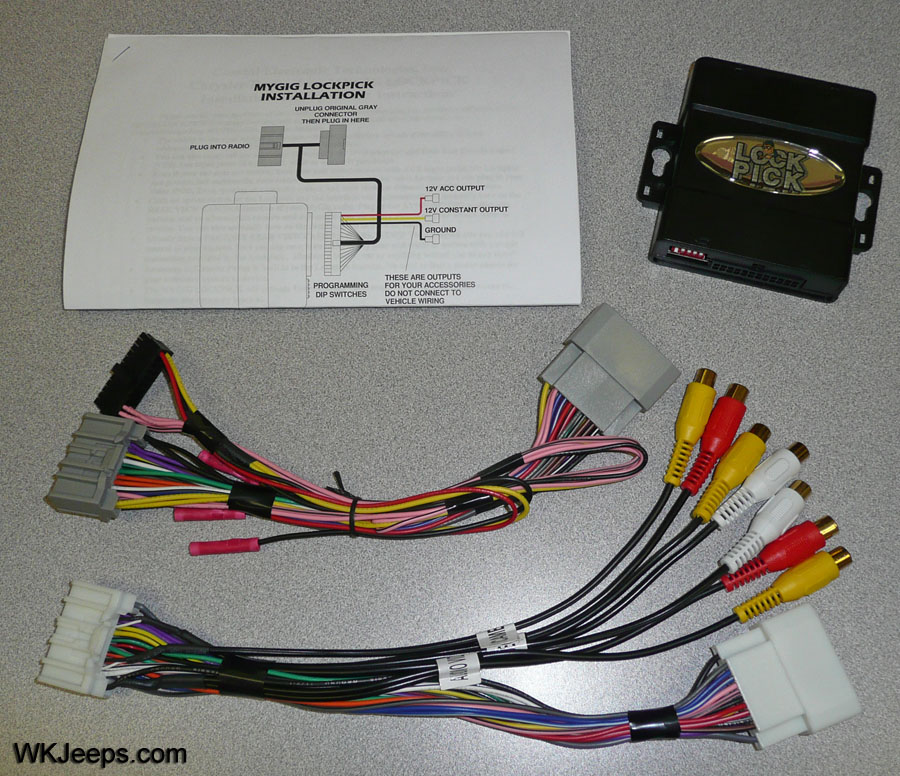 Features:
DVD PLAY WHILE IN MOTION
SAT TV ON FRONT SCREEN WHILE IN MOTION (IN EQUIPPED VEHICLES)
NAVIGATION ADDRESS INPUT WHILE IN MOTION (IN EQUIPPED VEHICLES)
UNLOCK EVEN DEALER BLOCKED VIDEO – EVEN IF YOUR VIDEO BUTTON IS NEVER VISIBLE THE LOCKPICK WILL EXPOSE AND UNBLOCK IT
TURN ON BACKUP REVERSE CAMERA INPUT FOR AFTERMARKET INSTALLATIONS
TURN ON FACTORY REVERSE CAMERA AT ANY TIME, EVEN IN DRIVE IF DESIRED
TURN ON A FRONT CAMERA AUTOMATICALLY BELOW 8MPH TO AID IN PARKING
TURN ON VES (REAR ENTERTAINMENT MODE) IN NON EQUIPPED VEHICLES – GET A VIDEO AND AUDIO INPUT FOR YOUR IPOD, COMPUTER, OR VIDEO GAME
AUX IN'S UNLOCKED IN VES EQUIPPED VEHICLES WHILE IN DRIVE
UCONNECT AND VOICE RECOGNITION ENABLED ON NAV RADIOS – JUST ADD A MICROPHONE AND YOU ARE READY TO GO
NO SWITCHES TO ADD – USES FACTORY RADIO BUTTONS
NO LOSS OF NAVIGATION USE WHILE UNLOCKED – VOICE COMMANDS AND MAP TRACKING UNAFFECTED – EVEN WHILE VIDEO IS VIEWED
ACC POWER OUTPUT PROVIDED FOR YOUR AFTERMARKET POWER NEEDS – TURNS OFF WHEN YOUR CAR TURNS OFF
PROGRAMMABLE DIP SWITCHES TO ENABLE OR TURN OFF SPECIFIC FUNCTIONS
NO CUT WIRES – 15 MINUTE INSTALL WITH PLUG AND PLAY FACTORY CONNECTORS
GREAT FOR LEASED CARS!!
WORKS WITH ALL MYGIG RADIOS – ADVANCED UNIVERSAL COMMUNICATIONS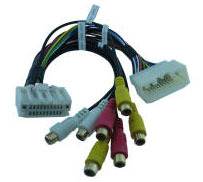 Custom AV9003mygig cable now available for simple aftermarket multimedia Chrysler Dodge Jeep installations
AV9003MYGIG cable – audio and video input/output cable (requires MyGIG Lockpick)
Video input for your aftermarket rear view camera – automatic screen view while in reverse and user selectable in any gear
Stereo audio and video inputs for multimedia installations – provides a multimedia input to the mygig radio in vehicles which do not have aux in jacks. this lets you plug in your own a/v input, select it using the radio touch screen, and view while in motion!! clear sound through your factory sound system without fm modulators.
Stereo audio and video outputs for headrest or ceiling monitors – plug in and create your own custom visual and audio experience. mygig video and audio multimedia output is selectable using the radio touch screen buttons. great for cars without factory rear seat entertainment. now you can easily add your own!!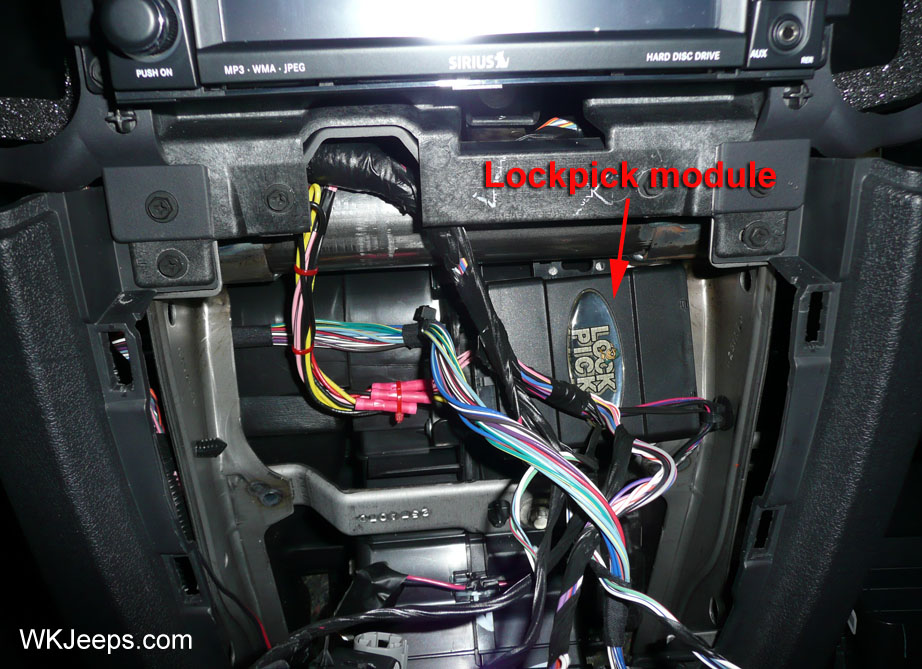 Lockpick installation location, 2008 Grand Cherokee
WKJeeps.com MyGIG Vehicle compatibility list
(Direct hookup into the vehicles listed without requiring an adaptor harness or interface)
| | |
| --- | --- |
| Chrysler 300 series | 2008-2010 |
| Chrysler Aspen | 2008-2009 |
| Chrysler Sebring | 2007-2010 |
| Dodge Avenger | 2007-2010 |
| Dodge Caliber | 2009-2010 |
| Dodge Challenger | 2008-2010 |
| Dodge Charger | 2008-2010 |
| Dodge Dakota | 2008-2010 |
| Dodge Durango | 2008-2009 |
| Dodge Journey | 2009-2010 |
| Dodge Magnum | 2008 |

Dodge minivans
2008-2010
Dodge Nitro
2008-2010
Dodge Ram 1500
(except Mega Cab)
2009-2010
Dodge Ram 1500/2500/3500
2010
Jeep Commander
2008-2010
Jeep Compass
2009-2010
Jeep Grand Cherokee
2008-2010
Jeep Liberty
2008-2010
Jeep Patriot
2009-2010
Jeep Wrangler
2008-2010
Volkswagen minivans
(Chrysler-built)
2009-2010
MyGIG is not directly compatible with the following Chrysler, Dodge and Jeep vehicles*
All 2006 and prior models
All 2007 models except Wrangler, Nitro, Sebring and Avenger
The following 2008 models:Chrysler Pacifica
Chrysler PT Cruiser
Dodge Caliber
Dodge Ram
Dodge Viper
Jeep Compass
Jeep Patriot
The following 2009 models:Chrysler PT Cruiser
Dodge Viper
Dodge Ram 2500, 3500
*NOTE: Aftermarket companies have introduced interface devices that will allow the hook-up of MyGIG radios in most 2005-2007 Chrysler, Dodge and Jeep vehicles.