Welcome to the JeepSpecs.com showcase page on the Mopar Navus dash-mount navigation system. Did we miss anything? Please get in touch with us and tell us about it!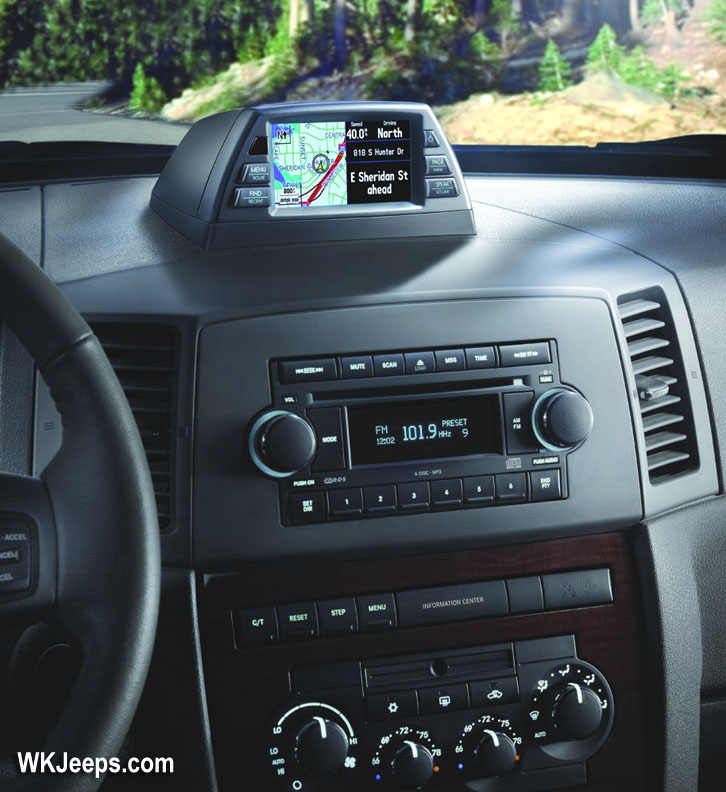 Navus shown in a 2005 Grand Cherokee Laredo
Mopar offers a Garmin-built GPS automotive navigation system as a dealer-installed option specifically designed for many of its 2005-2007 models. Named the Navus, the system is available for vehicles including the popular Chrysler 300C, Dodge Magnum, Charger, Dakota, Durango and the Jeep Grand Cherokee. The Navus provides premium automotive navigation capabilities — including pre-loaded maps, an easy-to-use touchscreen interface and a high- resolution color TFT display, automatic route calculation, and turn-by-turn voice-prompted directions — at a price that is significantly less than most built-in systems.
It is estimated that Dealers will be able to install the Navus in less than 30 minutes. The Navus is connected directly into the vehicle's bus interface, allowing it to interact seamlessly with other vehicle systems such as lighting and ignition control. The unit is incorporated atop the dashboard in clear view of the driver and passengers – providing a look and feel that that complements the interior of the automobile. If GPS signals are temporarily lost (due to skyscrapers or mountainous terrain), the system provides dead reckoning capabilities to assist in navigation.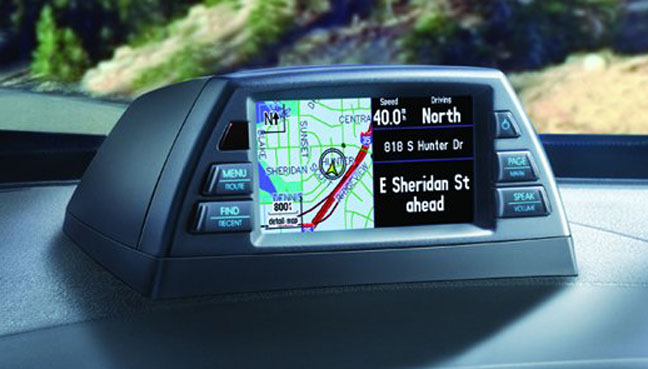 Buyers can choose pre-installed regional map data at a value price, or opt for comprehensive pre-installed map data of the U.S., Canada, and Puerto Rico on a single compact flash memory card. Each region features thousands of points of interest — including lodging, restaurants, attractions, ATMs, gas stations, and nearby Chrysler, Dodge, and Jeep dealers and service facilities.
Features:
Automotive grade, high-resolution 8-bit TFT color touchscreen interface that's easy to see in day or night
Turn-by-turn voice prompted directions with high-quality audio
Calculates shortest or fastest routes to addresses or points of interest
Automatically recalculates a route if the driver misses a turn
Drivers can tell Navus to avoid areas of construction or traffic tie-ups
Navus will build a route with multiple stops — ideal for sales calls, deliveries, or errands
Connected directly into the automotive bus interface for seamless integration with other vehicle systems such as lighting and ignition
Dead reckoning capabilities assist navigation if GPS signal is temporarily lost
Optional remote control
Price and availability (2005-2007 vehicles):
The Navus system is available through Chrysler, Dodge and Jeep dealers. The manufacturer's suggested retail price (MSRP) is $925.00 which now includes the 2GB database flash card that covers most of the U.S. and Canada.
Mopar P/N 82209845AB. MSRP: $925.00 An optional remote control is also available, P/N 5179063AA (MSRP $124.00).
When the Navus units were originally released they came without a flash card and retailed for $724.00 (P/N 82209540). There were 17 different 256MB cards available to cover the U.S. and Canada and each card was priced at $145.00. Or, one could buy the 2GB card that covered all areas for $299.00.
The latest 2GB flash card (summer/fall 2006) is P/N 05175016AB with a MSRP of $241.00.
New portable navigation unit for 2008 vehicles:
For 2008 vehicles Mopar is offering a new Garmin nüvi 250W portable navigation unit. Features include a 4.3 inch color touch screen, preloaded City street maps, a hefty points of interest (POIs) database with hotels, restaurants, fuel, ATMs and more, and 2D or 3D maps and turn-by-turn voice directions.
P/N 82211580. MSRP: $299.00.
New portable navigation unit for 2008-2009 vehicles:
Garmin n`fcvi 265W comes ready to go right out of the box with preloaded City Navigator`ae NT street maps, including a hefty points of interest (POIs) database It even announces the name of exits and streets so you never have to take your eyes off the road. Simply touch the color screen to enter a destination, and n`fcvi takes you there with 2-D or 3-D maps and turn-by-turn voice directions. For hands-free calling, n`fcvi 265W integrates Bluetooth`ae wireless technology with a built-in microphone and speaker. Just pair it with your compatible Bluetooth phone and talk hands-free through the 265W while staying focused on the road.
P/N 82211761. MSRP: $315.00.
New portable navigation units for 2010 vehicles:
1. This 1250 GPS system features a thin 3.5-inch touch-screen display, 2-D or 3-D maps, turn-by-turn voice direction, speed limit information for most major roads, pedestrian navigation options, as well as calculates a more fuel-efficient route with ecoRoute`99. The slim size and a rechargeable lithium-ion battery makes it convenient for navigation by car or foot. Travel tools including JPEG picture viewer, world travel clock with time zones, currency converter, measurement converter, calculator, and more are also included.
P/N 82212209. MSRP: $179.00.
2. Step up to the 1350 and enjoy enhanced pedestrian navigation capabilities and a wide-screen 4.3-inch display. Lane Assist guides you to the correct lane for an approaching turn or exit, making unfamiliar intersections and exits easy to navigate. Download optional cityXplorer`99 content to help you navigate city public transit.
P/N 82212210. MSRP: $165.00.
3. This 1490T premium system packs big features into a slim design with a 5-inch screen. The ultra-thin navigator includes lane assist with junction view, preloaded maps for North America or Europe, pedestrian navigation options, free traffic alerts, hands-free calling, ecoRoute`99 to calculate a more fuel-efficient route, integrated Bluetooth® wireless technology with a built-in microphone and speaker, and integrated FM traffic receiver and free lifetime traffic updates.
P/N 82212211. MSRP: $309.00.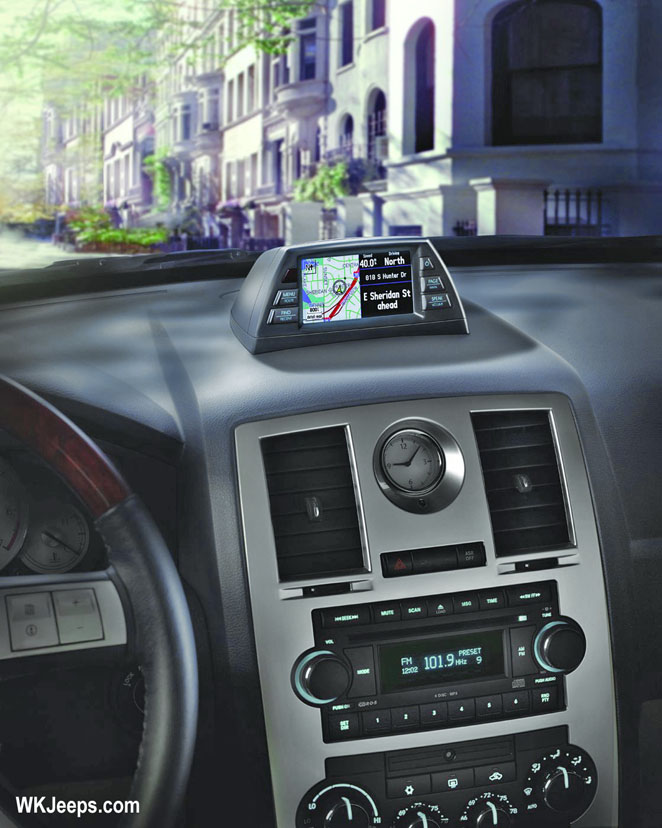 The Navus shown installed in a Chrysler 300C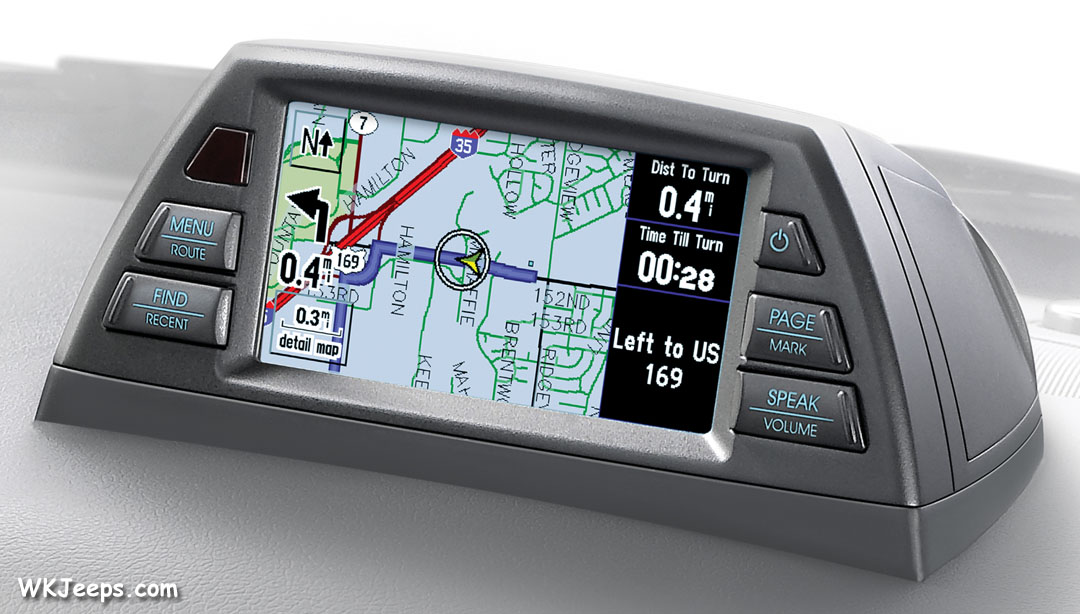 Another shot of the Navus in a 2005 Grand Cherokee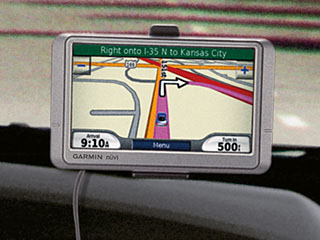 Nuvi portable navigation system