The mid-2000s served as an unequivocal period of reorganization and growth for the Jeep brand. Many of the iconic brand's cornerstone models underwent a significant redesign, while several entirely new Jeep models were released to any eagerly awaiting fanbase. One of the most notable of these new models was the Jeep Commander.
Initially marketed for the 2006 model year, the Jeep Commander bridged a gap between Jeep's most spacious models of the day and the larger full-size SUVs offered by many competitors. Complete with available third-row seating, the Commander was seen by many as a filled-out version of the Grand Cherokee (on which its design was based).
The 2006 Jeep Commander: A Commanding Presence
The Jeep Commander was designed with the intent to establish Jeep as a competitor within the larger, full-size SUV market. Though the Grand Cherokee marginally fit into this classification, some critics still felt as if it fell somewhat on the smaller end of the spectrum. Furthermore, the popularity of third-row seating during this era further inspired those at Jeep to take a stand.
Though the Commander featured a somewhat more spacious interior, its overall length initially measured only two inches longer than that of the Grand Cherokee. The Commander also shared many other similarities with the Grand Cherokee, including its unibody construction, short/long arm front suspension, and 5-link live rear axle.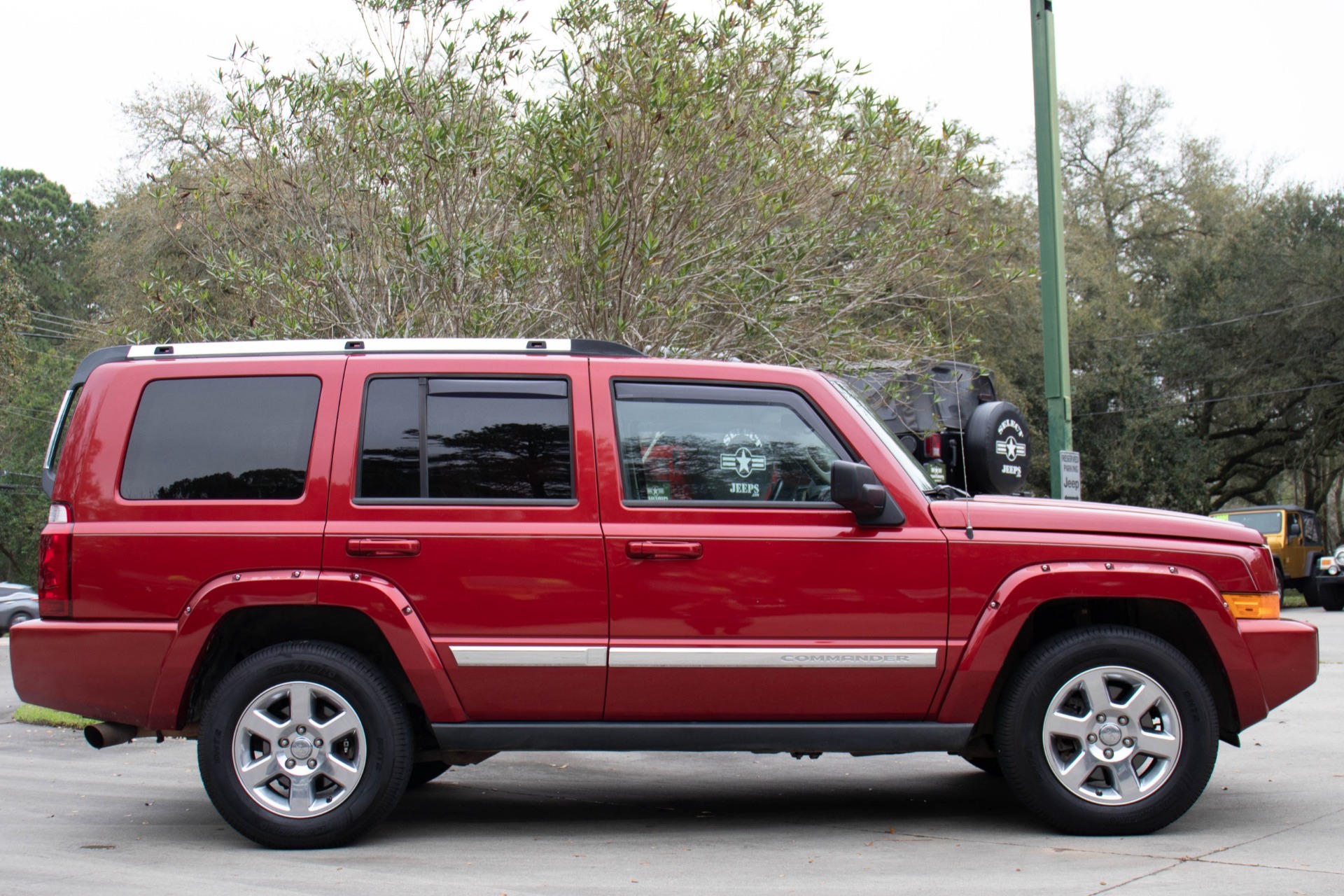 How the 2006 Jeep Commander Exceeded Expectations
Overall, the Jeep Commander met most demands issued by the general public and critics alike, without straying too far from typical Jeep design, either mechanically or cosmetically. Simply put, the Commander still looked and performed like a Jeep, leaving little doubt as to its origins or target consumer base.
Engine & Power
The 2006 Commander was originally offered with three available powerplants, including a 3.7L PowerTech V6, 4.7L PowerTech V8, and 5.7L V8. A 3.0L diesel engine was also offered in markets outside of the United States. In its base V6 format, the Commander produced 210 horsepower and 235 lb-ft of torque. In peak form, the 5.7 Hemi V8 equipped Commander churned out 360 horsepower, and 390 lb-ft of torque.
Transmission
In order to manage this output, Jeep equipped the 2006 Commander with a five-speed automatic transmission. The Commander was also offered with a total of three individual 4WD systems to choose from. Base model Commanders, featuring a 3.7L V8 came equipped with the manufacturer´s Quadra-Trac I 4WD system, while V8 Commanders were available with the Quadra-Trac II system. Additionally, a Quadra-Drive II limited-slip system was also offered.
Exterior Styling
As mentioned, the 200 Commander was largely reminiscent of the Grand Cherokee, from which it was initially derived. Clean, squared-off body lines personified the Commander, as did its signature Jeep barred grille. Standard Jeep-style roof racks also came standard.
Interior & Amenities
Most of the Commander´s interior features differed by trim, ranging from utilitarian to luxurious. In its base trim, the Commander featured cloth upholstery, power windows, and six-speaker AM/FM radio. Commanders featuring Jeep´s limited trim came with upgraded speakers, dual-power seats, and a security system. Numerous specialty trims were also offered, which featured additional amenities, such as satellite radio, navigation, and automatic headlamps.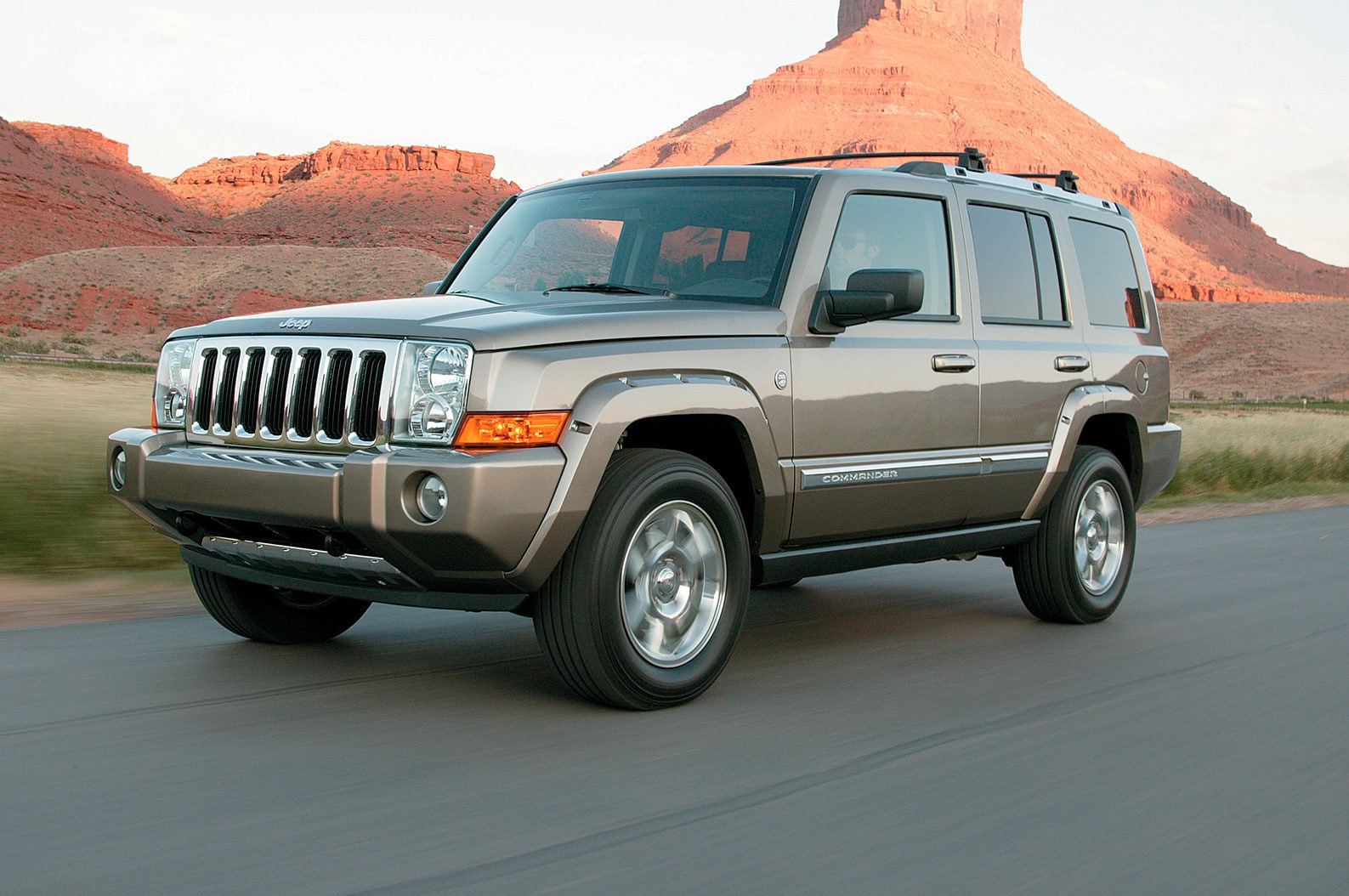 Staking a Claim in a Crowded Market with the 2006 Jeep Commander
For all intents and purposes, the Commander´s welcome was a rather warm one, with total sales for 2006 nearing the 100,000 unit mark. In fact, 2006 would ultimately serve as the Commander´s highest year of sales ever recorded, as the numbers would trend steadily downward over the next several years to come.
At the end of the day, Jeep accomplished exactly what they set out to do when designing the Commander. The automaker now offered their very own full-sized SUV, complete with spacious accommodations and available third-row seating. Perhaps most importantly, the manufacturer accomplished this without forsaking traditional Jeep form and function.
2006 Jeep Commander Specifications
Engine
3.7L V6

4.7L V8

5.7L V8

Horsepower
210/235/360 horsepower
Torque
235/305/390 lb-ft torque
0-60 MPH
3.7L: 9.3 sec

4.7L: 9.1 sec

5.7L: 7.8 sec

Quarter Mile Time
3.7L: 16.9 sec

4.7L: 16.7sec

5.7L: 15.9 sec

Weight
4,581-5,047 Lbs.
Price
$27,540/$29,540 Base/4WD

$35,785/$38,405 Limited/4WD

Production Numbers
88,497
Available Exterior Colors
The 2006 Jeep Commander exterior was available in Black, Bright Silver, Jasper Blue, Dark Khaki, Deep Beryl Green, Inferno Red, Light Khaki, Jeep Green, Midnight Blue, and Stone White.
Available Interior Colors
The 2006 Jeep Commander interior was available in Quartz, Slate, Graystone, Gray, and Khaki.
2006 Jeep Commander Video
We found a great video about the 2006 Jeep Commander.