By 2017, the Jeep Grand Cherokee's reputation had been elevated to legendary status, due in large part to Jeep's insistence upon broadening the appeal associated with their premium SUV. However, this level of popularity did not materialize overnight, as the Grand Cherokee had been in production since the latter portion of 1992.
Though the Grand Cherokee had performed magnificently in terms of overall sales during much of its production run, critical acclaim for Jeep's luxury wagon did not peak until recently. The catalyst for this boom in appeal has centered primarily around the Grand Cherokee's renewed physical appearance and abundant top-tier trim.
Elegance Updated
For the 2017 model year, Jeep sought to bolster the Jeep's form and function in equal quantities. While the Grand Cherokee's list of luxurious amenities only grew longer, Jeep also introduced a new off-road-ready Trailhawk model, catering specifically to the utilitarian crowd.
For perhaps the first time, the Grand Cherokee found itself compared to a number of premium SUVs, such as the Mercedes GLE-Class and BMW X-Series. Nonetheless, the Grand Cherokee could largely outperform the bulk of these competing models, making it a favorite of those who wished to dominate any terrain in elegance.
Of "Grand" Proportions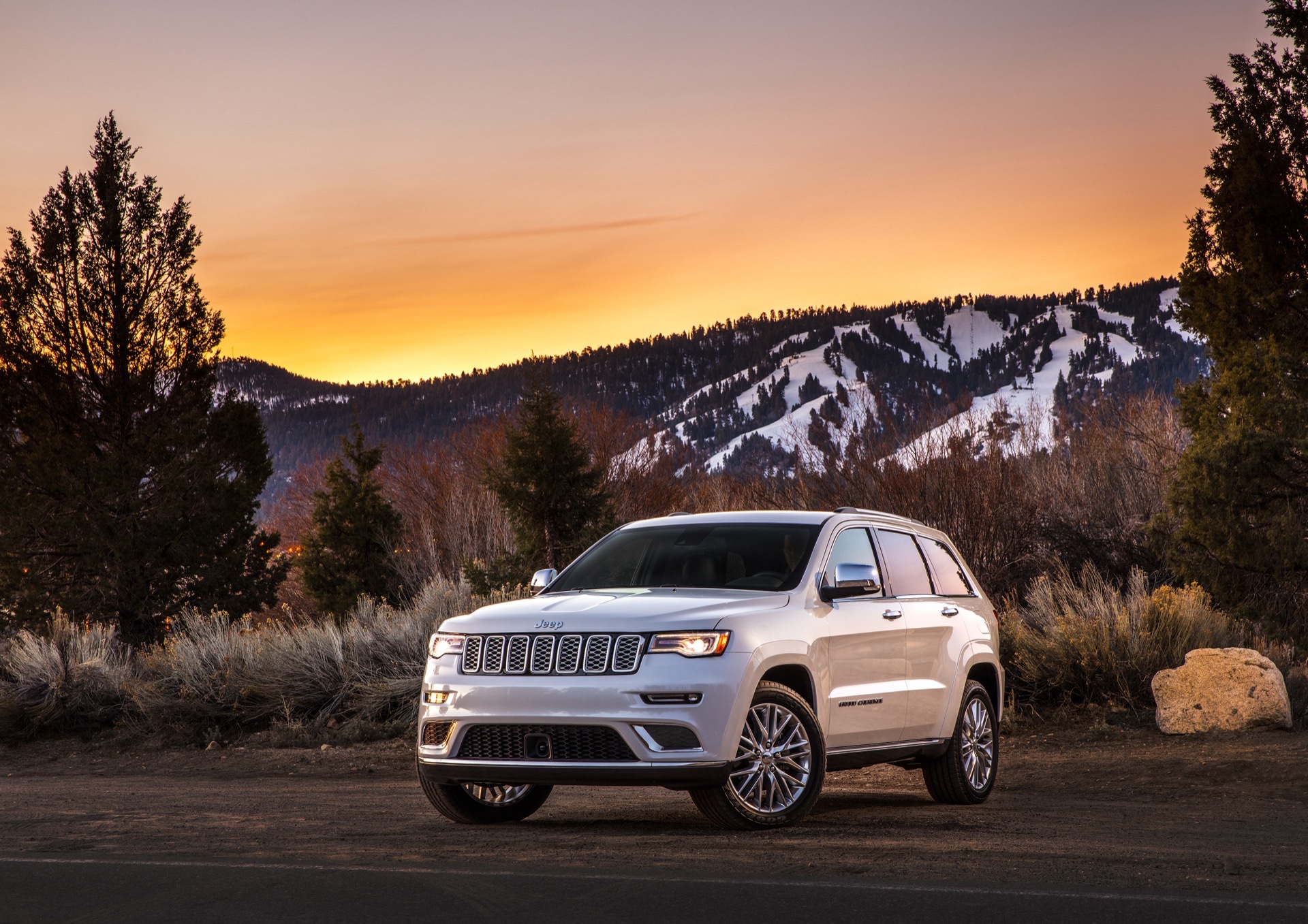 The Jeep Grand Cherokee was offered with a total of 4 different engines, each of which possessed a different degree of performance. The first of these power plants was the base 3.6L V6 (295 hp, 260 lb-ft of torque), which proved quite conservative in regards to fuel consumption. A larger 5.7L Hemi V8 (360 hp, 390 lb-ft of torque) was also available on an optional basis.
Additionally, the 2017 Jeep Grand Cherokee was offered with two specialty engines as well. Those in search of increased torque could opt for a 3.0L turbo-diesel V6 (240 hp, 420 lb-ft of torque). A 6.4L Hemi V8 (475 hp, 470 lb-ft of torque) was also available for those seeking enhanced straight-line performance.
The 2017 Jeep Grand Cherokee was offered in both 2WD and 4WD configurations, dependent upon a consumer's choice in trim and powerplant. Additionally, the 2017 Jeep Grand Cherokee was offered exclusively with a ZF eight-speed automatic transmission.
Another feature unique to the Grand Cherokee was Jeep's proprietary Selec-Terrain Traction Control system. The use of this system allowed consumers to select between a number of trail conditions (sand, snow, etc.), thereby customizing a host of vehicle functions to the conditions at hand. Implementation of this tech most noticeably influenced the adjustment of the Grand Cherokee's Quadra-Lift Air Suspension.
Aside from its performance-based merits, the Grand Cherokee was also host to a wealth of safety features and appliances. Some of the most notable of these features include Lane Departure Warning, Forward Collision Warning, Blind Spot Monitoring, and Emergency Assistance. The 2017 Jeep Grand Cherokee was also the recipient of a 5/5 front and side crash test rating from the NHTSA.
A New Standard In SUV Design
Like a fine wine, the Grand Cherokee only seemed to improve with time, as Jeep's premier SUV appeared to adapt effortlessly to consumer desires of the era. The 2017 Jeep Grand Cherokee served as a testament to this fact, proving to be equally adept in both form and function.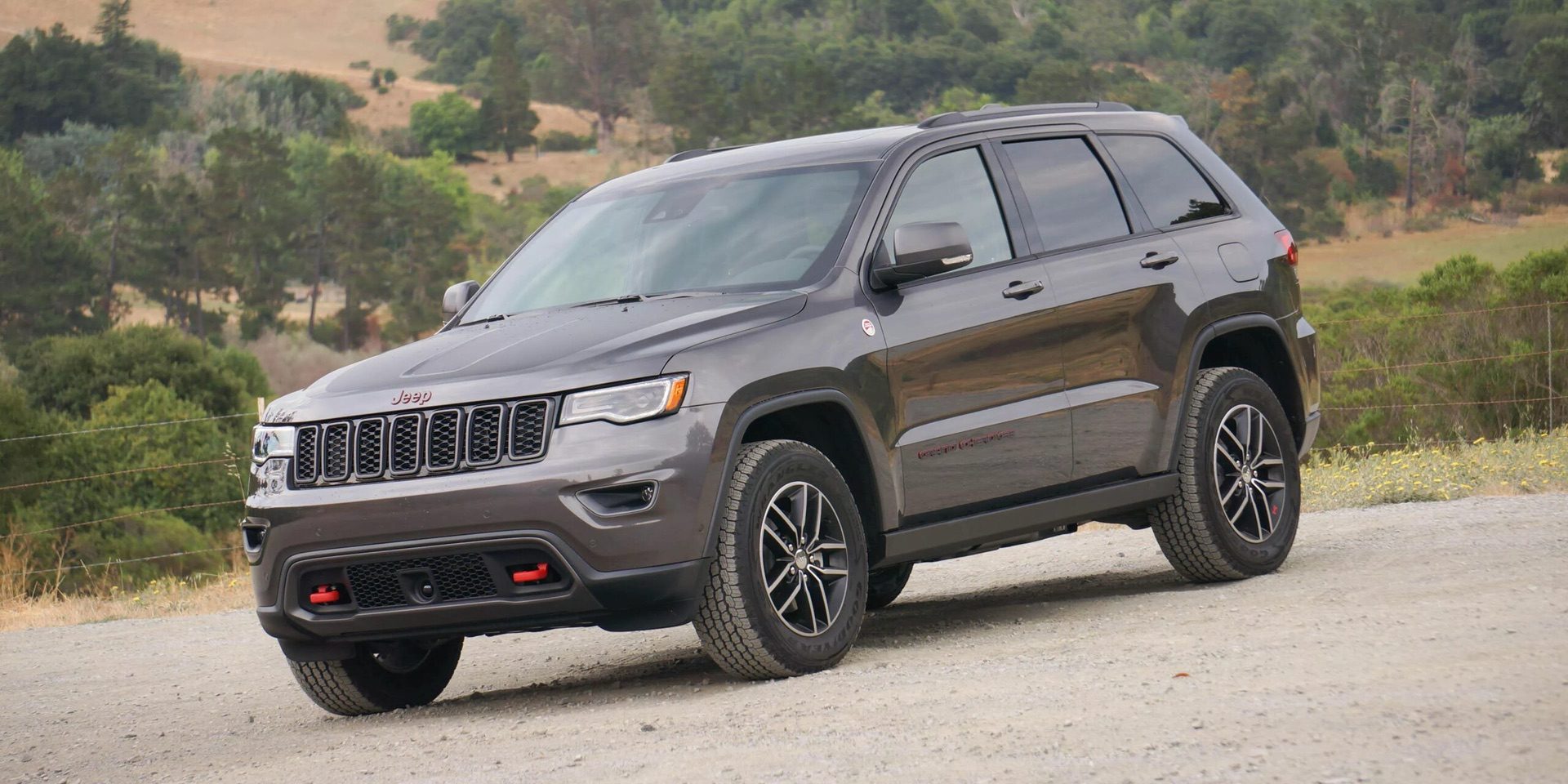 2017 Jeep Grand Cherokee Specifications
Engine
3.6L V6

5.7L V8

6.4L V8

3.0L V6 Diesel

Horsepower
293/360/475/240 horsepower
Torque
260/390/470/420 lb-ft torque
0-60 MPH
7.4 Trailhawk

4.4 SRT

6.5 Overland

Quarter Mile Time
15.7 Trailhawk

13 SRT

14.8 Overland

Weight
4,545–5,104 lbs
Price
$30,395/$32,695 Laredo/4WD/Altitude

$37,995/$39,995 Limited/4WD

$43,095 Trailhawk

$44,795/$47,795 Overland/4WD

$50,495/$53,495 Summit/4WD

$66,895 SRT8 4WD

Production Numbers
240,696
Available Exterior Colors
The 2017 Jeep Grand Cherokee was available in Granite Crystal, Light Arctic Gray, Bright White, Shale Green, Gucci Black, Redline 2-Coat, Ivory Tri-Coat, Dark Garnet Red, Rhino Clearcoat, True Blue, and Stout Brown Metallic.
Available Interior Colors
The 2017 Jeep Grand Cherokee interior was available in Light Frost Beige, Black, Sepia, Indigo Blue, Brown, Dark Sienna, Dark Ruby Red, and Ski Gray.
2017 Jeep Grand Cherokee Video
We found a great video about the 2017 Jeep Grand Cherokee.