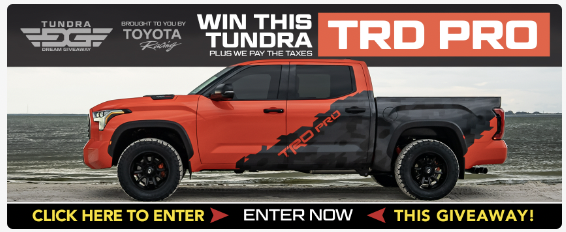 Throughout the years, the Jeep Grand Cherokee has received its fair of praise for its wide-ranging appeal. In fact, the Grand Cherokee has been offered with perhaps more available trim packages, than any other sport utility vehicle to date. This is a trend that continued in earnest for the 2018 model year.
Entering 2018, the Grand Cherokee was offered in no less than 12 available trims, spanning the gamut in drivetrain and accessory availability. Consumers the world over were presented with the perfect Grand Cherokee to meet their specific needs. No matter what those needs might have been.
Unmatched Potential
If you could not pinpoint a Grand Cherokee worthy of further consideration during the 2018 model year, you simply were not looking hard enough. With 5 available powerplants, ranging in output from 240-707 horsepower, and enough trim packages to captivate the minds of even the most skeptical of critics, the 2018 Grand Cherokee offered plenty to be excited about.
The 2018 Grand Cherokee also served as an iconic case study, regarding just how luxurious an SUV could possibly be. Jeep's premier SUV came chalked full of premium amenities in every trim, proving exquisite enough to compete directly with SUVs at either end of the price spectrum.
Unparalleled Versatility
As mentioned above, the 2018 Jeep Grand Cherokee came with 5 available engines for consumers to choose from. This included the base 3.6-liter V6 (295 hp, 260 lb-ft of torque), a robust 3.0-liter turbodiesel V6 (240 hp, 420 lb-ft of torque), and a sizable 5.7-liter V8 (360 hp, and 390 lb-ft of torque).
At the peak end of the power spectrum, Jeep equipped the Grand Cherokee with a 6.4-liter V8, as well as a monstrous supercharged 6.2-liter V8. The former of these two engines was found beneath the hood of the Jeep SRT, and produced 475 hp, along with 470 lb-ft of torque. Meanwhile, the latter of these two powerplants belonged to the Grand Cherokee Trackhawk and produced 707 hp, as well as 645 lb-ft of torque. Each of these 5 engines came backed with an 8-speed automatic transmission.
The 2018 Jeep Grand Cherokee was offered with four individual 4WD systems, Selec-Trac being the most comprehensive of all. In addition to this, a number of optional terrain management systems were also offered, including Hill-Start Assist, Hill-Descent Control, and Selec-Speed control.
Inside, the Jeep Grand Cherokee's interior was also quite a sight to behold. Included were stylish gauges with metallic trim and premium interior trim. For the 2018 model year, Jeep upgraded the base Grand Cherokee's LCD touchscreen from 5-inches to 7-inches, while top-tier trims received an 8.4-inch version of this system.
Many critics were also quick to mention the 2018 Grand Cherokee's extensive cargo space, which measured 36.3 cubic feet behind the rear seats. This measurement was increased to a healthy 68.3 cubic feet with the Grand Cherokee's rear seats stowed in the forward position. Additionally, a power tailgate comes standard on all trim levels of "limited" and above.
Undeniably Original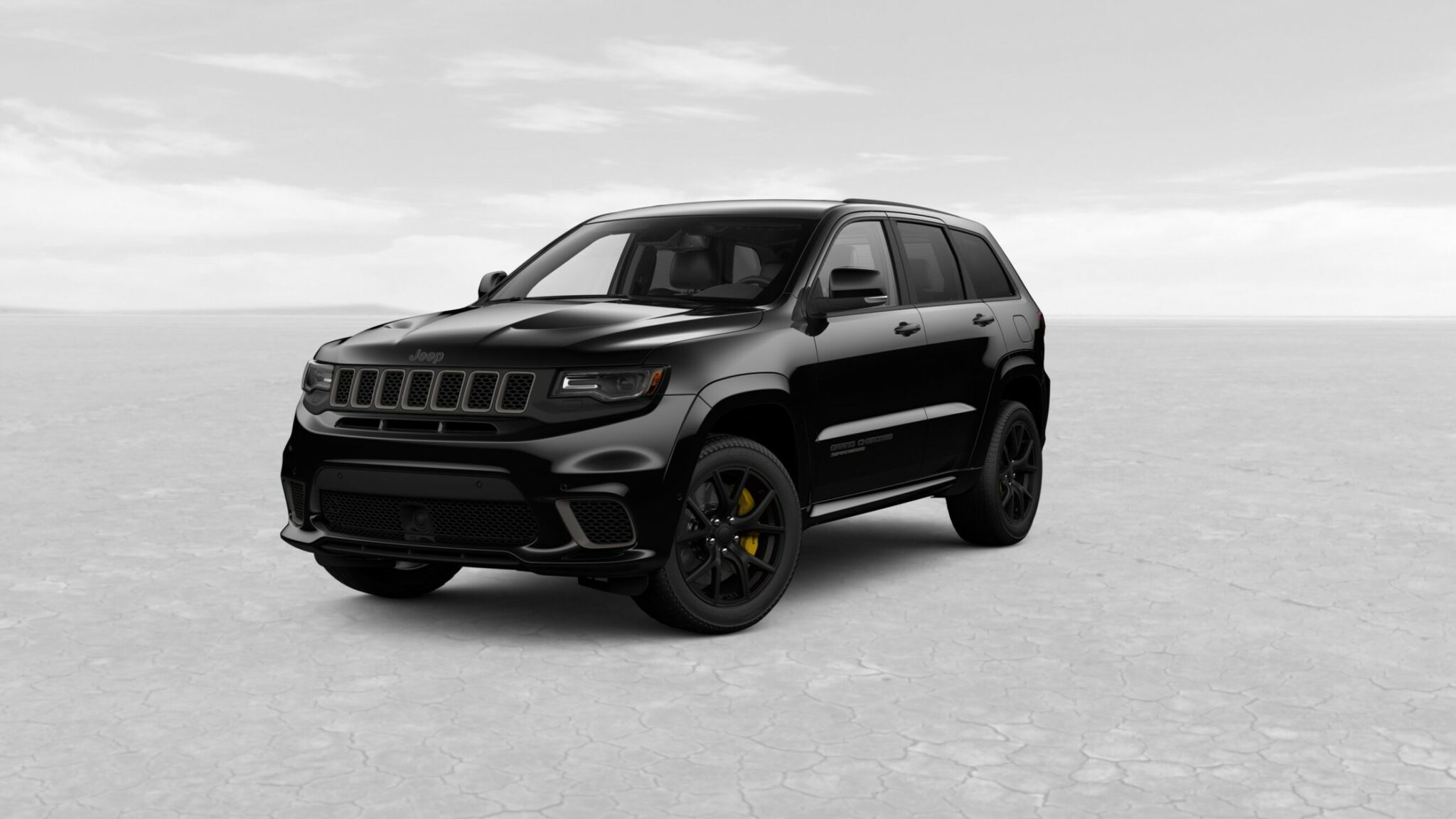 Above all else, the 2018 Jeep Grand Cherokee was as undeniably original in form, as it was capable under almost any set of circumstances. Never before, had the automotive industry born witness to an SUV so diverse in available powerplants or optional features. Without exception, the 2018 Grand Cherokee truly offered plenty for every consumer to appreciate.
2018 Jeep Grand Cherokee Specifications
Engine
3.6L V6

5.7L V8

6.4L V8

6.2L V8

3.0L V6 Diesel

Horsepower
295/360/475/707/240 horsepower
Torque
260/390/470/645/420 lb-ft torque
0-60 MPH
3.4 Trailhawk

5.4 SRT

6.7 Limited

Quarter Mile Time
11.8 Trailhawk

12 SRT

15.2 Limited

Weight
4,513-5,363 Lbs
Price
$30,895/$33,195 Laredo/Altitude/Upland/4WD

$38,495/$40,495 Limited/4WD

$43,595 Trailhawk

$44,395/$47,395 High Altitude/4WD

$45,295/$48,295 Overland/4WD

$50,995/$53,995 Summit/4WD

$67,695 SRT8 4WD

$86,200 Trackhawk

Production Numbers
224,908
Available Exterior Colors
The 2018 Jeep Grand Cherokee was available in Granite Crystal, Light Artic Gray, Bright White, In-Violet, Gucci Black, Redline 2-Coat, Ivory Tri-Coat, Dark Garnet Red, Rhino Clearcoat, True Blue, and Stout Brown Metallic.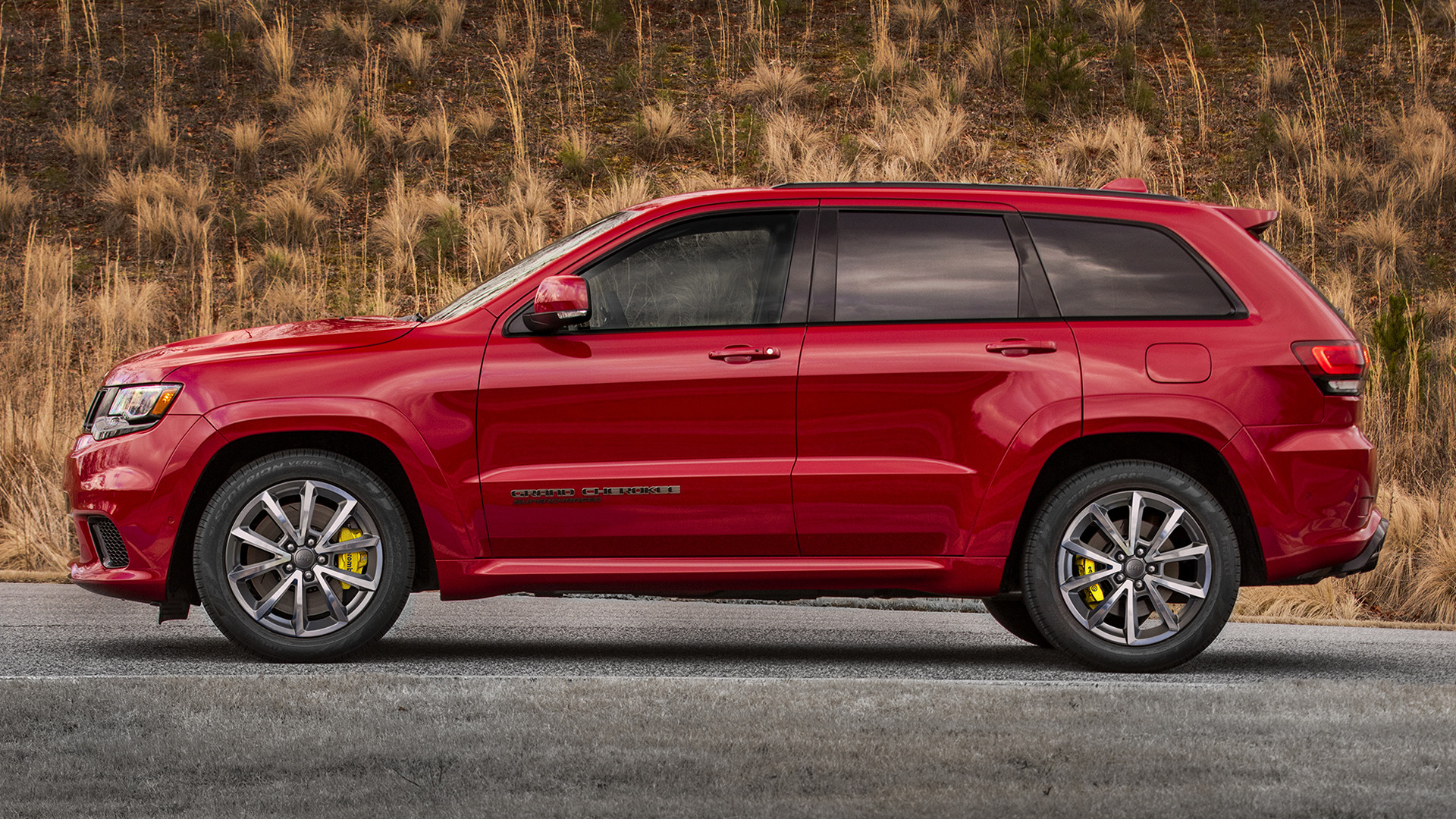 Available Interior Colors
The 2018 Jeep Grand Cherokee interior was available in Light Frost Beige, Black, Sepia, Indigo Blue, Brown, Dark Sienna, Dark Ruby Red, Light Gray, Moab Dark Saddle, Demonic Red, and Ski Gray.
2018 Jeep Grand Cherokee Video
We found a great video about the 2018 Jeep Grand Cherokee.