Welcome to JeepSpecs.com's archived photos for Jeep's 2003 concept vehicles. Get in touch with us and let us know what you think!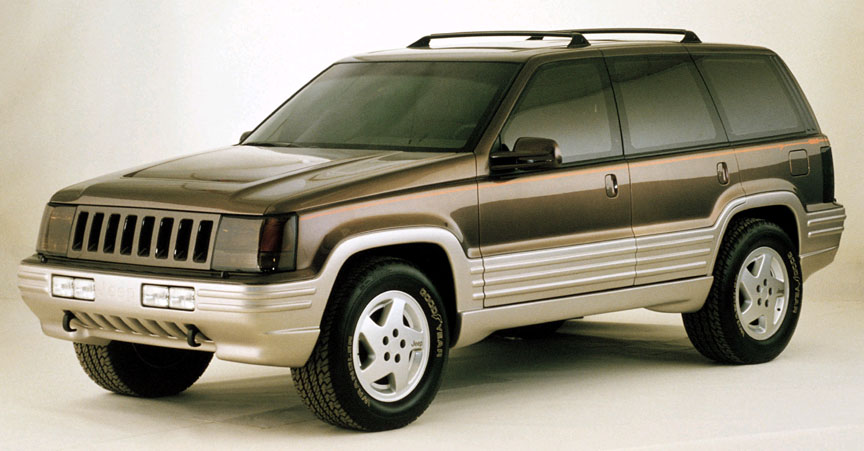 The first Grand Cherokee – early concept photo
Grand Cherokee Concierge
The Jeep Grand Cherokee Concierge is specially outfitted with many different innovative technologies designed and engineered to increase customer comfort, convenience and security. The Concierge (and Chrysler 300M IT-Edition) are research projects aimed at developing and testing new forms of interaction between the user and the vehicle. They seek to increase safety, convenience and utility by anticipating customer needs. It is too early to say in what form these innovations will be implemented, but Chrysler engineers are confident that these highly beneficial systems will be incorporated in future Chrysler vehicles – as part of DaimlerChrysler's continued commitment to excellence in engineering and to the vision of "Accident-free Driving".
The Grand Cherokee Concierge was originally unveiled in June of 2002 in Stuttgart, Germany, at the DaimlerChrysler Innovation Symposium. It made its North American debut (with added features) on October 21st at the Convergence 2002 Conference in Detroit. The Concierge was featured again in the DaimlerChrysler exhibit at the SAE World Congress at Detroit's Cobo Hall March 3-6, 2003.
Concierge features:
Radar-based front parking aid system, using both visual and audio media, communicates the distance to an object in the vehicle's path. Radar is one of the engineer's prime choices for obstacle sensing, because it has the highest speed of performance, the longest range, and all-weather capability. However, because of the triangular shape of the radar beam, multiple sensors – up to six – are required on the front or back bumper in order to provide seamless coverage. Each additional radar sensor drives up the cost of the system. The Concierge's parking and exit aid is unique in using a combination of radar and rear-facing video to provide optimum parking assistance when reversing the vehicle. The range of the radar sensor allows faster backing and – since a video camera costs less than a radar sensor and many vehicles will be equipped with LCD displays for other features such as navigation aids and night vision – the combination of radar and video results in an optimum solution at lower cost
The Concierge has three radar sensors on the rear bumper. When reversing, it uses the central sensor to maneuver to within about 4 feet (1.5 meters) of an obstacle. At this point, a steady tone indicates to the driver that video surveillance is now operational. The video image is displayed in the rear-view mirror/monitor unit, allowing the driver to confidently park to within Ľ inch (about 0.5 cm) of an obstacle of any shape. Visual feedback is so good that the driver can even close a matchbox with the rear bumper. The video camera provides 100 percent coverage of the area immediately behind the vehicle, including a small child who might be overlooked by a single radar sensor.
Lane departure warning. A combination of front-mounted radar and video sensors is used for adaptive cruise control and lane departure warning. Currently, adaptive cruise control uses a 76 GHz "pencil" radar beam that locks onto the vehicle in front to adjust speed and maintain a safe distance. This works fine while the car in front remains directly ahead, but in curves (for example to the left), the radar may lock onto a slower car or truck in the right lane, thus causing the adaptive cruise control to slow the vehicle unnecessarily.
The Concierge uses infusion of a video signal from a camera mounted on the front of the vehicle to detect such situations and take appropriate corrective action. If the video image, broad-beamed radar sensors and steering wheel deflection sensor indicate a curve, speed can be maintained.
The front camera is also used to detect lane departure. If no turn indicator is set – an indication of intentional lane change – a rumble strip warning sounds, alerting the driver. The use of infused video again saves the cost of radar sensors – in this case replacing two sensors for lane departure warning and one dedicated sensor for adaptive cruise control.
These features enhance convenience and safety for the driver and are fully in line with DaimlerChrysler's vision of "Accident-free Driving". In a later stage of the project, these same systems will be used for pre-crash detection. This has two benefits: Firstly, the driver can be warned, helping to avoid or mitigate the consequences of a collision. DaimlerChrysler engineers are currently examining what form this warning might take, as it is not clear whether a audible alarm will assist or merely startle the driver. Secondly, pre-crash detection allows the vehicle's computer to calculate optimum deployment of smart airbags in the event of a collision. Airbags will still be triggered by the collision detection sensor, but precalculation saves valuable microseconds, helping to minimize injury. The system may, however, trigger seatbelt pretensioning, as this is a no-risk, reversible action. Seat occupancy sensors permit the system to prevent unnecessary deployment of airbags for vacant seats.
A radar-based blind spot warning system. The side rear radar sensors assist the driver with lane changes. Older drivers, in particular, have problems with the head and neck movements required to carry out a shoulder check prior to changing lanes. This exacerbates the blind spot problem. When the driver sets the turn indicator, the radar checks the blind spot and illuminates a green, yellow or red LED in the side mirror, indicating whether it is safe to change lanes. If the vehicle starts to depart its current lane without the turn indicator being set, this is picked up by the next feature, the lane departure warning.
Voice-activated, multiple-function remote control key fob. Passwords or voice recognition increase security.
Center high-mounted stop light (CHMSL) that converts to a rear message center.
A power liftgate system similar to that found in the DaimlerChrysler minivans.
Integrated heart defibrillator. When the defibrillator is removed from the vehicle and connected to a patient, the Concierge will automatically initiate a cellular phone call to a medical emergency service to notify them of the vehicle's position via GPS and the condition of the patient.
Intelligent door hinges that increase the number of door check positions.
Capless fuel refilling. A self-sealing opening behind the fuel door receives the pump nozzle.
An Automatic tire inflation and pressure maintenance system, called AutoPump. AutoPump continuously maintains tire pressure to the proper level, ensuring optimal inflation under different driving conditions and environments. The self-contained device is the size of a hockey puck, is mounted under the centrally located wheel ornament and is powered by the rotation of the wheel. A small tube connects the pump directly into the wheel rim to provide a direct airway into the tire.
12-Volt belt-driven Stop/Re-Starter system for improved fuel efficiency and reduced emissions without compromising vehicle performance.
1999 Jeep Journey experimental vehicle
Jeep introduced the Jeep Journey, an experimental vehicle, at the Chicago Auto Show on February 11, 1999. The fully-functional Journey was based on the 1999 Jeep Grand Cherokee, combining "The Most Capable Sport-Utility Ever" with cutting-edge Magellan® communication and navigation equipment. "The Jeep team was given the task of designing a luxury 4×4 true to the Jeep heritage of legendary on- and off-road capability, equipped with extraordinary technological innovations and enough storage for an extended off-road trek," said Martin R. Levine, DaimlerChrysler Corporation's Vice President Chrysler-Plymouth-Jeep Division. "With the experimental Journey, Daimler Chrysler's Jeep Division created the most capable mobile office ever and a fully self-sufficient trek vehicle". Except for the chrome wheels, none of the features have yet to appear on Grand Cherokee models.
The Jeep team based its design on the award-winning 1999 Grand Cherokee with the 235 horsepower 4.7-liter PowerTech V-8 engine and Quadra-Drive(TM) four-wheel drive system. On the exterior the design team applied Patriot Blue Pearl Coat high gloss paint over low gloss paint on fascias and bodyside cladding and added a custom brush guard and rally mesh covers for the grille and head, fog and tail lamps.
Front and rear skid plates, tubular rock rails and integrated front and rear Warn winches prepare the Jeep Journey for extreme off-road use. Seventeen inch high gloss chrome wheels with 235/65 R17 Goodyear Wrangler HP Extended Mobility (run-flat all-terrain) tires and a customized roof rack with stylized wind deflector and integrated front and rear high-intensity spotlights round off the exterior treatment.
On the inside, the Jeep design team used two-tone Deep Royal Blue and Taupe trim, brushed aluminum inlays on the instrument panel and doors, and seats covered with Deep Royal Blue leather with Royal Blue woven cloth accents. Journey-embroidered floor mats complete the interior appearance
Enhancing the interior is cutting-edge navigation and communication equipment provided by Magellan. Not for sale until May of 1999, but already fully functional in the Jeep Journey is Magellan's state-of-the-art 750NAV® vehicle navigation system.
The Jeep Journey as shown at Camp Jeep 2003, held at the Oak Ridge Estate in the Blue Ridge Mountains of Nelson County, Va., in June.
"This all-new system represents a tremendous technological leap forward in terms of capability and performance," said Richard Eklund, brand manager Magellan Driver Information Systems. "It takes in-vehicle navigation and driver information technology to a new level of user friendliness and functionality. We are delighted that Daimler Chrysler's Jeep Division is showing our newest system in the Journey, the next level in sport-utility capability."
With the 750NAV, the driver simply enters a street address, or selects from a menu of destinations that includes hotels, restaurants, tourist attractions and more. No CDs are needed. The system provides turn-by-turn visual and audio directions to the destination. A special feature allows the driver to navigate even where there are just off-road tracks by using GPS-waypoints to position the vehicle.
In addition, Magellan's 750NAV system in the Jeep Journey is a true mobile multi-media center, coupled to a laptop computer in the luggage area, a remote keyboard on the passenger side and a color printer/fax machine in the rear center armrest. The system has a high-resolution, ultra-bright full-color touch screen display on top of the dashboard.
To make Jeep Journey even more versatile for its driver and passengers, the vehicle comes equipped with two Magellan ColorTRAK® handheld GPS systems for hiking and boating, an integrated cellular phone with hands-free operation, a satellite-based world phone, Travel Note voice messaging and an interface with the ORBCOMM® network for mobile e-mail capability.
Journey Specifications and features
Drivetrain:
4.7-liter PowerTech V-8 Engine
235 bhp; 295 ft-lb
Quadra-Drive 4WD System
Multi-Speed Electronically-Controlled Auto Transmission
Exterior:
Patriot Blue Pearl Coat
17″ High Gloss Chrome Wheels
Goodyear Wrangler HP EMT 235/65 R17 Run Flat All-Terrain Tires
Rally Mesh Covers for Grille plus Head, Fog and Tail lamps
Front and Rear Skid Plates
Custom Roof Rack
Custom Brush Guard
Tubular Rock Rails
Warn XD9000 Integrated Front & Rear Winches
Interior:
Two-Tone Deep Royal Blue and Taupe Trim
Brushed Aluminum Inlays on Instrument Panel and Doors
Deep Royal Blue Leather and Woven Cloth Seats
Integrated Cellular Phone plus World-wide Satellite Phone
Laptop Computer with Remote Keyboard & Color Printer/Fax
Magellan 750 NAV/ORBCOMM Integrated GPS/Navigation/Weather Data System w/ Touch Screen Display
Two Magellan ColorTRAK Handheld GPS systems
Rear Storage Module with Hi-Lift Jack, Tool and First Aid Kits
Journey-Embroidered Floor Mats
Above left, the Jeep Journey press kit which included three pages of information and three 35mm slides. At right, the Jeep Journey at an auto show.
The Jeep Jeepster concept vehicle at the 2002 Seattle International Auto Show
A V8-powered sports car that can cover the Rubicon Trail, the ultimate test of off-road prowess. It could only be called the Jeepster.
"The original 1948 Jeep Jeepster was an interesting adaptation of a military vehicle for civilian life," said Micheal Moore, DaimlerChrysler's chief designer for the interior and exterior of Jeep products. "It looked like it was tough, but it was really only a car. It left out some of the characteristics that make Jeep products unique today — features such as four-wheel drive and true off-road capability. So when we revisited the idea, we made sure this vehicle could cover the Rubicon Trail and still thrive on-road with unique, adjustable suspension."
The Jeepster's electronic, four-wheel independent suspension raises and lowers via two console switches. On-road, the Jeepster has a ground clearance of 5.75 inches. Off-road, the Jeepster can be raised to a rock-climbing 9.75-inch ground clearance. Equipped with short overhangs, a 4.7-litre 32-valve V8 engine, monster dual exhaust pipes, a Quadra-Trac II® transfer case with on-demand 4WD high and low, a four-speed automatic and an integrated aluminum skid plate, Moore says the Jeepster is not a sport-ute 'wanna-be.' It's the real deal. It's even equipped with a tow hook designed into the hood hinge.
The Jeepster's traditional seven-slat grille is flanked by open fenders cantilevered over the front tires. Round headlamps are slightly exposed above the hood surface, and an elegant character line in the center of the hood is in keeping with the original Jeepster. The entire vehicle angles forward — in the on-road position — to create an aggressive, linear look. A roll cage stands at attention under the Jeepster's soft convertible top. And the deeply sculpted, 19-inch aluminum wheels are mated with Goodyear extended-mobility tires, designed to run for 50 miles after a flat.
Inside, the Jeepster's instrument panel has a military radio look. Compact controls are arranged concentrically, and the navigational system features a global positioning satellite system, an altimeter and a grade and roll indicator. The Jeepster's seats are crafted of the same weather-resistant leather used for hiking boots.
Jeepster Specifications
Body:
Two-door convertible
High-strength steel unitized body
Power Train:
Front engine, on-demand four-wheel drive
Engine:
4.7-litre overhead cam V8 with aluminum cylinder heads
Transmission:
electronic four-speed automatic
Transfer Case:
Viscous coupling, on-demand
Suspension:
Front and rear independent modified short/long arm design. Adjustable ride height (boulevard/off-road)
Tires/Wheels:
P255/55R19 tires on 19″ x 9″ cast aluminum wheels
Dimensions:
Wheelbase 103.0″
Overall Length 147.0″
Overall Width 71.0″
Overall Height 58.0″
Front Track 59.4″
Rear Track 59.4″