The first entry in the 6AJUMR thread was posted by Trina on August 8, 2005…..it was the start of the planning phase that would lead up to our all coming together in Moab, Utah for another great week of wheelin'. 9 months and 25 pages of posts later, we were all heading to Moab to enjoy the trails, the scenery, and each others company. The week of May 7-13, 2006, was quite the week….indeed, I've never seen so many trail repairs….in fact, it might be safe to say that all the trail repairs I can remember from the previous JUMR events didn't add up to what all happened this past week. The good news is that no one in our group rolled (or if they did, they didn't tell anyone!).
But before I get into the trails and photos and stories, I need to thank the very gracious vendors who contributed door prizes that were awarded during our Wednesday night pot luck. It is great to be able to sit down with your friends and share some good food, but getting a chance to win some really great 4WD stuff is the highlight of the evening. A big Jeeper thanks to all of you that helped make this years run one to remember!
The following companies contributed items that spanned the gap from t-shirts to a 12,000 pound winch (and lots of stuff in between).
4 Wheel Drive Hardware
4x4GroupBuy
AEM
Crawl Magazine
Kilby Enterprises
M.O.R.E.
Northridge 4×4
OffroadToyStore
Tom Wood Custom Drive Shaft
Tough Stuff Products
Toys by Troy
Tuffy Products
Warn Industries

Here are some photos of some of the cool prizes. Again, a big thanks to the vendors who helped make this such a great evening.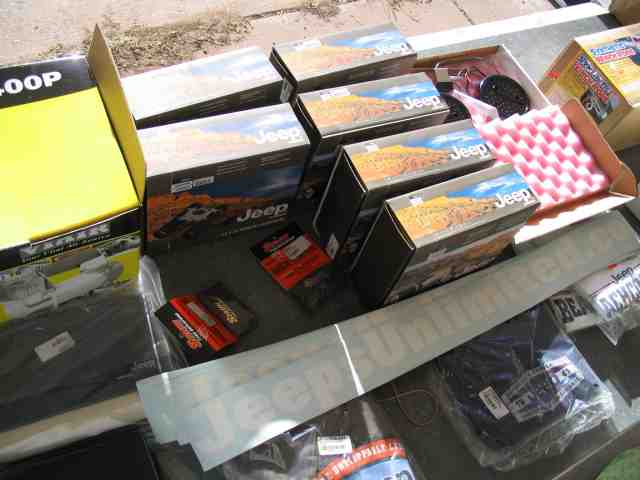 Tire deflators, flashlights, binoculars, t-shirts, LED lights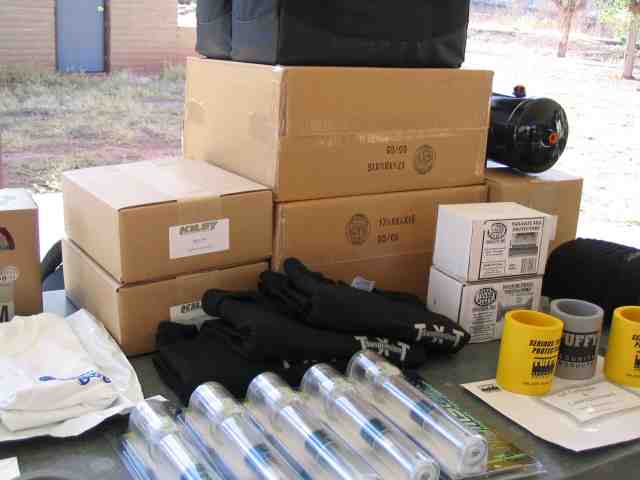 Ball caps, flashlights, skids, coolers, gift certificates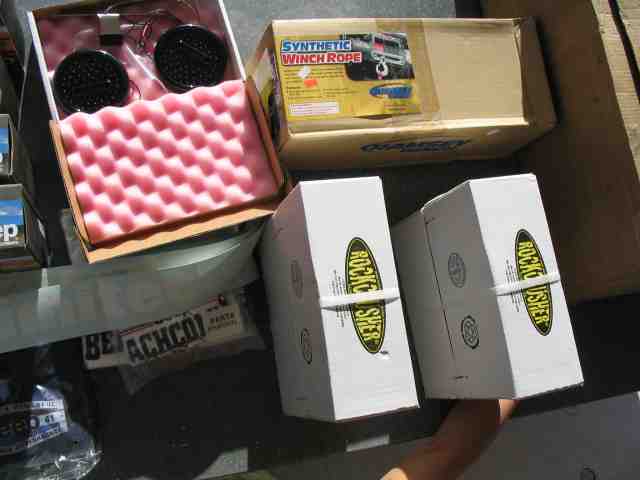 Winch rope, diff covers, LED tail lights
GREAT NEWS!
This year, for the first time, we took up a collection for the BlueRibbon Coalition. It was kind of a last minute thing that a couple of us suggested shortly before we all got to Moab. The generosity of our group was very heart warming. We collected $660 for the BRC. The BRC is an important organization that champions responsible use of our public lands. They help fight the anti-recreationists who try so hard to close down the 4×4 trails and ban motor vehicle travel on public lands. If you do not routinely contribute to the BRC so they can help keep YOUR trails open, I strongly suggest you consider doing so. It would be one of the best mods you can do for your Jeep and your future in off-roading. Thanks again to all of the folks that contributed to this very worthy cause.
UPDATE: On June 2, 2006, I received a very nice thank you letter from the BlueRibbon Coalition. It was signed by Greg Mumm, BRC Executive Director, and thanked the group for "this generous contribution".
6th Annual JeepsUnlimited Moab Run
6AJUMR
And a few photos of some VERY happy prize winners!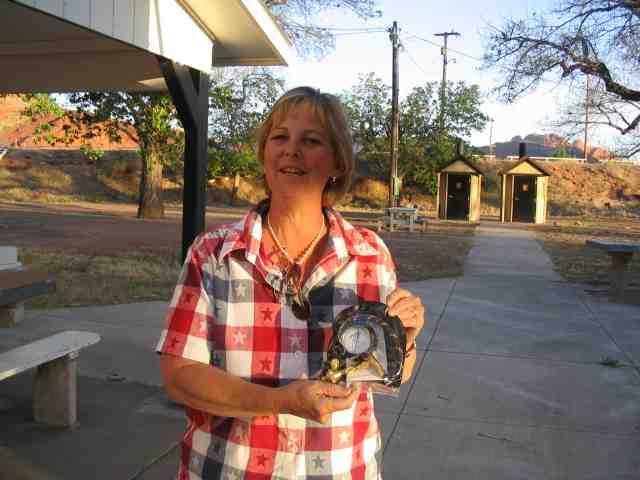 Tire deflator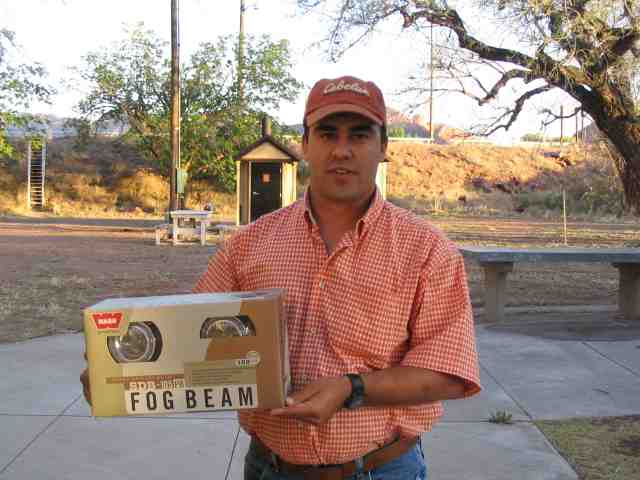 Fog lights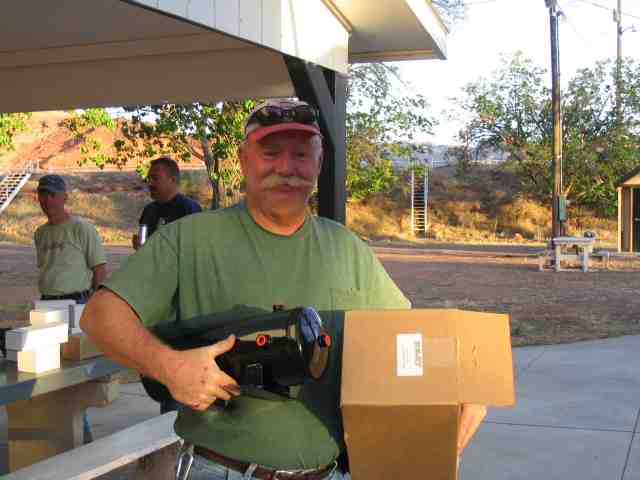 Air tank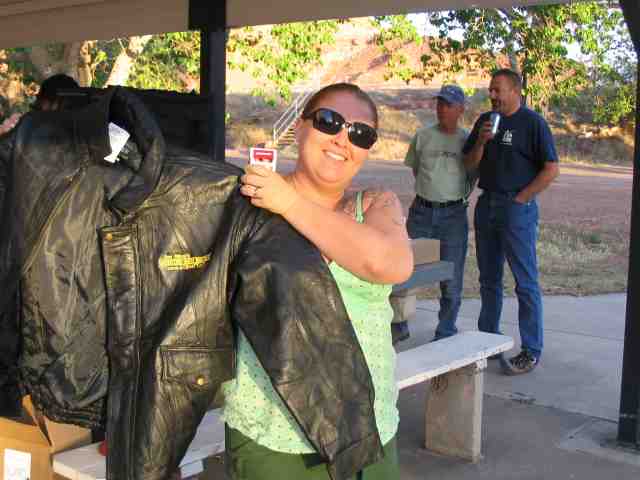 Leather jacket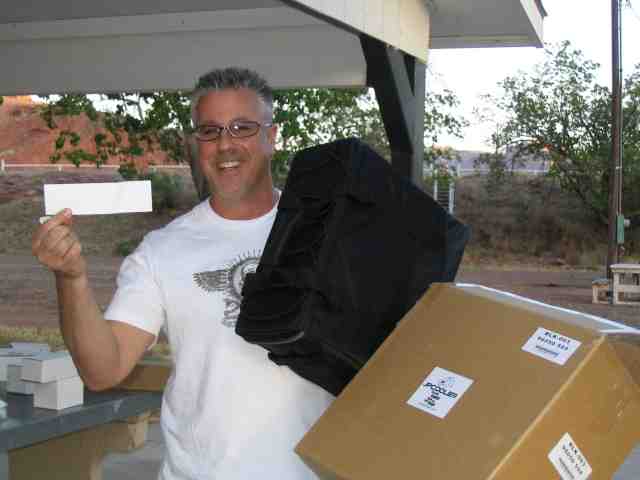 Beverage/food cooler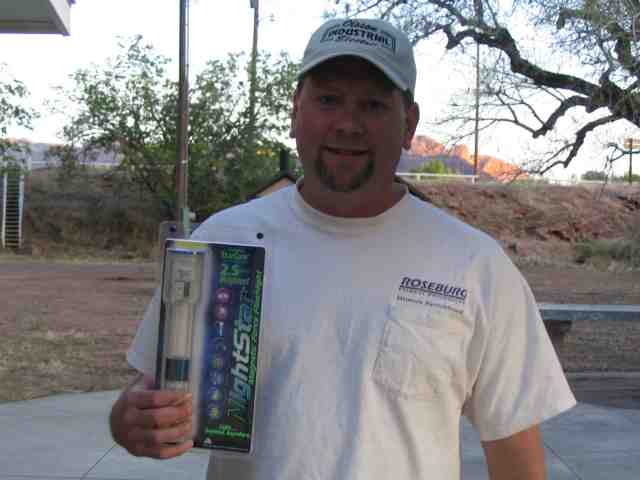 Magnetic flashlight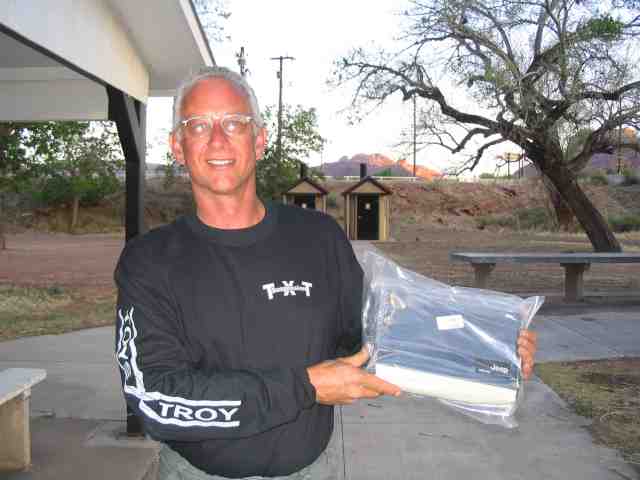 CD case
This year, we had a "grand prize" drawing at the very end of the evening. The prize was a 12,000 pound winch donated by 4 Wheel Drive Hardware. The tickets were placed into a tin. With the lid in place, the tin was shaken to mix up the tickets. Jay, an almost 7 year old Jeeper, selected the winning ticket. It was Donna's, my wife.
She thought about it for a few seconds and then reached into the tin and drew another ticket which she announced as the winning ticket. Donna smiled and said there was no way the winch would fit on her Kia Optima. I was quite proud of her…..she is a real Jeeper, without a doubt. Donna believes in what goes around, comes around…..and so do I.
6th Annual JeepsUnlimited Moab Run 6AJUMR
Everyone brought some extra food to share. Pot lucks usually bring out quite a variety of good stuff to eat and this one was no exception. I missed getting some pizza but Robert's Italian sausage more than made up for it. In fact, we had "manifold sausage" the next day on the trail for lunch. Thanks Robert!
Here are a couple of photos of some of the folks getting some of the tasty food.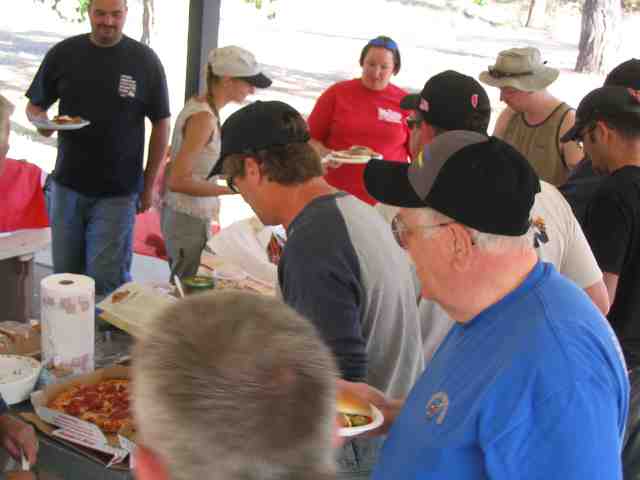 Finger lickin' good!
6th Annual JeepsUnlimited Moab Run 6AJUMR
No JU Moab run is complete without a flag. Josh (a.k.a., Schlingdawg) made the first flag for 1AJUMR. Since then, a flag has always been made and sold by someone in the group. Donna (my wife) volunteered to make flags for this year's run. Since this was her second time for providing flags, I thought I would give you a behind the scenes look at just what all goes into making flags for 30 some Jeepers.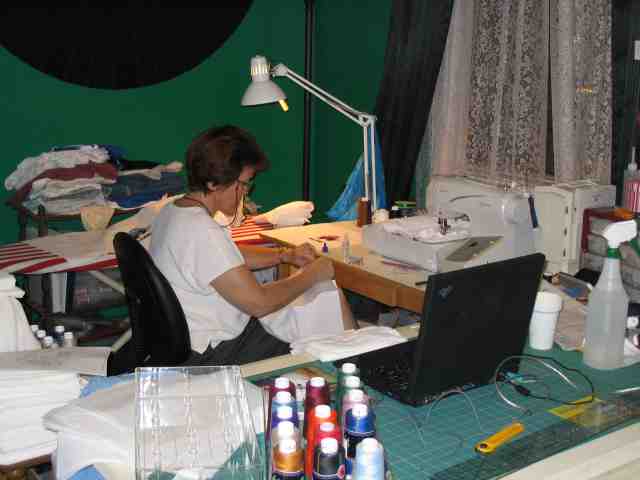 Donna's IBM laptop is used to "drive" her sewing machine. This was her first embroidery project, other than stitching my name on a t-shirt. She found a off-road vehicle design in one of the folders that came with her sewing machine software.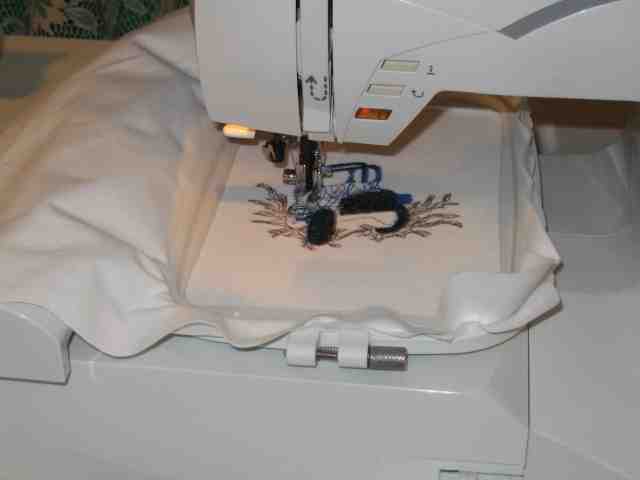 Donna used 5 different thread colors on each the flag. This meant each flag required 5 thread changes while it was being made. It took about 1 hour per flag to stitch the vehicle and add the lettering.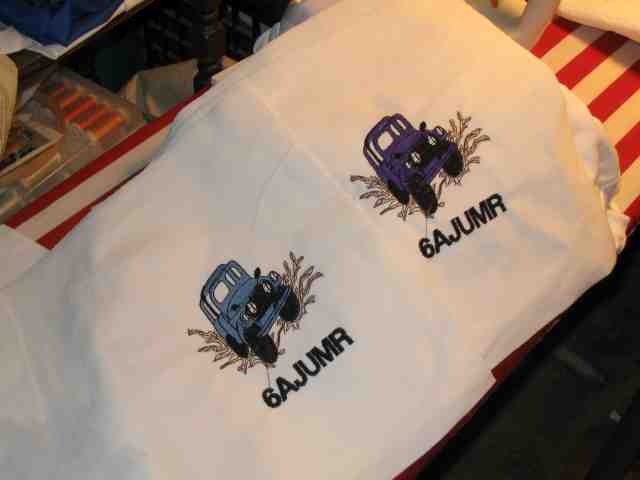 Here are a couple of flags, hot off the sewing machine. Each still requires another 15 minutes of work which includes finishing the edges and sewing in the antenna pocket and tie-downs. Donna used a variety of colors in the design so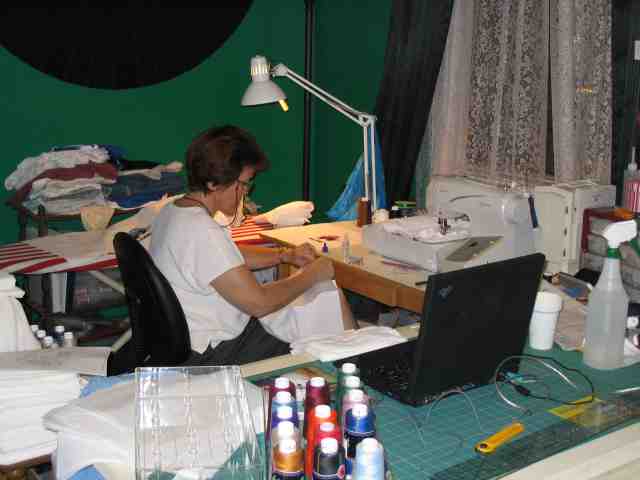 Donna at the sewing machine, doing something or the other (OK, so I know my way around a TJ pretty well but I sure as heck don't claim to know anything about sewing).
So…..I want to pass along a big thank you to my loving wife who spent a lot of her time making the flags for this year's Moab run. Your hard work and talent is very much appreciated.
6th Annual JeepsUnlimited Moab Run 6AJUMR
We ran several of our favorite trails and also added a new one to the GPS collection, Elephant Hill. It was not overly hard but the scenery was excellent. It was our first trip into the Canyonlands Park. A very nice part of the country for sure.
Donna and I also managed to hit Moab Rim, Hell's Revenge, the 2nd half of Fins & Things, Cliff Hanger, Gold Bar Rim, and part of the Golden Spike.
Here are some pics that I pulled from the pile we took (and a few I grabbed from Jason too).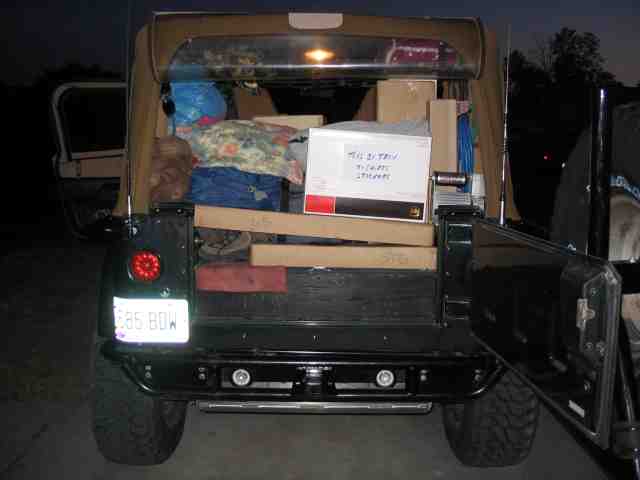 Our trip started the night before we hit the road on Saturday AM. The TJ was almost packed to the roof….some luggage, some food, and a bunch of vendor items for the door prizes.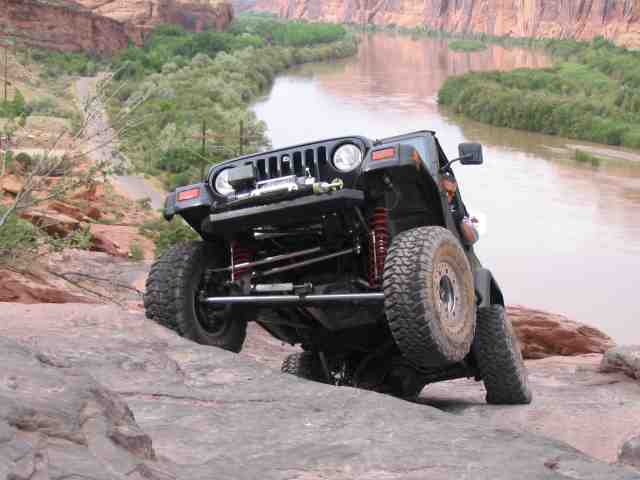 Robert catches some air at the Devil's Crack on Moab Rim Trail. Just a few feet off of the driver's rear tire is a cliff edge that will provide you a very quick path to the highway below (about 100′ at this point). This is one of the trails in Moab that a flop/roll could quickly escalate into something much more serious.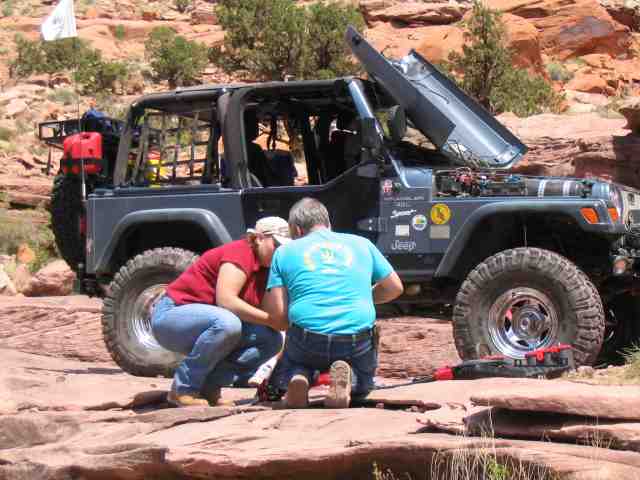 Trina's TJ sitting off to the side of the main trail (on Moab Rim). Just before climbing down the Z-Turn, she noticed that one of her rear upper frame end control arm brackets had ripped loose from the frame. Notice the two Optima batteries sitting by the front tire. Robert welded the bracket back onto the frame using his Ready Welder II portable mig welder (hence the need for two batteries).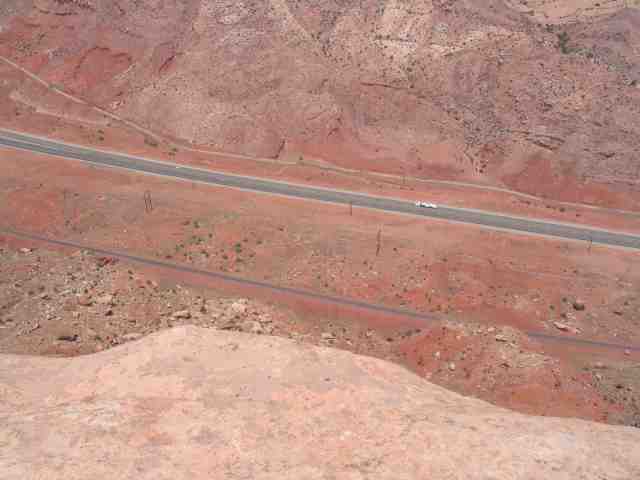 The edge of the overlook at the end of Gold Bar Rim trail. Yes, that little white blob on the highway down there is a tractor trailer. There is a car about one electric pole in front of it, but it is virtually a little white speck on the highway at this resolution. Yes, it is a LONG way down. You can see the railroad track that runs between the highway and the side of the cliff.
6th Annual JeepsUnlimited Moab Run 6AJUMR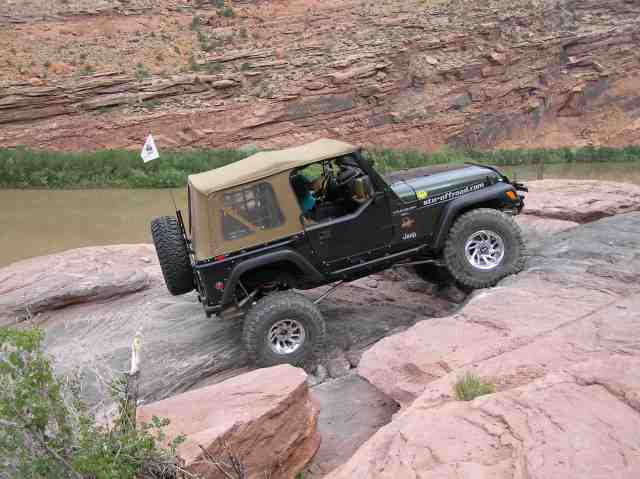 I am working my way up to the Devil's Crack on Moab Rim. Lady was working pretty nice this trip. It was the first major road trip for the recently installed AW-4 automatic transmission. It was also the first Moab for it. Moab is all about traction and being smooth/fluid in the off-camber situations. I found the TJ much easier to handle as a result of the smooth operation of the auto tranny. No jerky unloading of the drive train when the clutch was depressed, etc. Having ran the 5 speed for the past 8 years, I can certainly say I like the auto tranny better.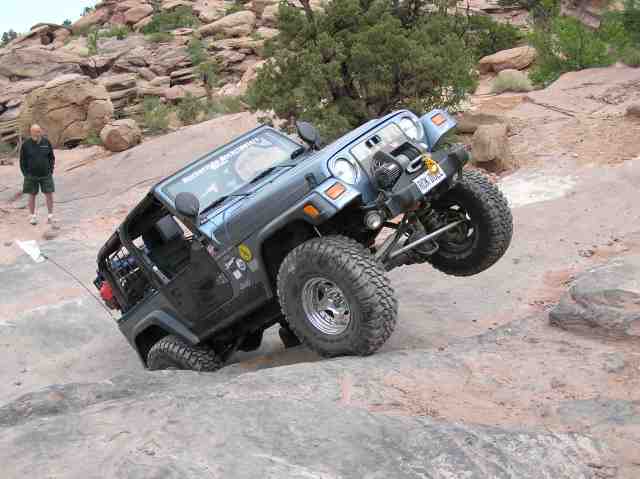 This was a challenging obstacle for Trina. I was spotting her and we tried 3 slightly different lines (one of which was the same line I had just driven through without lifting a tire). Each attempt ended with her carrying her left front tire quite high into the air. A couple of rocks fixed the problem.
What I found interesting is that Robert and I both did the obstacle without the big air that Trina was experiencing. We were all running TJs, 35″ tires, long arm lifts, and selectable lockers (both locked). I was running a SwayLOC and Robert was running an Anti-Rock. Trina was running quick disconnects. Having ran disconnected for years…..and then running with an off-road sway bar for many more years, you'll never convince me that running disconnected improves a vehicle's handling off-road (compared to running an off-road swaybar). I watched it clearly demonstrated on this obstacle.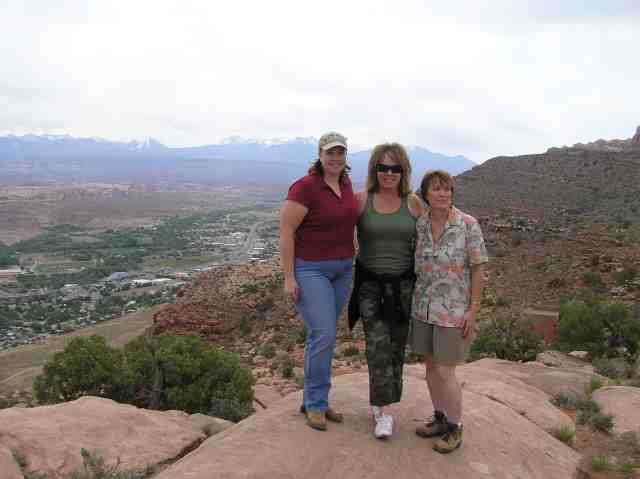 Trina, Tricia, and Donna pose for a photo at the overlook at the top of the Nasty Mile on Moab Rim. We had to keep an eye on Tricia as she was constantly blending in with the flora and fauna. As such, it was easy to run over her when trying for the sweet line on an obstacle.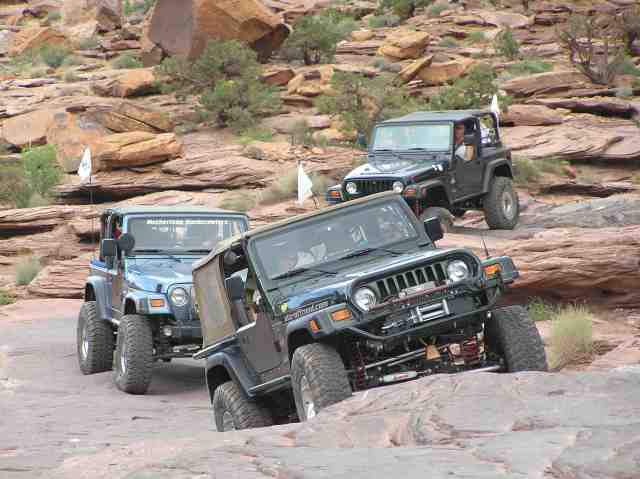 Robert, Trina, and myself pick our way down the Nasty Mile during mid-afternoon. Unfortunately, we caught up with a CJ-7 that had previously passed us on the trail. The CJ-7 was upside down at the bottom of the Z-Turn. The elderly driver was quite fortunate to have no serious injuries since he was not wearing his seat belt. I still can not comprehend why people take chances like that. I'm sorry, but I see it as just being stupid….stupid…..stupid.
6th Annual JeepsUnlimited Moab Run 6AJUMR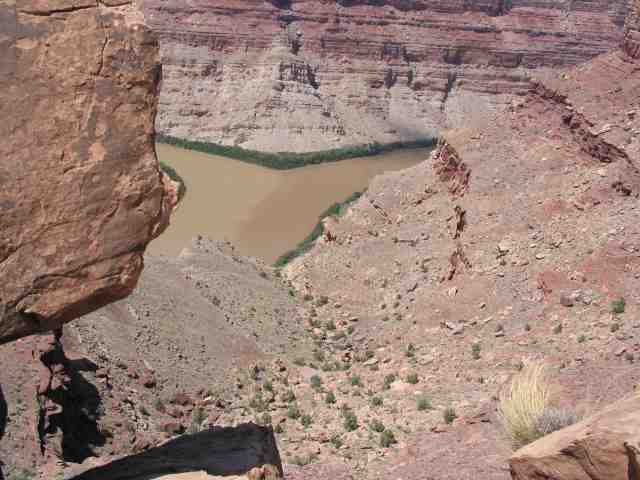 The confluence of the Green and Colorado Rivers, as seen from the overlook on the Elephant Hill Trail. You can see the two different colors of river water and the line that is formed where the meet.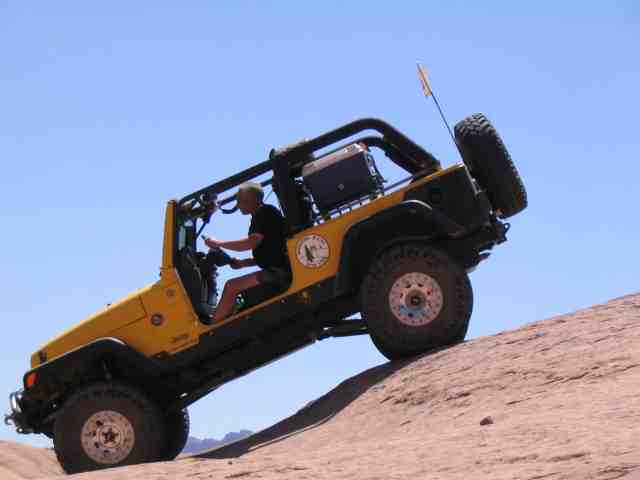 Larry and is quite capable Unlimited descend one of the many fins on the Hell's Revenge trail. An older TJ sheared a lower control arm bracket on the D30 axle housing during our run on this trail. Larry's Ready Welder II was pressed into service to reattach the bracket to the axle housing.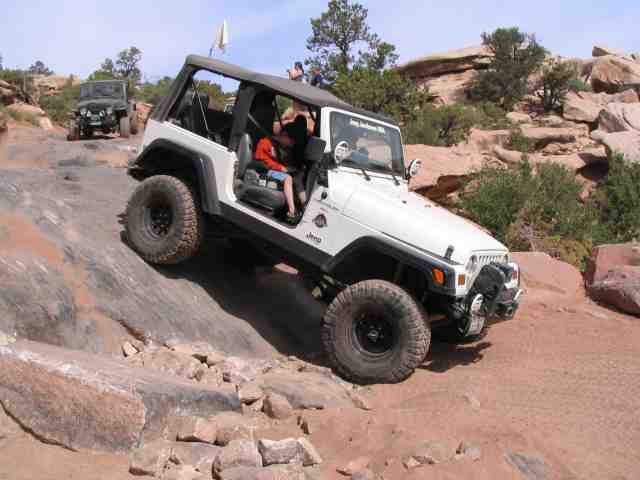 T.Dome and his son Jay slide down a ledge on Gold Bar Rim. We ran the trail up to where it joins the Golden Spike Trail and then proceeded down to the Golden Crack where we had lunch. We had originally planned to cross the crack and then re-cross it to double back on ourselves. Crossing the crack in the opposite direction was a bit more than I wanted my D30 axle to get tested at, so we turned back and left the Golden Crack for next year when we run it from the Poison Spider direction.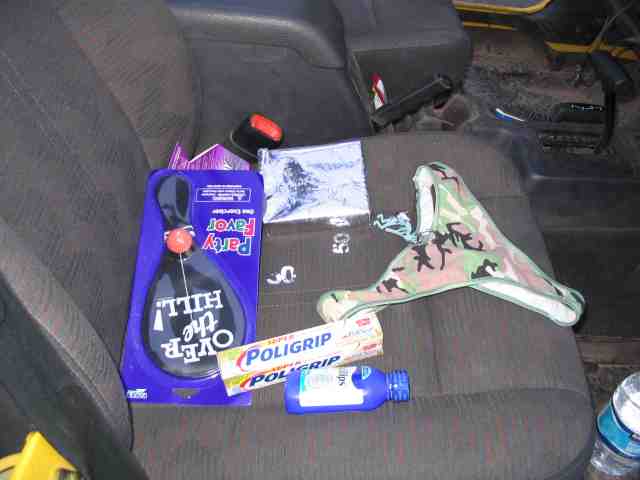 Larry turned 50 years old the week prior to our get together at Moab. He awoke one morning to find his Unlimited very well decorated….welcoming him into his 50th year of living. As you can see, someone placed a few essentials that any 50 year old may very well need as he starts the second half of his century. There were a number of other things carefully planted throughout the Jeep….needless to say, it took Larry a little while to find all of them.
That about wraps up this trail report for the 6th Annual JeepsUnlimited Moab Run. No one in our group rolled this year, so all in all, it was a great year. As I mentioned earlier, there were trail repairs far above any previous years. I think some of our Jeeps are starting to show their age (Lady didn't have any problems). It happens and it will be something that will need more attention in the upcoming years.
Hope to see you at next year's JeepsUnlimted Moab Run!