It is bound to happen. If it has not happen to you yet, it will. It is not a matter of if it happens, it is only a matter of when will it happen. What am I talking about?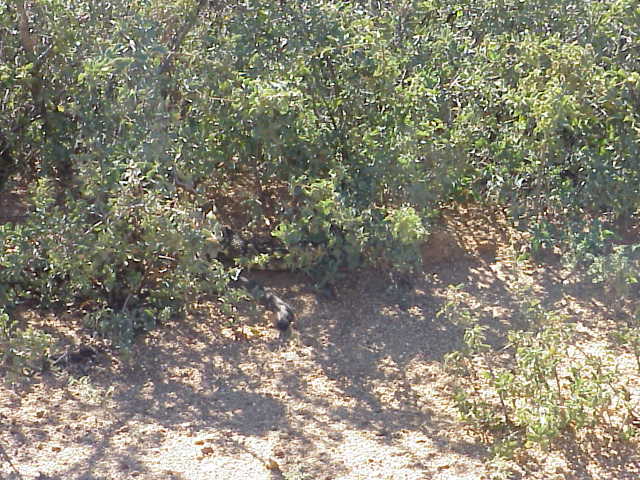 In the middle of the picture, just where the dirt meets the brush line, you will see a slightly blurred dark object. It looks out of focus, but it really is not. It is the noisy end of a small diamondback rattlesnake. The tail vibrates so fast that it blurs the picture. Just above it, slightly under the brush, is the body of the snake. You can see some of the diamonds, kind of a black and yellow pattern. It is coiled and ready to strike.
This was taken about 4 feet from my Jeep during a trail ride in October, 1999. We knew the snake was there when we stopped as it had been sunning itself in the middle of the trail and we saw it as we approached. It slithered off to the side, slightly under the brush, when we rolled to a stop to look at it.
If you can't see it very clearly…..good. Unless you hear them in the wild, you won't see them very clearly either. Something to remember when you are out off-roading in the beautiful Arizona high desert. Watch where you put your feet and where you place your hands, especially when climbing over rocks, etc. During this time of the year, they are out warming themselves in the afternoon sun (we came upon this guy about 3:00 PM or so).
Upper Terminator Trail
It had been a week since Lady had gotten the front end aligned, after her Round #2 build-up. I was looking for some more challenging trails and had been putting off running the Terminators until I had some clearance under the TJ.
I sent some e-mail to a couple of my local Jeepin' buddies (Roger, Dion, and Ross). It took a day for everyone to respond and we had an 8:30 appointment at the staging area on the west side of Table Mesa Road. Roger and Ross had previously asked me to run the Terminators and Dion….well, Dion is always up for a run. My trip last Sunday with Dion and some other friends had given us all a chance to get out on the trail. I wanted to see if the hard work had payed off so a more challenging trail was on the schedule.
Some of the pictures in this trail write up are not quite up to the usual quality I post here. The reason is that I borrowed a 8mm video camera from a friend at work and we needed to get some practice using it before our Moab trip got here. So, Donna used the video camera today and I used the video capture feature of my PC's video card to make a few still shots. Sorry about the lower quality, but still frame capture from video tape is just no up to the quality that a digital still camera can produce. The good news is that Donna is now pretty well up on using the camera and we'll be able to get some good taping while running Moab at the end of April.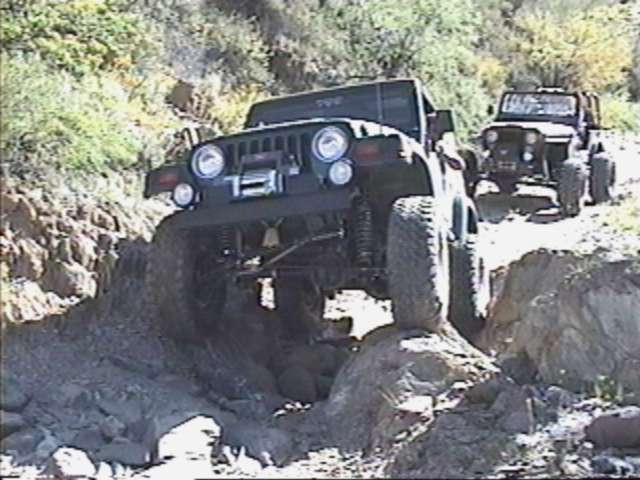 It didn't take long to get into the LO range that my new Tera 4:1 gears provide. I love that new found 75:1 crawl ratio. With the 35″ MT/Rs, the t-case does a very good job of letting Lady idle along over many of the obstacles. You can see Ross' highly modified CJ behind me. He ran shotgun and I was just in front of him. Ross did a nice job of spotting for me on much of the trail.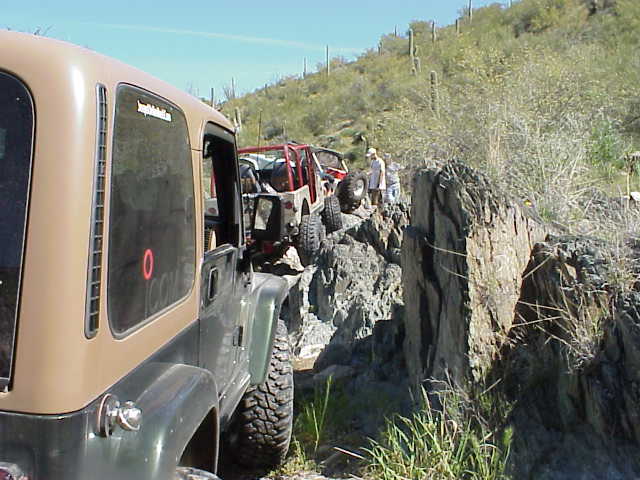 Here is a shot of us lined up after getting through one of the obstacles. As you can see, Upper Terminator runs through a typical Arizona wash. There are plenty of rocks to climb on (Dion's favorite way to do a trail). I followed him and Paola today in his YJ (which also just got a SOA conversion). You have to understand that when you follow Dion, he will almost always show you the hardest line across an obstacle. I guess that could be bad or good, depending on how you look at it. As for me, well, I just watch which line he takes and then decide for myself if that is what I want to do.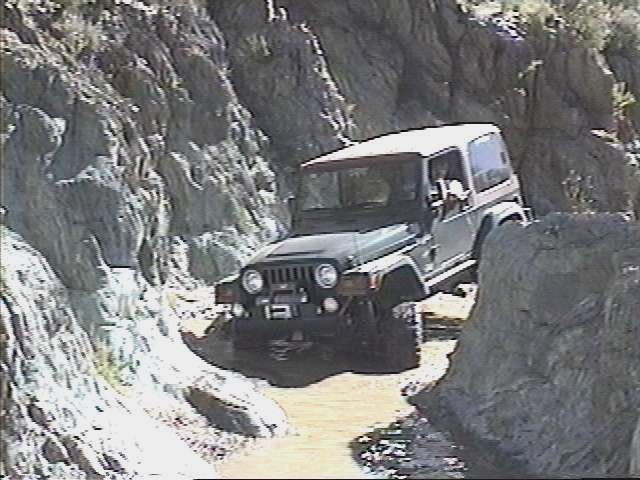 I am getting lined up for the next obstacle. As you can see, there is a bit of water still standing where the bedrock obstacles are. This made for a more difficult time in keeping the tires where we wanted them to be. I slipped off of a rock more than once because of the wet tires and mud.
Upper Terminator Trail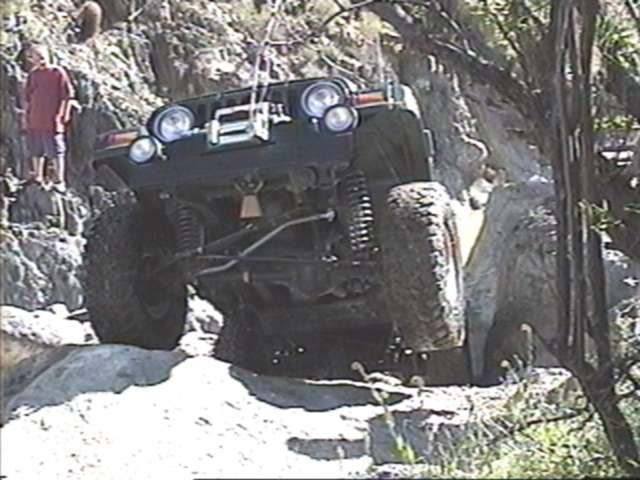 I caught some air as I attempted to climb up out of the water hole I just went through. With all of the mud and wet, the TrueTrac in the front axle was not quite giving me the traction I was looking for today. The Detroit in the D44 was doing pretty good though, so I was still batting 500.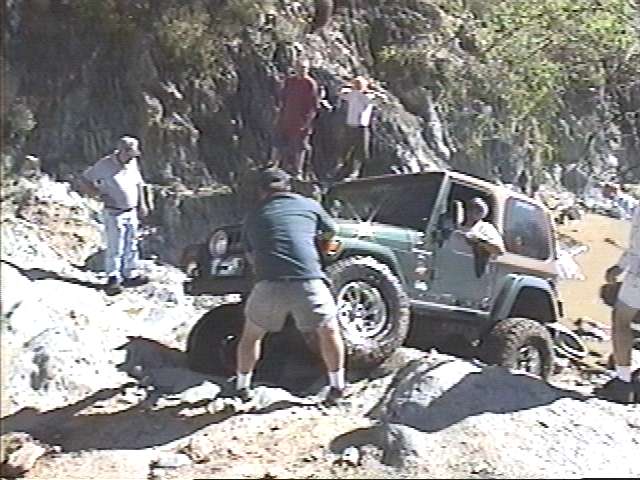 Working another line while Ross spots for me at the front corner. I did find one problem on this run that I am going to have to address. My tires are getting into the studs that hold my Tera QDs in place when they are disconnected. I also noticed that I am rubbing the lower control arms when I crank the steering wheel over hard. If I adjust the steering stops a bit, the control arms rubbing can be eliminated and I might be able to keep the tires out of the QD mounting studs. I'll have to crawl underneath and see how it all looks. It might be time to pull the mounting studs and just use a couple of bungie cords to hold the QDs out of the way while wheelin'.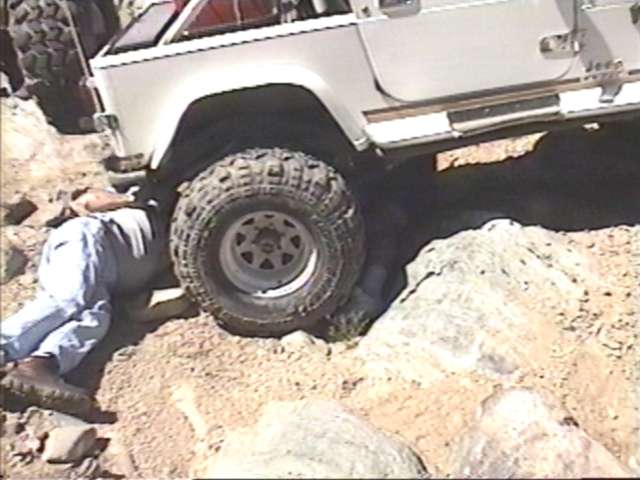 At first look, you might think that we tangled it up with a couple of hikers and the CJ won. Well, not quite the case. The CJ that Bob and John were in got its diff cover caught on a rock and it peeled the lower edge back just enough to let the fluid out. With the help of a hammer and a couple of wrenches, the cover was straightened out enough to let the old AMC20 axle hold a couple of quarts of fluid. At the end of Upper, the CJ headed for home before suffering any other problems. With all of the diff hanging rocks on this trail, it would have been too easy to snag it again and start it leaking all over again (which is what happened after moving it 50′ after the first attempted fix).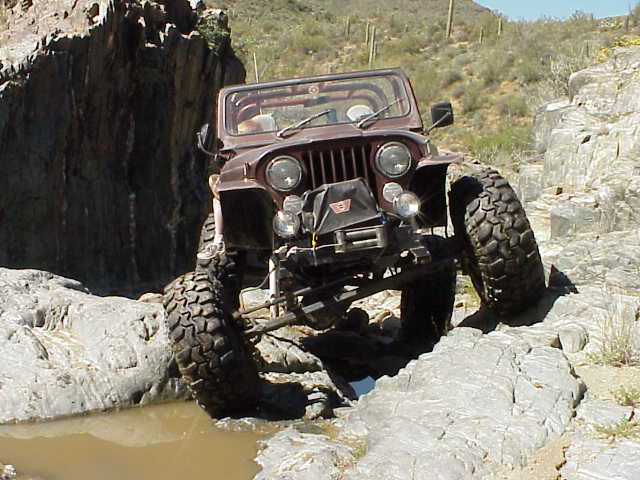 I thought I would toss in a pic of Ross' CJ. His full width axles and 38.5″ Swampers makes for a pretty big rig. Chris, his 14 year old son, did the honors today. Ross spots for him and Chris does the driving. Gosh….I wish I had that opportunity when I was a kid!
Enjoy the outdoors and remember to TREAD Lightly!