Every now and then, I get the urge to go explore a trail I've never been on. It usually starts one of two ways….a friend tells me about a favorite trail of his or I find something that looks interesting while digging through the USGS topos maps on my laptop. The referral from a friend is usually a pretty good bet. I'll admit that I have, upon more than one occasion, picked a trail off the topos and then found it to be something other than what I had hoped for. Some times it ended up being in the middle of Arizona State Trust Land which was since sold to a land developer and turned into some place that one could no longer wheel. Other times, the land the trail passed through ended up being turned into a wilderness area…..so much for running the TJ through there. But every now and then, the trail ends up being there and just waiting for someone to give it a try.
A year or two ago, I found an old trail on the topos and upon checking it out, found that a rancher had dug a 15′ deep hole at the base of a rock formation (that was fed from a little spring) and turned it into a watering hole for the range cattle. I discovered a bypass around this new "obstacle" but after getting down it a ways, I realized I was somewhat in over my head (I had a couple friends with me at the time but we were all a little over stock and were not up for the trail. I marked it on my GPS and promised myself to return when I was ready for the challenge. This past weekend, with 3 other nicely built Jeeps, we headed out to that waypoint and gave it another try.
This is a quote from a friend of mine who was doing a shake down run on his TJ (we had just finished an XJ AW4 auto tranny swap on it), "We hit the trails on Saturday for a shakedown run. After 2 Jeeps and 9 years of wheeling them both with manuals I will never look back. I have never enjoyed wheeling as much as I did yesterday with the auto. There were lots of steep up and down climbs and the auto provided much better traction and driver control of the Jeep than possible with the manual." Granted, he was very happy with his new auto setup….but he also told me that he really like this trail. It had steep up and down hill sections (we stood on the firewall a couple of times going down the hills….places that completely maxed out your suspension flex…..and enough off-camber sections that the seat cushions may have taken a bit of a beating.
We ran ridges and washes and everything in between. We stopped where the bypass got us up and around the waterfall area and hiked down to the watering hole. The water was flowing out of the bedrock and down the wash to the waterfall. Our 4 month old pup got her first chance to play in the water (other than the swimming pool).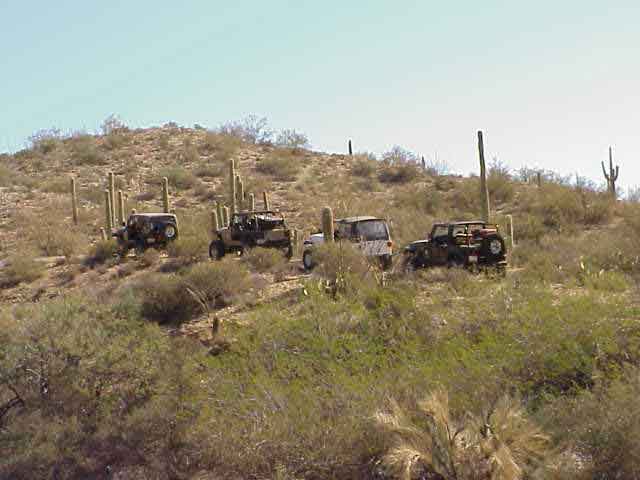 Here we are, stopped on the section of trail that got us around the water hole. This spot was level in comparison to much of the bypass trail.

We ate lunch near this guy. OK, I confess, the face was applied via a graphics program after I got home. We were all laughing though about the gesture this cactus was making, so I thought a face would help a bit (for those that normally don't see these big cactus, they sometime end up in some rather odd poses).
Joey donated this picture because in mine, these wild burros were just little spots. There were six of them in the herd. The other three are standing just off the back of this little ridge. They were as curious about us as we were of them. The trail made a large partial loop around them and they were contented to stand there and watch us while we crawled along the top of the next ridge.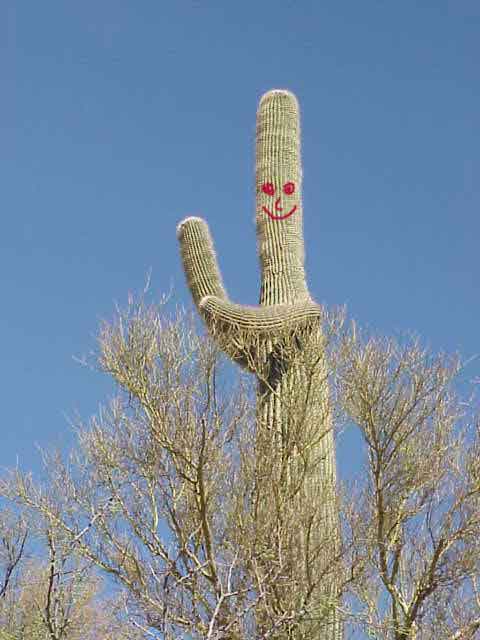 We saw only a set of quad tracks (probably from a recent hunter) on this old trail. Brush had grown in along a lot of it and I stopped to trim some of it back in the really bad spots. (I carry a small hand pruner with me that for just this purpose.) We had a few areas on the trail where it had washed out bad enough that we could not pass without doing some trail restoration. One area was particularly bad in that you would roll down the side of the hill if you tried to cross it as it was. I pruned a bunch of the creosote bushes back that had grown out onto the trail and we used those along with a bunch of nearby rock to fill in the washout and hopefully prevent future monsoon storms from taking out this area again.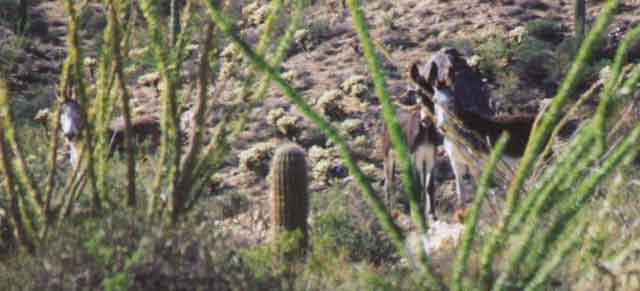 I just had to include this picture. This was a washed out area that we left as found. I got half way across it and got one of the guys to snap a picture for me. Scott is around 6′ tall. As you an see, he is about half way up my steel door when standing in the bottom of the wash out. It was deep/steep enough that my bumper was in the opposite bank before I got my front tires all the way into it. Of course, I slid the rear gas skid down the bank while getting my rear tires in it.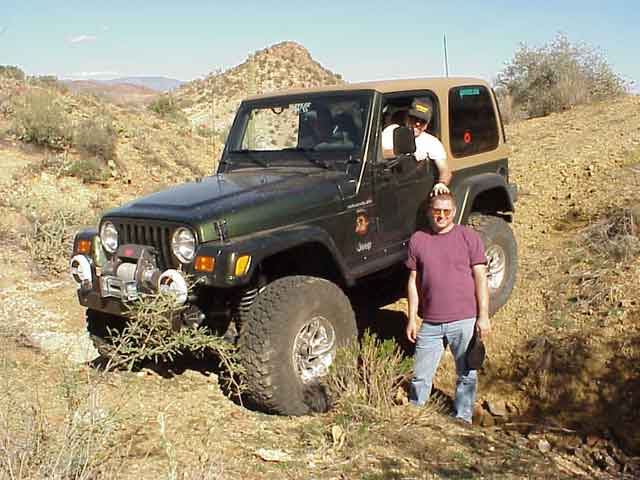 Scott snapped this picture of my TJ while we were heading down into a wash. You can see Joey in the rear view mirror (white YJ). The low desert, at this time of the year, has to be one of the best places to go wheelin'. Of course, if you break down back here, it is a LONG way back to the highway. I would not want to attempt to tow a Jeep out on the trail we were doing.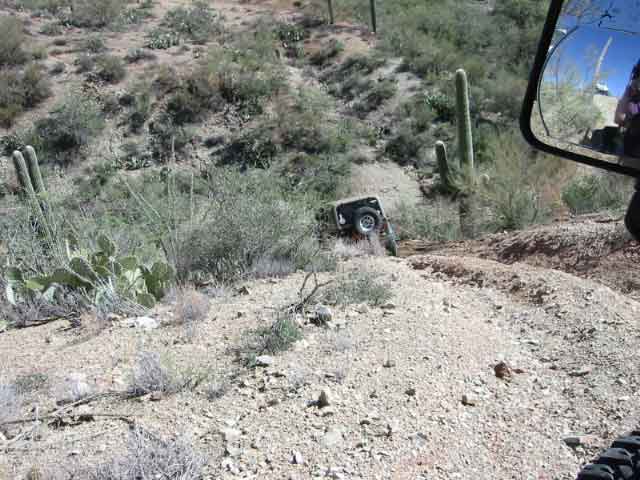 It was truly a great day for an outing. The early November temps were perfect for a day in the desert. Hitting an unknown trail with your wife and some good friends…..well, it is hard to get any better than that!
Remember, please TREADLightly!