It started with a CA friend, Seth, posting a note on an on-line forum about doing a business trip to Phoenix. His plan was to work on Saturday and then catch a trail on Sunday before heading back home for work on Monday. ScottK (local Jeepin' buddy) mentioned that Axle Alley would be a good tail to run. I said I would be up for the ride if I was licking any wounds from the previous week's Johnson Valley run. The typical e-mails and cell phone number exchange occured and by the time Saturday evening rolled around, everything was set. We would be meeting at the Florence Junction Texaco station at 8:00 AM on Sunday.
By the time we hit the trail head, we had 7 vehicles in the group. Seth, ScottK, Troy, Bob, Lachlan, JohnB, and myself. Bob and I did a trail together earlier this year (with friends) and I had not seen his rig since then. Needless to say, his SOA '87 YJ has grown a bit (and he has done a nice job on it too). It is sporting 42″ Swampers and some Dynatrac axles.
So, with everyone aired down and the trailored rigs sitting on the ground, we headed out to the trail. In the Florence Junction area, one usually drives about 30 minutes of "access trail" before you actually get to any of the good trails. These access trails can be run by just about any SUV. Axle Alley is down the trail a bit from the Woodpecker trails and not too far from the Martinez Canyon loop.
A thank you goes to ScottK for the photos in this write-up. I didn't take any still digitals, just some digital video footage.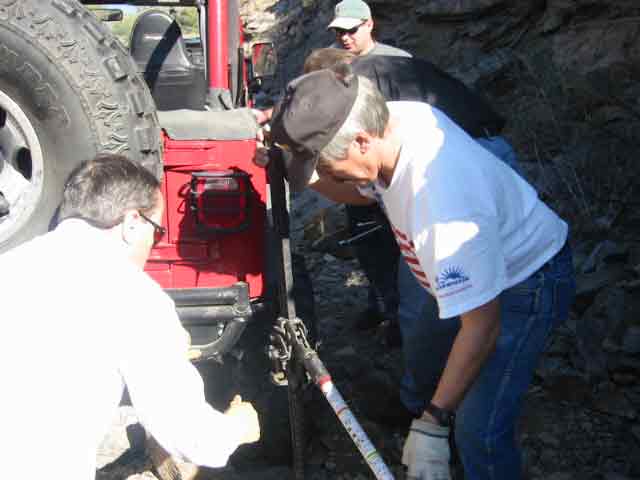 Well, we weren't hardly into the trail and John's Swamper bit the dust. The sidewall got pinched between the rim and a very pointed rock. A few of us hopped in to help John get the spare mounted and then we all were back on our way.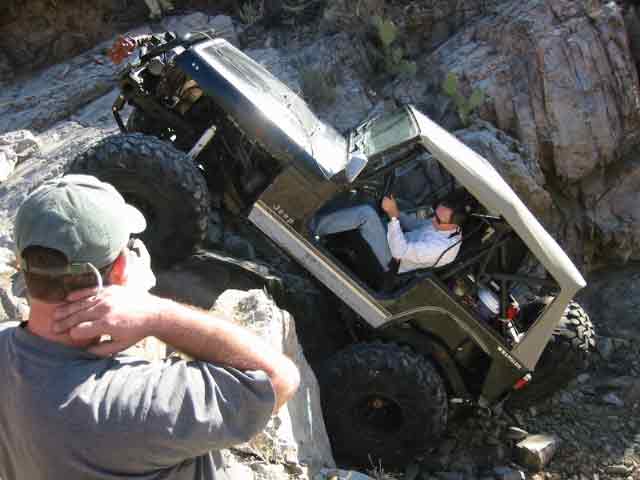 There are three waterfalls on the trail. The first can not be driven, from what I have been told. Here is Bob, our trail leader, winching up the first waterfall. Seth is probably wondering what the heck he has gotten himself into! <grin….just kidding> With Bob's 42″ tires, this thing looks almost possible.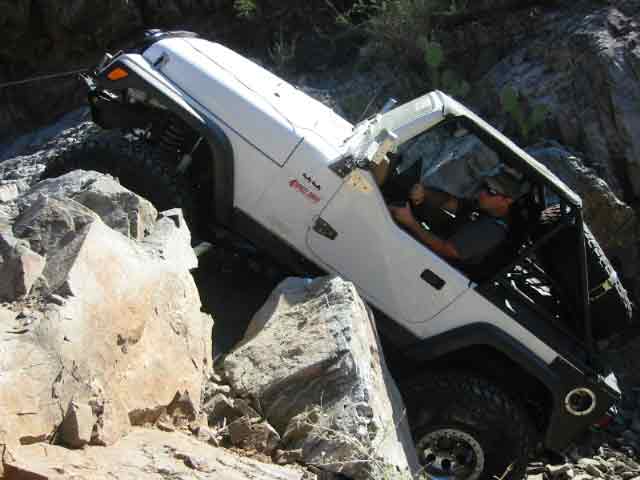 So, with a few others now on top of the first waterfall, Seth tosses up his cable and gets ready to power himself up and over the big ledge. As with those that had gone before him, he made it up just fine.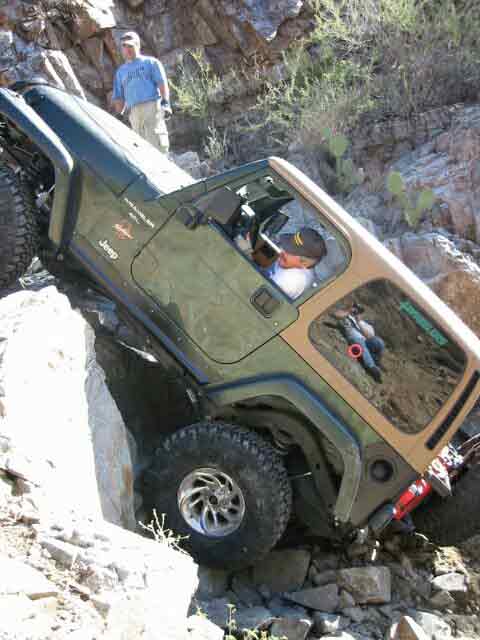 And then it was my turn. No problem…..park the front tires up as high as they will go and let the winch crew hook me up. The pull was a good one and I was up on top without incident. Staring at blue sky while you winch up is kind of relaxing…..NOT!
Axle Alley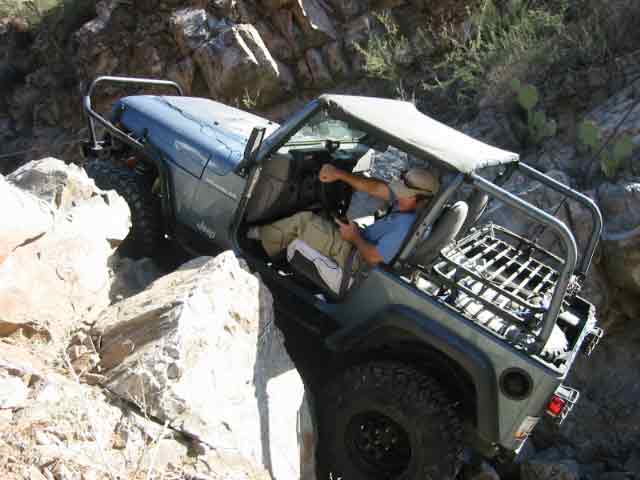 Lachlan gives the first waterfalls a try and makes it up and over. Lachlan was running the trail today without a sway bar (at either end!). The one he had broke (or something like that) and he hadn't fixed it yet. He was a little wobbly on a few of the obstacles.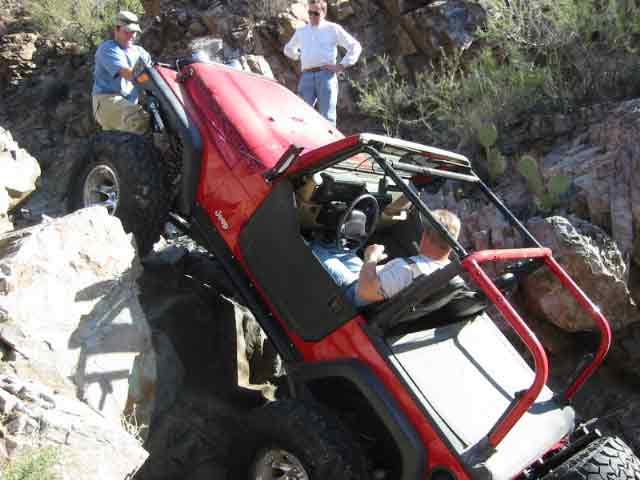 Lachlan pulls the winch rope out for John. You remember John….the guy who popped a tire at the beginning of the trail? Luckily, he kept the remaining four tires in good shape for the remainder of the run.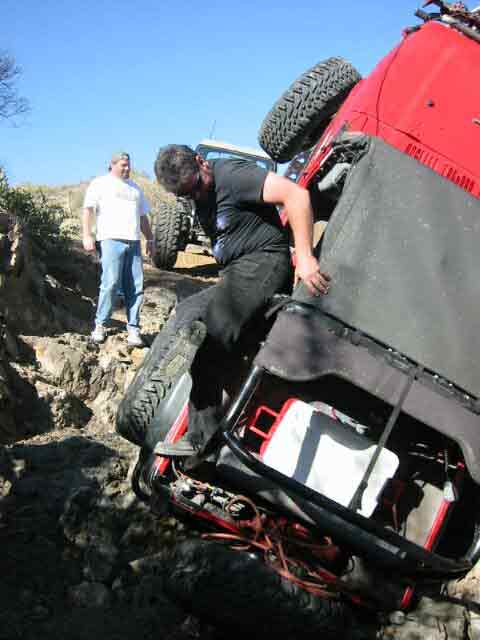 Troy kind of laid his TJ over on it's side/rear while attempting waterfall #2. Both Scott and Lachlan managed to drive over this one while us remaining mortals had a strap hooked to a front tow hook.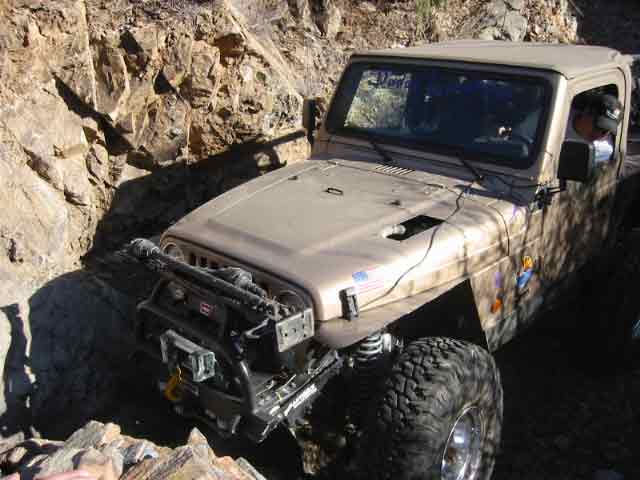 Scott gets lined up for the second waterfall. Yes….you can't see much in the photo (there is no room to stand ….as you can see, the sides of the wash go virtually straight up).
We made it to the end with no breakage (except for John's tire). We all winched up the last waterfall so we could exit the trail. Once back to the staging area, we goth Seth packed up and pointed him back towards California. I caught a post from Seth the following day…..he blew out a tire on the way home while still in Arizona. He swapped in his spare and headed out again. Luckily, that was the only thing that went on his rig during the return trip.
Remember……TREADLightly!