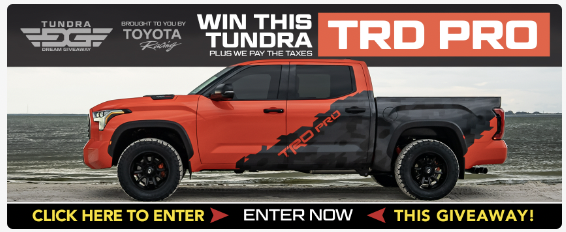 Black Canyon is part of the Turkey Creek drainage system and is located just North of Black Canyon City, AZ. We drove it during the early summer of 2000 and found a lot of brush on the lower part of the trail when we were actually running in the creek bed itself. It was also pretty warm so be sure to bring plenty of water, and just to be sure, bring some extra water. We grouped up at about 8:30 AM near the trail head and wrapped it up about mid-afternoon, with a generous lunch hour and several stops thrown in for good measure and picture taking moments. Did I mention that you should bring some water?
The first part of the trail snakes you through the "Squeeze", a pretty narrow spot that some vehicles (such as a Hummer) would not be able to traverse. I took it easy to make sure my hardtop didn't meet up rock that gets pretty close when the driver's tire crawls up the side of the shale rock.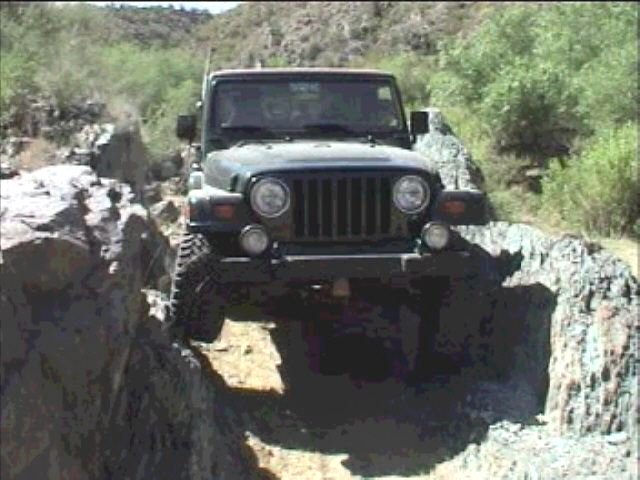 John L. took this picture of me coming through the end of the Squeeze. It keeps your attention while you thread your Jeep along this part of the trail.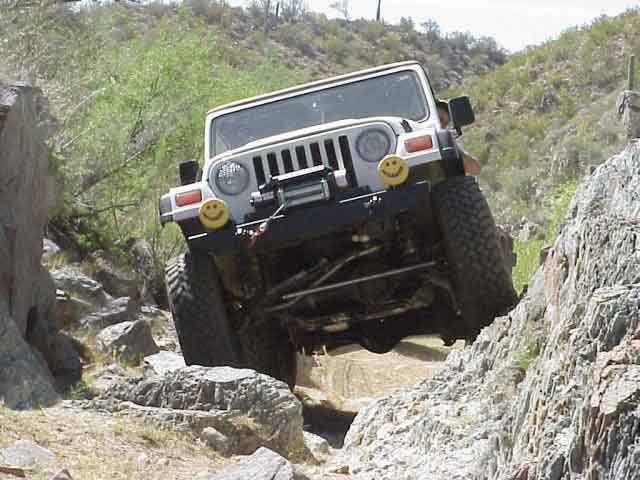 Here is a shot of Doug at the beginning of the Squeeze. Doug being Doug, he took the harder line and put is tire quite a ways up on the rock on the driver's side of the vehicle.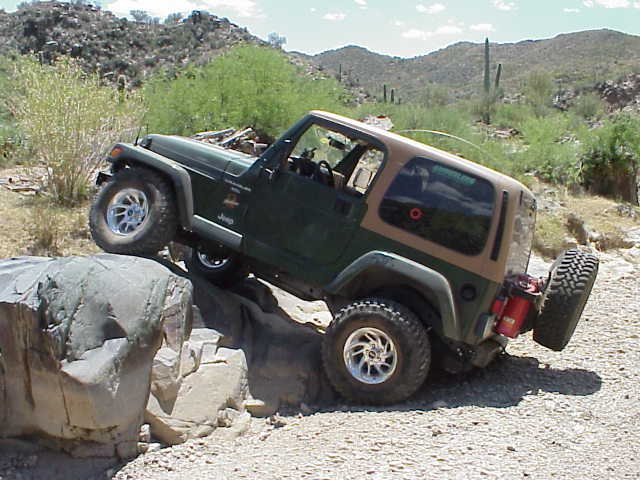 There always seems to be some rocks around that Lady wants to climb up on for a quick pose. While we were playing around on the rocks, our trail leader was keeping a watchful eye on us, as evidenced by the picture below.
Yes sir….you got to be careful 'cuz you never know who will be watchin'! I didn't feel too bad because the YJ that was playing on the rocks with us got caught too!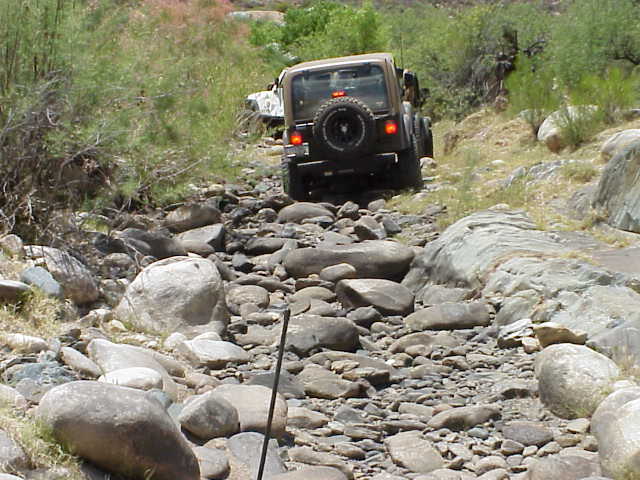 After lunch under some big old shade trees in the creek bottom, we continued along the trail towards Cleator. We hit a few spots that were strewn with rocks and boulders. Some of the stock guys scraped a few under parts but all got through with no problem. In fact, one of the guys that was running a stock TJ dropped me e-mail a few days later and mentioned he decided it was time to get some lift and get his vehicle above the rocks!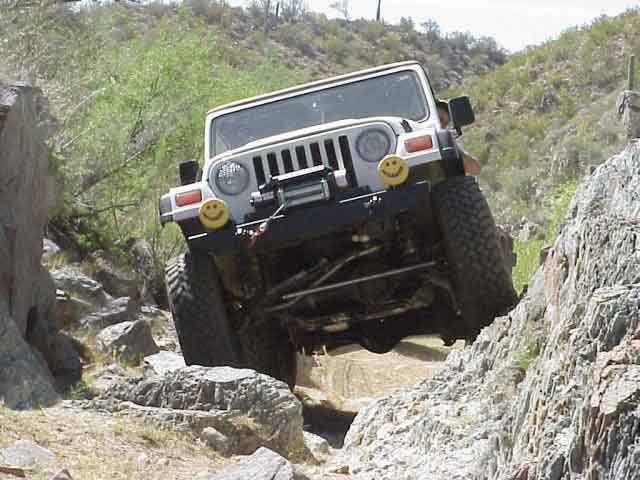 This section of trail was written up in a recent issue of Peterson's 4WD magazine….they drove a Sniper and a highly modified Scout through it and broke the Scout. We found paint on the rocks that matched one of the vehicles in the magazine.
Doug ran this section of BumbleBee Creek after we finished up the day on Black Canyon. Doug's TJ is very capable, with 35′ rubber under a suitable lift and ARB lockers in both axles. Doug's driving was excellent, and at times, there were three of us calling out clearances for him. No sheet metal damage, no power train damage, and only a couple of minor skids and scrapes on the bumpers and skid plates. Don't get me wrong. This trail is well beyond the 4+ trail you will find at Moab's Easter Jeep Safari. Doug is an excellent driver and he knows his vehicle. Any rational person, and even some of the more non-rational ones, will turn back at the first obstacle on the creek. Of course, did I mention that it took four of us to talk him into trying this trail? Doug, you are the man!