Broken Arrow is located near Sedona, AZ. It offers a low difficulty level trail for lifted and equipped vehicles and a medium level for stock vehicles. (It isn't that hard to negotiate as the infamous Pink Jeep Tours of Sedona run it dozens of times a day.)
There were seven short wheel based Jeeps in our group on a Saturday morning. The trail itself takes about slightly more than 2 hours, assuming you stop and play around on the rocks and do lunch near the half way point. It kind of reminds me of a mini-Moab place. There is some slick rock to drive on, however, it is not quite the same material as that found in Moab. I found that my locker was chirping the tires a bit more here than at Moab. None the less, it was a fun day….after all, there were 7 of us trying to figure out just what to do to make it more enjoyable for everyone!
Our first excitement start just a short distance down the trail. We were playing on some rock ledges when ppphhhhttttttttttt………………(that sound that Jeepers really hate).
"Holing" your sidewall is always good for killing 15 or 20 minutes on a short trail. Luckily, that was the only incident we had during the day.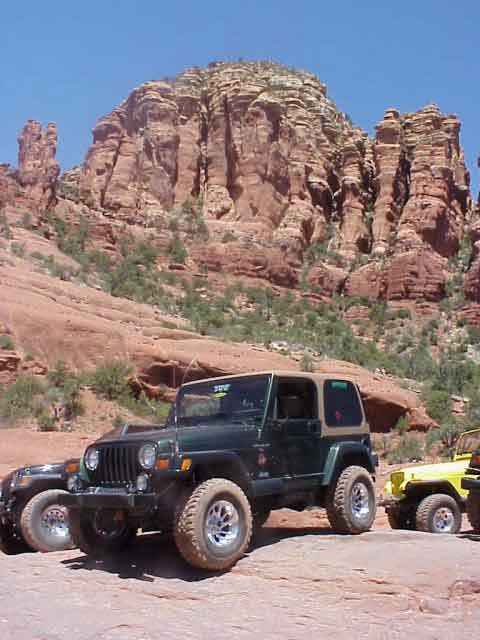 We ate lunch at Chicken Point. I am not certain why it is called that because nothing in the immediate vacinity looks like a chicken. I guess it could be on account of the drop off that surrounds you, but it isn't that steep. Granted, you can't drive the Jeep down it….well, maybe you could….hmmmm!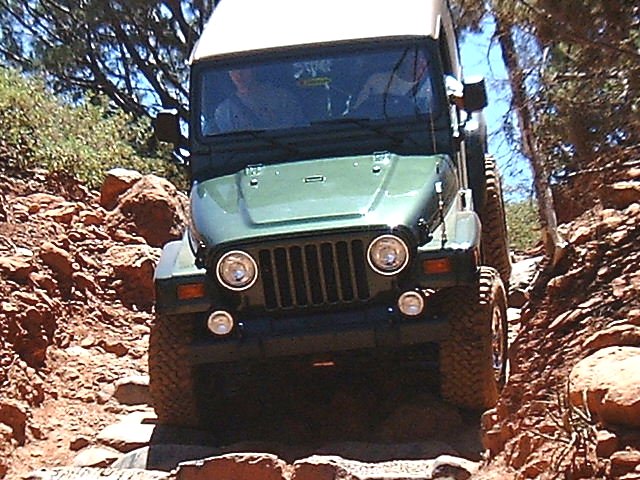 Scott, my oldest son, came with me on this trip. Here we are at the top of the Devil's Staircase, as it is called. It is stretch of rock ledges, that starts at the top of the hill, and you kind of walk your Jeep down them. A couple of the guys went back up after the last vehicle cleared the obstacle. We posted a "guard" at the top of the hill to prevent anyone else from starting down while our guys were going up. (kind of like driving the wrong way on a one way street…oh well, we were just having a little bit of fun)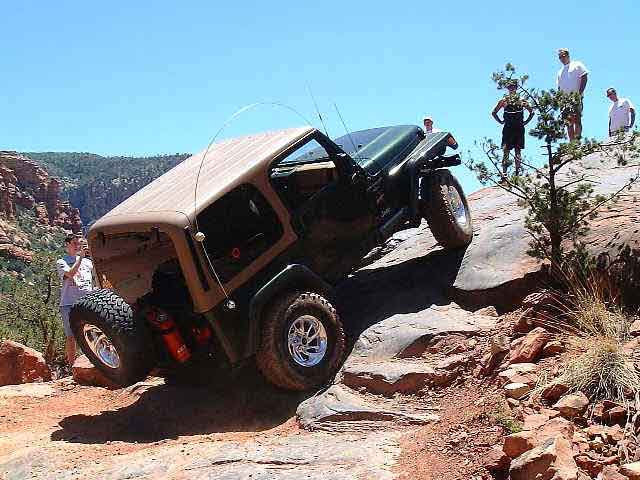 Near the end of the trail, there is a little place to detour through so we all took a turn putting our Jeeps through the alternate route. It is my understanding that the Pink Jeeps come down this, as we witnessed one of the pink drivers do this. The giggling and screaming tourists were besides themselves. Go figure…we are all watching each other and commenting on traction, wheel articulation, etc. Yep….Jeepers to the bone, each and every one of us! My son Scott is standing to the left of the Jeep taking a movie (720 KB)of me climbing this little rock.
OK…I bet you keep wondering about the Pink Jeep Tour thing. I think there should be some kind of federal law that says you can't do this to a Jeep. Imagine, being painted pink and then having your body modified to haul around a bunch of screaming tourists! Most interesting was one of the pink lady drivers who started telling us what to do, etc. (yes, she had an attitude problem for sure). We politely ignored her….I guess she forgot that we were on forest land, as was she. At least we weren't selling stupid rides and wearing ruts in the road doing it! (yes, you can see the ruts in the rocks from the Pink Jeeps sliding down the Devil's Staircase!)
So…here is a pink Jeep….this makes me sick!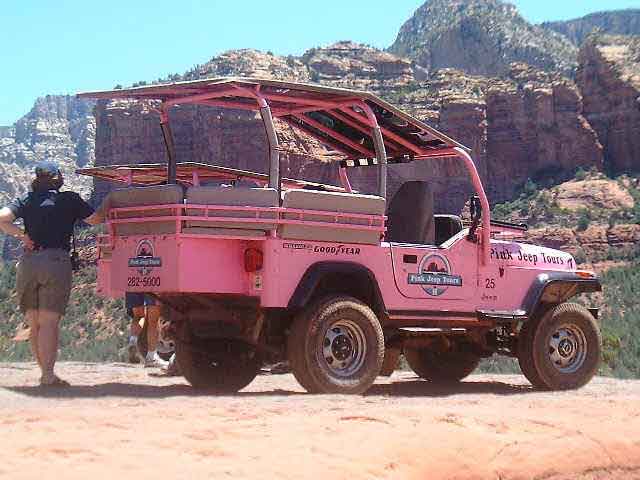 Well, after that last photo….I think we need to call this a wrap. I would push Lady off a cliff and total her before I would ever let her get painted pink and be subject to a life of tourist shuffling. But, on the brighter side, at least they picked the most capable off-road vehicle ever made to perform such a job!