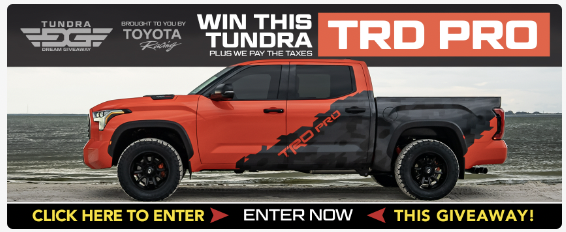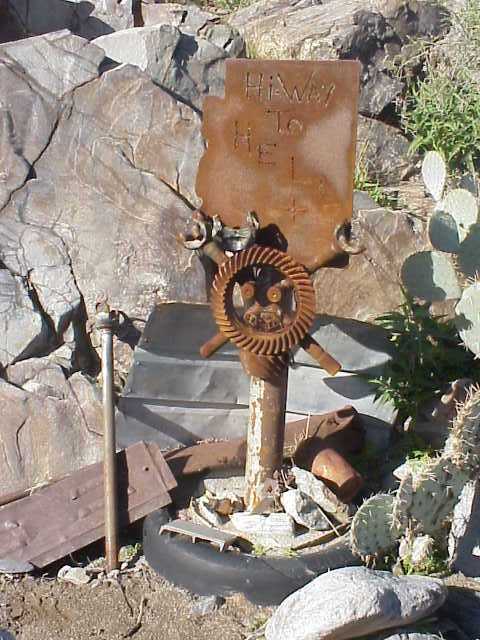 You may recognized this picture from my Upper Woodpecker trail write-up. The Highway to Hell (H2H) trail begins at the end of Upper Woodpecker. It is rated by the Arizona Virtual Jeep Club as a 4.5+ trail (on a scale of 1 to 5). A group of us met on Saturday morning to do some trail maintenance. No, I didn't drive it. Instead, I walked it with a plastic bucket in hand and some garbage bags in my back pocket. Some under equipped wanna-be off-roader had cut a bypass around one of the obstacles. DougB wanted to put a couple of fence posts at the start of the wildcat bypass in hopes of discouraging others from using it. (Time will tell if this was successful or not). There wasn't much new trash since DougB had picked up trash a couple of weeks before. We were going to get any that was still laying around and check the overall condition of the trail.
Most of the guys opted to drive their rigs on the trail. I had walked the first quarter mile when I ran Upper Woodpecker and unless things had changed, I was not in a hurry to drive this trail. Body damage is virtually guaranteed. I wasn't too worried about suspension, tires, winching, etc., but I just didn't feel like having my fenders, doors, or quarter panels altered. As it was, no one made it through without a minimum of flare damage (painted ones don't look that great after you run them along the rocks). An XJ took out a window and did some fairly good sheet metal damage. He was running 35″ tires and managed to do some self-clearancing to his own sheet metal while the rocks did some more. A TJ fender or two took a pretty good hit too.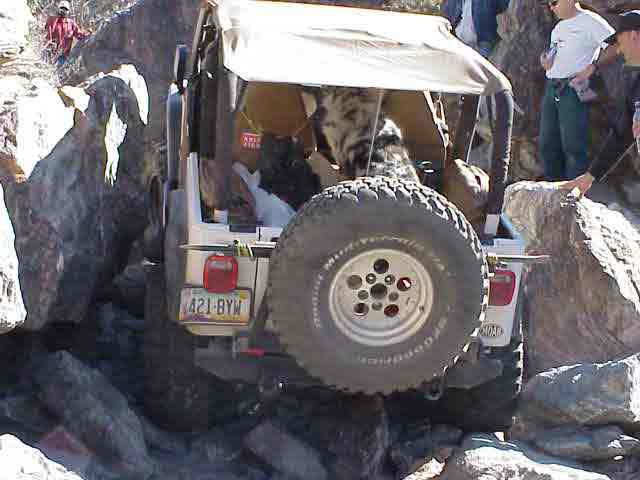 Here is Doug getting lined up on one of the first obstacles on the trail. Things are a little tight in here and the flares took some damage on just about everyone's rig. Some were worse than others.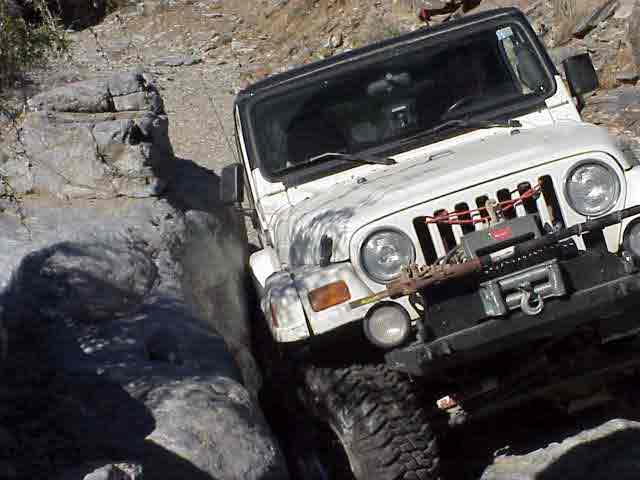 Here you can see Tim getting some time on the rocks with his flares. As I said, there were a number of opportunities to test just how close you could get to the rocks without touching the fenders, flares, or your sheet metal.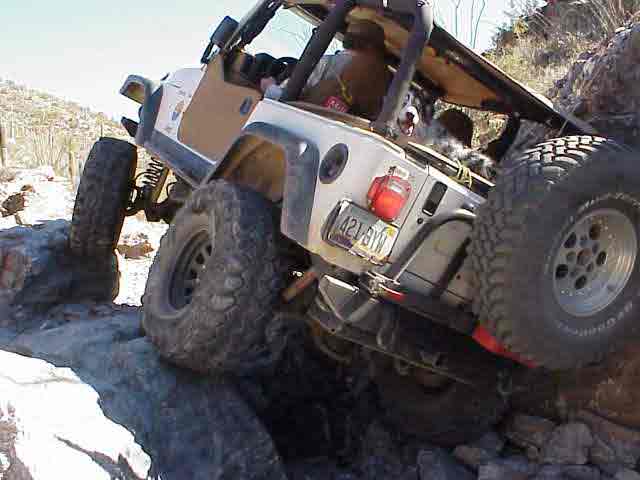 Doug is almost up on top of the first obstacle. That rock that is driver's front tire is going over is right in the way, as you can see. About the time you are getting your back tires up on the top, your front is having to deal with that rock. The line to the left of this one is much worse.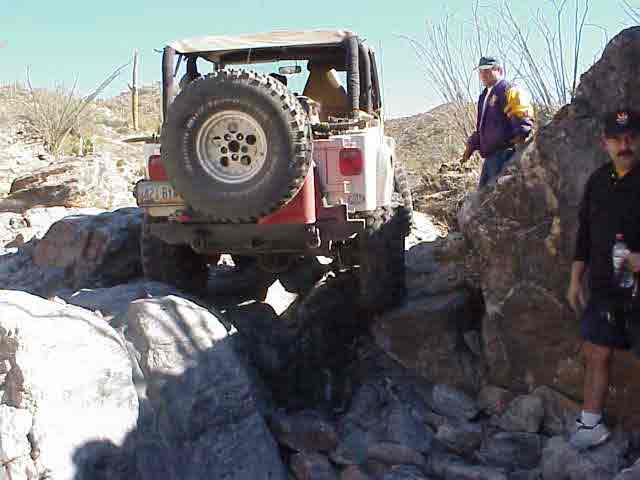 He made it. I'm still not quite sure how, but he did. Actually it was a combination of the best line (not sure you could even call it a line), some properly applied throttle (not too much, just enough) and some good old fashioned Jeepin' know how! Way to go Doug!
Highway to Hell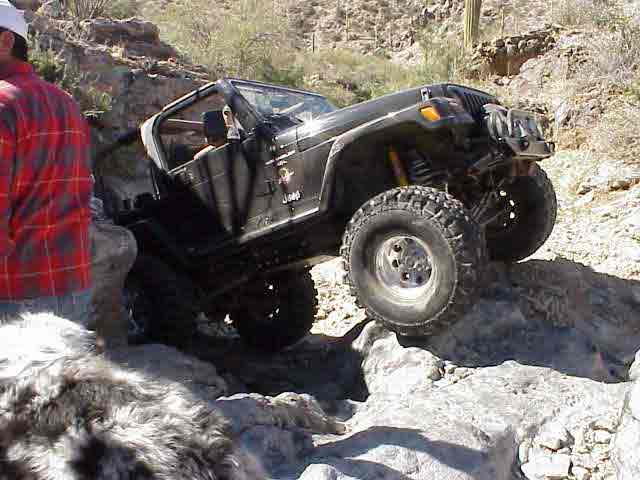 Larry tried a slightly different line on the first obstacle and got himself cross ways in the chute. He was trying out a brand new pair of PJs and I think they were throwing him off just a bit. We tried adjusting the air pressure a bit and it helped somewhat, but he finally winched over the rock before it caused a trail side repair.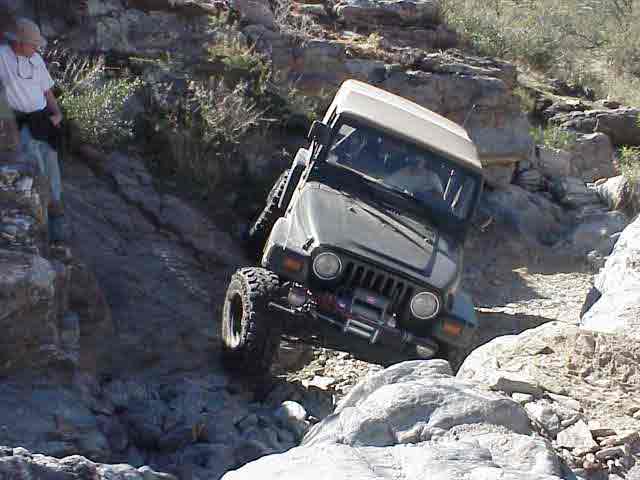 Here is Fred getting set up for a line to the left (which did not work). He got up and over once he got in the groove that Doug used. We spent a fair amount of time at this little obstacle….I guess I shouldn't say little. It was pretty beefy!
Fred continue to give it a try using the line to the left. He is about as far as one could get. By the time the front wheels were up on the rock, the weight shift to the rear axle was more than enough to remove most of the traction from the front end.
Doug starts another water fall that is further down the trail. I would rank it similar to the first one, except less chance of getting your sheet metal into the rock. This was had a nice notch running down the middle which meant you need to keep your wheels well positioned.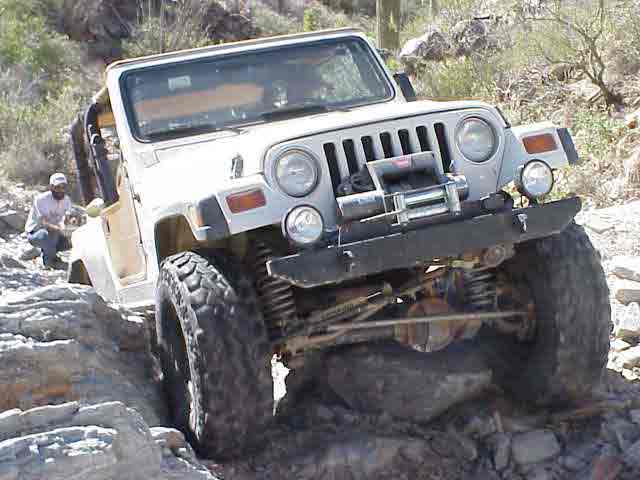 Doug is a very good driver and he made all of these look too easy. His TJ sports a Tera lift, 35″ tires, ARBs front and rear, and an Atlas II if I remember correctly.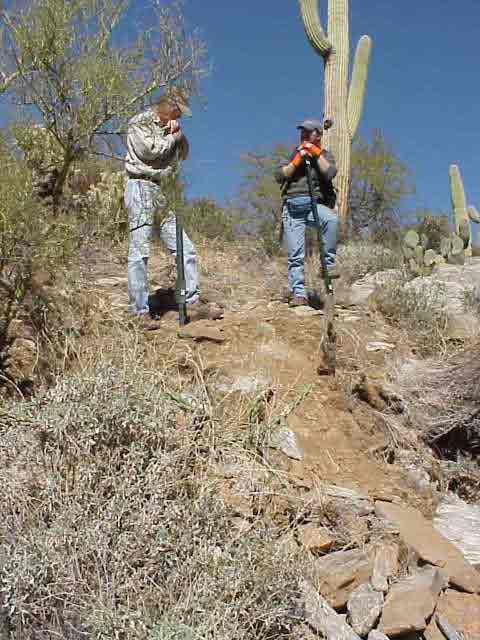 This part of the reason that this trail was ran. Some cut a wildcat bypass up the side of the bank. This is just before the obstacle that Doug just got over (see previous 3 pics above). A couple of fence posts were put in place in hopes of "teaching" the folks that you don't make bypasses just because your rig is not up to the trail. That is why you walk it first and then decide if you should be on it. Of course, having someone along that has ran the trail can provide much better insight as to your chances of making it.
We wrapped up the work and called it a day. There was virtually no trash (just a couple of hand fulls at the max), so that was very nice to see. Joey, a good friend who walked the trail with me, hopped in to my Jeep and we headed back to the west side of Phoenix and home. I think it is safe to say that a fun time was had by all.