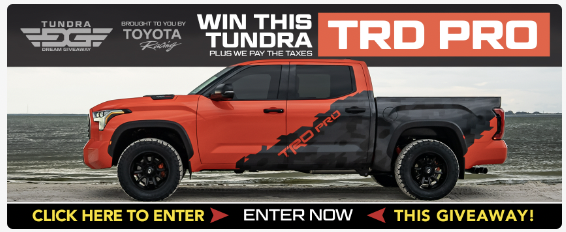 It started with a thread on the Trail Rides, Meeting, & Events forum at JeepsUnlimited.com. It ended with Jeepers from all over the US getting together to make the 4th Annual JeepsUnlimited Moab Run a reality during the week of April 18-24. The planning stages for 4AJUMR started in mid-2003 when Josh Bingham announced that he would be unable to coordinate the 2004 gathering at Moab. After a quick discussion with my wife Donna, we decided to take on the coordination duties and 4AJUMR was on its way. About 550 thread responses later, 50+ Jeepers had indicated they would be joining their friends in Moab. Just under 40 made it to Moab (if my count was accurate). To those that didn't make it, you missed some great trail rides and a super pot luck dinner on Wednesday night at the local Lion's Club Park.
Before I get into putting up some pics of the trail rides I did, I want to thank all of the participating vendors who took the time to respond to my e-mail requests for raffle prizes. These prizes were raffled off after our pot luck dinner on Wednesday evening. Every adult received a ticket and as a ticket was drawn, the winner was able to pick from any of the remaining prizes. We figured this was the best way to do the drawing as it allowed the person to select something that they wanted and helped eliminate them receiving an item that they could not use or already had installed on their Jeep.
I want to thank the following companies/vendors and individuals that contributed items for the raffle drawing. The donations you supplied spanned quite a range of items. There were a lot of smiling Jeepers, thanks to you, and I am sure they will be telling their friends about your generosity. I am sure they will continue to refer business to you in the years to come. Thanks again for your support of 4AJUMR!
4 Wheelers Supply
4x4GroupBuy.com
Applied Innovative Technologies
DPG Offroad
Donna Olson
Kent Warner
Kilby Enterprises
Kwan Motor Systems
Raingler.com
Supplee 4WD
Teraflex
Tom Wood Custom Drive Shaft
Tough Stuff Products
Toys by Troy
Tuffy Products
Warn Industries
Here are some pictures from the pot luck dinner/raffle.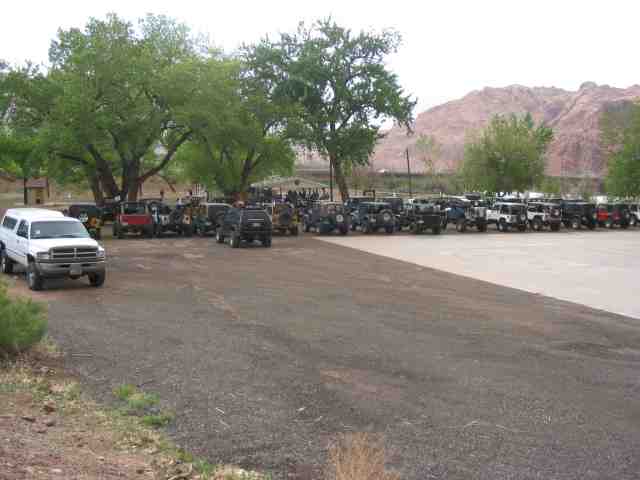 Some of the Jeeps parked at the edge of the picnic area. We had the entire park to ourselves, which was nice. About 15 minutes before we were ready to wrap up, the wind picked up and we were introduced to the beginning of the storm front that was pushing through the area. LOTS of wind to say the least…..and then came the rain.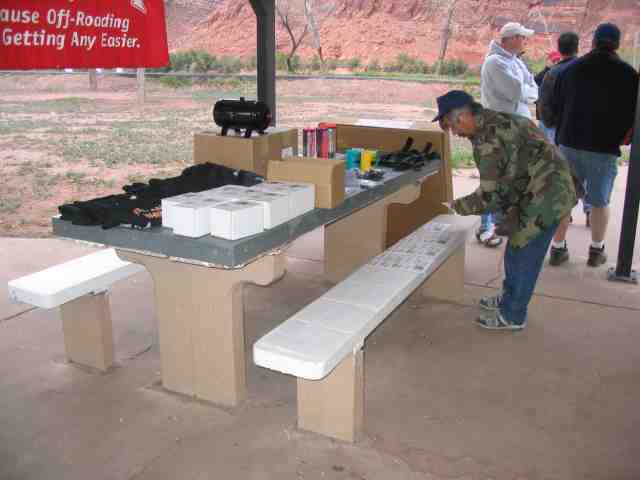 One of several tables that was covered with plenty of food. I didn't get around to sampling nearly as much of it as I was hoping to do. Oh well, maybe next year!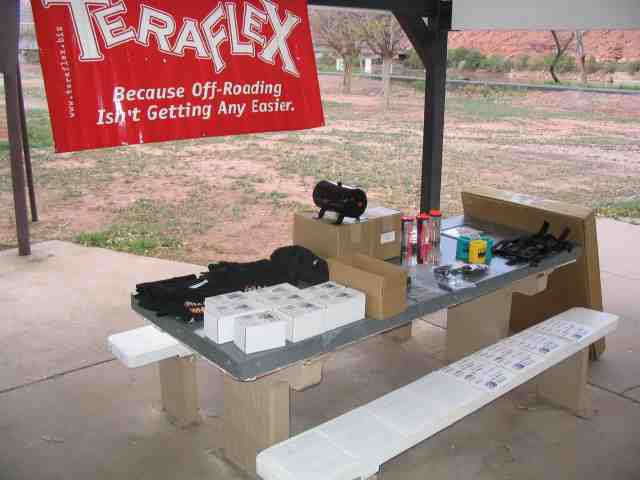 We placed the various raffle contributions on top of the table and I used the bench to arrange the gift certificate envelopes. We had a little bit of everything in the mix, including such items as air tanks, TJ sport bar, no-battery flashlights, grab handles, shirts, caps, paint protectors, oil spill absorption mats, beef jerky, license plate holders, and many other items. Some of the gift certificates were for specific items, such as quick disconnects, while others could be redeemed for any item carried by the vendor (up to the $$ amount of the certificate).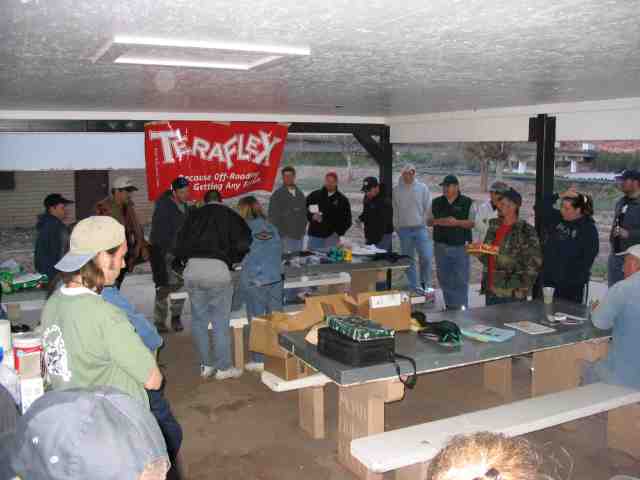 OK…everything is setup and ready to go. Everyone had pretty much had there fill of the good food that all brought to share. Once Mike passed out the raffle tickets, we were ready to go.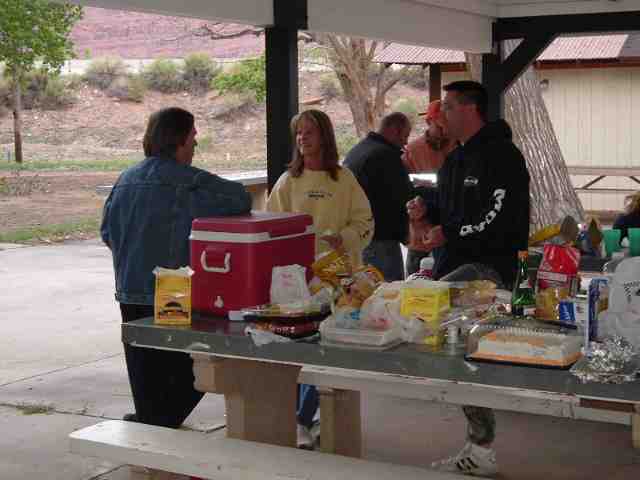 As a ticket was drawn, the lucky winner came up and picked an item from the table. The smiles were pretty BIG when he or she got exactly what they were hoping for. I know Mike got one of the air tanks (he had a brand new Extreme Air compressor waiting at home to get installed) and Trina was quite excited when she picked up a gift certificate for a pair of quick disconnects. Hers were literally on their last leg!
Once again, a BIG thanks goes out to those vendors and individuals that helped with the raffle prizes. You made for some pretty happy Jeepers!
Moab 2004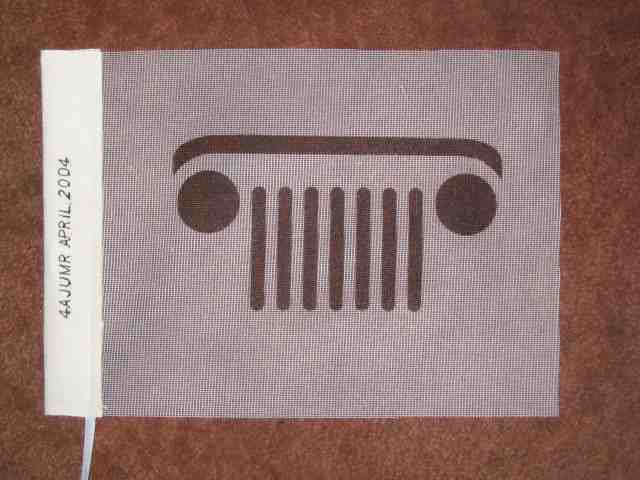 For those that attended 4AJUMR, you already know that Donna (my wife) was not able to attend this year. She intends to be at 5AJUMR! I want to thank her for the time and effort she put forth in helping get this year's flags ready. She found some light weight netting that would not cause your antenna to fold in half at highway speeds. She made me a beta test flag and I tried it around Phoenix for a couple of weeks before she started making the rest. It even survived the 9 hour drive home to Phoenix from Moab and looks none the worsen for it! I saw some comments from a couple of other Jeepers and one mentioned it survived the 800+ mile trip back to his home. The best part was that we didn't have to worry about whose Jeep was going to be in the graphic….the way I see it, everyone's Jeep made the flag this year!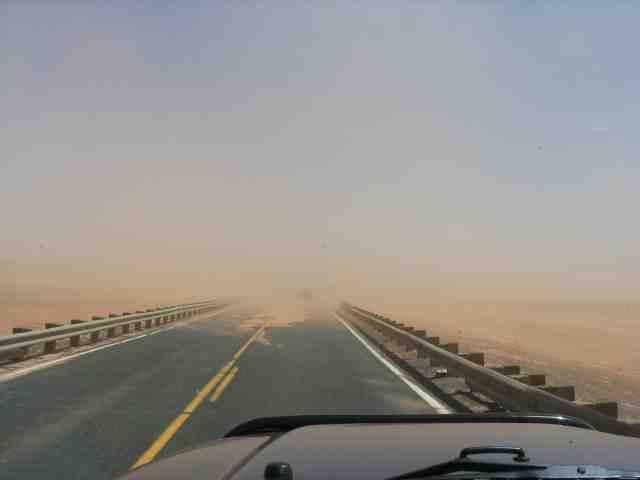 Five of us left the Phoenix area early on Saturday morning, headed for Moab and a bunch of fun. We stopped in Kayenta for lunch. We had been getting the benefit of a 30 MPH tail wind across most of the Navajo Nation….enough so that our gas tank fill up showed several of us getting 20+ MPG! However, the strong winds also caused one heck of a sand storm on the reservation too. As seen above, the sand is starting to settle on the highway and visibility at times was quite bad. It is also a bit breezy as we travel through northern Arizona, but this time it was a LOT breezy!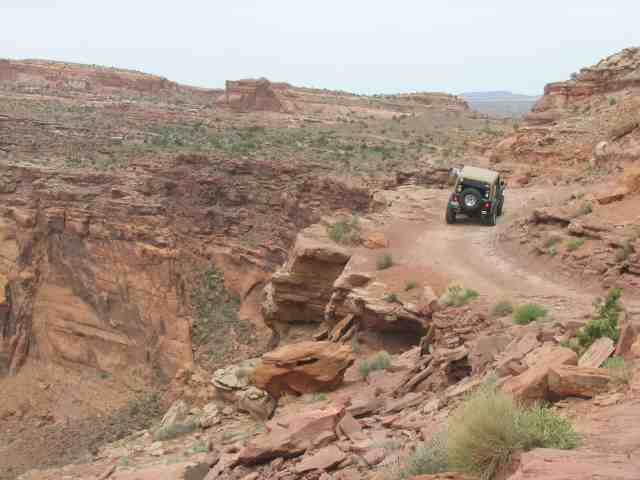 A trip to Moab just wouldn't be complete without a run on Cliff Hanger. MikeW snapped a pic of me as I was rounding the corner, heading for the ledge.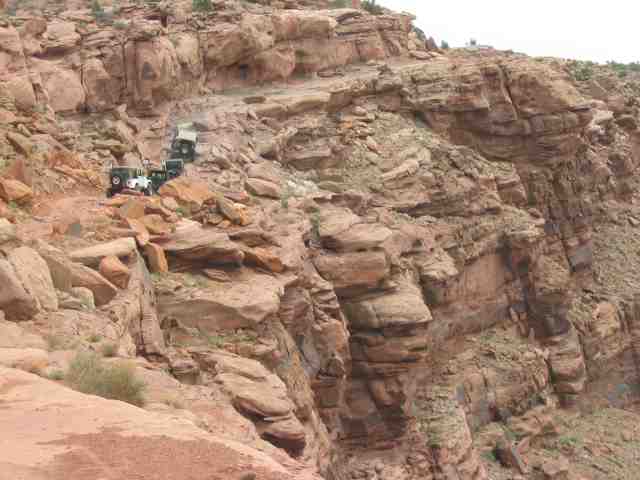 Another picture taken on Cliff Hanger. We are returning from the nice lunch we had at the overlook. A small group of mountain bikers stopped to watch us climb the ledge. I am not sure if they thought we would make it or not. But when we finished, one of them gave us a big wave as they headed off to the overlook.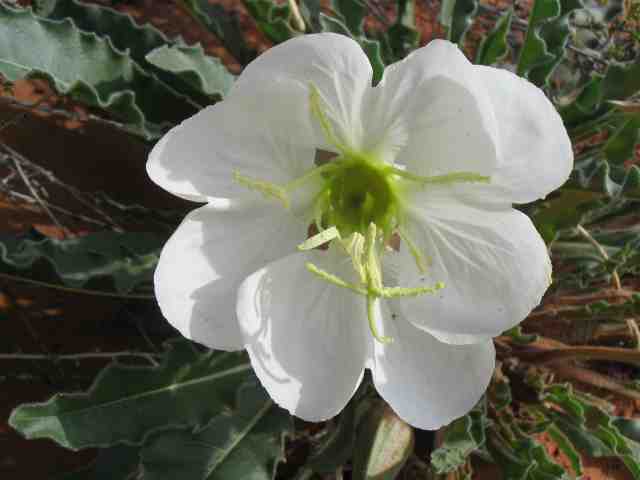 Everyone knows that the wheelin' in Moab is pretty good, but there is more there than just the slick rock and ledges. Spring had apparently sprung and things (don't ask me what kind they are) were blooming. With the sewing that Donna does, she always enjoys getting close-up pics of flowers and such to use in her designs.
Moab 2004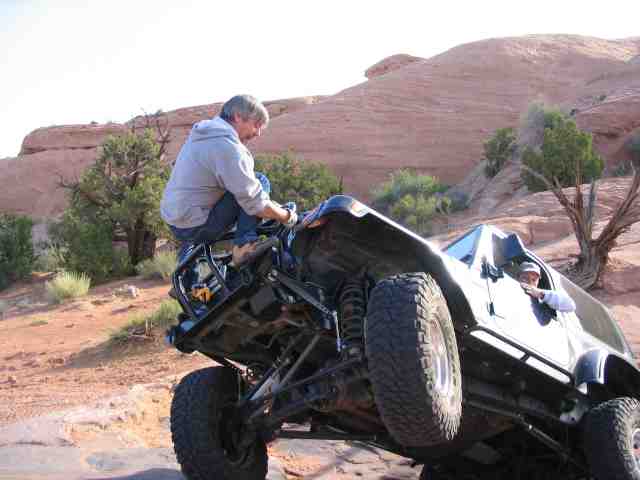 There is a "sweet" spot at the end of the Wedgie obstacle on Poison Spider Mesa. I didn't have much luck getting folks into it except for Mike. He was near the end of the line and we had discovered all the spots that would not give any air. When Mike came through, he got his front end up a bit and I got to ride it back down to touchdown.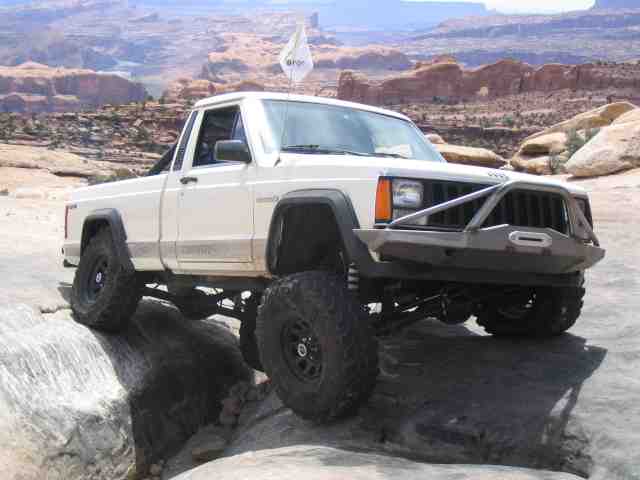 Ernie, who was at 3AJUMR, came up with us again to have some fun. This year, he left his YJ with 358K miles (yes, that is correct, 358,000 miles) at home and brought his Jeep Commanche. He has a long arm kit in the front and leaf springs in the rear, with lockers at both ends and a 32″ Swamper type tire. Ernie picked up just one small ding in the rocker panel during his week at Moab. Not too bad for a long wheel base Jeep!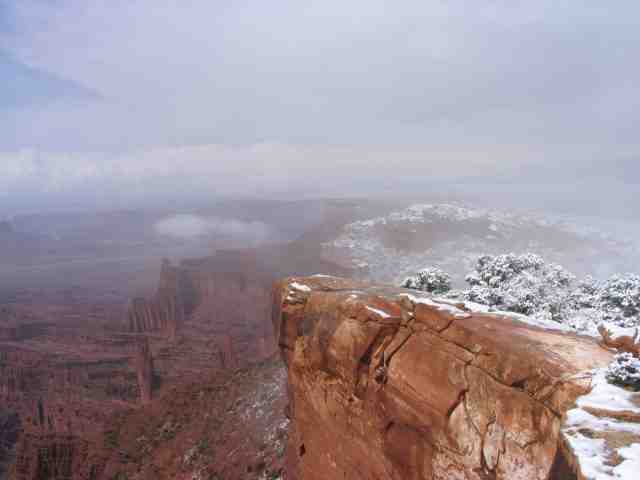 During Wednesday night and all day Thursday, we got some weather. We opted to pass on Thursday's attempt at Moab Rim and headed up to Top of the World. The trail puts you at a 7000′ high overlook at the cliff's edge. At about 6300′, the rain turned to snow which gave me my first experience on snow covered slick rock. I found that it really does get pretty slick once the snow is added….much more so than when it is just wet. Of course, the mud wasn't helping matters either.
Some of the folks were running with bikini tops. With the air temp cold enough to support snow, I'm thinking a couple of them were a bit cold, although they did have some pretty heavy jackets on.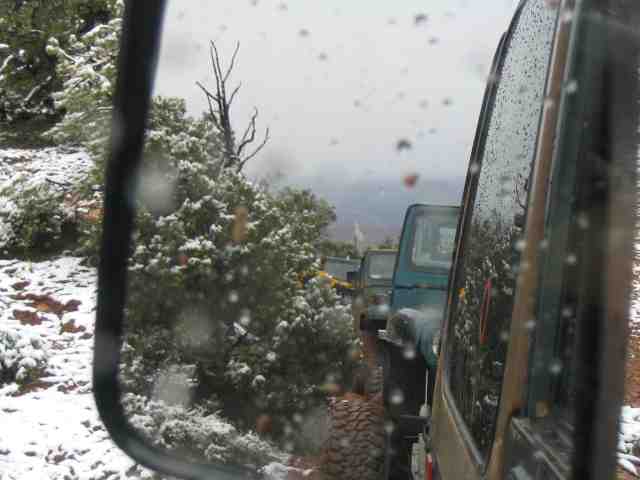 You always have to do a mirror shot….you know, using the mirror to get a quick pic of the folks behind you. So here it is….the obligatory mirror picture.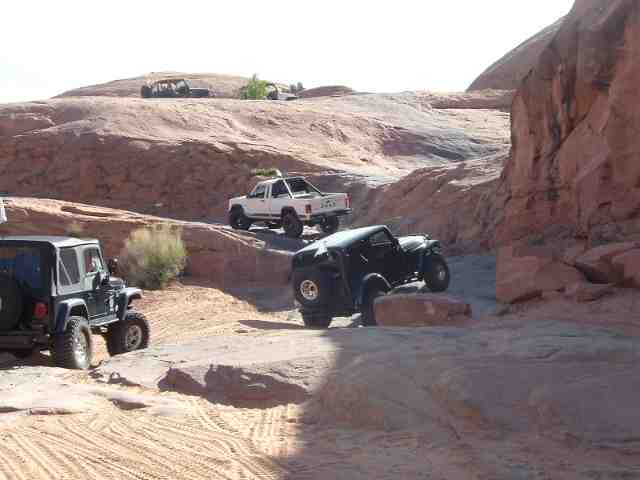 Here are a few Jeeps from the group of 14 that went on the Poison Spider Mesa run. We ran the complete loop and then took a short detour on the Golden Spike trail so some of the folks could play on Launch Pad.
Moab 2004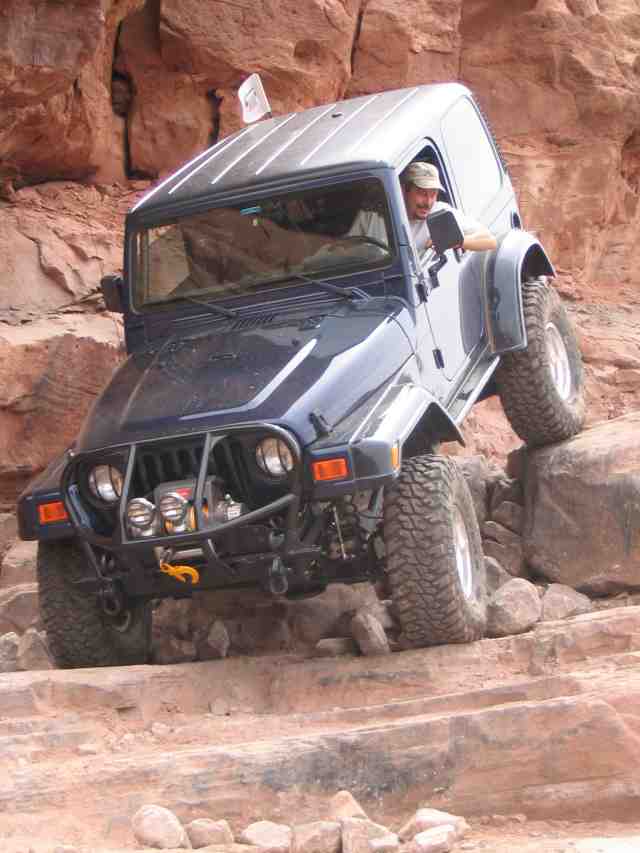 MikeW slips down the ledge on Cliff Hanger. Our new buddy from Montana, Larry, broke a pinion strap bolt on his rear drive shaft which left him sitting right at the creek crossing. He rode shotgun with me on the remainder of the trail and when we returned, we had to winch and strap his TJ up to the road. It all went very well and we had him to the top of the hill without too much effort. One thing I found was that having two Jeeps as winch anchors works much better than just one!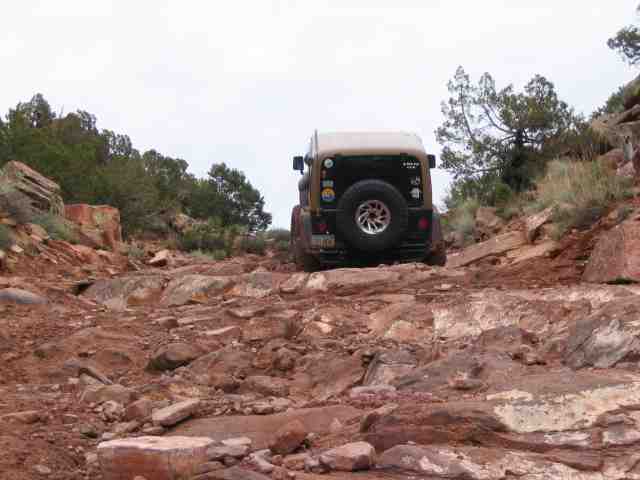 MikeW took this one out of his front window while I worked my way up the last couple of ledges near the top of Rose Garden Hill. We ran that trail on Friday….a bit of fun on the hill with the previous night's rain but everyone did well in getting to the top. Donna and I ran this last year as our last trail for 3AJUMR and enjoyed it. Once at the top of the hill, you have a nice view of Cottonwood Canyon while the trail goes along the edge of the cliffs.
TimD got pretty flexed up as we came down the Wedgie from the top of Poison Spider Mesa. Next year, we'll work on getting the rear axle down in the crack a bit more so we can get more flex!
A nice row of Jeeps are dropping air pressure at the start of the week on Sunday's Fins & Things trail run. Fins & Things is a great trail to try out if you are new to Moab and want to get an idea of just how steep the slickrock climbs and descents can really get. There is a ledge or two to climb (and drop off) and some nice views too. All in all, it is kind of a Moab Sample Platter.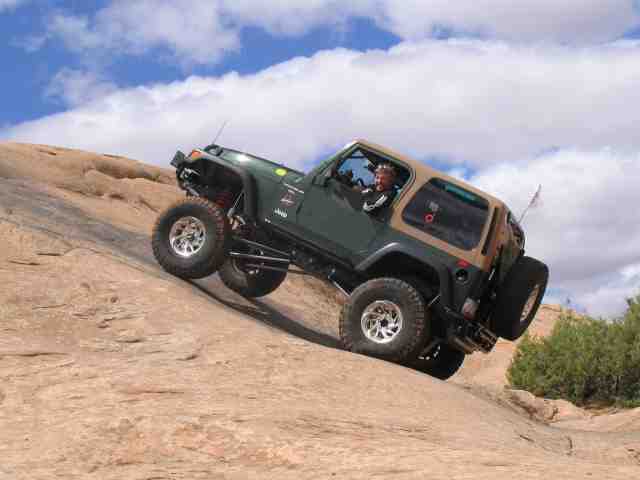 Another one of me going up one of the slickrock climbs. I think this one was on Fins & Things but I am not certain. You know what they say…."If you've seen one slick rock fin, you've seen them all".
Moab 2004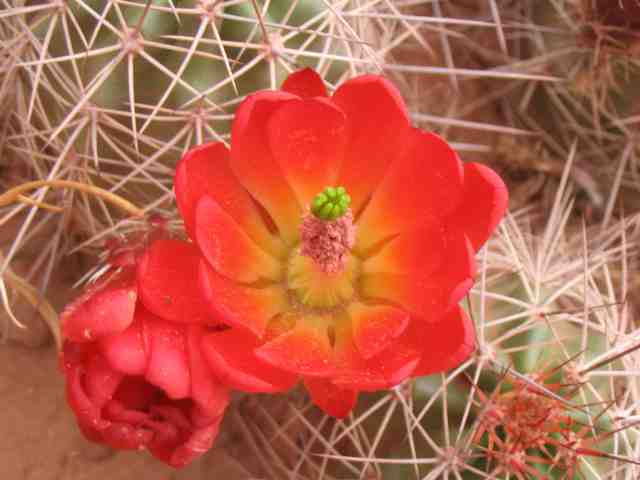 OK, so I had to squeeze in another pic of the local Moab desert blossoms. This one was on top of a cactus that was really getting into the spring thing. At full resolution, the picture is very neat looking.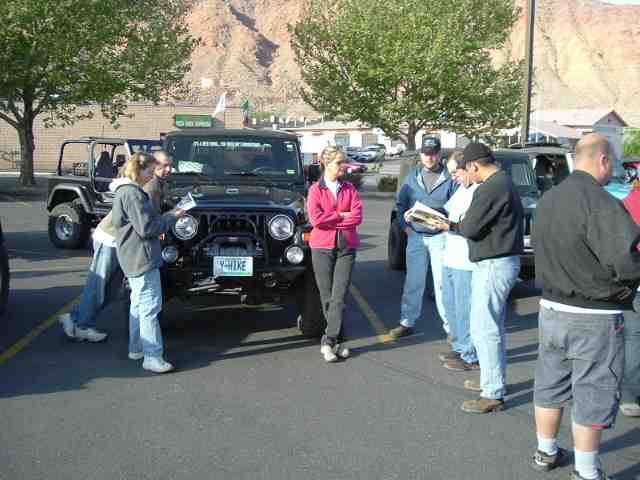 This is typically how the trail runs start….a discussion of what is happening and some page flipping through the Well's trail guide book. You find a group of folks you are comfortable with and are willing to run a trail that all will have fun on….and when that is all lined up, pick a CB channel, hop in the Jeeps, and head off for a fun filled day.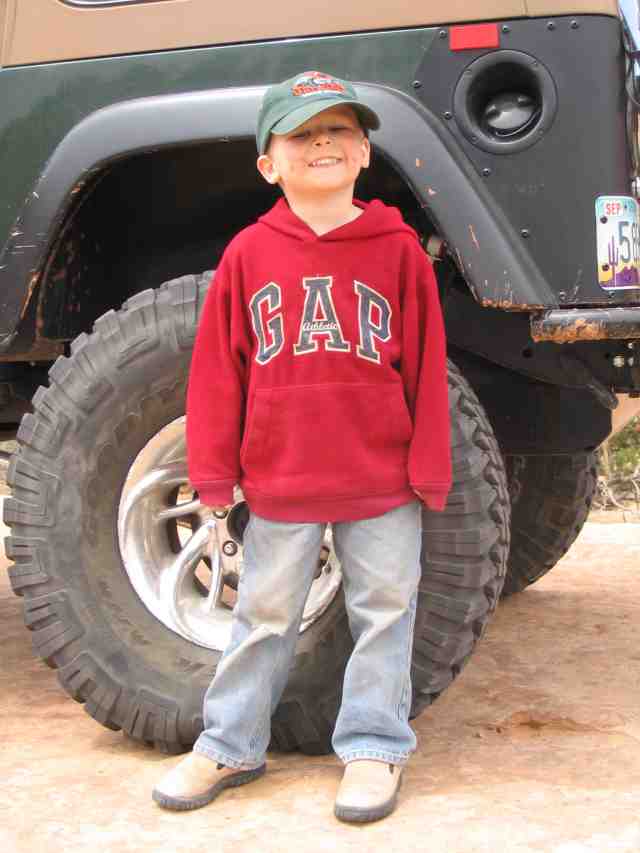 I believe my new found Jeepin' buddy, Jay, was the smallest Jeeper at 4AJUMR. For being just 4 years old, he did pretty darn good on the trail. His dad, T.Dome and his grandpa, Dome, drove down from Washington state to join in the week's festivities. Jay is one rock chucking little Jeeper. I am thinking he needs to drive a bull dozer or something like that when he gets bigger!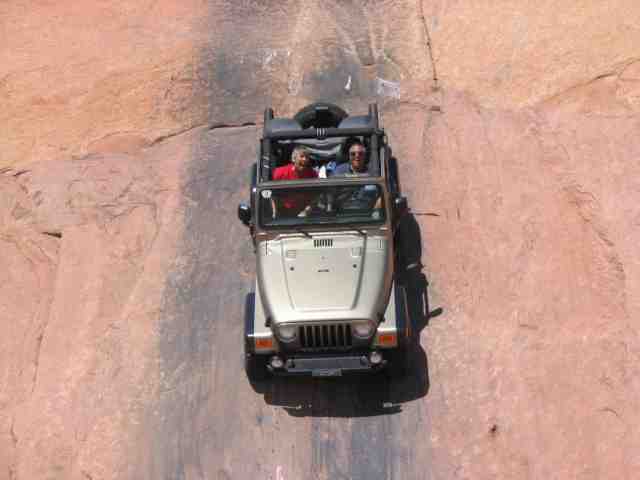 Da Judge (aka., Al) took me to the top of Launch Pad and then back down. I've never been on Launch Pad as a passenger. Pretty cool….gives you all kinds of time to gaze at the local scenery on the way up and when you are coming down, you can even stop and get a few things off your chest, if you are so inclined. Pretty cool!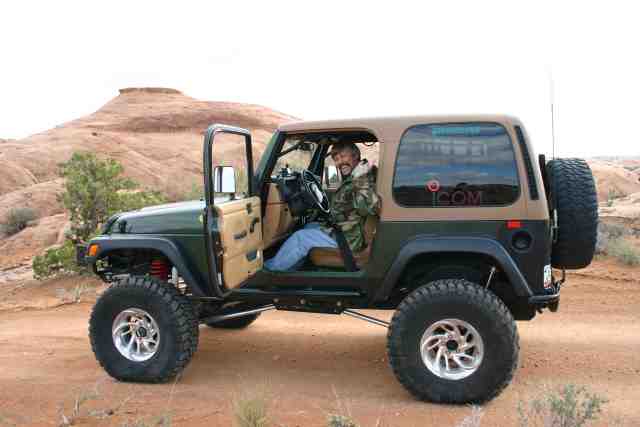 Well folks, that is about it. I wanted to thank everyone that helped make 4AJUMR what it was….a great time to wheel together with friends and family. I hope those of you that couldn't make it this year will be able to catch 5AJUMR. I've no idea who is going to be coordinating it, but I am looking forward to hitting Moab again! How may days till 5AJUMR?