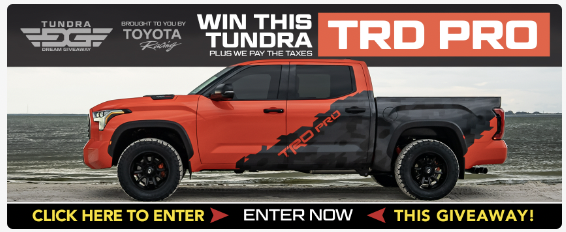 The day was September, 30, 2000. The high for the day was forecasted to be between 100° and 105°. This is 10° or more above average for this time of year. However, the nights have been cooling down into the high 70°s so if you can stay in the shade near mid-day, it isn't too bad….at least, nothing like it would be if it were the last day of July.
Six of us arrived at the designated air down point to plot the day's activities. I had loaded up my GPS receiver with several trails that ran North from our regular wheelin' area. We decided we would explore this area for some new trails, hoping to find a couple of replacements for some land that was recently sold and posted as NO TRESPASSING. I hate to see that happen, but there is nothing you can do when the land owner decides to post his land. Smile and move on….that is about it.
Today's participants included 3 TJs, a CJ-7, and 2 YJs. Larry, Dion, Scott, Mike, John, and myself. John joined us for the first time with his CJ-7 and as it turned out, had a good time. I look forward to wheelin' with him again. Strangely enough, he lives very close to Dion so I hope he will drag John along (or vice-a-versa) when we hit the trail the next time.
Dion asked me if we could stop off at Three-Line Rock before we got serious about finding a new trail. Feeling more like a DJ playing oldie requests, we headed down the trail only to find that we were headed in the right direction, but on a different route. I zoomed out the resolution on my Garmin GPS and scrolled further ahead to see what was coming up. Sure enough, there was a cut-off to the right that would bring us to where we wanted to go, albeit from the opposite direction.
We headed down the cut-off and five minutes of travel time put us at ground zero…..but on the high side of our desired obstacle. We took the by-pass so as to get down below Three-Line Rock since we all agree that climbing up it is much more fun. We got out and walked through the various lines that present varying degrees of difficulty. John had never been here before and it had been a while since Scott was. With the discussion and advice rendering out of the way, we proceeded to spend an hour or so playing on the rocks. (Who would think that so little could keep so many entertained for so long!)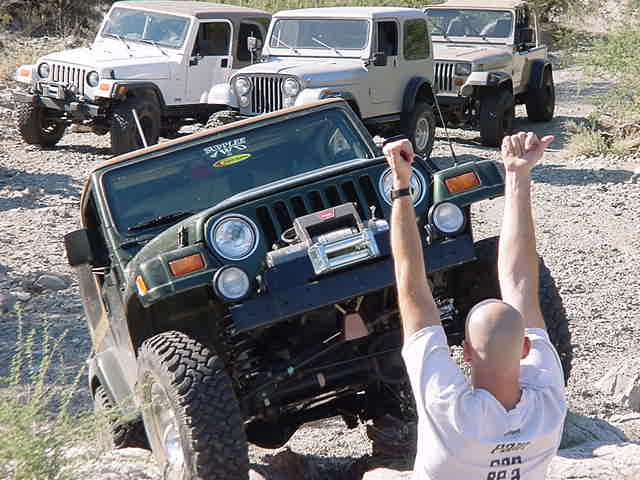 Dion starts me out by climbing up the middle of three entry points into Three-Line Rock. One of the things I like best about running with this group of Jeepers is their willingness to stop and discuss the lines through an obstacle. Spotting is a skill unto itself….as you need to know what the vehicle is going to be doing before you lead it on a path over the obstacle. Sometimes it is quite a challenge to get the driver to stay focused on the spotter. They want to stick their head out the door and see what is happening, which gives a very limited perspective of what the other side of their vehicle is doing.
Having made it up the entry line, I maneuvered off the rock to get myself placed for the exit out of the obstacle. As I was just about off the top and cranking the wheels around to the left, Larry yelled for me to hold it since I was quite twisted up.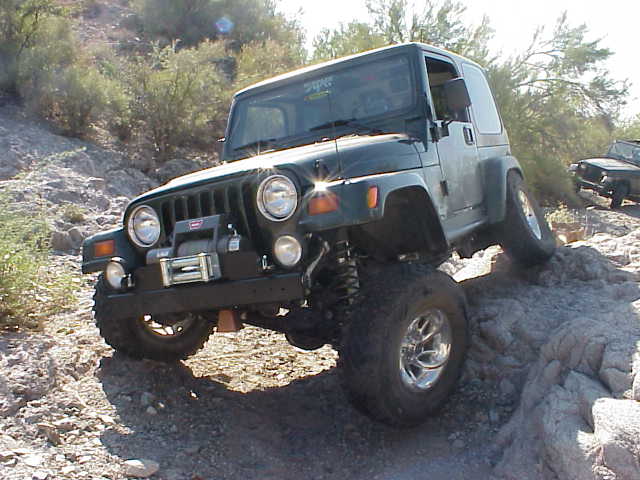 Opposite corners of the vehicle were stuffed and at full droop. This is about as much as my suspension will provide for. I'm not quite sure what I'll be doing when I get my next set of tires. I plan on going up a size (or two?) and I'm not quite sure where the extra rubber is going to fit.. Oh well, I'll worry about that when I get closer to replacement time.
Rock Crawlin'
Next was the exit route. I went for the far left line and tried taking it to the extreme left, as far as possible.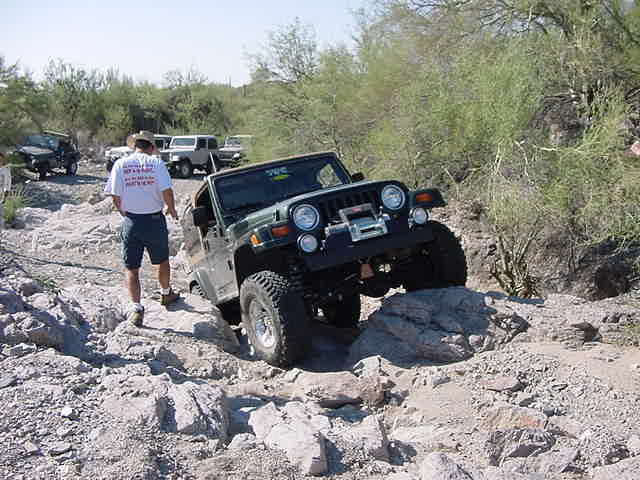 I was happy to say that my bumper cleared the rock which had previously given me problems (see Bobbed Bumper project). However, I found out, with just a few more inches of travel, that my rear drive shaft and diff were going to be the points that now gave me forward movement problems. A high spot in the center of my line gave me trouble only for as long as it took John and Dion to stack a few rocks for me.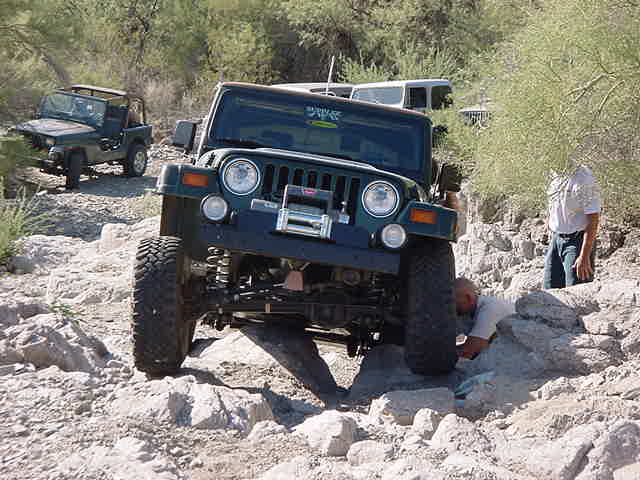 Where there is a will, there is a way. It little bit of coaxing and another rock or two and Lady was up and over the last of Three-Line Rock. Someday, I will have enough clearance to get through that line without any extra rocks. Although, I must admit that a few were stacked for a few others for their attempts on the other lines done that morning too. There is nothing wrong with putting a rock here or there. It beats the heck out of damaging your Jeep…..or worse yet, causing a breakdown that now impacts everyone on the run with you.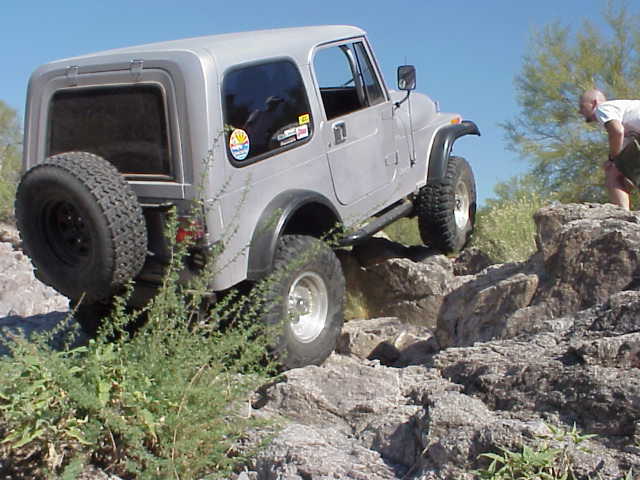 Here is John working is way up the center section of the rocks. Dion is checking to make sure he clears his front Diff and that the t-case skid will do its job if it needs to.
Rock Crawlin'
After everyone had their time on Three-Line Rock, we headed out to the Haul Road and proceeded North towards what we hoped would be some new trails to explore. We found the spot where Tin Can Alley meets up with the large wash we were driving through. We proceeded through the gate and continued on.
The wash was wide and sandy and no effort was required to dodge the occasional rock that appeared. I was thinking to myself that this might be a rather boring trail (all easy trails makes me an unhappy camper!) when we passed by a couple of cows that were bedded down in the thick brush that lined the wash. A couple hundred yards further and we were stopped dead in the wash.
You see, the topos showed this wash as a Jeep trail, dating back some 30 years or more. What we (and the USGS folks that made the topo way back then) did not know was a very large and DEEP water hole has formed at the base of a awesome rock waterfall. I'll go out on a limb here and say that this rather large hole probably had some mechanical assistance during its formation….perhaps something along the lines of a D-9 caterpillar? I would guess the hole to be around 20′ below grade level. Were it not there, we would probably have had a good 6′ ~8′ waterfall to climb. It would have been possible, had the ground still been there in front of it. I wish I had been Jeepin' in this area before that watering hole was created. I'm sure some Jeepers were quite surprised they first time they found their trail radically changed from the last time they had driven it.
Not to be too set back with our failure at finding a new trail (there are more to explore the next time), we regrouped to discuss a change in the remaining wheelin' strategy. We decided to back track to where we passed the end of Tin Can Alley. Once there, we opted to run this trail backwards, since none of us were pressed for time and we had done it in this direction.
About 25 yards into the trail, we are greeted with an extremely eroded section of the trail….the left rut being as much as 5′ below grade level. Now this was never a problem when we were coming DOWN this section of trail. Climbing it today would prove to be a different experience. I was worried for Scott, who was driving a stock YJ.
I was first up the trail and managed to get significant air as I directed Lady across the eroded track. The Detroits worked fine and we were soon to the top. Larry also managed to get some air and I believe at one time discovered just how deep that eroded section really was. He made an off the wall comment to be about the pucker factor being above average for that ascent. John and Mike made it up with about the same amount of effort as did Larry and I.
Scott was a different story. With both diffs open and his limited travel suspension, he worked hard to get up the first 25′ of trail. Dion got out and did a great job of spotting, but there comes a time when you realize that you can not cheat the laws of gravity, physics, and that traction coefficient formula (I never was that great at math, you know). With Scott almost off the side of the trial, Dion worked his way past him and put his YJ at the proper spot where he could get good traction for the start of the an uphill tow. I hooked the strap on Scott's front tow hook and signaled Dion to start out. They both did a good job getting their Jeeps to the stop of the very steep hill (stupid me, I walked it….oh boy….thought I was going to die!).
We proceeded on the trail enjoying the view that the daylight afforded us (we always ran this section during this past summer at night). About 30 minutes further down the trial, I found a turn off with a trail marker that rang a bell. A check on my GPS revealed no trail intersection here, but that only means it was not in the MapSource data set that I uploaded the previous night. If my hunch was right, we would hook back up with Tin Can Alley, but with about an hour's less travel time. As it was about mid-day, those projected temps of 100°+ were becoming a reality.
Sure enough….the hunch paid off. We picked up our trial again after about 10 minutes of whoop-de-doos and running through a narrow wash. Once back on Tin Can Alley, we were about 15 minutes away from "The Squeeze". Now the squeeze holds something special for everyone, but Dion has what I believe to be "Squeeze Fever". You can see it in his eyes….and it worsens the more you talk about Jeepin and trials and Tin Can Alley. Anyway, that would have to wait because we found a spot where the wash ran pretty deep and there were a few Palo Verde bushes offering us the opportunity to stop and take 30 minutes or so for a well deserved lunch. We did all of those things that you can't (or shouldn't?) do when your wife is along for the ride….you know, farting, belching, telling nasty jokes….you know, MAN stuff. We had to be careful though on account of Scott the youngest in the group and we didn't want him to get corrupted!
With lunch out of the way, we worked our way towards the Squeeze. We arrived at this obstacle like we did the morning's rock crawl….on the opposite side of where we would normally be. I opted to pass on this one, but Larry, John, and of course, Dion, were up to the challenge.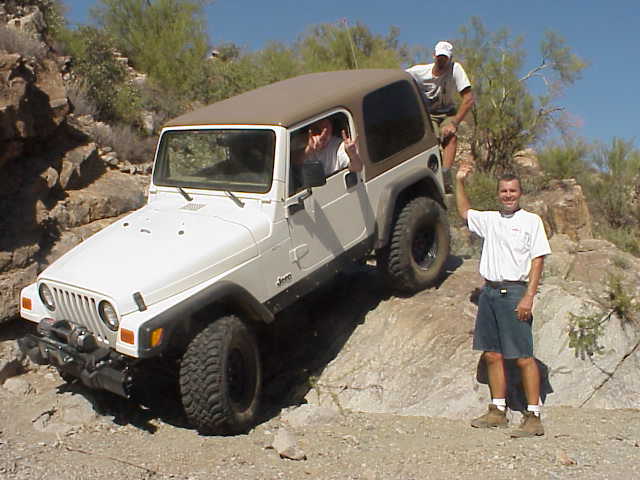 Larry made a nice clean pass over the top of the squeeze. His line did not allow him to get a clean exit angle off of the rock. This resulted in him being a bit tippy as his left front tire was dropping down the rock and his right rear tire was still climbing. Dion hopped on the rear bumper while John and I spotted Larry down. Had he hit the brakes on the way, the sudden forward shift might have caused him some serious problems. We all celebrated a successful landing!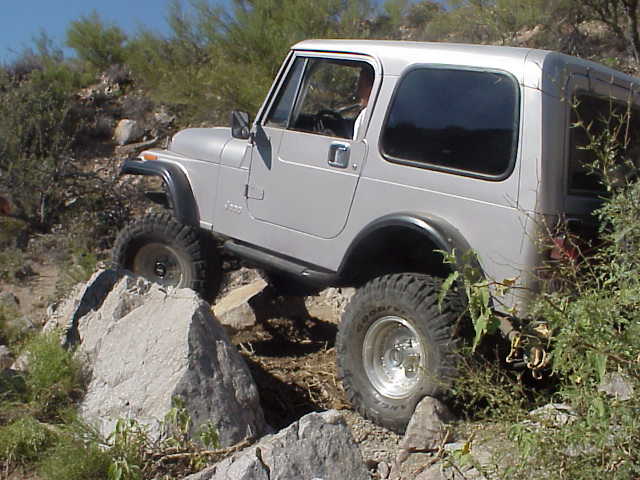 Here is John picking his way over the squeeze too. He chose a different entry point which allowed us to get some cool pics of him in action. John worked his way towards the end and came off the rocks like an old pro!
Rock Crawlin'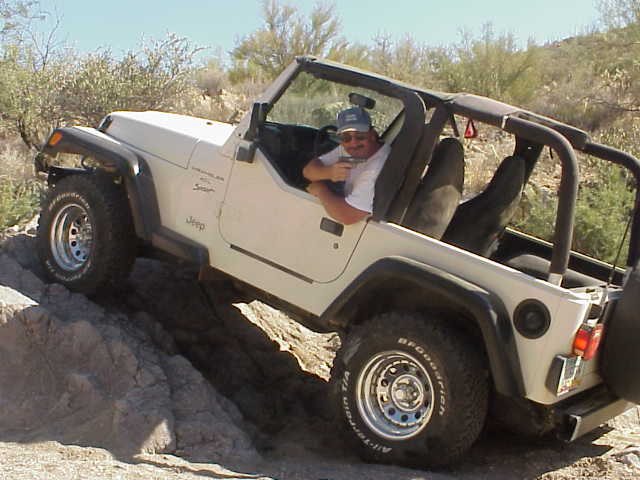 Mike opted to wait this one out as did I. He decided to roll his TJ up on the other side of Squeeze Rock and let me catch him in the act of being himself! Guilty as charged!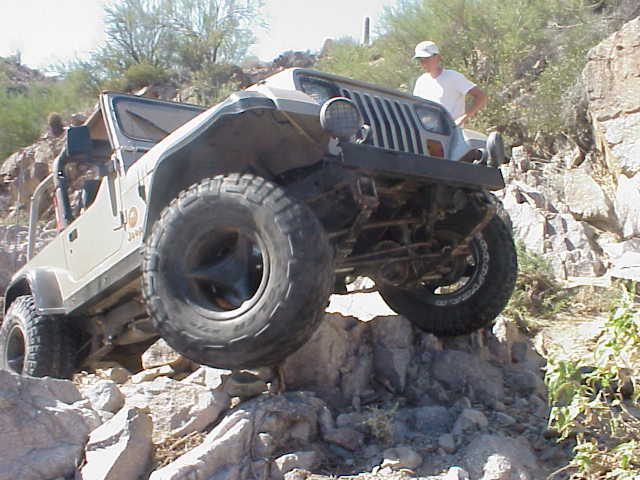 Dion went around the bypass and then ran it the in the usual direction, although he picked an unusual line. He made it through after we stacked a couple of rocks at this part of the rocks. The break over angle was too severe and he kept getting hung up on his exhaust cross over while his tires were hanging in the air. It was also close to the oil pan and we didn't even want to have that puppy start to leak!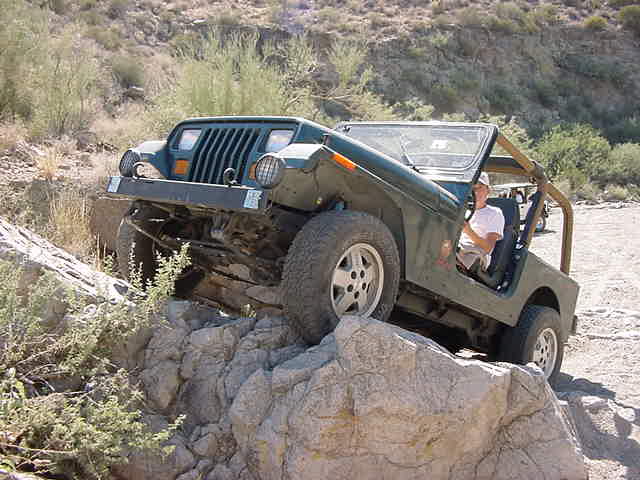 Scott pulled his YJ up for a couple of quick shots as well. Scott is turning out to be a pretty capable driver. It will be fun to see him once he gets some lift under that YJ with some gearing and lockers.
It was around 2:30 PM or so and the sun was hot for sure, so we called it quits and headed out towards the highway. The rest of the wash was uneventful as we took advantage of the high rock walls which offered some occasional shade as we drove along.
Once out of the wash and back to the highway, we stopped to air up and for the TJs to reconnect their front sway bar. With that out of the way, I closed up the windows, turned on the A/C, and had a nice drive back into town. Another adventure had come and gone. We didn't find that new trail we were hoping for, but we did find a couple of shortcut sections that can be put to good use when the need arises. The next time out, maybe we will start at the North end of the area and work our way South.
Hope to see you all out on the trail and remember to TREAD Lightly!