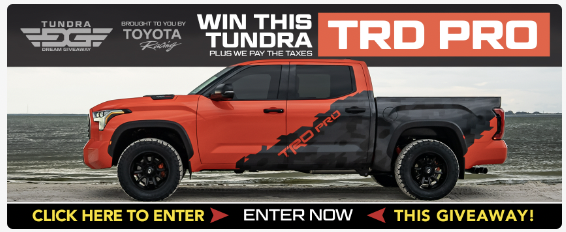 Note: Some of the photos in this trail write-up are not of the usual quality I normally post on my web site. I took about 90 minutes of video using my new digital camcorder during the trip. Some of the "still" images included here are digital grabs from the camcorder. The camera allows me to create still images from any part of the digital tape. The CCD pickup element in the camcorder is not as big (ie., the pixel count is smaller) as my Sony digital still camera, so the picture quality is a bit lower. However, I think you will enjoy them none the less and it should give you some kind of idea what the trip was like. Enjoy!
It all started with an e-mail from Robert Yates, my off-roading buddy from CA. I met Robert through the RAM-JAW newsgroup a couple of years ago. Since then, we have wheeled Death Valley and the Charouleau Gap Trail together. This time the e-mail asked me if I would be interested in a run on the Rubicon Trail in late summer. With the JU Moab 2001 run already in the works, I was not sure if I could make some time for the Rubicon. My wife was taking some time off in mid-summer to go back to Michigan to attend a couple of family weddings and take advantage of the opportunity to visit her relatives during her 3 week car trip. I put Robert on hold with a weak "maybe" and waited to see how things might shape up.
After the Moab event was finished, I gave some serious consideration to running the Rubicon. I had a handful of things I wanted done on Lady before I would consider the trail. I had done some research on the trail, gleaming info and pics from web sites that described the trail. I got some first hand info from a local Jeeper and with all of the facts (and fiction?) in front of me, I made my list of must do items. If I could get these taken care of, I would strongly consider making the run.
I had already acquired a pair of D-44 axle shafts for spares during my Round 2 build-up, but I was lacking spares for the front D-30. I also wanted to beef up the front axle housing and reinforce the lower control arm brackets too. If I could get these major issues resolved, I would be in a much better position to join my friends for a Rubicon adventure.
Robert was able to help me out with the D-30 axle shafts. He was working on a Warn hub conversion for his TJ and agreed to let me have first dibs on the stock D-30 shafts he had been using as spares. He also had a new hub to go along with the complete set of axle shafts. We agreed on a price and I statused that item as done.
After a phone call with O-R Fab, I set up a date to have my D-30 axle housing trussed. While Lady was in the shop, they also beefed up the lower control arm brackets on both axles as well as the frame end lower control arm brackets for the rear end.
With the above items taken care of, I ran a couple of local trails to make sure everything was working as expected. I started up another dialogue with Robert and the other two Jeepers that would be making the trip and the dates and other details solidified. An oil change and chassis lube were done the week before the trip. With a week to go, I was about as ready as I was ever going to be.
I met up with Robert at his house in Chino. We hooked up with a couple of other Southern CA Jeepers for a great dinner (thanks Blaine!) and I finally got to put faces with a couple of names. Robert and I left the following morning to hook up with Bruce and Michael, the other two Jeepers that were part of the group. An hour's drive found us off the freeway and at a McDonald's for a quick breakfast and gas tank top off. The four of us left for a little town NE of Sacramento. Michael had family there who would provide us with some floor space for the night.
About 200 yards from their house, Bruce's CJ-7 dies in the street…..the fault was finally traced to a intermittent crankshaft position sensor connector. A newly purchased Autozone coil resulted in yet more intermittent engine problems (that took the guys a little while to find) as we swapped ignition components in an attempt to get spark at the distributor. The end result….we postponed our Monday morning departure for 24 hours.
Tuesday morning, I was killing a few minutes, doing a final checkout while the guys were getting some coffee at the quickie mart. I grabbed my RE front track bar and was surprised to find it loose. I was even more surprised when I got a close look at the bolt.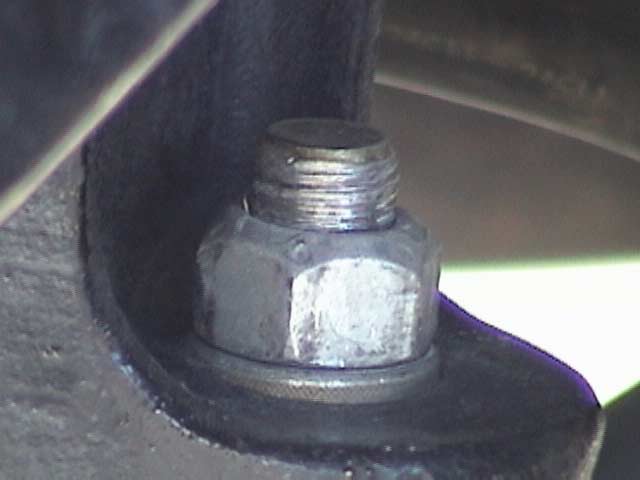 Here is a close-up of the grade 8 bolt that holds the RE track bar in place at the frame bracket. Notice anything funny about it? Perhaps it is the stripped (or lack of) threads that are catching your attention? I should have noticed this when doing the oil change and lube the week before. I had been battling a death wobble problem since having the D-30 trussed. I can tell you that once this bolt was replaced with a good one (albeit the carefully drilled 5/8″ hole I worked so hard on is now wobbled out somewhat), my front end problems immediately went away. Now I know that I did not cross thread the nut onto the bolt….and I ran it back and forth to Moab after installing the new lift (and track bar). I put it on myself and carefully handed torqued it to 175 ft. lbs. I'll be having a discussion with the folks responsible for this.
52 minutes later and 2 failed attempts at locating grade 8 hardware, we had a new bolt, nut, and lock washer in place (and 2 complete spares for my parts box). ACE Hardware was the 3rd spot we checked and found a great selection of hardware. We hit the highway and headed for the access road that leads to Loon Lake where we would start our run.
We arrived at the trail head and I immediately aired down and disconnected the front sway bar. I set Lady's 35″ MT/Rs at 9 PSI and we topped off our gas tanks from my two Jerry cans. We would later find that a half tank (~9 gallons) of gas would get each of us to the end of the trail at Lake Tahoe. Better to be safe than sorry!
Our last surprise for Day 1 would show up at the Gate Keeper, an obstacle you encounter near the Loon Lake trail head. It was here that we discovered that Robert's new Warn hub conversion was not working properly. Somehow, the wrong sized hubs were sent to Robert. I later found out from Robert that Warn had been contacted about this and they assured him it was the proper hub set. Robert's only chance to check out the work was a quick trip up and down the street in 4WD, as he had been working on it just a few days before I arrived in CA. With the tires chirping, all involved assumed the mod to be successful. The problem was that the axle splines would not properly engage the hub splines. So, Robert could not truly "lock in" his hubs…..he had 2 HI and 2LO range. We pulled out his borrowed spare hub which was of the correct type and installed it on the driver's side.
I guess I can mention that between the time that Robert first tried Gate Keeper and when we deduced his hubs were the wrong pair, I managed to kill my right knee while helping to push Robert's TJ off of a rock. I felt my right knee pop while I was pushing (at the wrong angle) on his front bumper. I am pretty sure it actually slipped slightly out of the socket, as the pain was amazingly intense. I thought it was all over right then and there for me. I hopped over to a nearby rock and sat down, pale and sweating (oh yeah…..I was in shock for a couple of minutes). Within about 20 minutes (I was able to limp around a bit but had very limited movement). I was lucky it was my right knee and not the other one, as Lady has a clutch and that would have been nearly impossible for me. As it was, getting in and out of a 6″ lifted TJ sitting on 35″ tires would prove to be an interesting challenge all in itself for the next 48 hours or so. As I sit here doing this trail write-up, it is 6 days since the accident and the knee is still noticeably swollen.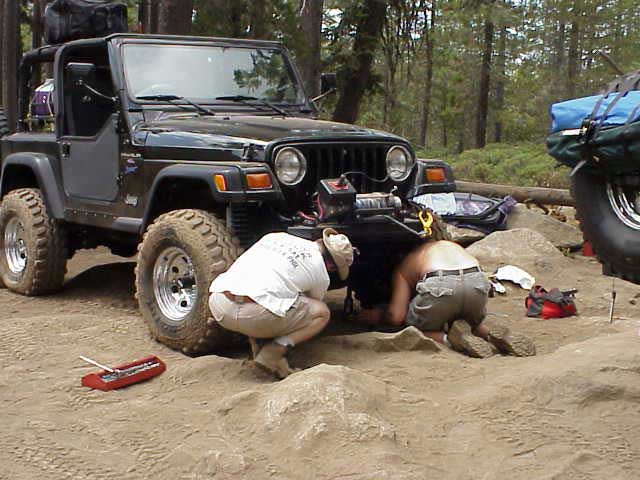 We had Robert up to 3 wheel drive and it was time to make a decision…..run the Rubicon or abort. Bruce and I were running on 35″ tires. Everyone had winches, straps, hi-lifts, and a great crawl ratio. Food and water were not an issue, as we had more than enough should we need to take an extra day or two. Call us crazy, but the decision was made to give it a try. Robert said he was up for the challenge and we all agreed that we would get him through, one way or another.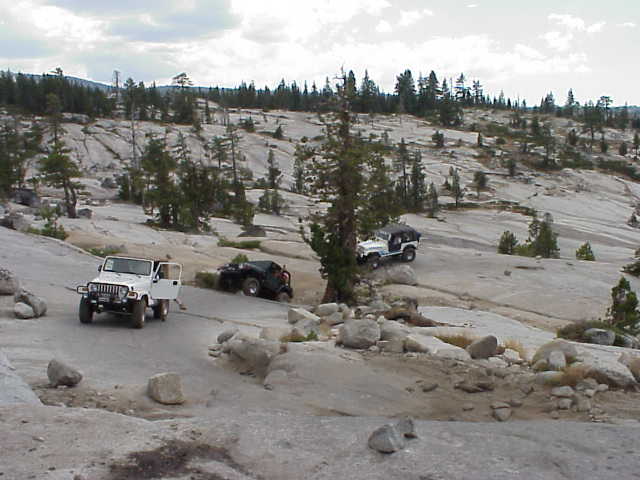 We cleared Gate Keeper and a stand of tree and started out across the area known as the "Granite Bowl". The bowl is not actually part of the original Rubicon Trail. However, with the road from Georgetown under repair, this is the other route by which the west end Rubicon can be accessed. This is also the route that the Jeep Jamboree takes (which was completed just a couple of days before we started our trip. As you can see in the picture above, the bowl is just that….a very large dish shaped granite slab. Lots of folks come here to play for the day, making it more difficult to actually find and stay on the OHV trail that exits at the north end of the bowl and hooks up with the Rubicon Trail at the Ellis Creek crossing. I had spent the previous weekend with my GPS mapping software (OziExplorer) and a Rubicon Trail guide book, making a GPS track for our trip using my USGS 7.5′ CD topo maps. This info was then broken into trail sections and uploaded to my GPS each morning of the trip. I also made an actual GPS track of the trail so I have that for future reference as well. I am proud to say that my expected track was extremely close to our actual track….so close that it made no difference during our run.
Rubicon Trail 2001
We finally made it across the Granite Bowl….and we even did it without taking any wrong turns or dropping off any of the ledges onto our heads! We found the Ellis Creek crossing and stopped there for lunch. Robert found a rock to sit on and had his toes soaking in the cool water in a few minutes. I still question whether Robert should have filed some kind of EPA paperwork or not. [insert big grin here]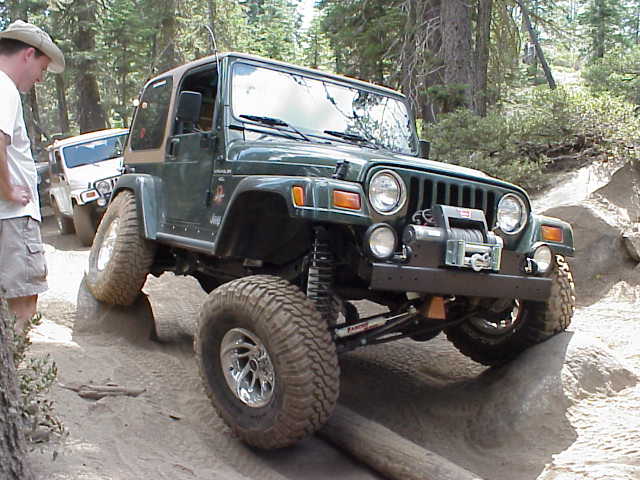 We got back on the trail and pushed on towards Buck Island Lake, where we hoped to make evening camp. Lady came across this pair of rocks (the trail was still pretty much like a forest service trail at this point….not really too rough) that made for a prefect suspension flex shot. Both stuffed tires are on the bump stops and the passenger front is actually an inch or so off the ground.
If you look at the above photo, you can see the very find powdery dirt (note the tire tracks in it) that makes up the Rubicon Trail. The dirt is actually more like flour than it is dirt…..and you can not move without causing it to make a cloud around you. Even an idling engine kicks up the dust enough so that it blows into the Jeep. At one point, we discussed putting the little white disposable dust masks on our list for the next trip. The stuff is nasty to say the least.
As we worked our way eastward on the trail (note that the term "worked" is sometimes measured in a 10 yard distance), we got to Walker Rock, another series of obstacles on the trail. On this part of the trail, I was leading, so I got the duty (pleasure?) of picking a line over each new section we came to.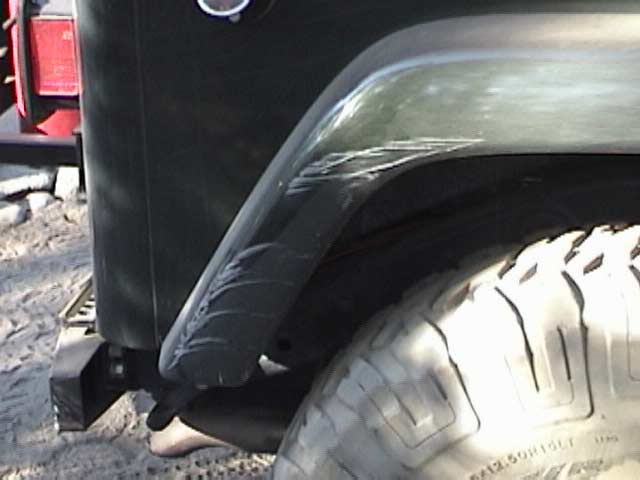 It was after passing Walker's Rock that I got my one and only "Rubicon Kiss" of the trip. You can see the flare got a few scratches on it. I didn't feel too bad since Michael tagged his in the exact same spot. Did I mention that the powdery dirt on top of the rocks makes for a somewhat slippery situation when you get off camber a bit?
We continued to work towards the next obstacle as the afternoon passed. The Little Sluice Box was next on the list of things to see (or drive through?).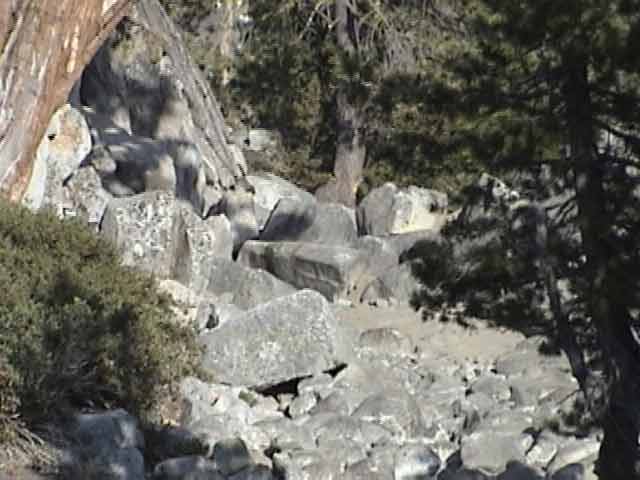 The pic above was taken about 50 yards back from the entrance of the Little Sluice Box. Those rocks in the middle of the photo are in the neighborhood of 3`~4′ tall, some bigger, some smaller. They were blown off the face of the rock formation up and to the left of the trail by someone a year or two ago, supposedly to make this obstacle more challenging for the folks with 38″+ tires. Needless to say, we did not run it. We did walk a little ways down the trail and found a probable line up and onto the granite slab that marks the right hand boundary of the trail.
After sizing up the Little Sluice Box, we opted to take the recognized bypass that takes you across a large section of granite slab to the NE of the obstacle. We found that even the bypass had a few surprises waiting for us.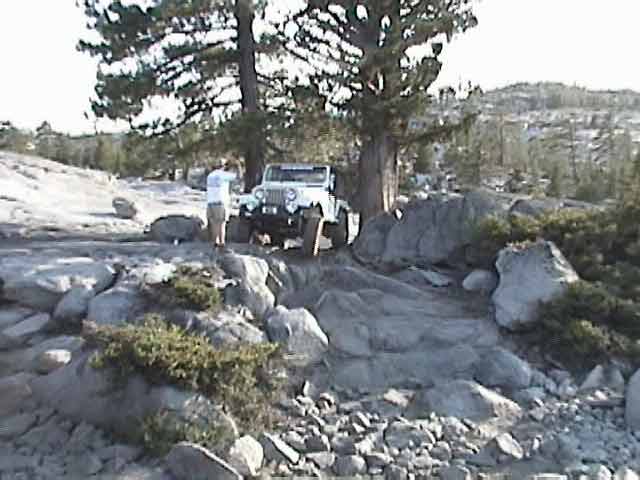 You start the bypass by climbing up the granite slab, working your Jeep between two closely spaced trees. Once through them, it is a hard left turn and onto a very steep rock face that drops you back to ground zero very quickly. Your right side tires track a line that can put you over onto your side if your spotter (or the driver) gets sloppy. Here is Bruce and his CJ-7 getting ready to drop down the rock face. Michael is spotting for him on this obstacle.
Rubicon Trail 2001
We finished the bypass around Little Sluice Box and realized that Buck Island Lake was not going to be made before it would be dark. All of us agreed that we would rather be off the trail by the time the sun set. With this in mind, we changed our plans and decided to try for Spider Lake while we still had daylight left.
The trail was becoming increasingly tougher. The boulders and ledges were becoming bigger and more closely spaced. There was no room for error unless you didn't mind smashing your diff into a rock or punching a hole in your oil pan. Tire placement was the name of the game and getting them to stay put was becoming more of a challenge. Because of Robert's unique 3WD situation, he would occasionally need to attach his winch cable to Michael's Jeep in order to make it over the rocks. With no power being applied to his passenger side front tire, it was a struggle to get it up and over the taller rocks. Robert often times had to take a worse line just so that the un-powered tire could be more easily "pushed" over the rocks in its path.
We finally found what looked to be a turn off that headed in the direction of Spider Lake. The sun was quickly dipping for the horizon and it was nearly 8:00 PM when we pulled up near the lake's edge. We had spent the last 8 hours (give or take a few minutes) on the trail. We looked at the map and agreed that those few miles of trail were quite an accomplishment given that Robert was running in3WD and none of us had ever seen this country before. We got down to the task of setting up camp and bringing Day 1 to a close. After everyone ate, I fired up the digital camcorder and we all got to see a replay of our first day's adventure.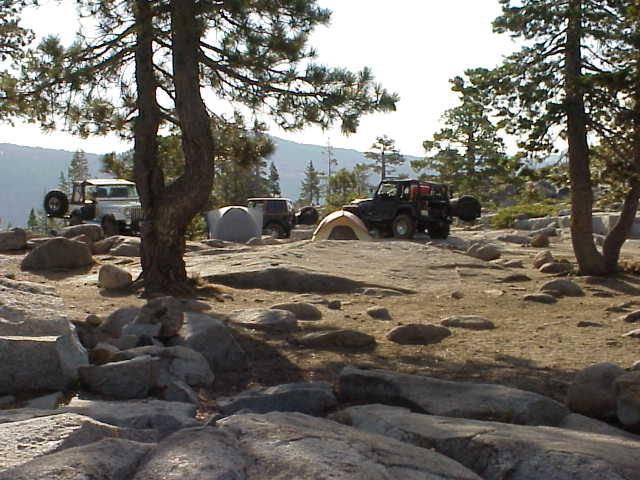 On Wednesday morning, Day 2, I rolled out of the passenger side Jeep seat (yes, I sleep in the seat) to find a beautiful day awaiting us. I ripped open a package of dehydrated food (bacon and eggs) and boiled up some water to re-hydrate my breakfast. Hey, don't knock it until you try it….it was good enough that I ate another one for breakfast the next morning!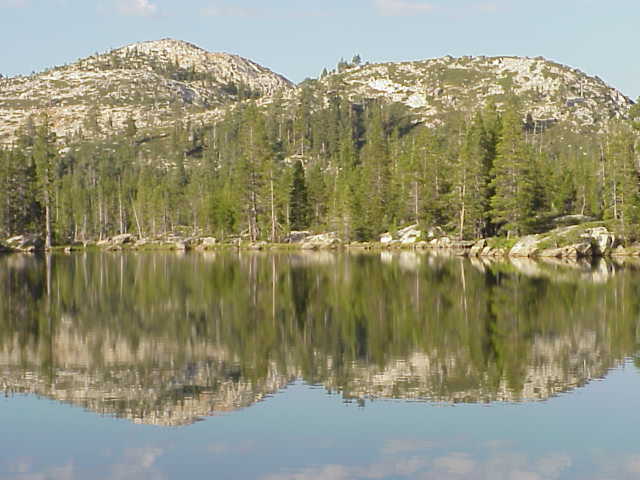 After breakfast was done and I was packed up, I walked down to the lake to take a couple of shots of the beautiful scenery. As you can see in the above photo, the lake was extremely calm. You could see logs and such laying on the bottom of the lake, near the shore. The water quality was excellent, in my opinion (comparing this to any Arizona lake).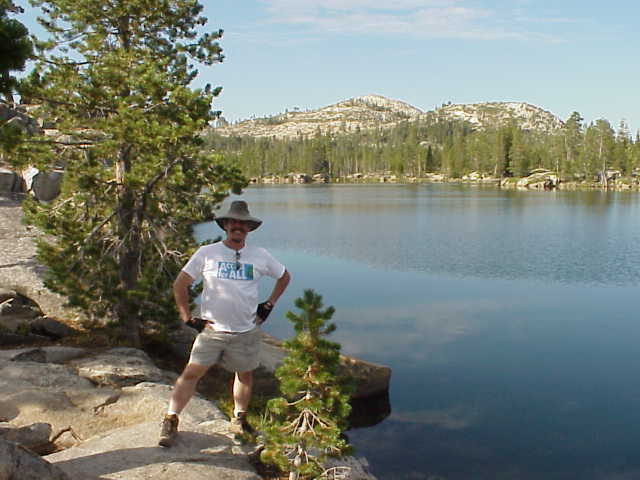 As you can see, there isn't much in the way of a sandy beach, eah? The granite slabs come right up to the water's edge and that is it. It does make for a nice way to hang your feet off of the rock and soak those tired old toes in the nice cool water. Little did I know when this picture was taken that I would be doing just that by the day's end.
Rubicon Trail 2001
We were back on the trail by 9:00 AM, doing it in low range, 1st gear…..climbing up and over the never ending trail of rocks. We again noticed that the trail was becoming more and more challenging. Luckily, we were getting better at the traction game so I guess that evened everything out about right.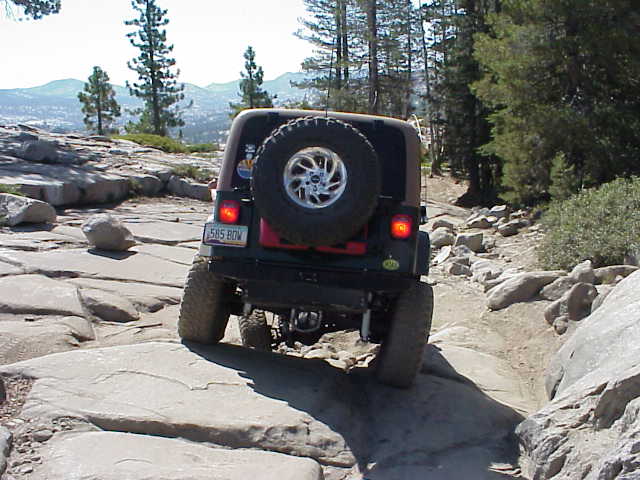 I gave my digital camera to Bruce who kindly snapped a couple shots of Lady and me. She is flexing it up just a bit coming down off of this ledge. We encountered yet more ledges and obstacles along the trail that offered both a challenge as well as some nice photo ops!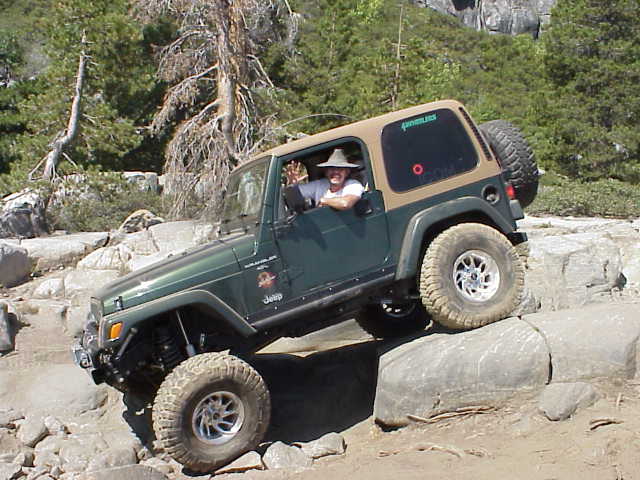 The ledges were getting a bit taller as we worked our way towards Buck Island Lake, where we hoped to be by lunch time. We still had not seen the Old Sluice Box yet which would be showing up any time soon. I had these obstacles waypointed on my Garmin GPS but we had found that with the number of spur trails (fun trails people go play on) that take off in various directions, it can be difficult to know exactly where you are or where the main trail actually is.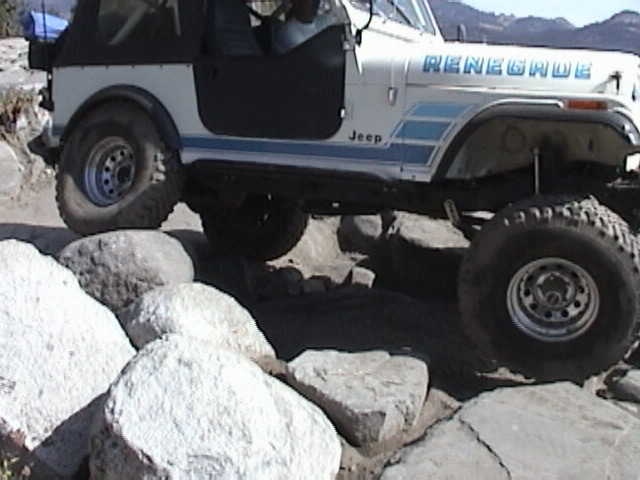 Bruce's CJ-7 runs a conventional spring under axle suspension. He has a pair of Detroits in the Ford 9″ axles which turn 35″ BFG MTs. As you can see in the above pic, his CJ flexes pretty good. After a while, I got to thinkin' that someone was just up the trail a ways, pushing the bigger rocks out onto the trail just to see if we could get over them.
Rubicon Trail 2001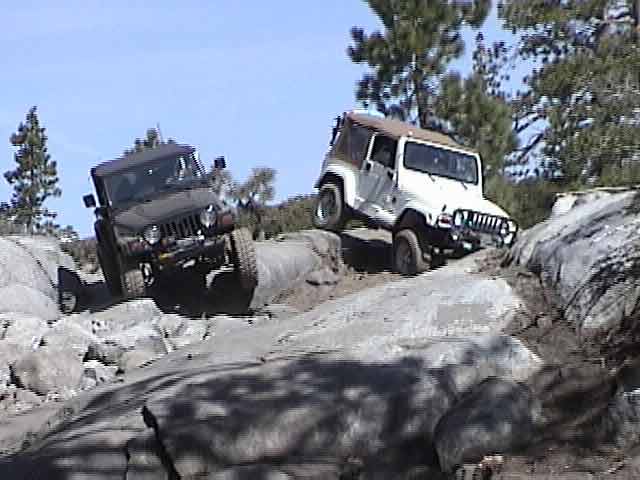 We continued to work our way over the trail…..or was that the trail continued to work us over? Sometimes I was not quite sure. Here is Robert (left) and Michael (right) on the bypass for Old Sluice Box. We completely missed the entrance to Old Sluice Box, which was probably OK. Once into the bypass route, I was able to tell, via my GPS track, that we were skirting the Old Sluice Box obstacle that lie to the west of us. Once at the end of Old Sluice Box, I walked up the box a short distance and then yelled for the other guys to come on over. I yielded to the trail (my knee was not going to take this mountain goat treatment) while the other guys hiked up into the obstacle. Robert reported it was indeed filled with a bunch of very big rocks.
We pressed on and hand lunch about 20 yards from the shore of Buck Island Lake. The trail gets pretty tough again once you cross over the Buck Island Lake Dam (as if it hadn't been tough all morning long). There are some pretty good ledges and rock faces to climb on this section of the trail. The Rubicon is not going to let you forget where you are and what you are doing there!
We finished lunch and pushed on towards Big Sluice Box. We wanted to make camp by 5:00 PM or so and Rubicon Springs would be our destination unless something bad happened. Speaking of bad happenings….Robert noticed that his drag link was starting to feel the punishment of trail. Because his passenger side front tire could not climb over a rock (it had to be pushed), the force required to make this happen was starting to bend his drag link right below the adjuster by the pitman arm.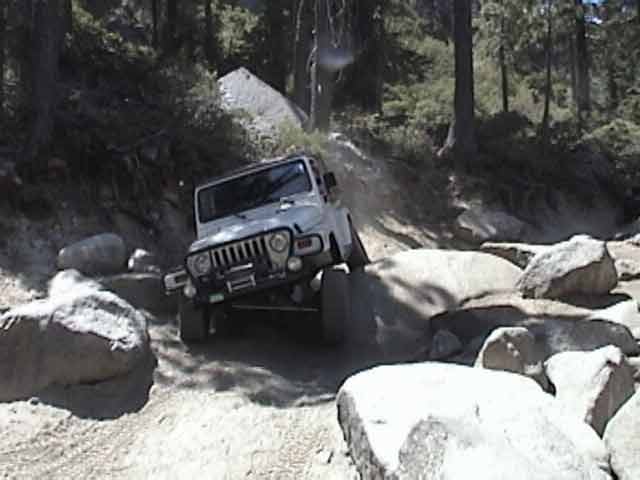 We made it to Big Sluice Box around 2:00 PM or so. I made it through the first 30 yards and found a place to park so I could go back and take some pics while the other guys came through. Here is Michael winding his way through the start of the downhill left turn switchback which marks the beginning of the Big Sluice Box section of the trail.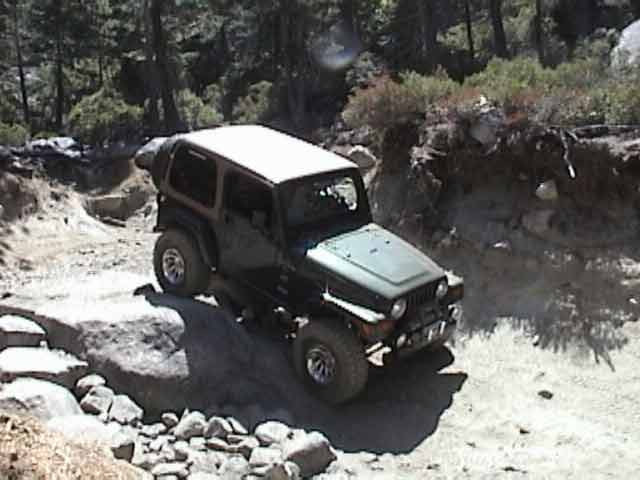 Lady negotiates the last part of the switch back turn at the beginning of Big Sluice Box. The next quarter mile (or slightly more) would prove to be some very fun wheelin'.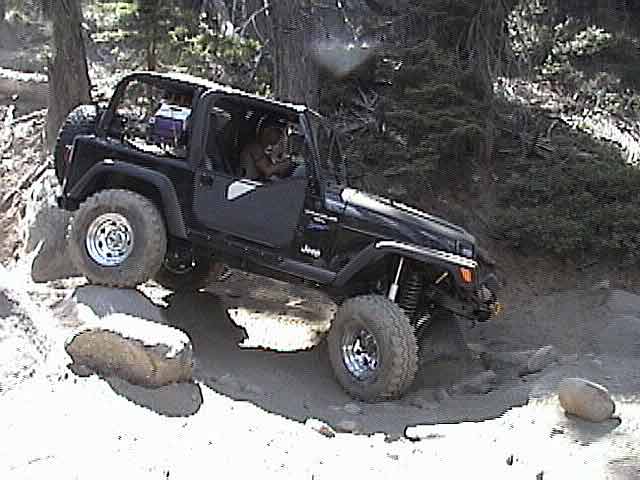 Robert is getting some excellent droop on his right front. This shot was taken a bit further into Big Sluice. By this time, we were starting to notice that his drag link was taking on a bit more of a bend (more about this later).
Rubicon Trail 2001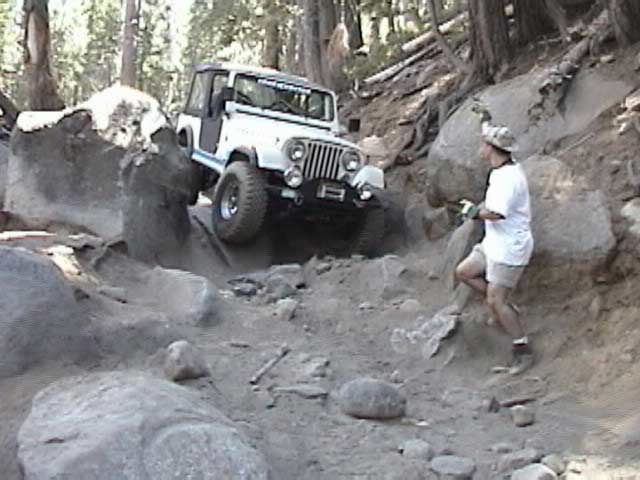 Here is Michael spotting Bruce over what by now seems to be an endless river of rocks. Are they ever going to end? Every time we got through a tough section, I would say "Well, that must be the end of Big Sluice." Another 10 yards and a bend in the trail would put us at the start of yet another rock garden to navigate.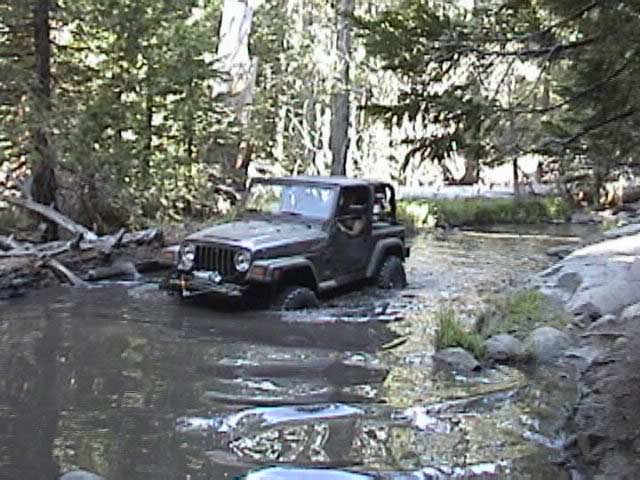 We even managed to find a water hole obstacle along the way. There was no bypass around it. I hate water because of the things it can do to the drive train components (diffs, transmissions, etc.). Lady's tail pipe bubbled the entire way through the water. I caught Robert wading through the water. I know he was hoping his 3WD would not cause him to get stuck (or worse yet, break down) in the water hole. Luck was shining on us and he made it through with no problems.
After making it through the Big Sluice Box and the water hole, we pushed on towards the bridge over the Rubicon River and finally Rubicon Springs. We encountered four vehicles (3 Land Cruisers and a Jeep) further down the trail, just before the bridge. They had suffered a flat tire and were just finishing the airing up of the tire. After talking with them for a bit, we discovered that this was a tour group (ie., they rent the vehicles and have a guide). The guide was driving a Jeep….hmmm….I wonder why?
We made it to Rubicon Springs and stopped for about 20 minutes to pay our camping fees and chat with the care taker. Rubicon Springs is a main staging area for the big Jeep Jamboree. We were now on private land, and thus the reason for the $10 camping fee (good for up to a 5 day stay). We got some pointers on where the best camp spots were and hopped back into the Jeeps. Another 20 minutes of basically easy trail put us at a great spot, right next to the little creek that flows through this area.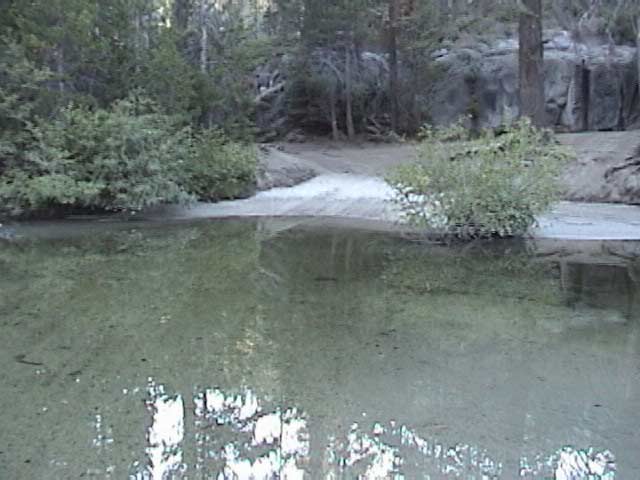 Here is a picture of our "front yard" at our camp site. Pretty hard to take, eah? About 10 minutes after arriving in camp, all 4 of us were down in this nice cool water, washing off the trail dust. The water was a bit on the cool side (compared to my swimming pool in Phoenix), but I was not going to complain. It felt great after busting all of those rocks on the trail.
We made some dinner and cracked open a few well-deserved cold ones. I scraped the pics off the digital still camera and put them onto my laptop. With 12VDC applied to the 115 volt AC inverter, I charged the battery on the camcorder while we watched the laptop's slide how of the previous two day's pictures. After that was done, we huddled around the camcorder's rather small LCD screen (and I do mean small) and watched some more of our day's adventures that we caught on video.
Note the bend in Robert's drag link….just to the left of the adjuster…..right in the area of the threads. The last part of the Day 2, namely Big Sluice Box, took its toll on the hardware. With this being the start of Day 3, all we were hoping for is that we would make it to the top of Cadillac Hill, the last major obstacle between us and Lake Tahoe (a.k.a., the end of the trail).
Rubicon Trail 2001
We broke camp, again around 9:00 AM, and headed up the trail to see what surprises Cadillac Hill might have in store for us. Robert was in "survival mode", as he put it. His main goal was to get off the trail in one piece. My knee was feeling a bit better (lucky me) and after I got it stretched out a bit, I could get around on it pretty well.
We made the bottom of Cadillac hill in short time and found a group of 3 vehicles just clearing the steep granite slab that marks the beginning of the obstacle. These folks had been camping at Rubicon Springs too. There were two short wheel based Jeeps and a Cherokee in the group. We gave them a few minutes head start and then scoped out a line to go over the slab.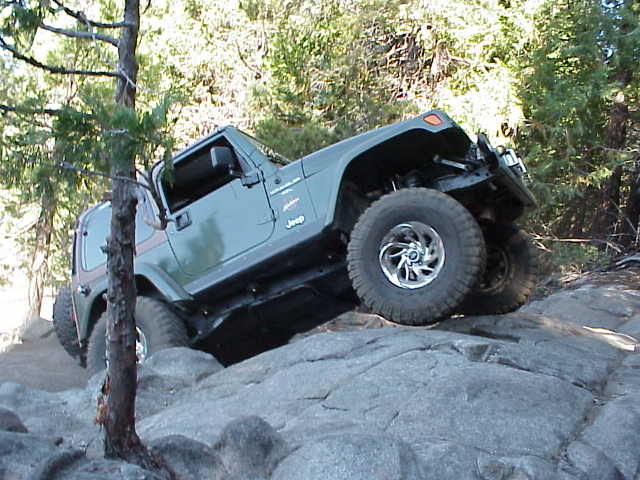 Lady made it over the granite slab in fine shape. It was one of those obstacles that looked worse than it really was. We had no problems with traction or slipping off of our chosen line.
There were a number of good obstacles on Cadillac Hill, although after we made it to the top, we all agreed that it was not nearly as bad as what we had seen during the previous two days. Don't get me wrong, there were a couple of places that you had to work for, and Robert got a bit twisted up when he couldn't get his tire put where he wanted it. He said the pucker factor meter went to full scale while he waited for Bruce to get the winch hook connected to the CJ-7. I missed all of this since I was further down the hill trying to keep one of Lady's flares out of those damn rocks! (I succeeded this time.)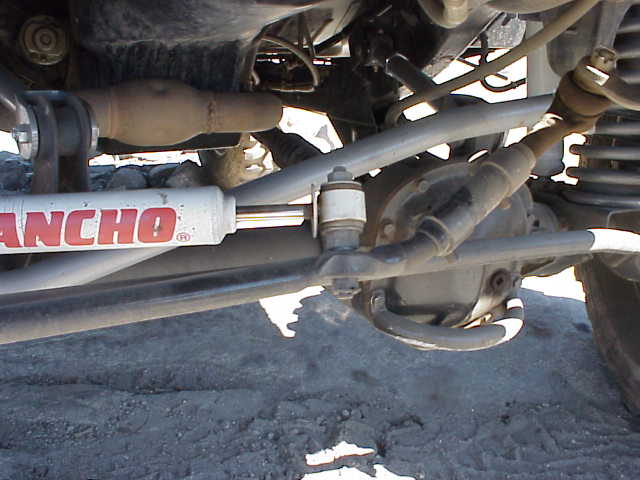 We made it to the top of Cadillac Hill and on to Observation Point. Travel time up to this point was a smooth 75 minutes. Not too bad we thought. Then we got another look at Robert's drag link. It had taken on a serious attitude since leaving Rubicon Springs. We knew the trail would be easier from here on out, but we still had about another 9 miles (give or take a bit) before we would see Lake Tahoe. We felt confident we would make it and would be at our hotel (Harvey's Casino in South Lake Tahoe, NV) around mid-day.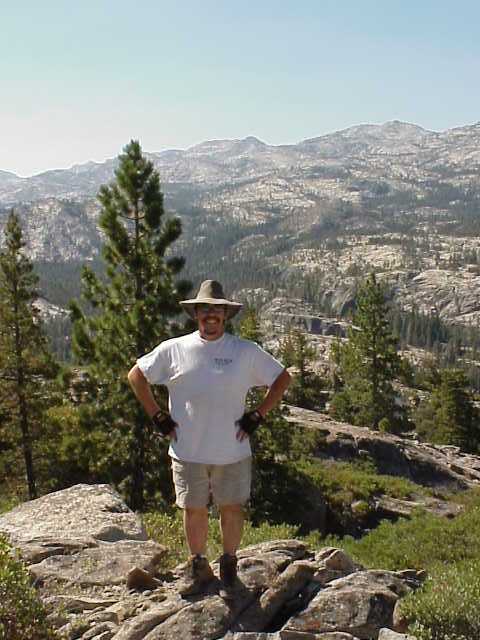 I handed my Sony digital to one of the guys and posed for a picture at Observation point. This spot on the trail gives you a view of a major portion of the trail (although I'll be darned if I could pick it out way over there on the opposite side of the valley). This is about the last spot where you can look back over the area you traveled. We all took a bunch of pics here while we waited for the group of 3 Jeeps to get further down the trail (we caught up again with them here).
Rubicon Trail 2001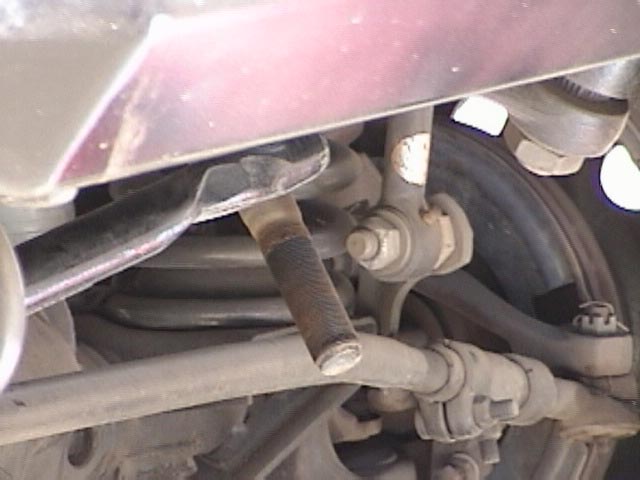 We were about 30 minutes from Observation Point when I heard Robert on the CB, "Bruce, it broke". Bruce was in the lead and Robert was running in the #2 slot. That was it, the drag link was now in two pieces and we needed a trail fix to get us out of here. We were about 7 or 8 miles from the end of the trail. We would find that there were still some more rough spots ahead, but nothing like we had been running over the past two days.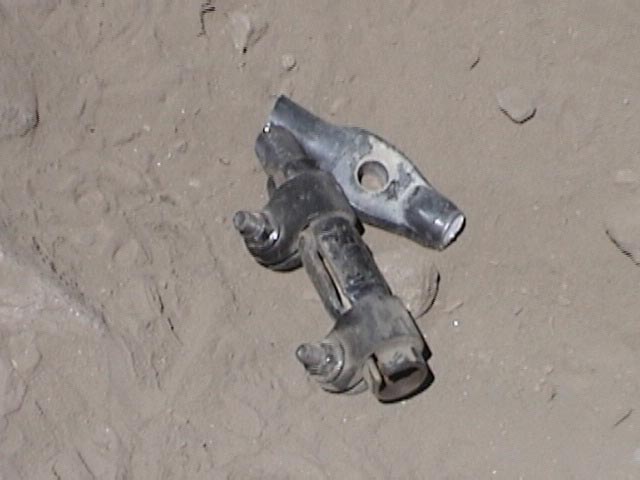 I suggested we take a HI-Lift jack handle and cut it to length so it could slide over the two ends of the now broken drag link rod. We removed the adjuster from the end that was still attached to the pitman arm. We had to hacksaw the other end of the rod because of the knuckle where the steering stabilizer connects. As I told Robert, these two parts were left-overs from the new drag link mod!
Once the HI-Lift jack handle was in place, we took a couple of rachet straps and wrapped them around the drag link and the junction where the tie rod and drag link join. We were relying on this to keep everything together and give Robert limited steering control.
After some discussion, we decided to tow Robert behind Bruce's CJ-7 using a very short Y strap arrangement. This would cause the front of Robert's TJ to be slightly pulled around the corners and would hopefully cut down on the amount of movement of the steering.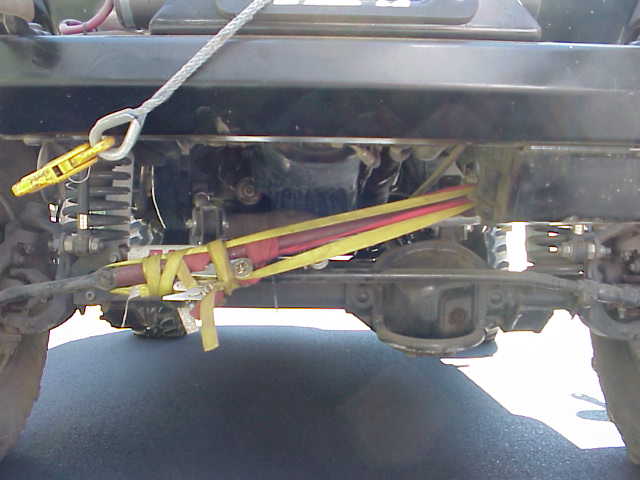 I have no idea if this worked the way we thought it should, but as you can see in the above photo, there is Robert's TJ, sitting on asphalt, about 50 yards from the road that skirts Lake Tahoe. We were all extremely happy with how the trail fix held up. Robert said it felt nice and tight the entire way. It took use several hours to finish up those last 7~8 miles of the trail.
After we were out, we called for a wrecker and had the disabled TJ towed to the Harvey's Casino parking lot at South Lake Tahoe. Robert treated us all to dinner in one of the hotel's eating establishments. We also managed to toss down a few cold Coronas before calling it an evening! 4 Jeeps went in and 4 Jeeps came out!
The following morning, Robert and I hit the road at 8:00 AM in Lady. We drove back to where we left the tow rig and trailer, loaded Lady on it, and headed back for Robert's TJ. (did I mention we can load and secure a TJ on that trailer in well under 5 minutes?). Around mid-day, we met up with Bruce and Michael in the casino parking lot, put Robert's TJ on the trailer, and set out for Chino. We pulled into Robert's driveway about 11:30 PM that evening. What an adventure!
I want to take this opportunity to thank Michael, Robert, and Bruce for allowing me to share this off-road adventure with them. I have never experienced wheelin' like this and it might be some time before I do it again. But I can tell you one thing for sure…..I can not think of a better group of Jeepers to do it with. These three guys are #1 in my book and I'll be most honored to bust another trail with them…..and Robert….next time you are gonna' do it in 4WD, OK? [insert really big grin here]
Remember, TREAD Lightly!