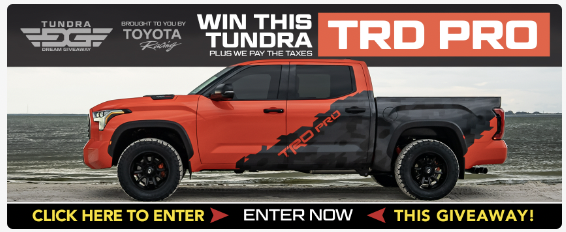 The week of March 15-17, 2007 made for a couple of fun days for the folks that attended the 2007 Desert Run in Lake Havasu City, Arizona. Since Lake Havasu is only three hours from my place, I got up early and was on the road by 5:00 AM heading west. Friday's run was scheduled to start at 9:00 AM so if all went according to plan, I would have an hour to figure out where I needed to be once I got to into town.
After putting a couple of gallons of gas in the TJ , I went in to the convience store to get a bag of ice. I found Troy picking up some ice and a few things for lunch. I was suppose to hook up with him as he had signed me up for Friday's run (in case they were filling up fast). He had the semi and hauler parked a couple of blocks away (he had driven up the night before) and told me we were only a couple of minutes away from where the trail runs were grouping up.
A quick drive over to the staging area revealed more nice looking 4×4 vehicles than I could imagine. They came in every shape and size….from stock to totally built, there was a bit of everything there. We met our trail leader who informed us that we would be heading out at 9:00 AM as scheduled. Copperhead Trail, which was what Troy had signed us up for, wasn't too far from town. In fact…..we drove through a lot of housing subdivisions (like for about 20 minutes) before hitting the outskirts of Lake Havasu City. A couple more minutes and we hit a wide spot in the road where everyone aired down. This was the first trail run for my new beadlock wheels and Maxxis Trepador 35″ tires. I was looking forward to seeing just how well they performed on the trail.
Not having had these on the trail before, I opted for 8 PSI as a starting pressure knowing that I could always adjust as necessary. As it turned out, that pressure worked very well.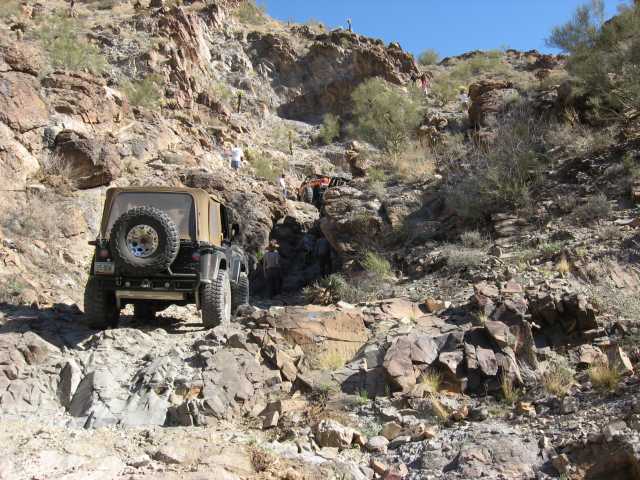 It took only a couple of minutes and we were at a little squeeze rock/waterfall kind of obstacle. It looked pretty harmless (you can see an orange/red buggy in the above photo that just got over it) except that I would soon find that a small sacrifice to the soft top gods would be required before passage was allowed. Troy was not running a top on his Rubicon and so the fender gods requested payment on behalf of the already busy soft top gods.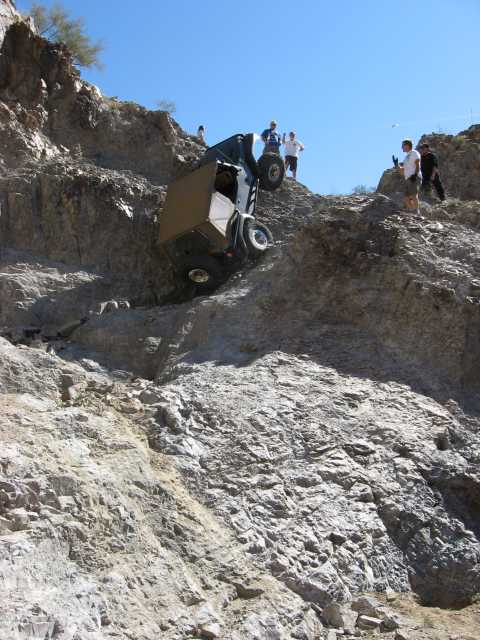 Did I ever mention that you should never let Troy pick the trails? LOL! Right after that opening squeeze rock obstacle was a good sized waterfall…..about 30′ from ground level to the top….albeit the upper half posed the most challenge. In this photo, I've got but two wheels on the rocks, the passenger rear and the driver front. I have my winch cable attached to an extension line that goes about 100′ to a big rock that servers as an anchor. Tension from the winch is keeping my driver front tire pushed against the rock. Yeah…..two tires out of four….I wonder why I spent all that money on new beadlocks and tires when I only get to use two of them!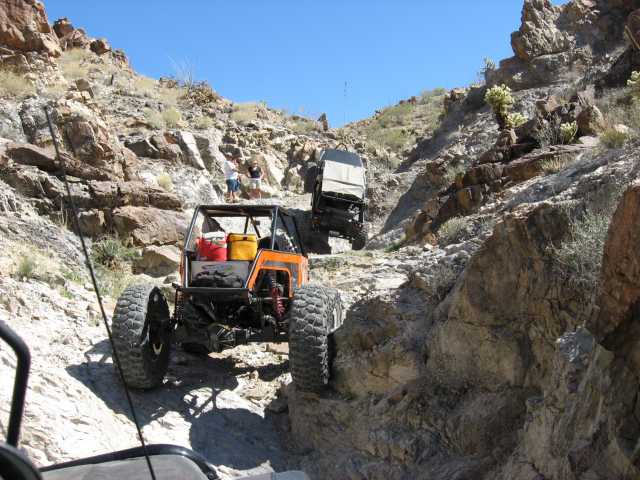 Shari (Troy's wife) was riding shotgun with me. Their daughter was in Troy's Rubicon holding down the co-pilot seat there. We had a couple of buggies on the trail with us too. After that waterfall, everything else, for the most part, seemed like a walk in the park….granted, it wasn't, but that was a pretty good opening obstacle.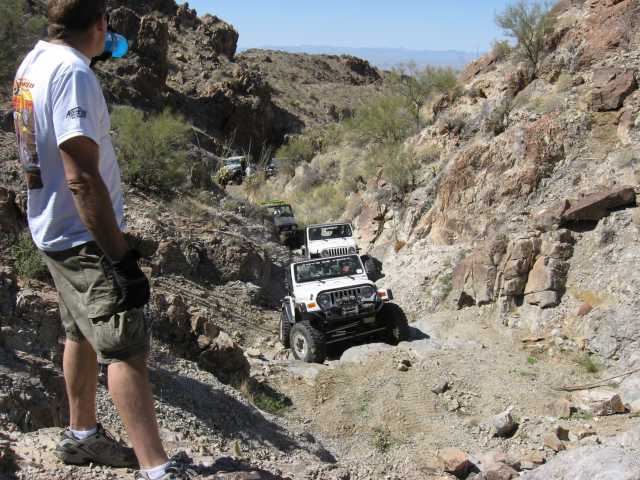 Our trail guide, Eric I think his name was, watches as Troy moves up the trail. I constantly give Troy a hard time when ever he gets into a TJ with 35″ tires…..kind of a "Getting back to my roots" kind of thing for him! There is a big difference between buggies and TJs on the trail…..you get use to one and the other is really different when you slip in behind the steering wheel.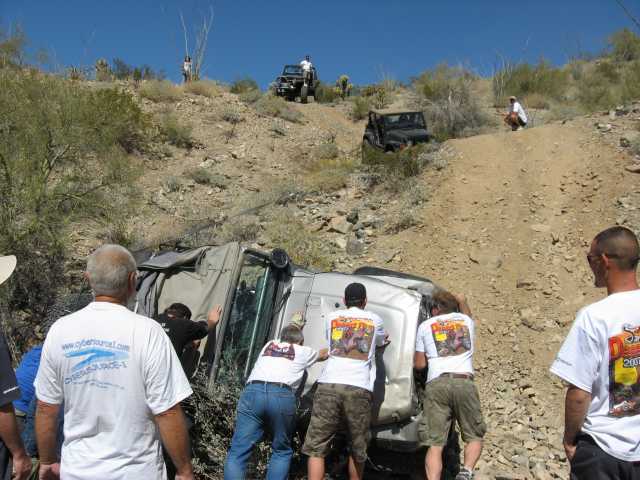 Rollovers sometime occur on the least likely spots. We had cleared the rocky area of the trail and were cruising along over some mild rolling terrain. This little down hill spot had some loose overburden on it…..the TJ's back end came around and he rolled a couple of times before landing on his side. Both tires unseated on the downhill side. He was able to drive it out (we got it righted very quickly) but from an insurance standpoint, the vehicle was totaled. Go figure….we all make it up that first waterfall and then loose one on 10 yards of downhill.
Sidewinder's 2007 Desert Run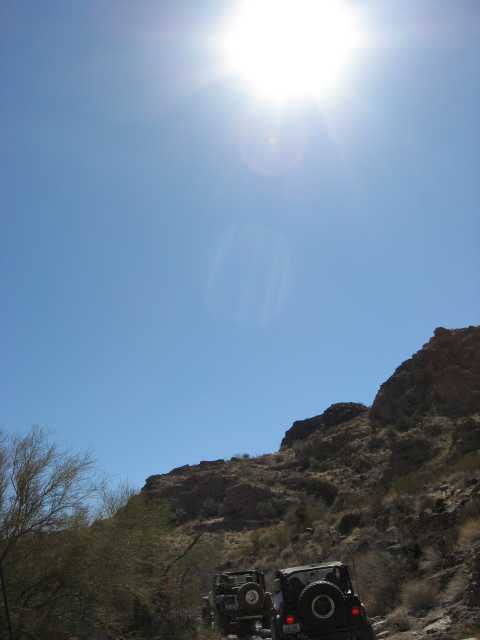 Welcome to a March record breaking temperature day in the desert near Lake Havasu! The morning wasn't too bad, but by early afternoon, it was getting warm. I felt sorry for those that didn't have a top of some type on their vehicle.
Troy and I decided to ratchet the trail level down a notch and hook up with a new group of driver's for Saturday's run. We opted for a trail called Boulder Gultch. There was no winching on this trail but plenty of opportunities for those unexpected off-camber situations where one's lapse in attention would flop you on your side in a heart beat. To the best of my knowledge, no one did. The trail head was about 11 miles from the highway and it took us a good hour to make our way back to the start of the trail. Lots of dust on the route we took in but our return, via a big sandy wash, was a lot better (in the dust category).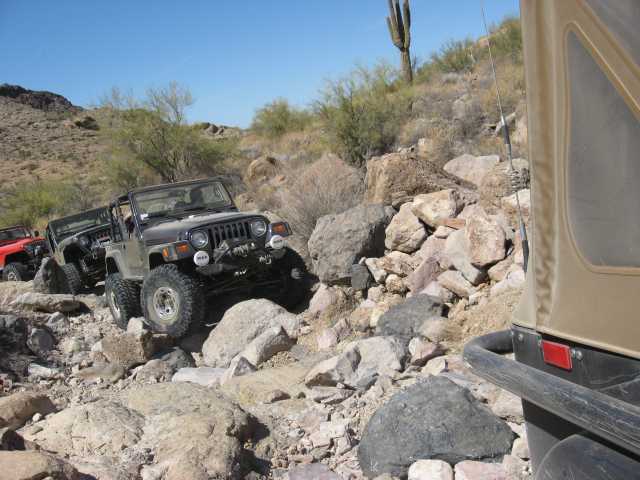 Boulder Gultch pretty much lived up to it's name. There were plenty of areas where you could high center your vehicle or catch an axle on a rock which stopped all forward motion right then. No one had any big problems but there were about 4 sidewalls lost on the trail. The rock gods got there offering of sliced sidewalls and then some.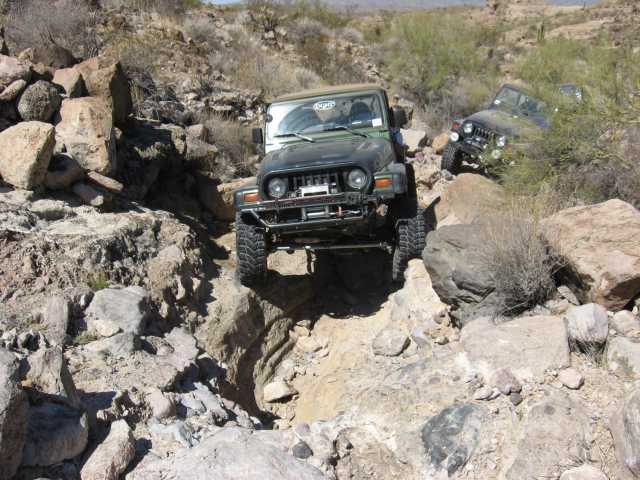 There were plenty of places to take out an unprotected rocker, fender, or quarter panel. The new coating of rattle can black that I put on my rocker guards and side sliders was again removed on a number of tight squeeze areas.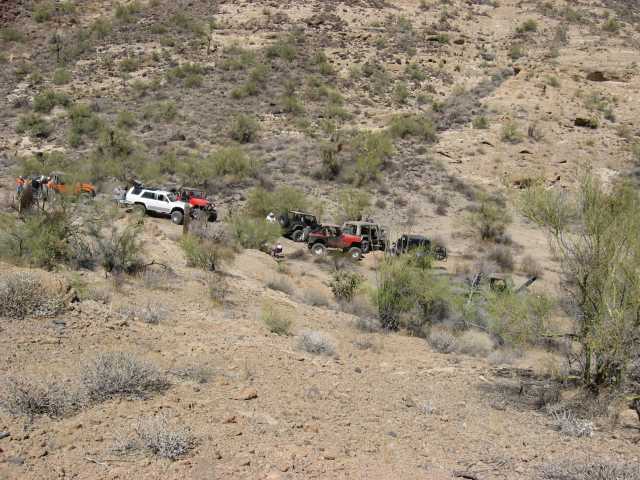 We stopped for a late lunch (about 1:30 PM). We had "finished" the trail but still had about a dozen miles to go before we found the highway again. Aside from some tires, we all made it through Boulder Gultch without any major issues.
Many thanks to the trail leaders, waste gunners, and tail gunners that made both days a lot of fun. You were all great hosts and I hope I can pay back the favor sometime on one of our local Phoenix area trails.
I look forward to visiting you again in 2008!