Located SE of Phoenix in the Florence Junction area, the Upper Woodpecker Trail is tucked away in the rolling hills of what once was a popular mining area. The area is nothing short of a maze of old mining trails that wind their way through the washes and over the hills.
Ross and I met up with CJ John at the nearby Texaco station at Florence Junction. It took about 30 seconds for John and Ross to talk me into running Upper Woodpecker instead of the trail I had been thinking about. With that decision out of the way, we left the gas station and drove down the road to a spot where Ross could park his tow trailer and unload his CJ-7. While doing that, John and I aired down and I pulled the pins on the TJ's front sway bar. When we were all ready, we headed down the dirt road to the trail head.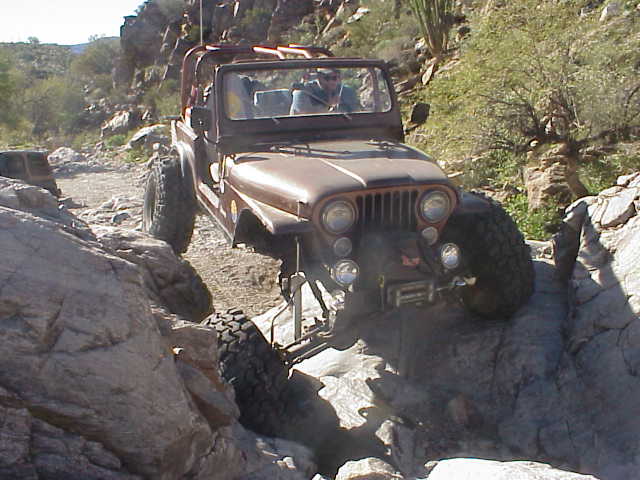 It wasn't very long and we came to the Fire Hole. John spotted Ross through the obstacle while I snapped a few photos. Can you appreciate that front axle droop? Ross is running 38″ rubber on his CJ-7. He made it look way too easy!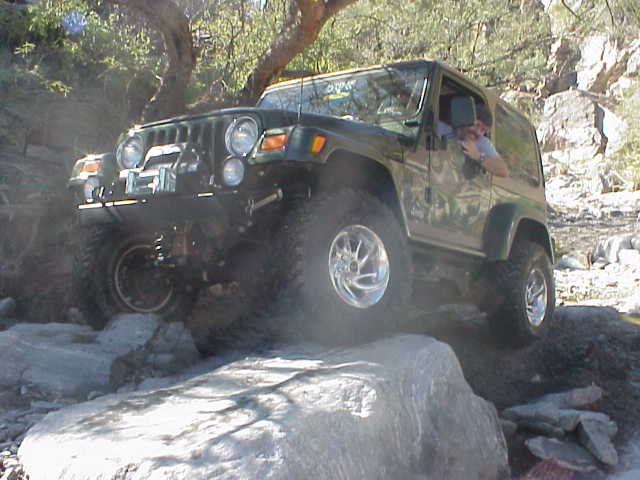 They caught a picture of me climbing up on some of the rocks that are everywhere in the wash. I opted around a number of the obstacles and decided to save them for another day when I was more equipped to handle them.
I caught John and his son going up one of several lines through this obstacle. It was steep enough to almost (but not quite) catch the bottom of his spare tire. John has spent a fair amount of time out on these trails and I look forward to running some of these with him as time permits.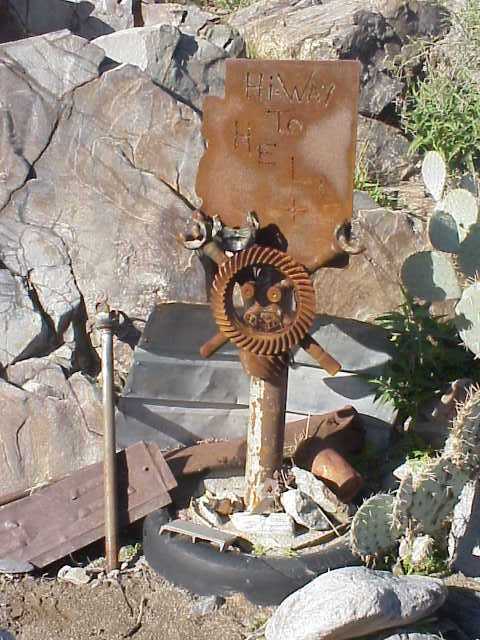 At the end of Upper Woodpecker, another trail begins, that being the Hi-Way to Hell Trail. This simple sign marks the beginning of the trail. Axles shafts and stubs, u-joint, a ring gear, and some other misc. pieces adorn this rather rustic sign. We walked about a quarter mile up the trail to get an idea what it was like. I'll pass for now, but Ross said he was slated to run it next month with some of the other local folks. I might have to sneak out there and check out the activity on that day. It must might prove to be very entertaining…..and I always learn something from the trail fixes.