Note: If you are wondering why most of these night run photos are taking during the day light, well….duh….it would be pretty hard for you to see them if they were all dark, right? Gosh….I wonder about some people. Actually, we start the runs around 6:00 or so which gives us a couple of hours of light and then about 4 or 5 hours of night time driving. So…most of the photos get taken at the start when you really can see something.
I arrived at the trail head at 5:30 PM, only to find a couple others there ahead of me.
Dion was sporting his new 33″x12.5″ Goodyear MT/Rs under the body lift that was but a couple of hours old. Drew had gotten his body lift done too. Steve got his CB working (kind of…he sounded like a fish most of the time). John was running late and eventually joined up with us at the first rock obstacle. Mike brought a friend from Sedona to help pass the travel time to and from the trail, and Larry was onboard with a friend as well. I was riding solo.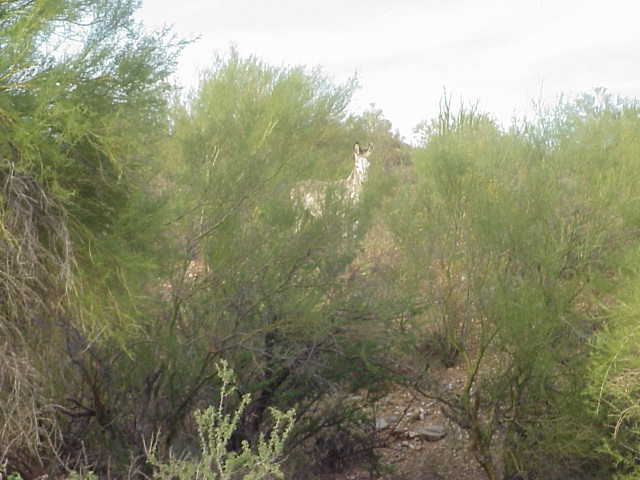 We headed out on an almost flat piece of trail, making our way North towards the foothills. Finally, we dropped into a wide sandy wash and once again managed to get a peek at one of the local residents, a wild burro. They are so cool!
I think everyone was about ready to comment about how boring the trail was when we rounded a bend in the wash and was confronted with wall to wall bedrock in front of us.
I had been down this trail about a month ago with another group and knew that this would spark an interest in several of the drivers. The rocks are interesting in that you have about 3 entry lines (easy to difficult) and 3 exit lines (easy to difficult). You can mix and match them however you like, depending on how your Jeep is set up.
I took a medium line going in and a tougher one going out. Many thanks to Steve and Larry for spotting me out. As Steve told me afterwards….if you had just a 1/2″ more clearance, it would have been no problem coming out. Which brings me to something I got to thinking about as I was going through the pictures….How come I'm the only one snapping pictures? I think someone else needs to get a digital so they can take a few of me!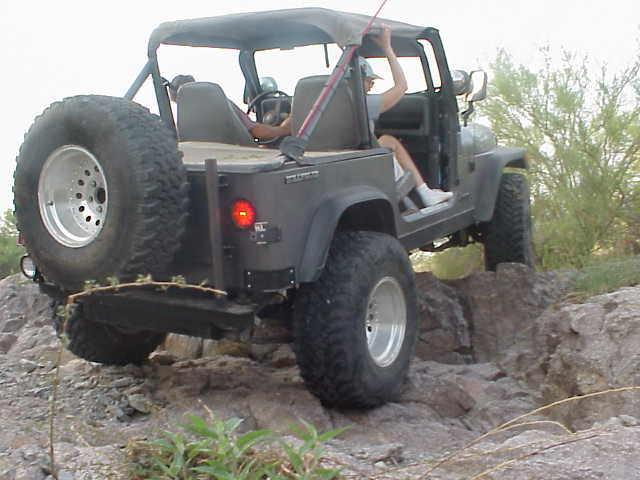 Steve took the hard lines as well and put his up and over a good sized ledge on his way out of the rocks, as shown above.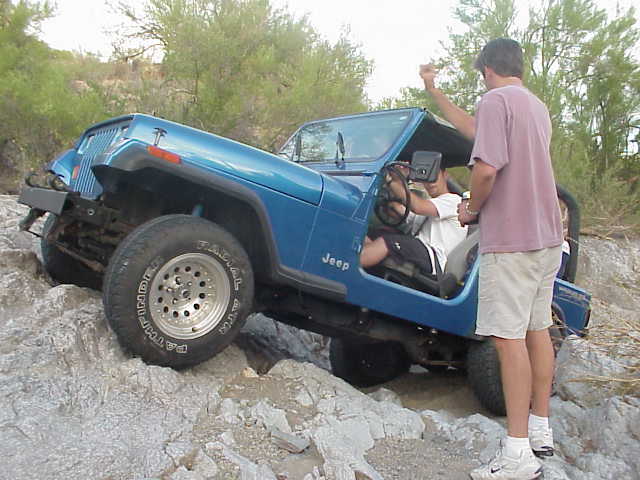 Here is Steve coaching Drew on the rocks. Drew still had his front sway bar connected, which caused him more grief than he bargained for on this pile of rocks.
The guys with open diffs (with the exception of John) found it quite a challenge with the soft sand at the beginning. Add to this how easy it was to lift a tire on the rock and one could find themselves making no forward motion very quickly. Mike made it through so fast I only had time to snap one picture, but he caught an ugly battle scar on his nerf bar about 100 yds further up the wash in a tight little rock squeeze. Larry and Dion both made it up and over as well.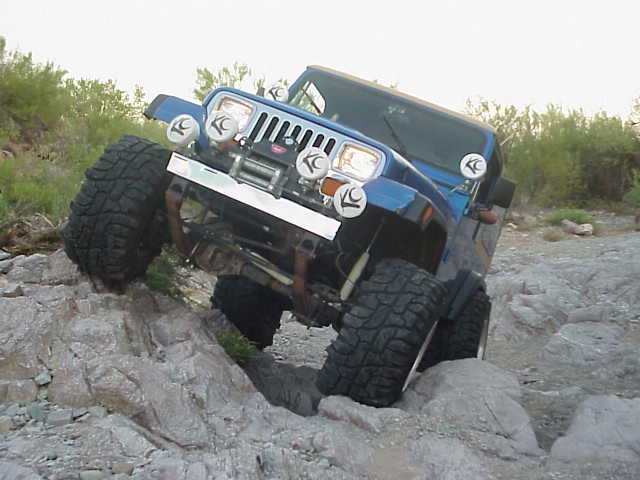 Here is John in the shot above, with those 14.5″ wide Thornbird tires, taking a hard line in and out and making it look like a walk in the park. Even though he runs open front and rear, his very compliant suspension keeps those ultra-wide tires firmly on the ground.
After some more time spent in the wash, we finally climbed up to higher ground and start on the always present whoop-de-doos. Larry commented that this section of the trail was better than the previous weeks, with plenty of short steep descents and climbs. A couple of the guys required an extra try at a few of these, but nailed it on the second attempt.
We managed to sneak in a couple of rest stops and take in the twinkling city lights that we could see from our ridge-line vantage point. The moon was bright and full and dimly lit the landscape, providing just enough light to allow you see the cactus just after you walked into it.
We encountered a long and steep climb, with several deep rutted areas hear the top. They were enough to require assistance for a couple of Jeeps. I gave one a tug with his strap while Steve reeled out his winch cable for the other. We were all soon at the top of the hill.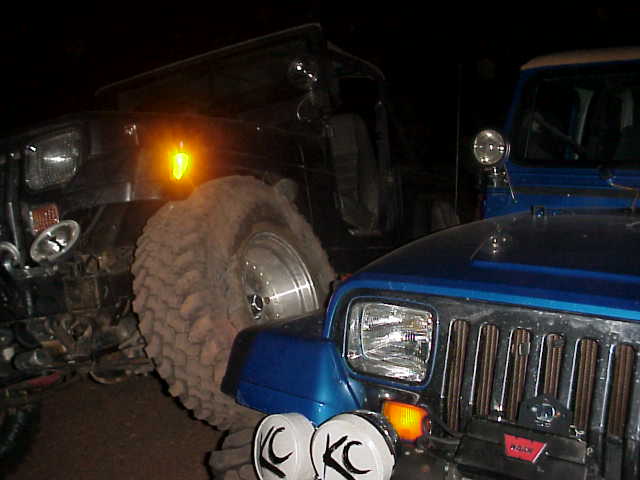 Next came the Haul Road intersection, putting us about half way through the trail. No one opted out here, so after Steve and John demonstrated some awesome hill climbing (and some horse play at the bottom of the hill, as caught in the above photo), we headed off for Wishbone Hill.
We had paid a visit to Wishbone last weekend, but not everyone was able to catch it. Several of us took a couple of trips up and down the very steep west face. I was completely impressed when John climbed it with his Jeep….open diffs and all! He is an excellent driver and those wide tires helps with the traction on Wishbone's loosely packed overburden.
Everyone opted to go down Wishbone and a survey of the pucker factor was conducted once everyone was safely at the bottom. It was determined, after much discussion, that having cloth seats helps break the suction induced by these high pucker hills!
We stopped again for bit, which gave John a chance to adjust Drew's rear brakes. Drew happen to mention that he didn't have much in the way of braking power coming down the hill. He was most happy to find that he had plenty in reserve after John's quick wrenching.
As it was getting late, we opted to bypass the last spot I had on the agenda and headed back towards the highway. We ran a nice combination of sandy washes and fun trails on our way out. With good-byes being said, tires were given much needed air and swaybars were made ready for the asphalt.
Thanks to everyone who showed up for the trip. I had a great time enjoying that little part of the desert with you and look forward to our next trail run!
Wishbone Run – Night Run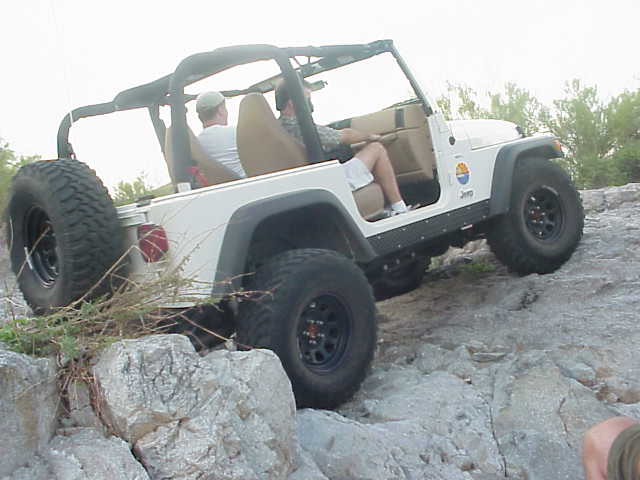 Larry and his passenger crawl out of the rocks.
Mike clears the rocks and heads for a place to park so he can take in the rest of the group's attempts. You gotta love those new TJs. The suspension is about as flexy as you can get from the factory. Without a doubt the most capable off-road factory Jeep that has been made to date!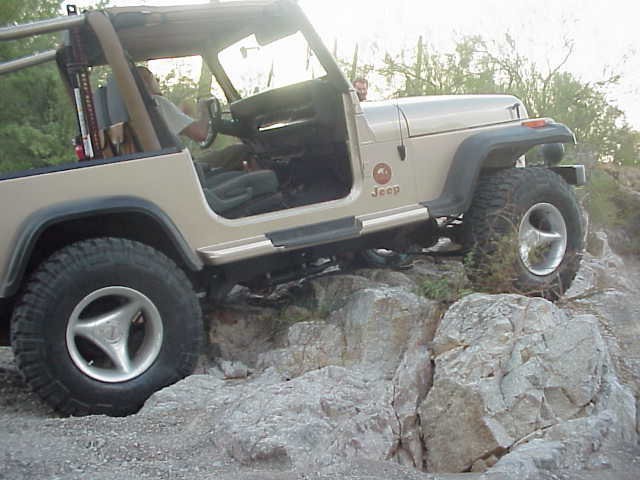 Dion gives his new Goodyear MT/Rs a check out in the rocks. Dion had traction problems on the previous week's night run, but things went much better for him on this one. One he gets his diffs locked up, he will be hard to follow!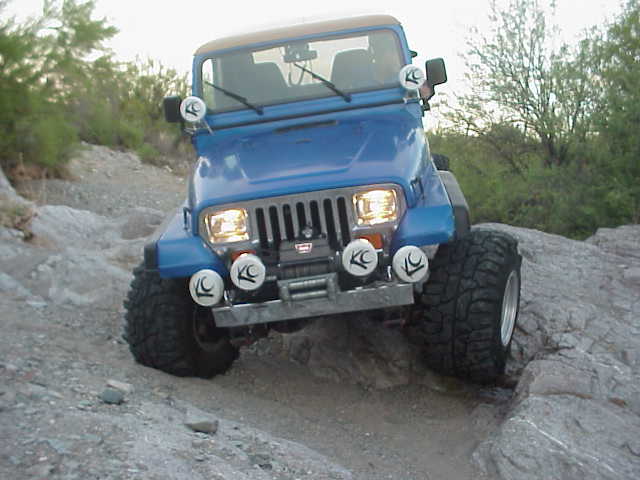 John and his 14.5″ Thornbirds. What can you say? Getting him to roll over would probably take a small explosive charge, placed properly under one of his tires!
John also has good flex on his YJ. If I remember, he is running a SOA in the rear and a spring under in the front.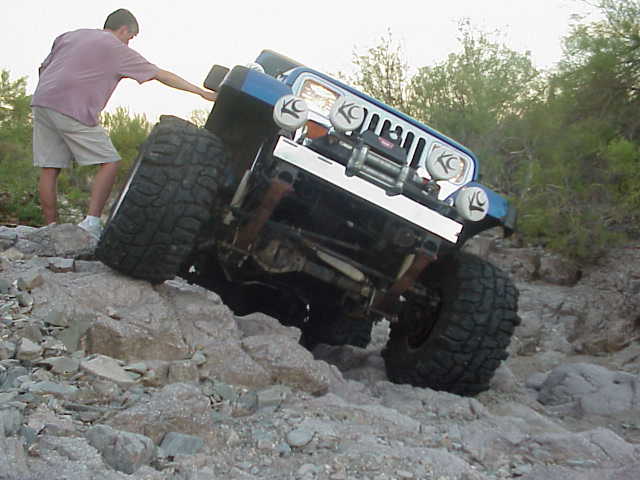 I forget what Steve was doing here. He was telling John about something or the other. I thought it looked like a good shot so I snapped it before John crawled up and out of the hole.