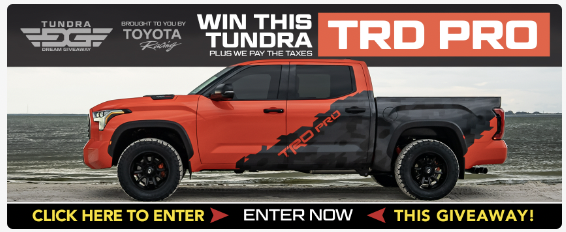 So, you're finally going off-roading in your Jeep, but you're not sure what are things you need to have in place to make the most out of your trip.
From tires to tailpipe, Jeeps are designed for optimum off-road performance. Thanks to their short wheelbases, capable engines and solid axles, Jeeps have become the standard in off-road design. Jeeps are famous for being capable of tackling the most challenging terrain, and nobody bats an eyelid.
But despite being competent vehicles you can punish in the most difficult terrains, there are other things you should consider for any off-road trip in your Jeep. These include modifications, equipment, and other aspects that your Jeep should have that sometimes we can overlook when planning to go off-roading.
Protection
Before you think about tools, modifications, or accessories for an off-road adventure in your Jeep, peace of mind should be at the top of your list. By being prepared for the event of a fire, medical emergency, or accident, you can make the most out of your off-road trip.
Fire Extinguisher
A car can be an easy target for a fire since it contains gasoline and other flammable fluids along with electrical components like the battery and wires that can easily catch fire.
Therefore, having a fire extinguisher in your Jeep increases safety and reduces the chance of a severe fire or total damage to your vehicle.
First Aid Kit
An emergency kit in any vehicle can prove crucial in a severe accident and minor mishaps such as cuts, scrapes, and burns.
In addition, a first aid kit serves as an essential means of assisting an injured person until further medical help arrives.
Car Insurance
Off-road driving is a risky activity, and thus some insurance companies may not cover it. Some insurers may even exclude adventure sports from your plan.
Still, since most car insurance policies cover "normal use," if you get into a crash while off-roading, you'll most likely be covered, but this may not be the case if you roll over your vehicle.
Insurance isn't exactly a sexy topic like off-roading is, but companies like Lemonade are updating their insurance offerings to reflect today's environment (on and off-road).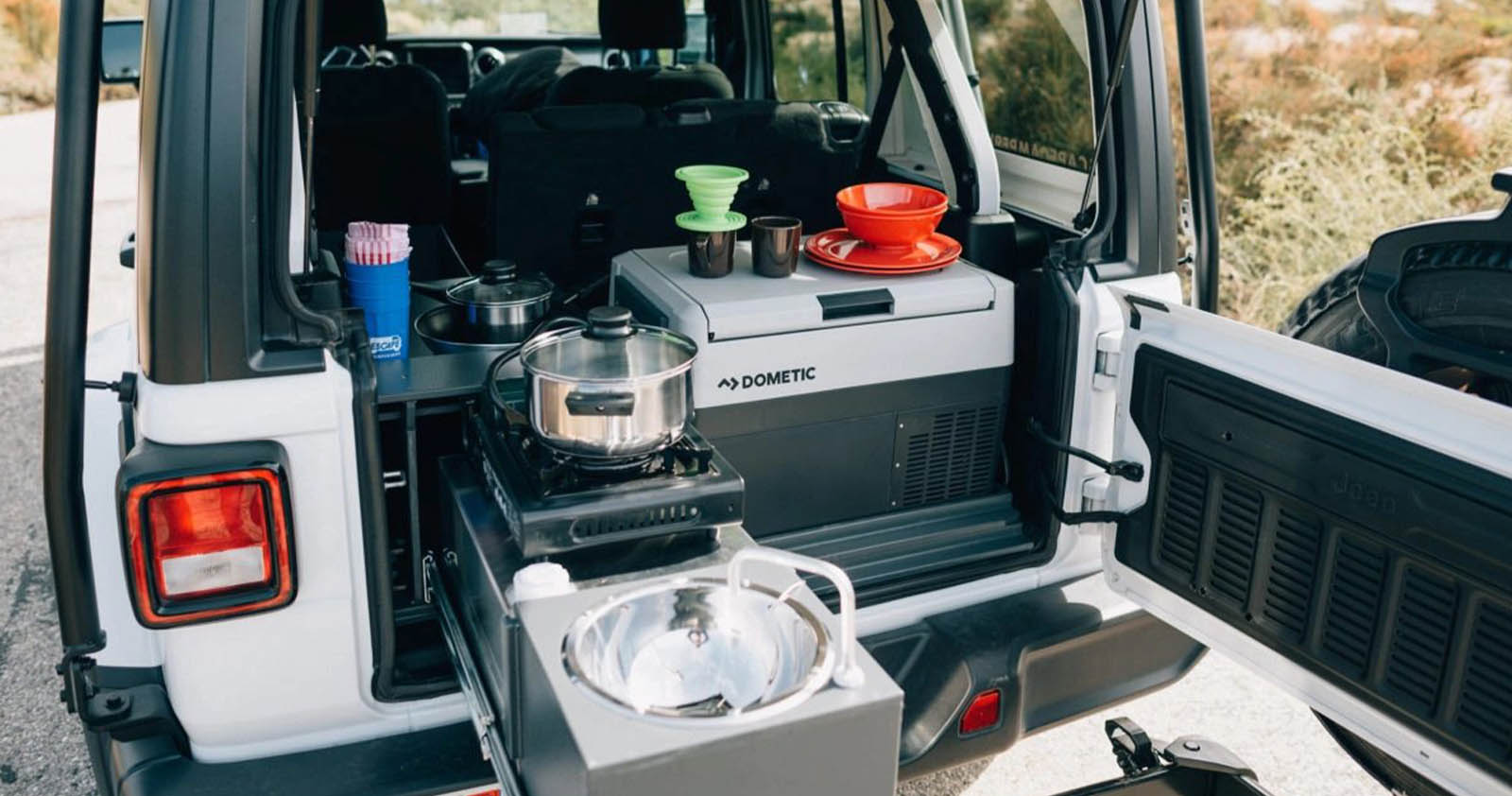 Via: Escape Campervans
Ground Clearance
Ground clearance is a must in the off-road world. And larger tires and lift kit and butter of the off-roading modifications. Tires and a lift kit work together to achieve one thing: more ground clearance.
Higher ground clearance means you can drive over obstacles like hills, rocks, mud, creeks, stumps, and deep mud without sustaining damage.
Lift Kit
By going with a 2.5″–3.5″ suspension lift kit, you can easily fit larger tires without breaking the bank or sacrificing on-road handling.
Any vehicle with 8.5 inches of clearance or more should be capable of doing some off-roading. After that, it comes down to your specific needs.
Tires
Bigger tires will raise the height of the suspension and axles but to a certain limit. The stock suspension typically allows one or two tire sizes larger than the factory before rubbing on the body or suspension components.
Most off-road enthusiasts opt for either All-Terrain or Mud-Terrain tires but choosing which tire is the best for you comes down to the terrain you are looking to take your Jeep off-roading.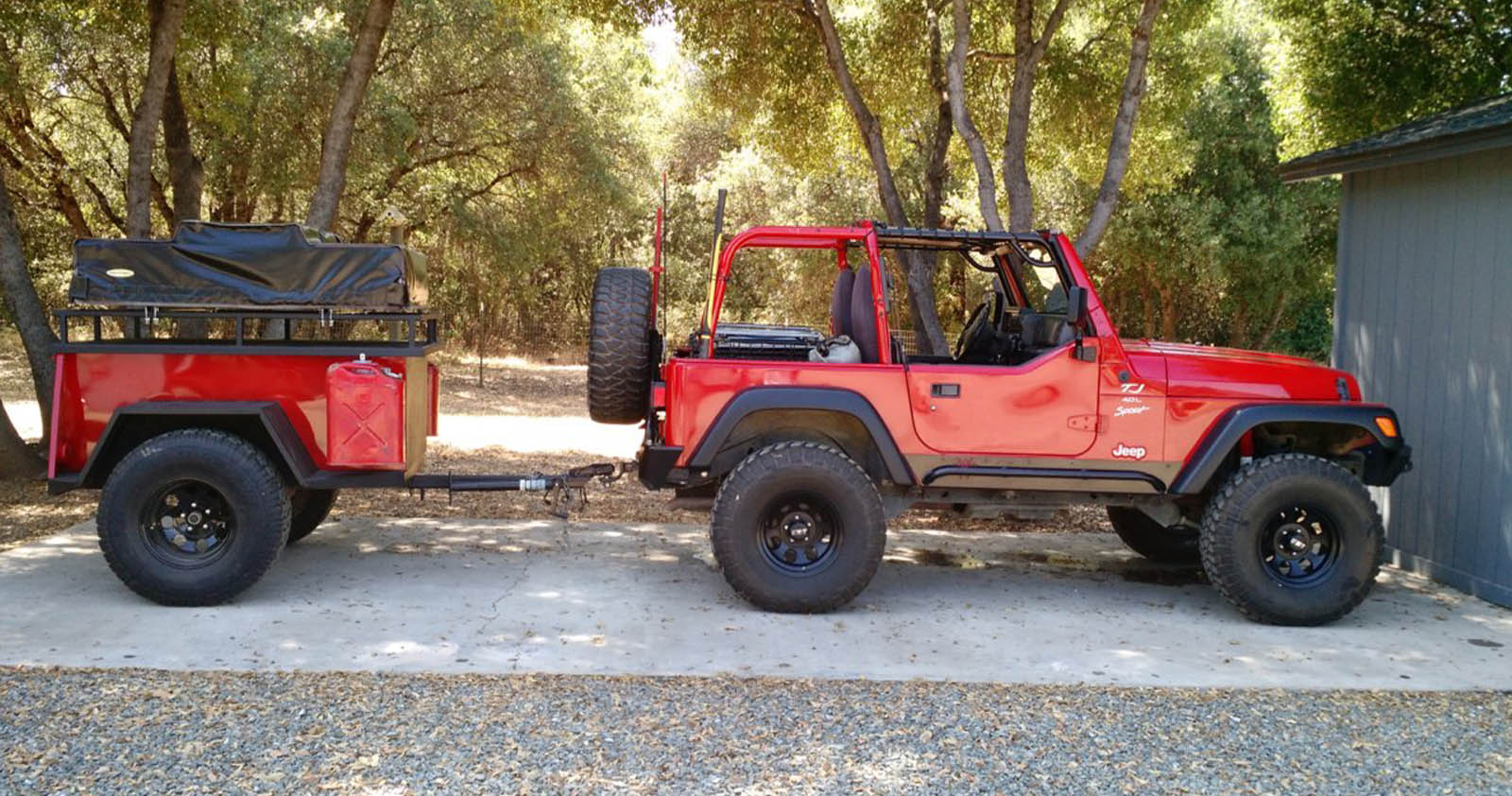 Via: Wrangler TJ Forum
Ruggedness
Although Jeeps come fairly rugged from the factory, it's no secret that most owners do not take their Jeeps off-road all that often. Unfortunately, this means that so some of the Jeep's factory components are only sufficient for light off-roading applications.
Bumpers
Jeeps offer front and rear bumpers that work for most light off-road applications but may not provide the durability and ruggedness required by more severe mud-dwelling off-roaders.
So, if you are considering some serious off-roading with your Jeep, it would be best to replace the weaker stock bumpers with aftermarket replacement bumpers.
Skid Plates
Skid plates are an essential component for any off-road vehicle. They protect the lower part of your vehicle, providing more confidence on difficult access roads, trails, mud, or any challenging terrain and preventing damage to your AC condenser, radiator, or oil pan.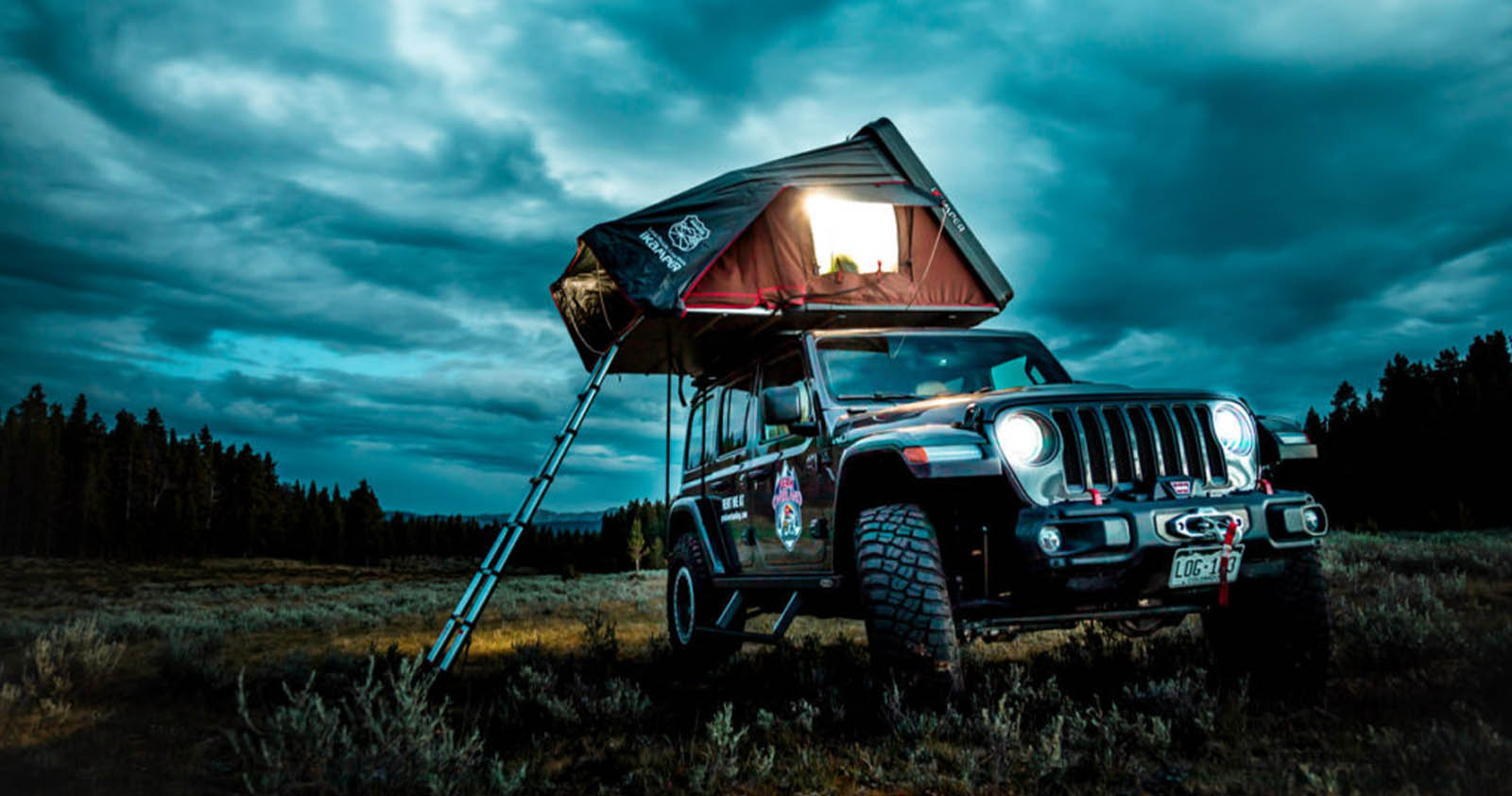 Via: Sweet Little Journey
Gear
Recovery Kit
A good recovery kit is always handy if you or somebody else gets stuck on soft terrains, such as the beach, dunes, soft desert washes, mud, snow, etc.
The essentials of a good recovery kit should include at least a couple of these components: winch, straps, shackles, Maxtrax, etc.)
Spare Tire & Tire Repair Kit
Many drivers rely on their stock spare tire that has been down there since they bought the vehicle. Therefore, is not rare that they don't realize that the tire is junk until they need it.
For this reason, you must ensure you have a good tire that matches the size of the other four and the necessary tools to change it if needed.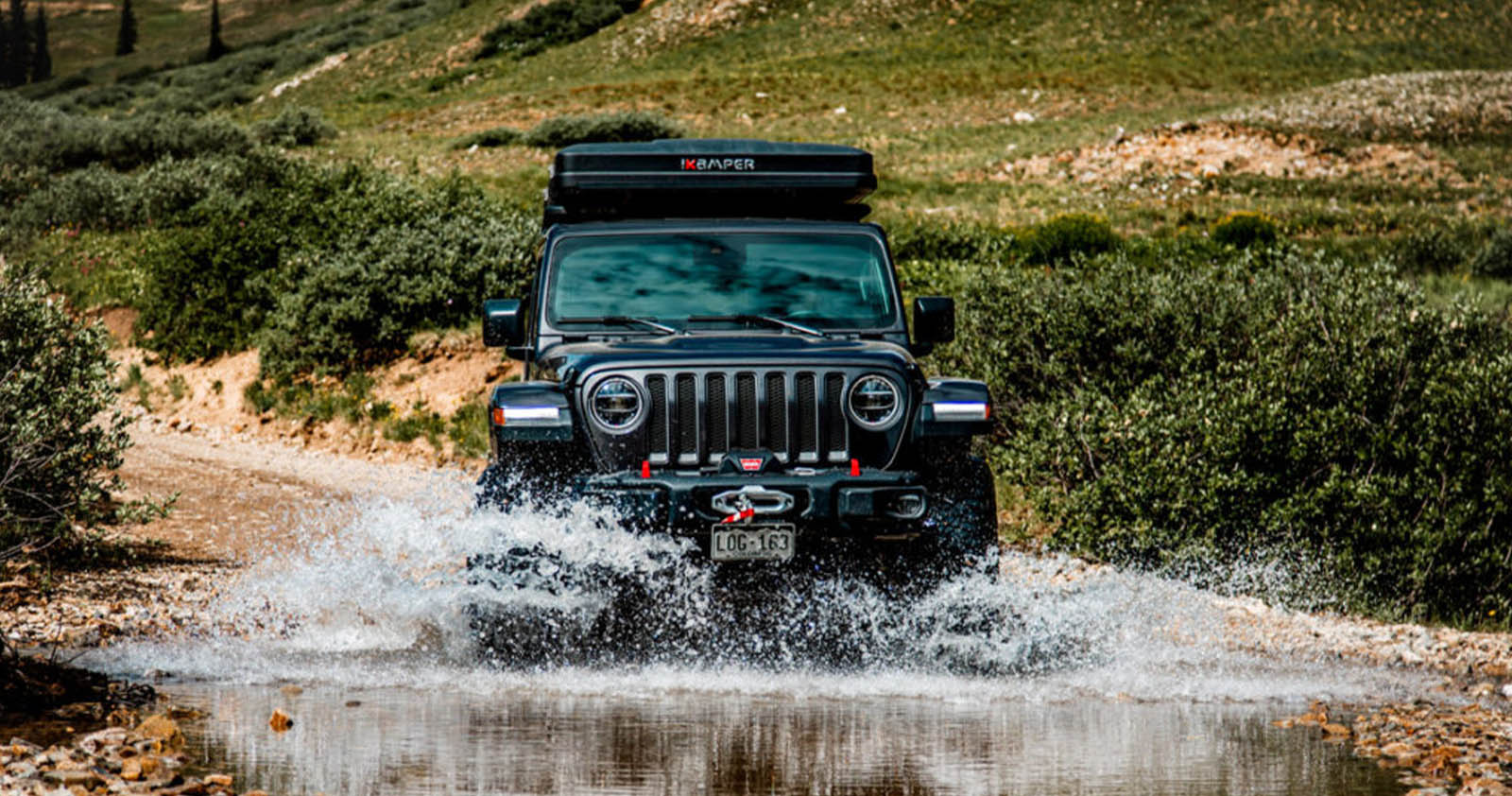 Via: Sweet Little Journey
Air Deflator & Inflator
A quick deflator is a tool that can save you a lot of time and a lot of lost valve stems. However, when it comes to airing back up, one small air compressor will get the job done even if it takes longer than we wish.
C02 systems (power tanks) are a great option to inflate quickly and painlessly. They are portable and easy to use and provide enough pressure to run air tools.
Communications & Navigation
Knowing where you are and how to get out is vital in any off-road adventure. Therefore, having a navigation tool is crucial.
This tool can be anything from a hand-drawn map to a fully-loaded GPS or a phone with a fancy GPS app. Communication is a must whether you drive by yourself or have a big group of off-roaders.
Jack & Tool Kit
The only thing worse than breaking something when you're on the trail off-roading is not having the right tools to fix it or at least limp it out of the trail. Therefore, your tool kit should always include screwdrivers, a hammer, duct tape, pliers and your choice of specialty tools.
Jump Starter & Jumper Cables
A dead battery can be scary and stressful for many people. But fortunately, jumper boxes have become more accessible, powerful, and compact.
Nevertheless, make sure it is charged and always carry it with you because a dead battery in the middle of nowhere can expose you and your family to some possible dangers.
Supplies
The concept of supplies encompasses all the essentials for the proper functioning of both people and vehicle.
Fluids
The water, of course, is vital for both the people riding in the vehicle and it can be for the car itself, especially if such a car tends to over-heat just like a Jeep does.
Having enough essential fluids for you and the vehicle is critical. Therefore, you should bring water, gas, brake fluid, motor oil, gear oil, transmission oil, and power steering fluid.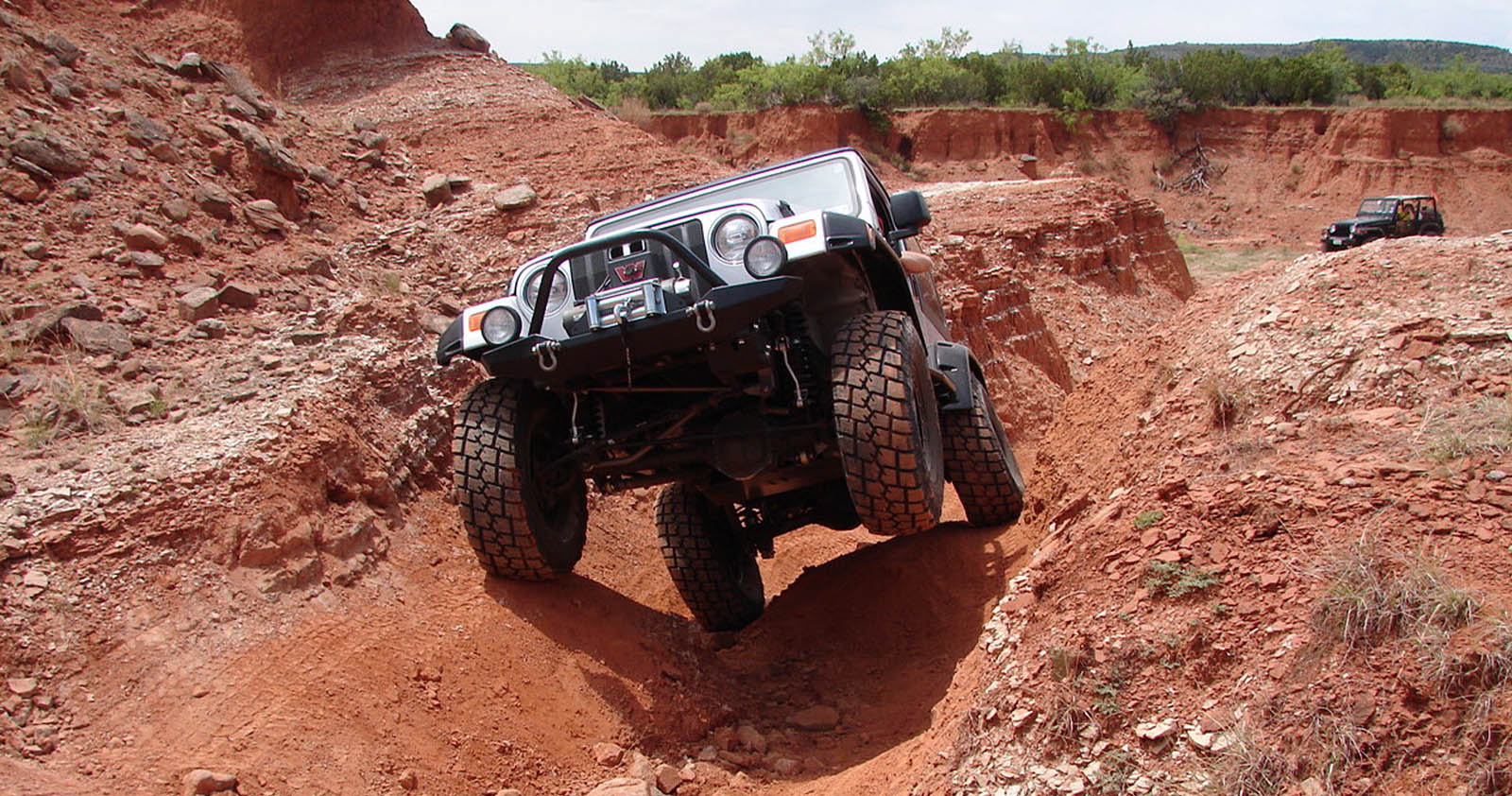 Via: Faricy
Provisions
A great way to stock the off-road kitchen is to take foods that don't require refrigeration. You can include plenty of items on your off-road food list that won't spoil, so you can enjoy an easy, carefree off-road trip without worrying about your food going bad.
Provisions that are great for an off-road journey include rice, powdered milk, crackers, eggs, and canned foods like beans, tuna, vegetables, and fruits, to name a few.