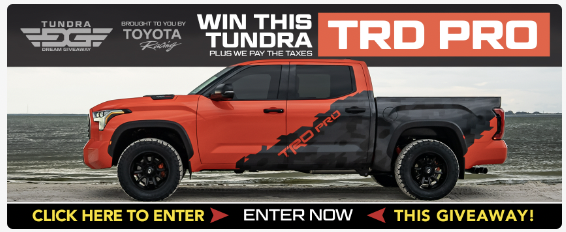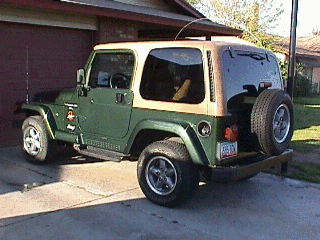 March 1999
Here is a picture of the Wrangler, pretty much how I got it from the dealer in the spring of 1999. Hey, every vehicle has to start out some how.
(less the ham radio antennas)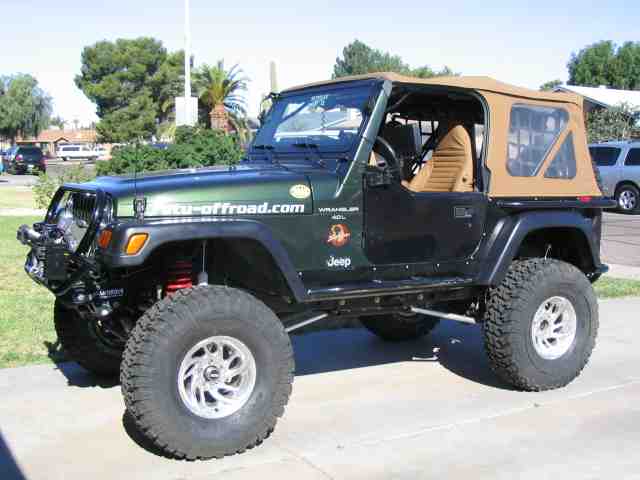 April 1999
My latest Jeep, a '98 Wrangler (TJ) Sahara. It came with a few things that I really didn't need, but for the price, I could not turn it down. The back seat & brackets, seat belts & brackets, and the rear carpeting were all removed during the first week. The best thing about it is that there is now only room for one rider (usually my wife). I'm currently taking it out almost every weekend for some off-roading. Having drove my Cherokee over a lot of Arizona during the past 10 years, the TJ is entirely different. The short wheelbase and standard transmission makes it a lot of fun! A couple of weeks after I got it I put some 30″ x 9.5″ tires on it. A lot better than the stock tires, which are now sitting in the garage, waiting to go onto either the '89 or '95 Cherokees.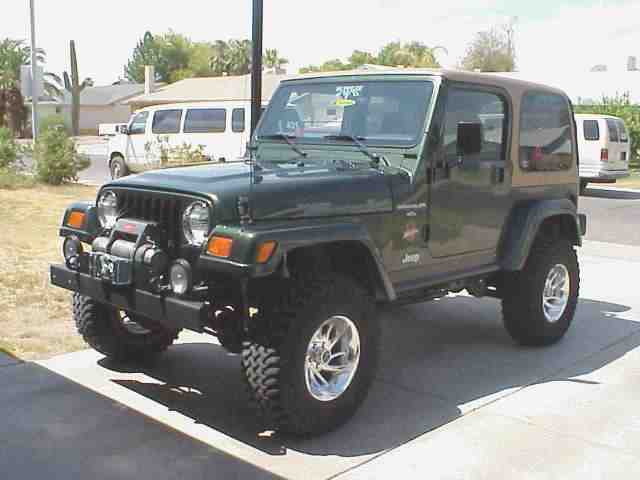 February 2000
The biggest visible change here is the new tires and wheels. I mounted 32″x11.5″x15″ BF Goodrich Radial Mud Terrain A/T tires on a new set of Ultra 150 aluminum 8″ wheels, with 3.5″ backspacing (-19mm offset). The tread is much more aggressive than my previous 30″ tires and I look forward to the increased traction.
At the same time that the tires were being acquired, I opted for some driveline work too (not so visible). I was not happy with the 3.73 differential gears, so I had 4Wheerler's Supply (Phoenix, AZ) install 4.56 ring and pinion gears. In the front Dana 30 axle, I had a Detroit TrueTrac (gear type LSD) added. I removed the Dana 35c rear axle and had them build me a brand new Dana 44, complete with a Detroit Locker. Coupled with the new tries, this combination should prove to be both reliable and fun to play with!
April 2000 update – I've had a chance to try out the gear train upgrades. There is no comparison between the before and after capabilities. I have driven Lady up hills that I was not able to walk up (ie., I had to crawl up on all fours). She did so without any major tire spin what so ever. The Detroits are awesome, to put it simply. The front TrueTrac pulls almost as good as a locker. When she slips a bit, I can always gently apply some brake and even up the felt traction between the two tires. On a recent hill climb, I had the tire pressure a bit too high (15 lbs.). I got about a quarter of the way up the hill and stopped making forward progress. All four tires were slowly turning (I was doing about 1700 RPMs) and all I had to worry about was keeping her pointing straight up the hill. I backed down the hill and dropped the tires to 12 lbs. The same line up the hill yielded excellent results. Several more trips proved it was not a fluke! I hope no one tells my TrueTrac it is not a locker, cause it sure performs like one! I would hate to have it stop working like that.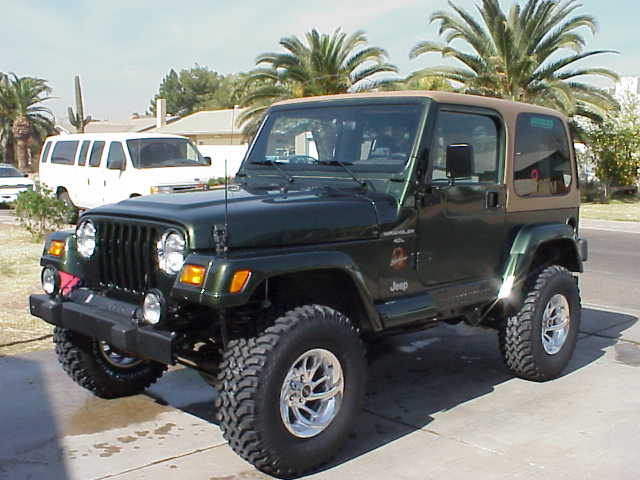 August 2000
I was deleting my way through my daily e-mail when I came across a For Sale posting on the local area Jeep reflector. A couple of things caught my eye, those being a pair of Sun Performance rocker skids and a Warn XD9000i winch. After a quick phone call, I found that the skids had no dents or gashes in them and the Warn had been used three times. I picked them up later that morning and mounted them the following weekend.
So….here is Lady in the hot August sun, showing off her new accessories. Oh yeah, I almost forgot. She got her quarterly bath just before the picture was taken, so she is looking exceptionally clean today!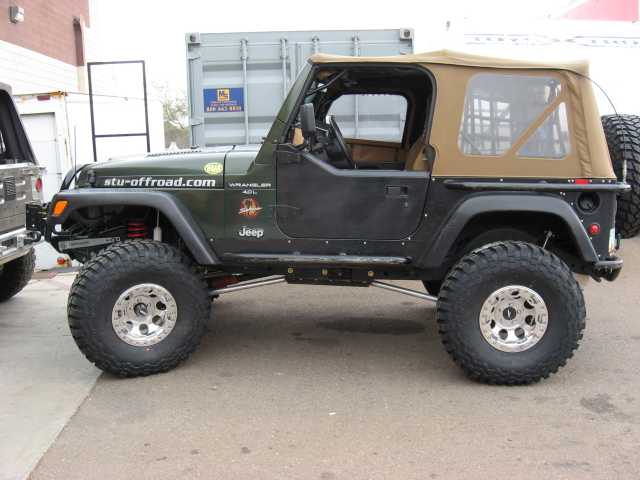 March 2001
Here is Lady right after the Round #2 Build-Up. If you take a close look at the clearance under the flares, you will see a couple of extra inches. Lady is sporting 4″ Procomp coils all around. The fronts have a pair of 1.25″ spacers with the factory isolators and the rear carriers 1.75″ spacers with the factory isolators. So, round it off to 6″ of suspension lift. In addition, Lady got a new 70:1 crawl ratio thanks to the Tera 4:1 and 2LO upgrades to the transfer case. I stopped by Discount Tire today and picked up a couple of new 35″ Goodyear MT/Rs to add to the three I already had. She is about as ready now as she will ever be.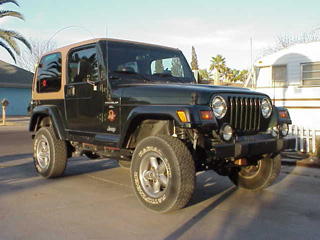 July 2003
Here is Lady right after the Round #3 Build-Up. She gained a couple of extra inches during the addition of the new Toys by Troy Alumi-flex long arm kit. Troy also put his Alumi-flex true-crossover steering on as well. The old RE slip yoke eliminator and CV driveshaft were finally retired from use and an AA slip yoke eliminator and Tom Wood CV drive shaft was installed. About a year ago, I won a gift certificate from Toys by Troy so his front bumper is now serving as the winch platform. A gift certificate I won at the 3rd Annual Jeeps Unlimited Moab Run paid for two-thirds of the Tom Wood drive shaft (thanks for supporting the JU run, Tom). At some point before this lift went on, I added a Currie Anti-rock to the front end.
July 2004
The biggest change here is the swap to a soft top. The metal half doors were added in December, 2004. In addition to this, the old Canyon City tire carrier and rock bumper were replaced with a Toys by Troy rear bumper and tire carrier. The OR-Fab front sports bar was replaced Troy's sports bar (along with a dash bar). I attached a heavy duty Toughbook notebook to the top of the dash bar and it provides real time mapping to augment the GPS receiver. I also acquired a full set of Raingler nets that get used at various times, depending on what the upcoming trail run has in order. And I added some hood decoration too.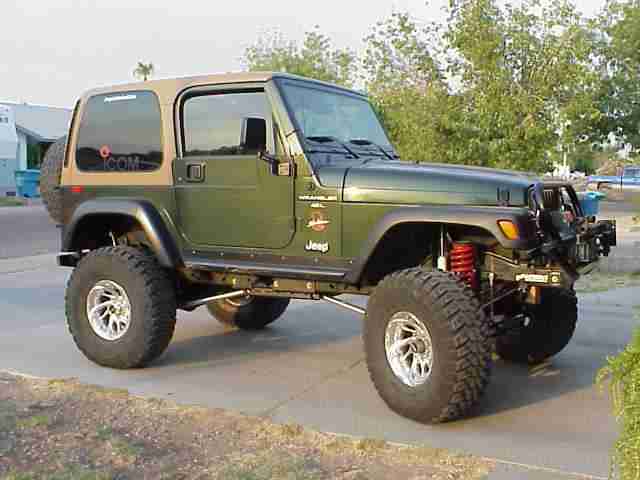 April 2005
The Toys by Troy side sliders were added in this picture. That is the bar and guard located above the rear fender. It covers the exposed metal between the back edge of the door and goes back to the corner guard. Update: If you don't have this mod, you need to give it some serious consideration. It has save my bacon (ah…I mean flares and tub) so many times, I've lost count.

December 2005
I spent some time at the end of the year installing an AW-4 automatic transmission from an '01 XJ. I also replaced a broken Warn axle shaft with a pair of chromoly inner shafts from Alloy USA. Earlier this summer, I installed pair of Alloy USA chromoly shafts in the D44 rear axle.
During the summer of 2005, I removed the Currie Anti-rock and installed a Sway-LOC dual rate sway bar. The Sway-LOC performs like the Currie Anti-rock when off road and a factory swaybar on road. An air operated actuator, powered from my ARB compressor, disengages the highway bar when driving off-road. It is awesome and one of the best mods I've done.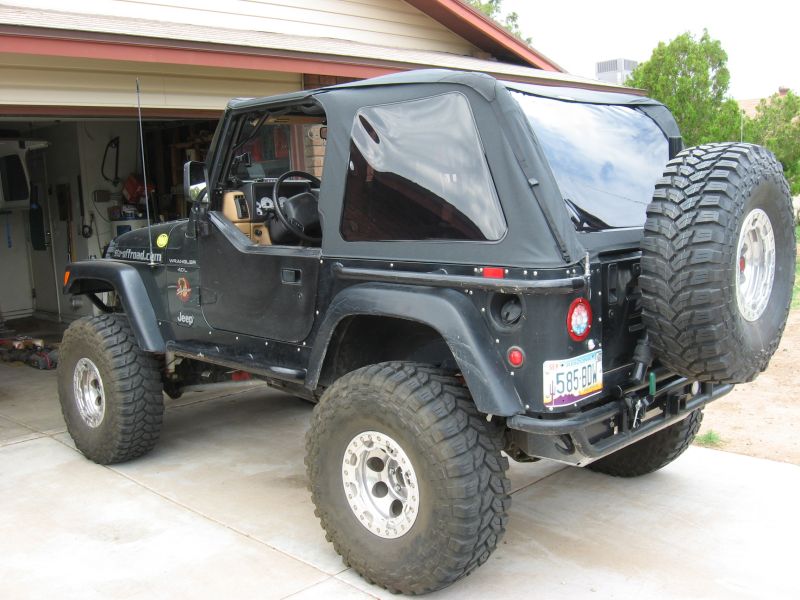 May 2006
Since the tranny brought with it a very vulnerable tranny fluid pan, I built an aluminum engine/tranny skid to keep things well protected. It turned out really well and so an aluminum gas tank skid (3/8″ thick on the bottom) was put on Lady to see how it would survive in the rocks. A trip across Die Hard (a solid 5.0 trail) proved its durability and Toys by Troy pushed the aluminum gas tank skid into production. A few months later, I installed AW Shifting's AW-4 manual/auto tranny shifter kit. It works great….what else can I say?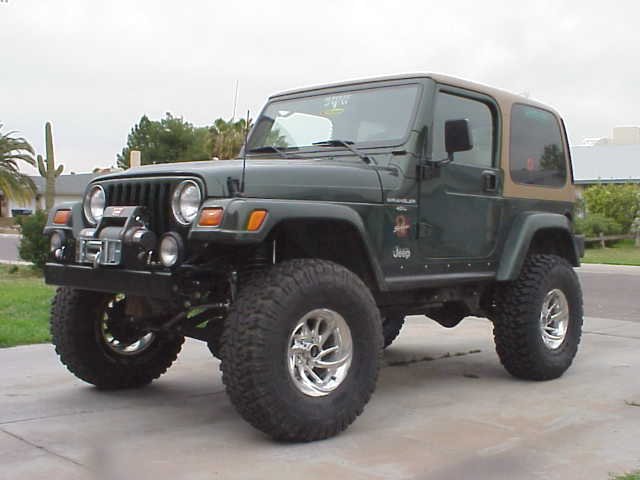 February 2007
It has been a while since the first pair of aluminum wheels were put on Lady. I saved up some pennies and splurged for a new set of custom built beadlocks. Along with the new wheels came new 35″ Maxxis Trepador tires. Since the update from last spring, I've also added a suck-down winch on the front axle. Works very nicely and allows me to completely compress my front springs (to the bump stops) to help prevent the front end from unloading while attempting those tough uphill climbs on waterfalls and other obstacles.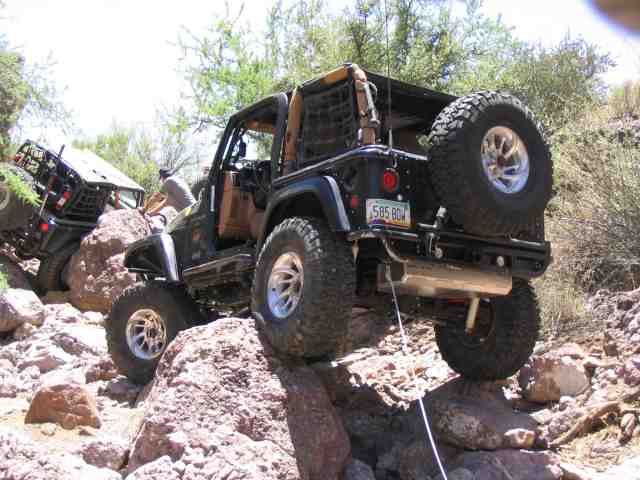 July 2008
Most notable change up to this point has been the new soft top. You can read more it in the Viking Offroad Fast Back soft top write-up. Tinted windows with on-board window storage….I like this change a lot.