Stu's comments: A number of months ago, Tim Doumit, a very good Jeepin' buddy that I've had the pleasure of sharing many Moab trails with over the years, decided it was time to come over to the dark side and put an auto tranny in his TJ. The following is his thoughts and ideas on how he did it. As Tim mentions, it is not a complete write-up for doing the AW-4 swap. (we already have a couple of those on the site) Tim's write-ups covers those things that differ, to some degree or another, from what is covered in my AW-4 write-up. He also did a pretty good job of making a parts list the parts he used and the cost (something that is missing from mine). A big thanks goes out to Tim for sharing this information with all of the site's readers. It will certainly be useful for anyone else that is contemplating an AW-4 transplant into their TJ. With that being said, here is Tim's write-up.
This write-up should be used in conjunction with Stu Olson's AW-4 Swap. He and some other fellows went before me and worked out most of the kinks. There are a few things that I did differently that some may find interesting and helpful to say the least. I know that I would have not attempted this swap without the information provided in Stu's pages.
This swap is not for the feint of heart.

First of all I started off with a list of parts I thought I needed. After looking over the other AW-4 write-ups, I was ready to start accumulating everything possible. The prices I am about to list are current as of the summer and fall of 2008.
The actual swap took me 22 days. Working mostly on my own with a recently repaired right arm, I think I did pretty well.
One of the least expensive things I purchased for the swap was the transmission itself. I found it at a wrecking yard with only 20k on it.
$225.00
The dealership helped with much of the new parts I wanted to get.
Drive plate
Spacer
Dust covers
Bolts for the crank and torque converter
Dowel pins
$170.00
Other assorted parts from bone yards across the nation:
XJ pedal assembly (stick with TJ) and TCU $50.00 Light Truck Parts Portland OR.
TJ auto shifter bezel $32.00 Davies Jeeps. Salem OH.
XJ tub plate, shifter with bezel and cables. $50.00 EBay
XJ tub plate TCM plug and lighting harness $20.00 D&S Salvage. Longview WA
XJ odds and ends like dip stick tube and shift cable bracket $25.00 Ace auto wrecking. Longview WA.
Summit got me for a bunch too:
BMM-70265 transmission cooler $55.00
EAR-982268ERL -6 AN to NPT 90 adapter (x2) $15.00
SUM-220701 Twist-tite -6 AN straight (x2) $4.00
SUM-220706 Twist-tite -6 AN 45 degree (x2) $10.00
SUM-220711 Twist-tite -6 AN 90 degree (x2) $10.00
SUM-220785 Twist-tite -6 AN hose 20′ $50.00
RUS-670150 Adapter -6 AN to (x2) $9.00
RUS-648070 -6 AN to 14mm o-ring (x2) $11.00 (make sure you get the o-rings off your old stock tube adapters or buy new ones shown on Stu's write-up.)
ATM-2260 weld in adapter for gauge $13.00
ATM-4357 Autometer gauge $47.00
BMM-70298 Hi-Tek cooling unit $200.00
Tom Wood's custom drive shaft:
The rear was shortened – $65.00
New front shaft – $260.00
Wire, heat shrink, moldex plugs, and other assorted bits probably came in around $150.00
There were other things that I purchased for the swap that I decided not to use or did not need. So, summit will get the things not listed back. The pro-tube I purchased will get used for something else. The moldex plugs for the most part were cut out of my harness because I just did not like them. Two remain near the transmission since I could not locate the OEM plugs for that area.
Onward
Before I started the swap I gave myself plenty of time to find out all I could first and I did that with the help of the Jeeps Unlimited.com TJ Forum. Here I was able to get responses, comments and advice from those who went first. There is seven months of opinions, tips and answers there.
Let's skip ahead to the first thing I did, the wiring harness: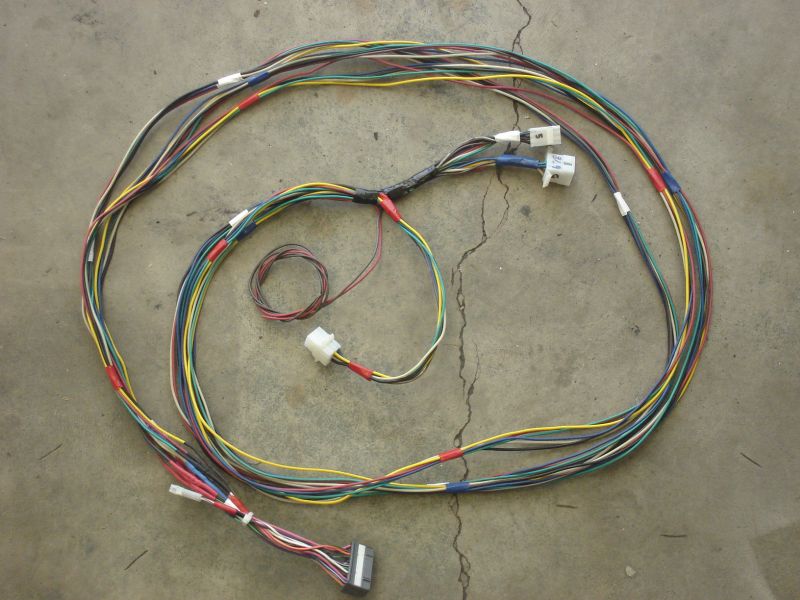 As you can see this wiring harness is multi-colored. This was something I needed to do to keep things straight. I was fortunate enough to get all the wires right the first time. With Stu's wiring pages and the color schematic I made everything went real smooth.
One thing I should have done is measure it correctly as there is too much wire under the dash. I was going to cut and re-solder but I will wait and do that when I am able to purchase an AWSHIFTER. On a side note, my wiring was color coded like Stu's swap. Just to be sure, I used a FSM for the 97 TJ and another form a 00 XJ.
Clocking for the t-case:
mrblaine loaned me his AW-4 clocking jig. He even tossed in a reamer and drill bit of the correct size. It makes the procedure virtually impossible to screw up.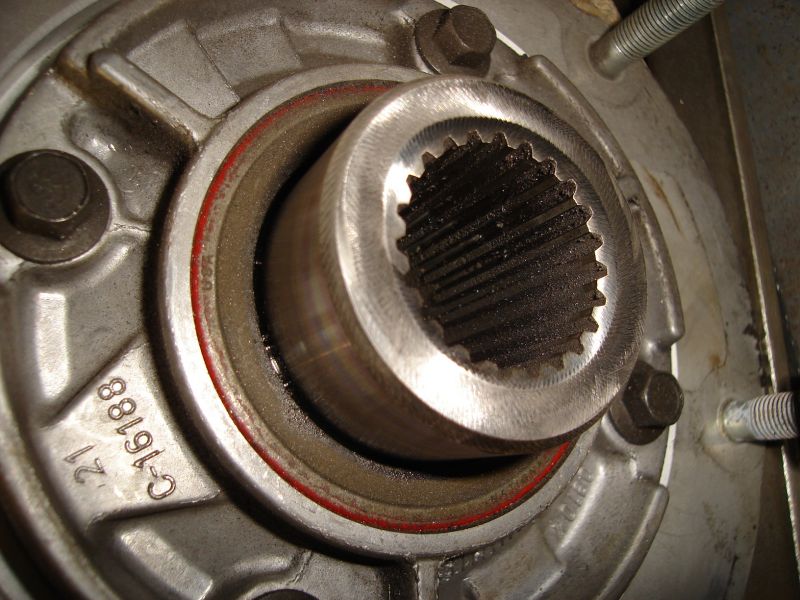 With the TeraLow 4:1 I needed to shorten the input shaft on the transfer case. One of many times I followed the leader. Angle grinder + cutting disc = perfect length.
AW-4 Transmission Swap
My 97 did not come with an air bag defeat switch. I picked this one up from ranger rick a few years ago but never wired it into the airbag harness. It proved to be more useful as a pod. I really like how it turned out.
The green LED shows that the electric fan is switched on from the pod on the dash. The red LED tells me when the fan kicks on. I got to tell you I am proud of this one.
In the above picture you will also see an XJ shift pattern in a TJ bezel. I took both bezels apart and made one with the pieces I needed. The XJ bezel did not fit into this console.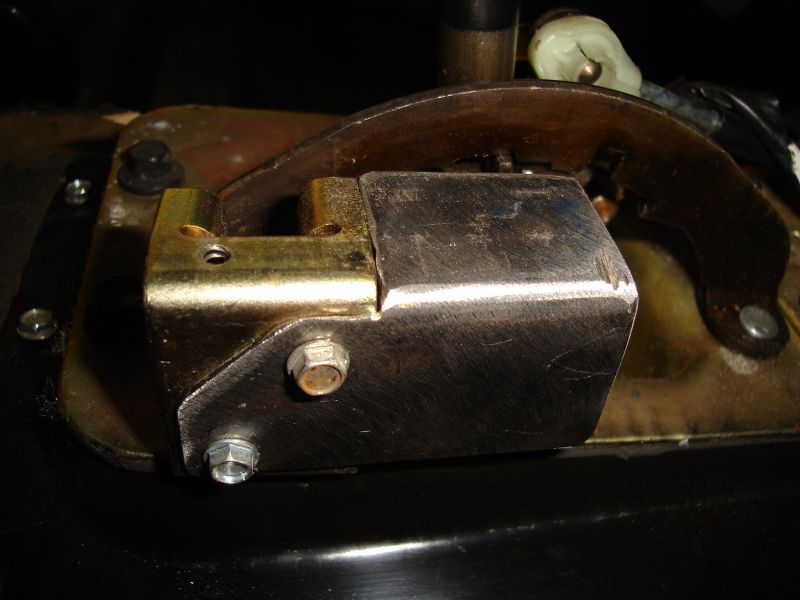 The console did not fit with the XJ shifter. So I had to help this shifter along and make a bracket extension for the mount to bolt up on. I found many little things like this along the way.
Pedals: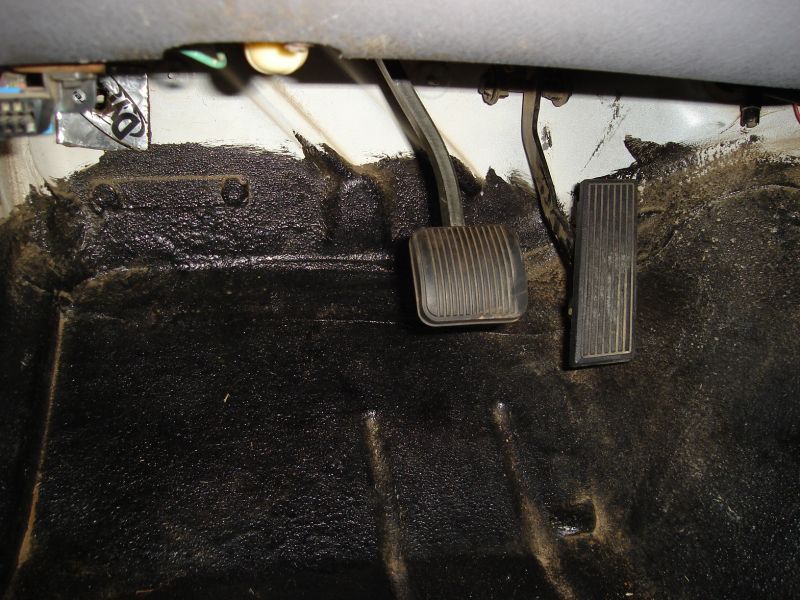 I tried a few different configurations of pedals in my TJ. I started by removing both the TJ pedals and bracket and replacing it with the XJ automatic brake pedal. It turned out to be too high and too short so I took the TJ pedal and put it back in. I know it looks lonely there and many have just welded the clutch and brake pedal together rather than deal with the pain of getting that bracket off the firewall.
I think it is a cool innovation but I wanted more room down there. We will go with it for a while to see how much I like it. It's been that way since May of 96, why change now?
Note: I would not have been able to use this pedal with the XJ bracket if I didn't have the bushing out of the auto brake pedal's pivot.
More wiring: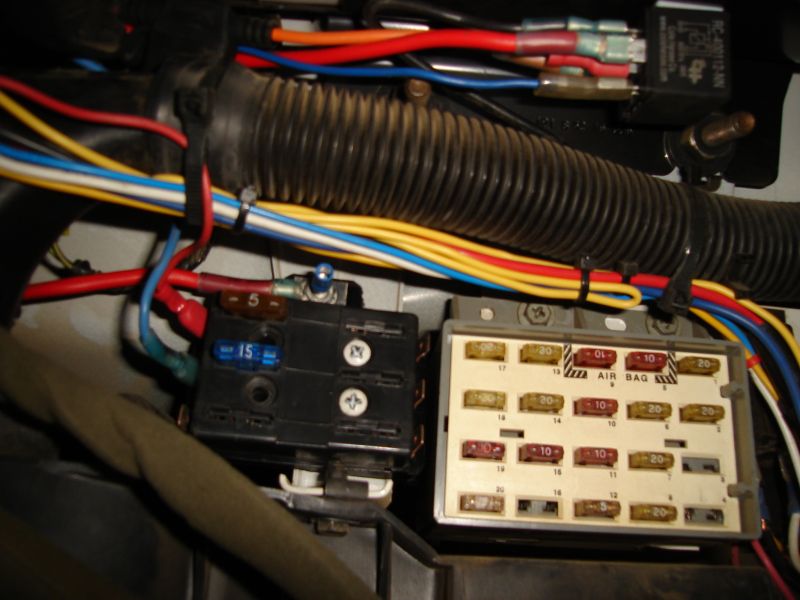 When I started the swap I decided to go through anything that got in the way and do it right. Much of the wiring on my jeep is top notch. It hasn't always been that way in the past so I went along and erased any of my wiring sins and replaced – rerouted anything that was not up to my current standards.
One neat thing I added was a keyed fuse panel. By using a relay and a trigger wire from another keyed circuit I made room for the cooling fan and gauge power.
AW-4 Transmission Swap
The coolers: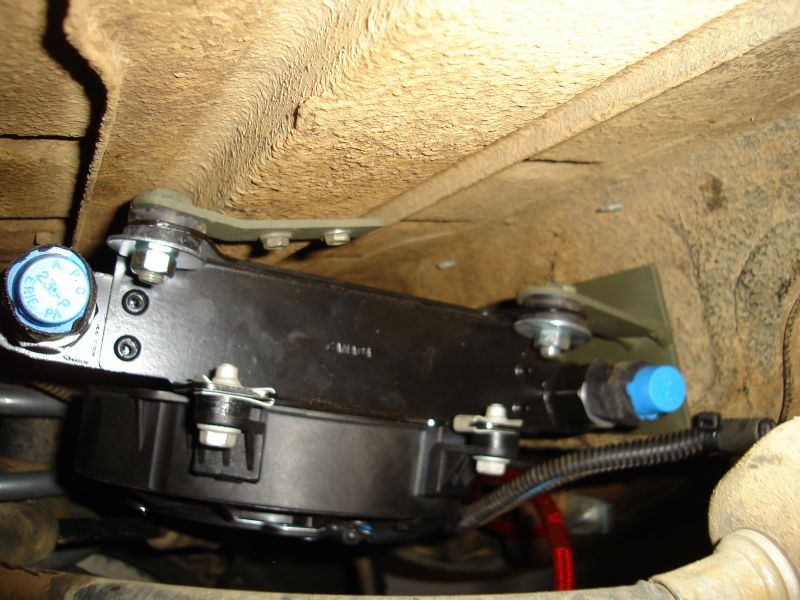 Right here I was test fitting the power cooler. I put it on rubber mount and made some extra space above it.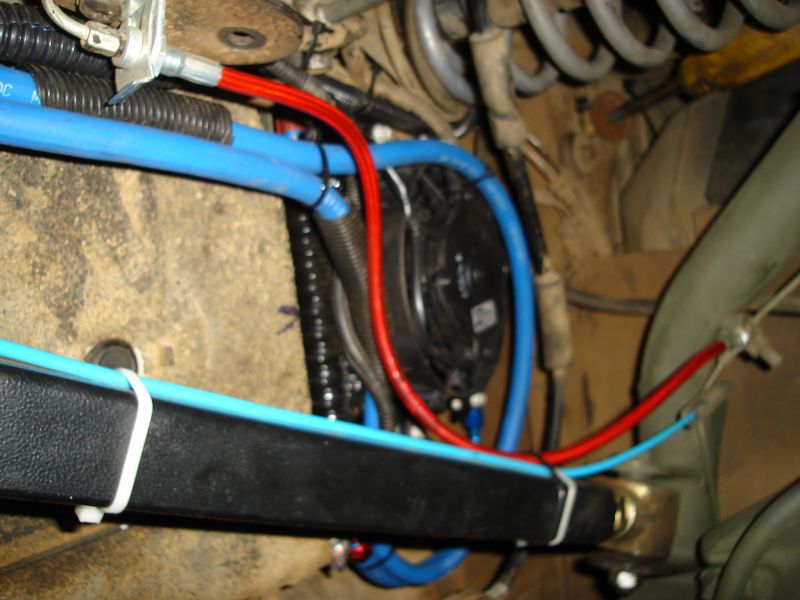 Here it is in place with the hoses hooked up. I still want to run some hard line but I am sure this hose will do just fine.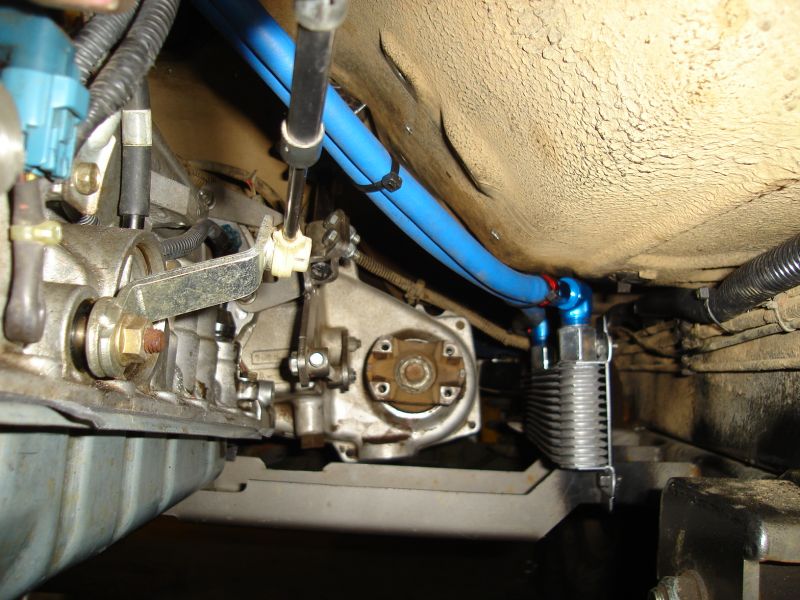 Here is the smaller cooler. It is mounted on two 14 gauge brackets welded to the Clayton cradle.
AN fittings were used everywhere. No leaks!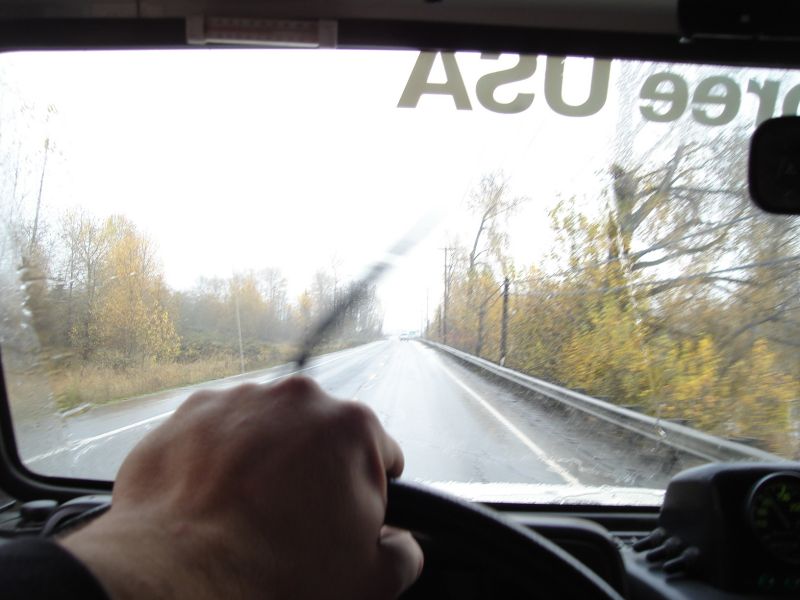 Day 22. I get to drive it!
As you have seen, I did not go into every detail. I really wanted to show some things I did that were different than my friends' write-ups. Like I said in the beginning, this should be used in conjunction with the write-ups on Stu's site.
I hope some of what I showed here will help someone along the way.
If you have questions I can be reached at [email protected]
November 29 2008
Tim Doumit