A friend of mine from Nevada was in the area with his son and we had arranged to meet at Table Mesa for a Monday trail run. Another local Jeeper met up with us there and we finally ended up doing Lower and Upper Raw Deal. As luck would have it, I managed to peal my rear diff cover up on a rock which resulted in a slow leak. We noticed the dripping and I was able to make a trail repair in short order and clean things up.
Just a few days before this happened, I had been considering getting a rear diff guard. I had dragged my feet on doing anything about it because I was concerned with the guard contacting my gas tank skid. I spent a couple of evenings surfing the net, looking for a low profile diff guard that would suit my purpose. When I found what looked like a suitable design, I dropped an e-mail to Ron at Ron's Custom Shop. With only a small picture to go by, I asked him if he could fab me a diff guard that would provide maximum clearance for my gas tank and still provide adequate protection for my rear diff. Within 48 hours, he had made a prototype guard and had sent it my way.
Here is the finished product, mounted with some new Grade 8 bolts in place. As with his other guards, Ron used a full ring around the edge of the cover. I didn't want anything to peal my cover off again!
This guard is also ideal for Jeepers who run a fairly tall lift and as a result, their diff is rotated up quite high to match the CV drive shaft. Regular diff guards, like the one on my front diff, can rotate down enough that they can act like a scoop and catch rocks instead of helping the diff slide up and over them. The diff guard in the above pic is not affected by the rotation of the differential housing.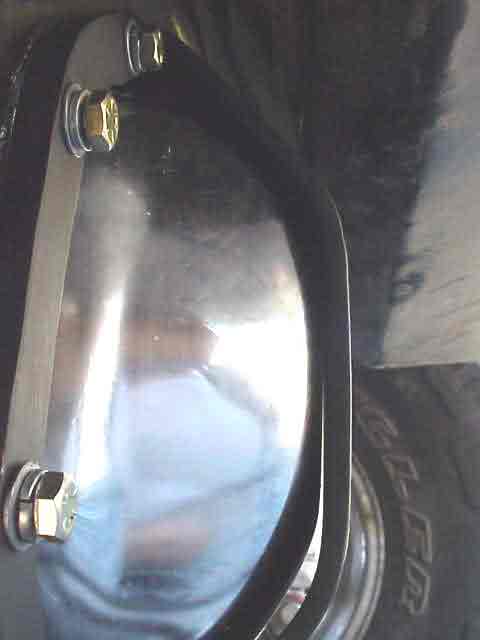 It was really hard to get the digital camera in there to take a shot. The guard does not touch the cover, although it appears to do so in this picture (it is the camera angle in relationship to the differential).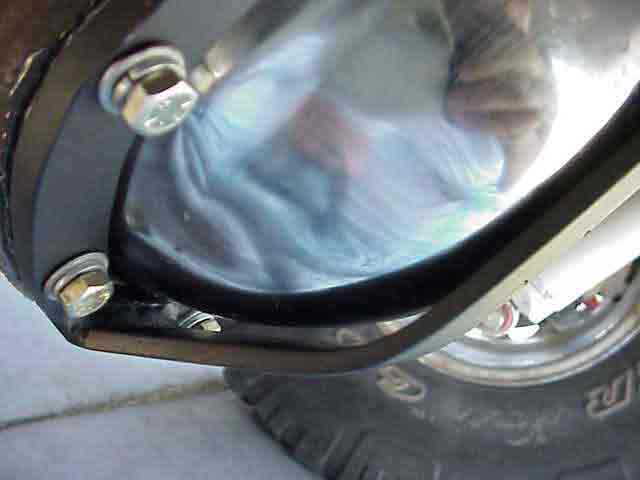 Here is another pic of the guard. I've not had a chance to check it out on the trail yet (I'm writing this a couple of hours after putting it on). But from what I can tell so far, it looks as though I should have no real clearance issues with the gas tank skid. If I did, Ron said to send it back and we would figure out some other design to try.
Although I've never spoken with Ron directly, I've been completely impressed with his quick response to both of my diff guard purchases. As I write this, I haven't paid him for the guard yet. When he sent it my way, he also dropped me an e-mail and told me that we needed to get everything to fit right, then I could send him some money. Well, it sure appears to fit nicely so I guess I had better get some money sent his way. Here is the link to the front diff guard that Ron made for me.