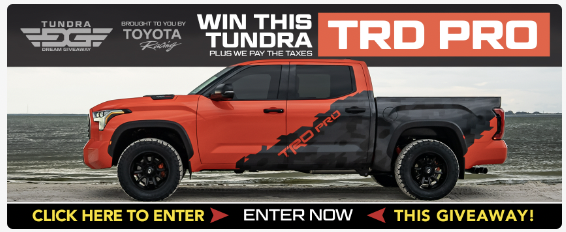 This write-up won't go into a lot of detail in regards to the installation of the CB radio in the TJ. You drill a couple of holes, attach the power leads to +12V and ground connections, hook up an antenna, and you are ready to go. This is more about finding a rummage sale bargain and enjoying the older technology from years gone by.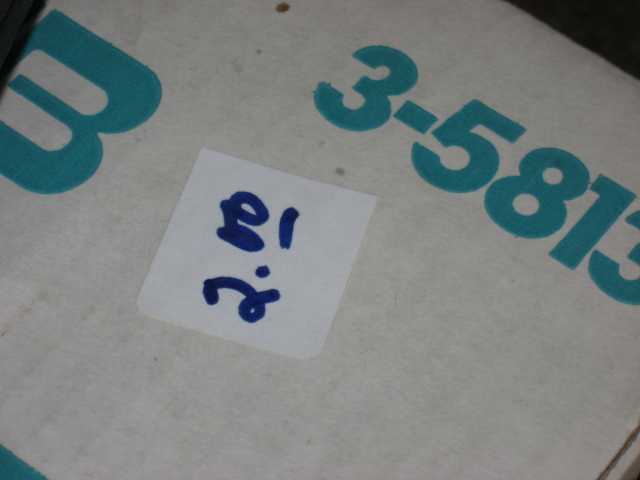 Donna was recently coordinating a rummage sale at our church. Folks were donating various items for the rummage sale. One of our church members brought in a bunch of things that he was unable to sell at his own garage sale a couple of weeks prior. Among the boxes was a GE CB radio. He had a $2 price tag on it and had not been able to get rid of it.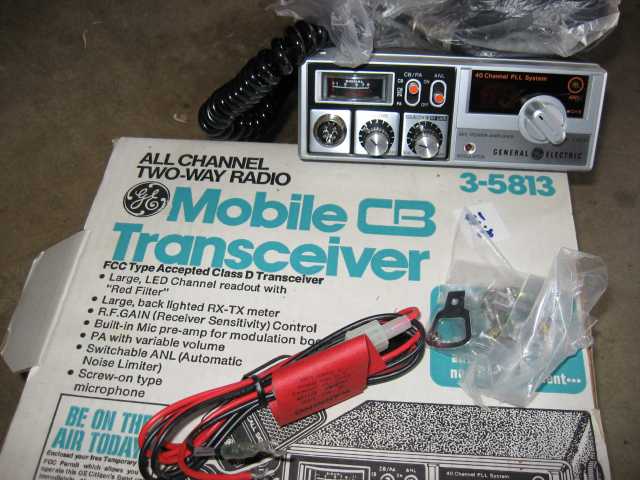 I traded a five dollar bill out of my pocket for the box and took it home. Everyone was happy. The radio was old….very old (by consumer electronic standards that is). It even had an application for a FCC license in the box! How long ago did they drop the license requirements for CB radio? For that matter, does General Electric still make CB radios? ( I doubt they do.)
The radio had never been installed. All of the parts (brackets, screws, microphone, power cable, etc. were still wrapped in the plastic bags and sealed shut. Electrolytic capacitors can go bad after many years and since this thing was at least a couple of decades old, I was hoping it was going to work when I turned the switch.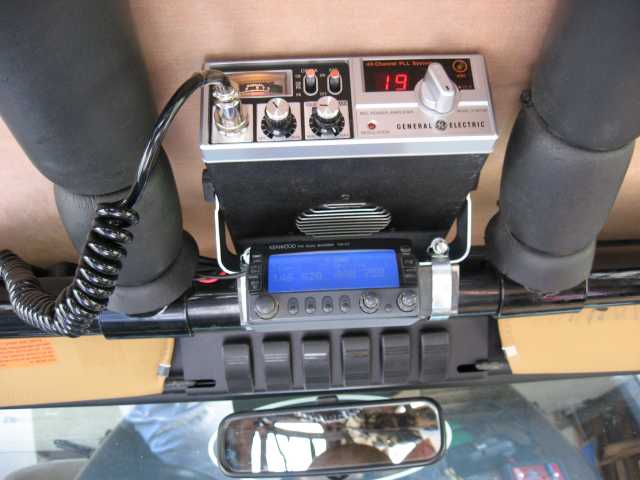 After a little bit of head scratching, I realized I could use the mounting plate I used for my VHF/UHF ham radio. A few minutes reconfiguring the bracket mounts was all it took. A +12V power run was ran to the radio along with the antenna cable.
I was rewarded with a nicely lit display panel when I turned on the switch. I rolled the channel knob to 19 to see if I could hear any activity. I live about 4 miles from an interstate truck stop. Sure enough, I could hear folks at the Flying-J talking about doing a BBQ later in the day. I left the radio on while I cleaned up my tools. I heard several other conversations….most were 5 ~7 miles away (across town). Just to make sure the transmitter was working correctly, I gave a shout to one of the CBers and he answered back that I was a solid copy. He was located over 5 miles from my house. That was good enough for me. My $5 GE CB radio was working nicely.
The audio in the radio is more than loud at the half way point on the volume control. With its down facing speaker, there is no problem hearing it while cruising down the highway with just the metal half doors in place. Many of the new CBs have such wimpy audio you almost need a remote speaker parked right next to your ear in order to hear what someone is saying…..not so with this model.
It has a usable RF gain that seems to work well. A warning light indicates if you have an antenna mismatch. The squelch has a nice range of control and the automatic noise limiter (ANL) does a adequate job of supressing the static produced by the TJ once the motor is started.
Compared to the CB radios made today, this old GE radio is rather old school, so to speak. The entire radio doesn't fit in the microphone (like some) and it doesn't have a weather band receiver built in either. What it does do is work…..and quite well from what I've experienced so far. It will get a good workout in Moab at the 7th Annual JeepsUnlimited Moab Run in a week. If it survives that, I'll have gotten my $5 worth and more.
Good trails and remember to TREADLightly!
Update: 03/03/2007
I finished a trail run just this past weekend and am still using this GE radio. It continues to work very well. I did have a microphone cord wire failure (not uncommon) shortly after getting the radio installed but that was easily fixed with a soldering iron and I've no problems since then. The audio, both transmit and receive, is top notch. As I mentioned above, half volume during receive is ample enough to overcome road noise. I've gotten my money's worth without a doubt. If you come across an old CB like this and the price is right, give it a try. With little invested, you don't have much to lose and you may just come up with a winner like I did.

Update: 04/02/2008
I was reviewing this page and thought I would add another comment. The ol' GE is still going strong. No problems since the previous update. I used it on the trail last month on an all day run. It did a good job….even had to switch channels at one point as I was copying some 4wheelers that weren't part of our group and even though they were some distance away, they were still coming in strong enough to break my squelch. Our group moved two channels up and we had a quiet channel again.