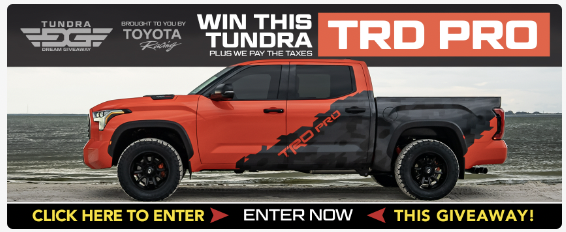 Note: Before we get to Drew's excellent write-up, I just want to extend a BIG thank you to Drew for allowing me to share this outstanding Jeep modification with everyone. You don't see a project like this very often and rarely (ever?) at this level of quality. Drew, congrats on what is obviously a lot of work and a labor of love!
I put this write-up over in the GPS area of the web site since I felt the computer is fundamental for mobile GPS applications. Granted, Drew uses it to play MP3s, among other things, but I felt it would be much harder for his stereo to display a map of the Rubicon trail….so I still see mobile mapping as the primary function.
OK….on to Drew's write-up.
As technology shrinks computers and broadens their multimedia capabilities, the gap between consumer electronics and computers is shrinking. So what better place to put a computer than in your Jeep? Why? The possibilities are endless. The car computer or "carputer" offers way more features than any traditional car stereo/DVD/nav system and is fully customizable and scalable. Some benefits of carputers include but are not limited to:
* Play Digital Audio & Video
* DVD Video Playback
* GPS Navigation
* Cell phone integration
* Wireless Internet & E-Mail Capabilities
* Video recording
* Rock Cams (cameras behind the front wheels to see where to place tires when rock crawling)
* Run Any Windows XP Application
* OBD2 Vehicle Diagnostics Support
I recently finished the second spiral of my carputer project for my Jeep. I say spiral because I'll never be finished, but I'm getting closer. Below are some pictures and details.
This installation write-up addresses some of the unique design challenges specific to a Jeep Wrangler. First of all, a Jeep with a soft top is only about as secure as our nation's borders, and you know how porous that is. If I ever lock my keys in my Jeep, no worries, I can unzip the window and reach in to unlock the door. With that level of lack of security, most people would think I'm insane to put an expensive computer system in my Jeep. I thought the same thing, but it just meant another design challenge that needed to be addressed.
Second, the inside of my Jeep gets extremely dirty when going out to the desert and mountains. Imagine throwing a bucket of dirt at the interior of your car. That's what my Jeep is like after a run. Justifying a conventional fan cooled computer was difficult in those conditions. Luckily, the people over at Xenarc had a solution in the form of a fanless computer. The specs are:
Xenarc CP-FL9D
Mobile Celeron Fanless Car PC
* Intel Mobile Celeron 1.5GHz CPU (Socket 479)
* 512MB PC3200 DDR Memory (0.8″ Low-Profile)
* 80G Hard Disk Drive (2.5″ Slim HDD)
* DVD ROM
* Built-in Startup / Shutdown Controller
* Windows XP Pro
Some might say that this is overkill for playing mp3s, but the navigation software I have requires a lot of memory and processor power.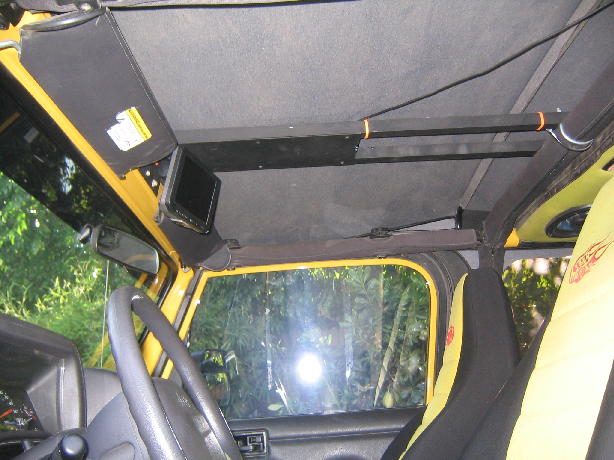 This is the monitor mounted before I got the sport bar. The location is perfect because it's easy to see, does not obstruct the view of the trail, and doesn't interfere with the rear view mirror or HVAC controls.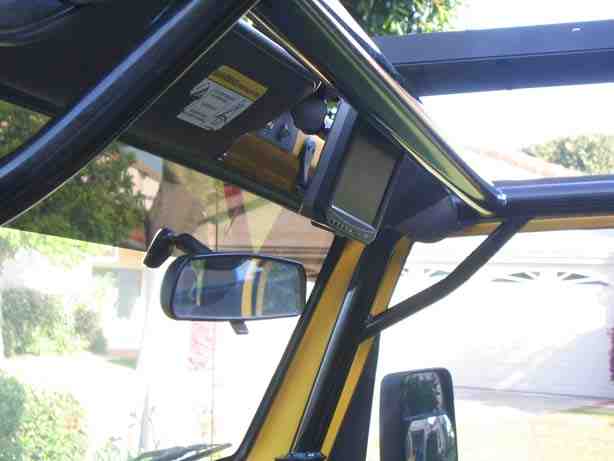 I just installed a sport bar and it presented a new problem. The bar is in the way. I'll have to lower the monitor mount by about an inch.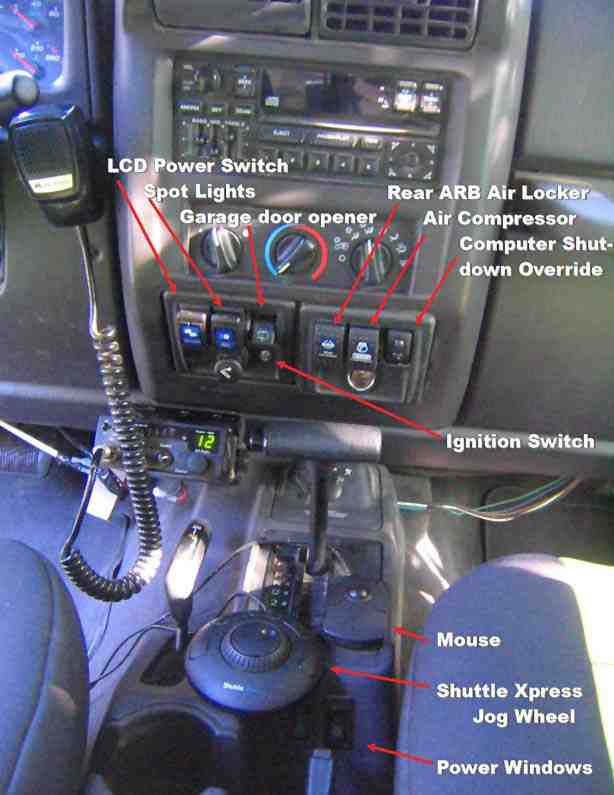 In my opinion, the jog wheel is far superior to a touchscreen for browsing through music. The inner wheel scrolls through music, hit button 1 and you've got a new song playing. Turn the outer ring and it skips to the next track. That's much easier than trying to find the skip button on a touchscreen with your finger. Not to mention safer when you're driving. Button 5 toggles between the playlist and music library. Plus you have 3 other buttons that you can configure for whatever.
In OziExplorer, the inner wheel scrolls the map up and down and the outer ring scrolls left and right. Buttons 1 and 5 zoom in and out.
The other big advantage of the jog wheel is that I don't need to have the monitor on to browse through music. In fact, when I put the top down, I take out the monitor for security reasons and I can still listen to all of my music.
I have a mouse instead of a touchscreen because the touchscreen reduces the brightness of the screen. It may be fine for a car, but with an open top Jeep you need as much brightness as you can get.
Jeeputer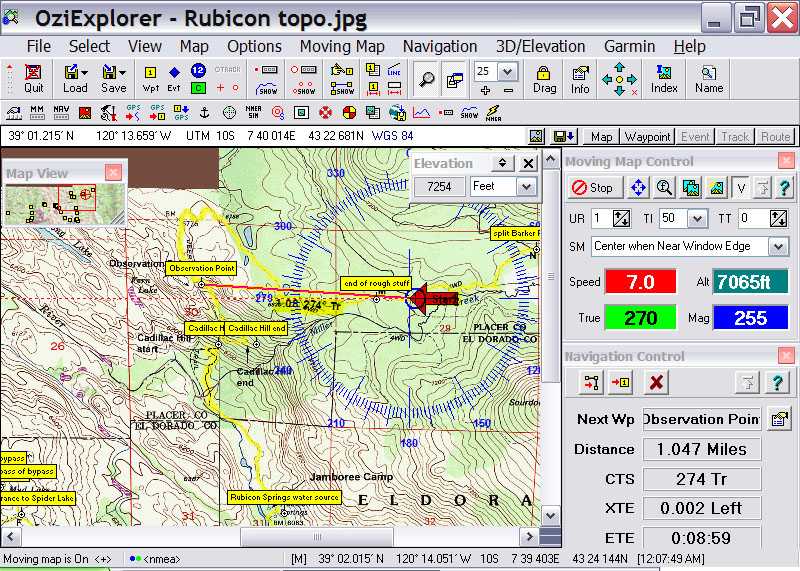 This is a screenshot of OziExplorer (http://www.oziexplorer.com), showing me driving along the infamous Rubicon Trail near Lake Tahoe. I say infamous because of the carnage that eats Jeeps alive.
OziExplorer is different from other conventional navigation solutions. It uses paper based maps verses vector based maps seen on most navigation systems. The cool thing about it is that you can scan in any paper map and calibrate it to show your position (the case with the map shown). The program itself doesn't come with any maps, but I can download free USGS topo maps from the internet. Other systems like Garmin use their own proprietary map format so they can charge you an arm and a leg for maps that are free and in the public domain. It won't tell me "left on Broadway," but face it, I don't need a computer to tell me how to get to work.
I've got 9 gigabytes of maps and satellite imagery for southern California alone. That means I've got an incredible amount of detail all for free. Compare that to the Tom Tom thing that has a 2.5 gig hard drive for the entire US.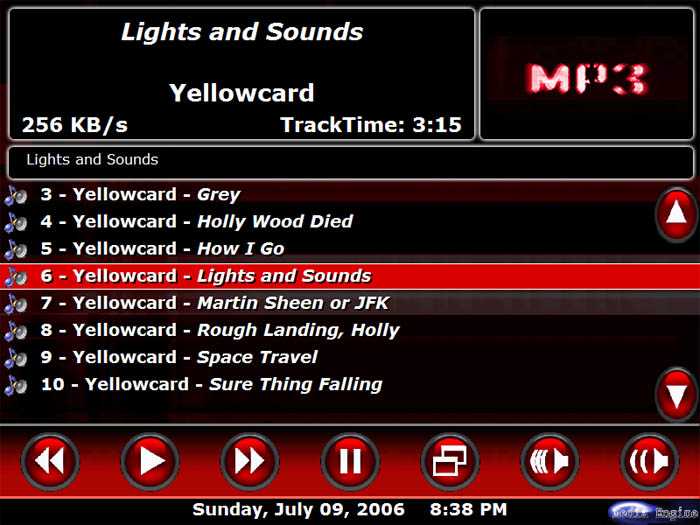 It's pretty cool having your entire music, movie, and video collection at your fingertips in MediaEngine ( http://www.mediaengine.org/ ).
Switching between MediaEngine and OziExplorer is easily done by double right clicking the mouse. A program called GyroTools is configured to emulate an Alt-Tab keystroke upon such an event. If I need to type something, just hold down the right mouse button and an on-screen keyboard pops up.
Jeeputer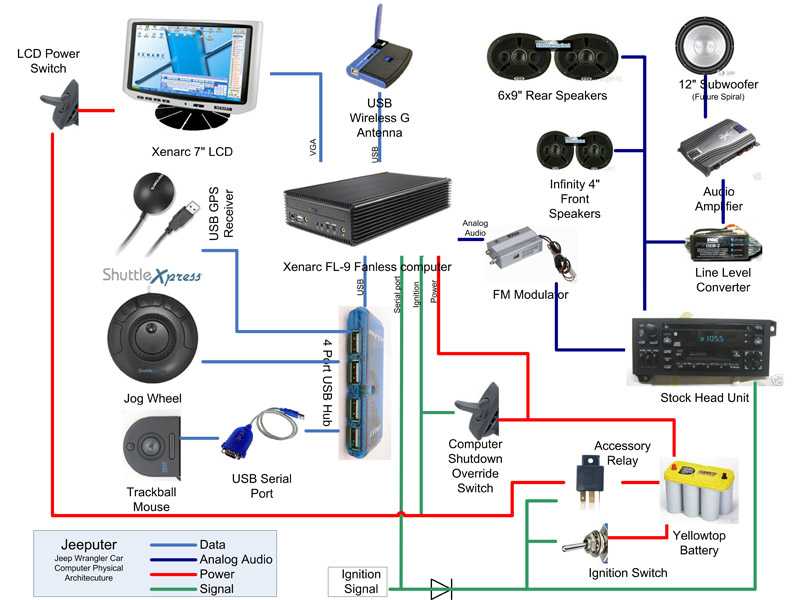 This block diagram shows the components and how they are wired. The computer has a 12 volt constant power wire and an ignition wire to tell it when to shut down. When I turn the ignition off, it waits 3 minutes and then goes into hibernation. The other ignition wire connected to the serial port tells MediaEngine to pause the music when the ignition is off. The shutdown override switch, when activated, prevents the computer from going into hibernation when the ignition is turned off.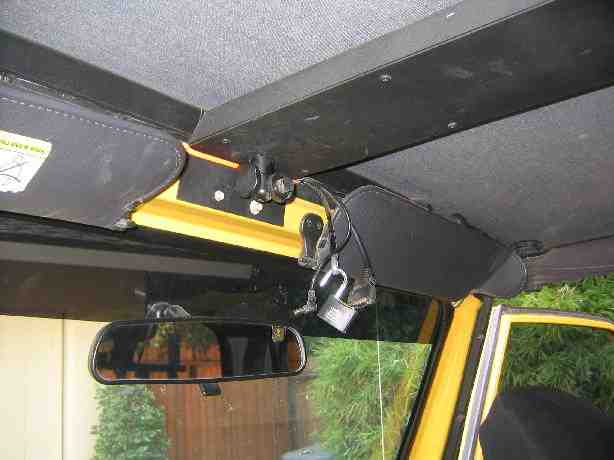 Here you see the custom mount with swivel bracket for the monitor. The big advantage of a swivel bracket is that the screen can be angled for best viewing. It can also be turned towards the passenger so he/she can watch movies because it's illegal to have a monitor showing movies or TV in view of the driver.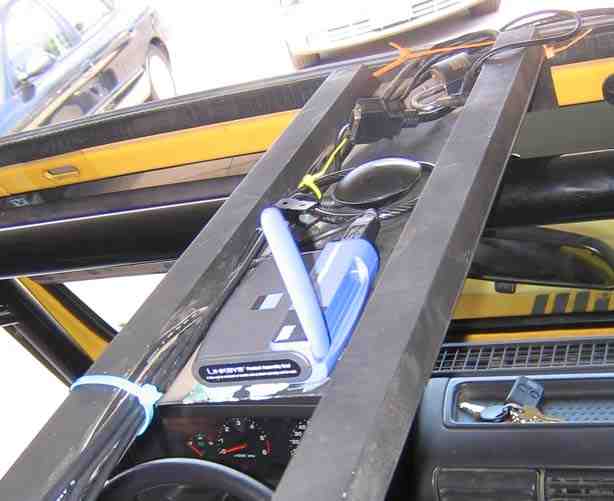 The GPS antenna and WiFi receiver are mounted above the cross member. The soft top is transparent to the GPS satellite, so the receiver can "see" the satellites through the top.
Jeeputer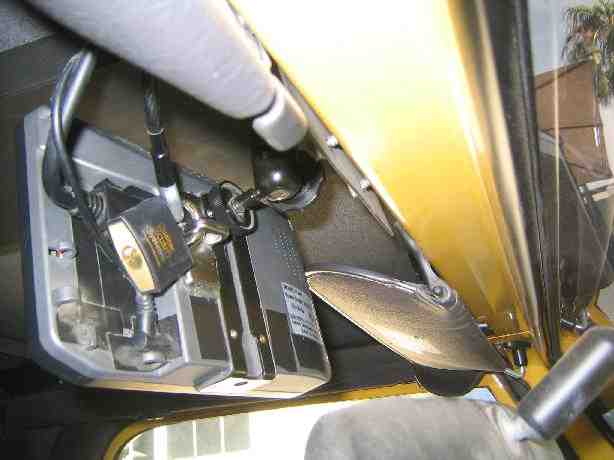 The LCD monitor is locked to a cable. The other end of the cable is secured to the roll bar.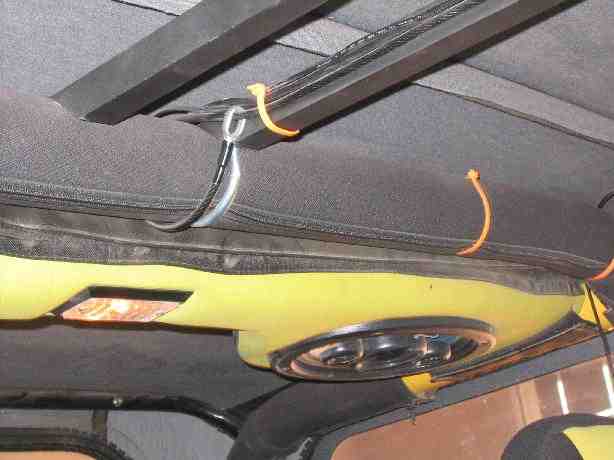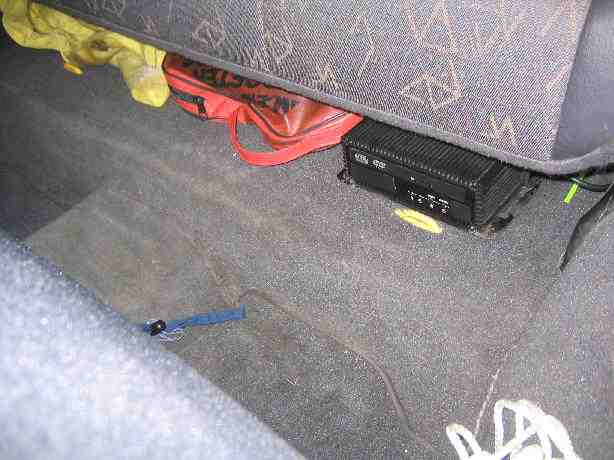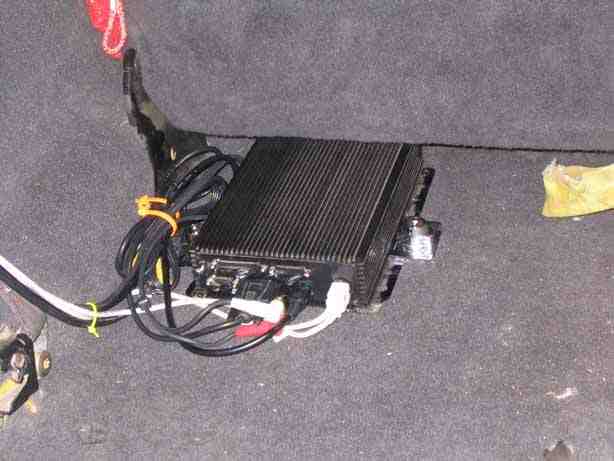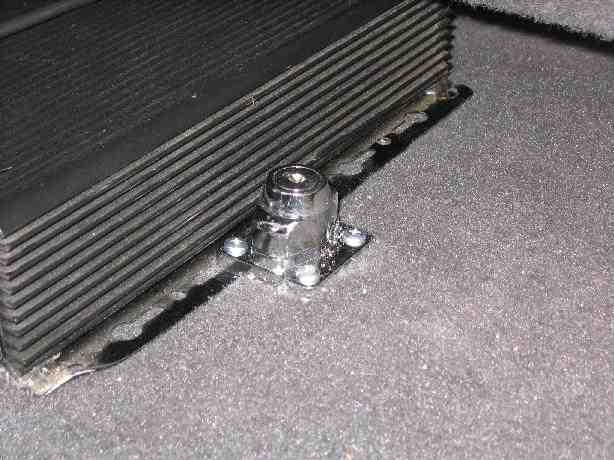 A locking hasp is used to lock the computer to the floor. With the hasp open, the screws are accessible. When the hasp is locked, the plate covers the screws.
Jeeputer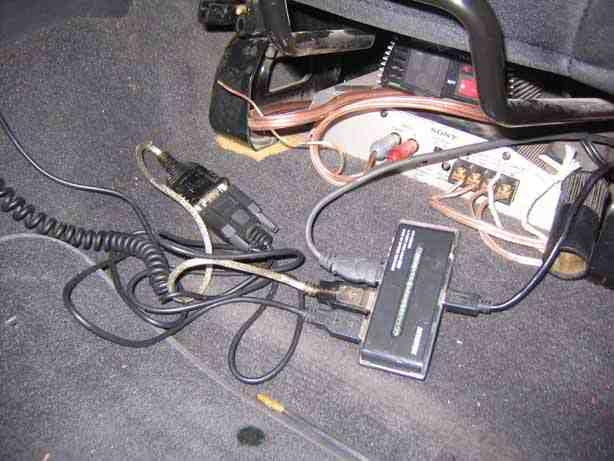 The USB hub, USB serial port, and amplifier are under the seat.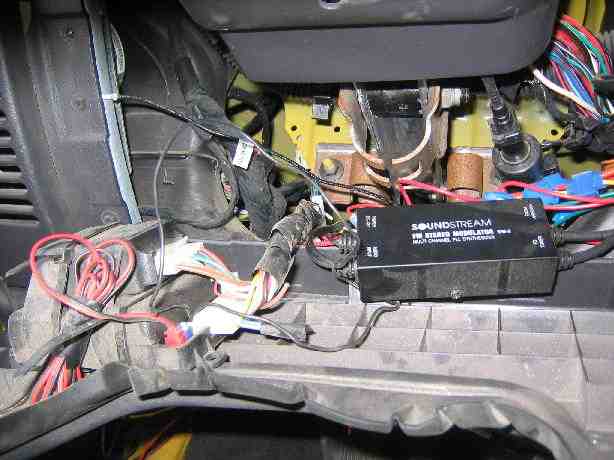 FM modulator passes audio to the stock head unit.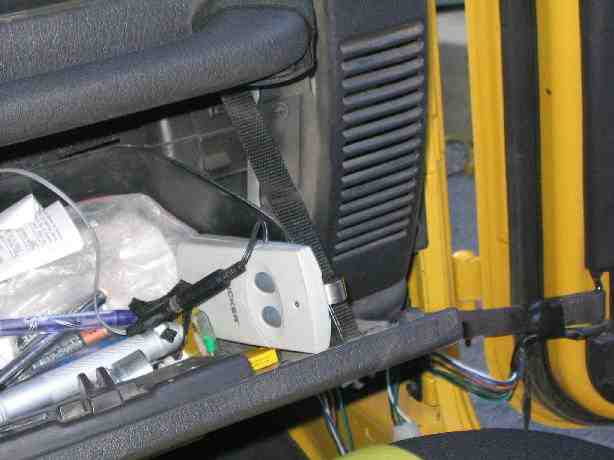 The garage door opener is locked in the glove box. A switch on the dashboard triggers the remote.
Jeeputer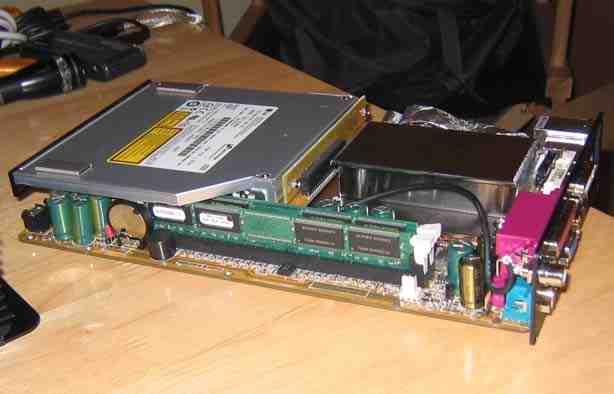 The single board computer has everything built into one board, including the power supply. Very efficient design. A solid block of aluminum transfers heat from the processor to the case which is a big heat sink. The hard drive is sandwiched under the DVD ROM.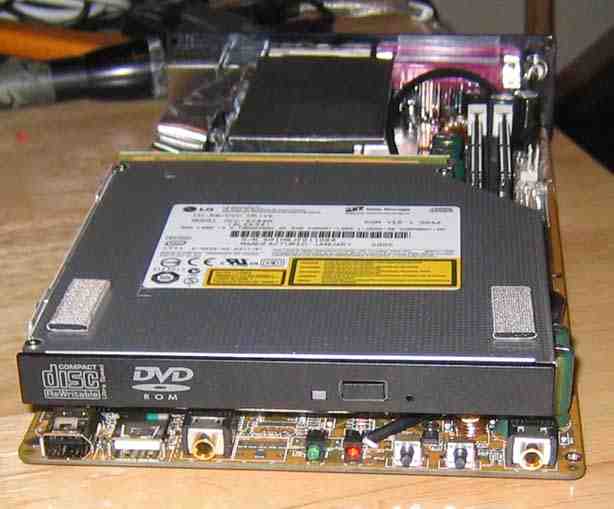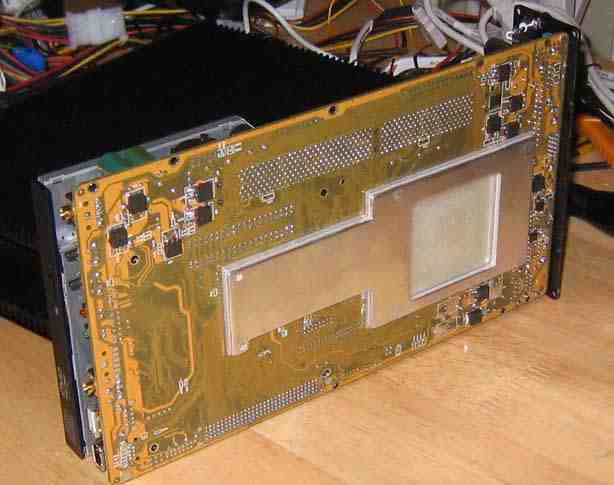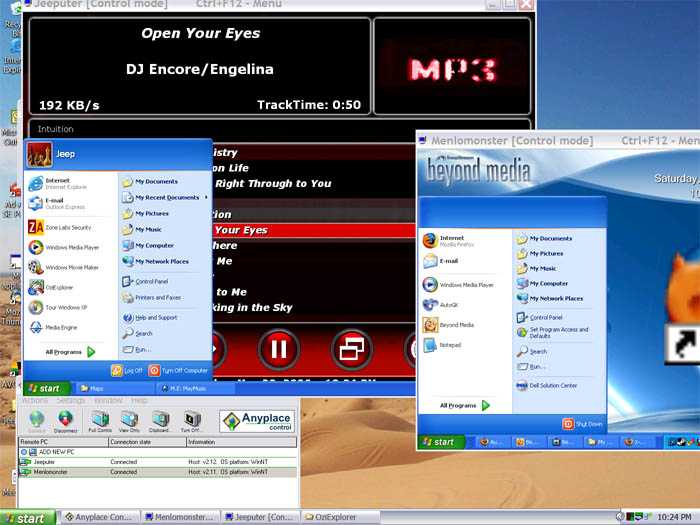 This is a screenshot of my laptop showing the desktops of the Jeeputer and my Home Theater PC (HTPC). When parked in the garage, I can connect to my home network and control the Jeeputer remotely from my laptop. I have a remote desktop program (AnyPlace Control) that I use to do administrative tasks such as music database replication and configuring or updating software. It's very robust. For example, if a program crashes, I can send a Ctrl-Alt-Del keystroke and kill the offending app.
Jeeputer
Alternative Theft Proof LCD Mount
The big problem with putting a system like this in an open top vehicle is that is screams "steal me." I have come up with a solution to make the LCD monitor theft proof.
I am going to have the monitor fold into a steel box and lock itself shut. It will be fully automated and open and close at the flip of a switch or when the ignition is on. The figure below shows a sketch of the box with folding screen to be mounted between the windshield and roll bar.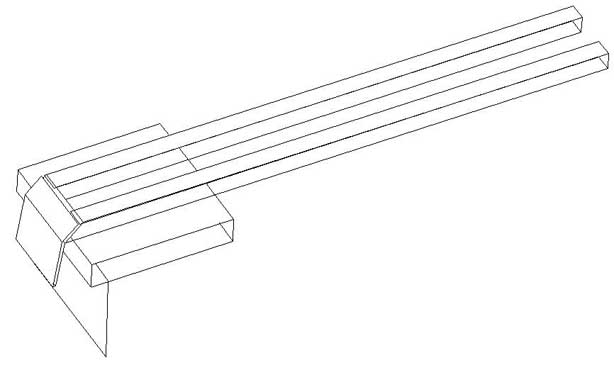 The monitor hinge is operated by 4 servos: 2 servos open and close the monitor, and two servos activate a locking mechanism so the box will be locked shut when not in use. A 68HC11 microcontroller will control the 4 servos.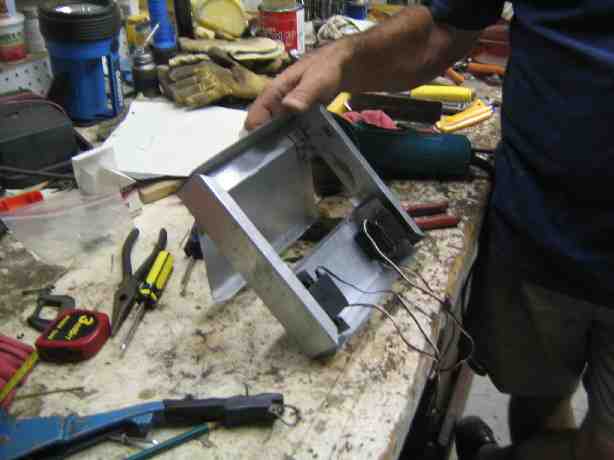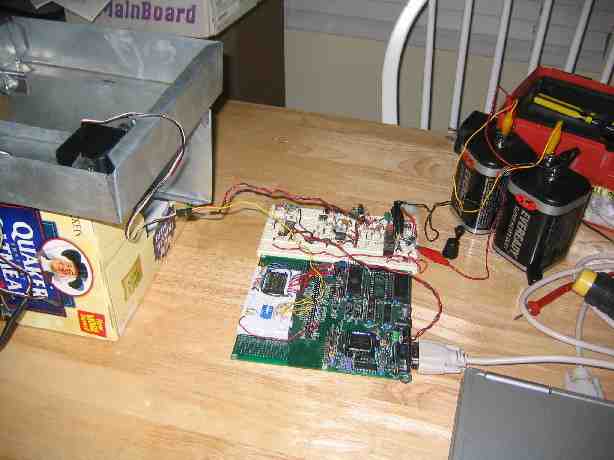 Above is the prototype with the monitor door open interfaced to the 68HC11 microcontroller. The breadboard has the power regulation circuitry that converts the 12 volt input to 5 volts for the microcontroller and servos. The power is also filtered to eliminate engine noise. Two 6 volt lantern batteries provide a simulated 12 power source.
I modified some code from the NATCAR project I did as our senior design project at USD. Basically the microcontroller outputs a PWM signal to the servo. The length of the high pulse is proportional to the angle of the servo horn.
This prototype works as planned, but some additional software and hardware development is required before I can install it.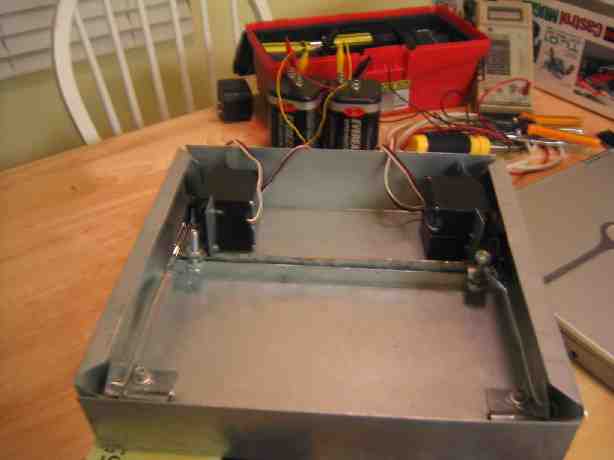 Jeeputer
I looked at Delorme's software before going with OziExplorer. While Topo USA may be a little more refined and easier to use for the average person, OziExplorer is much more powerful and customizable. Although OziExplorer doesn't come with any map data, Delorme charges you a lot of money for their Aerial Data Packages (includes 7.5 min topo maps, DOQQs, and 10 meter satellite images).
So if I wanted data that covered a small area in San Diego, say an area around my house that was 10 miles x 10 miles it would cost:
16 km x 16 km * $1.00/sq km = $256 if I want to download it.
That's a rip-off if you ask me. Especially when the data they are selling is in the public domain and can be downloaded for free. Our tax dollars paid for them, so we own them right? Right!
Just for kicks, I calibrated a map of California from 1895 and overlaid the track from my drive home from Tahoe. It's actually pretty accurate for a 111 year old map. I don't think Topo USA can do this: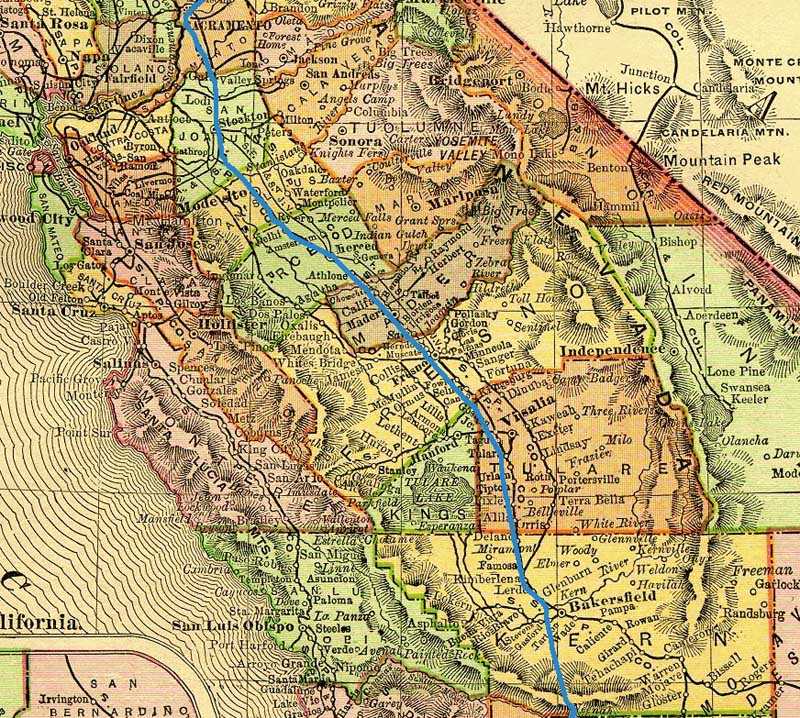 Note:This wraps up Drew's write-up on his Jeeputer. Lots of work in this project….no doubt about it. And from the looks of it, a nice job for sure. As Drew lives in SoCal, I am hoping I might bump into him some day at a trade show or perhaps on the trail….you never know.
Drew, thanks again for allowing me to share this with the site visitors. I'm sure some are wiping the drool from their chin while others are already getting ideas for their own TJs.