Every now and then, I add something to the TJ that helps improve the driveline survivability, gives me more clearance, or just help ensure I improve my chances of making it home under my own power. The Hood Lift, designed by Top Truck Challenge winner Jim Piatt, does none of these things. But hey, having a hood that lifts itself up into position is pretty cool, so I thought I would give one a try. Jim hooked me up with Hood Lift in just a few days after talking with him. The following Saturday AM found me in the garage with a couple of my regular wrenching friends, Scott and Les.
Now you have to understand that when the three of us get together, there is really no telling just what might occur. I had the parts laying on the floor when they arrived and was just beginning to look at the 8 page install instructions and parts list. I had already read the part that said "Please read these instructions all the way through before starting the installation." Scott says, "Does it have any pictures in there?" I turn the page to the Under Hood View and Scott is immediately grabbing some of the hardware and looking for a place to put it. In his (and mine and Les' defense), we have installed a few lifts, done axle swaps, 4:1 t-case upgrades, and just about anything else you can think of on our TJs so in reality, we should be able to do this without too much trouble. But I didn't really want to mess anything up so I told the guys that Jim had emphasized the importance of following the install instructions. I could see Scott thinking, "I don't need no stinkin' directions!" So I reigned in his enthusiasm and persuaded him to wait a few minutes while I used that old Evelyn Woods speed reading training from so long ago (yeah right!). With a 5 minute reading overview out of the way, we proceeded with the install (following the instructions as Jim recommended!).
Note: As is often times the case when I do a mod, I try to practice the old saying "Measure twice, cut once." Many of these photos do not have the bolts tightened down. As I was installing the hardware, it would get moved around a few times until we were satisfied with its position. Don't worry, we checked everything before calling it done. Also, this write-up is not attempting to replace the install directions that came with the kit. Jim has done a fine job on the directions and I'll take this opportunity to congratulate him on NOT distributing 79th generation photocopies of an outdate document as do so many other aftermarket vendors.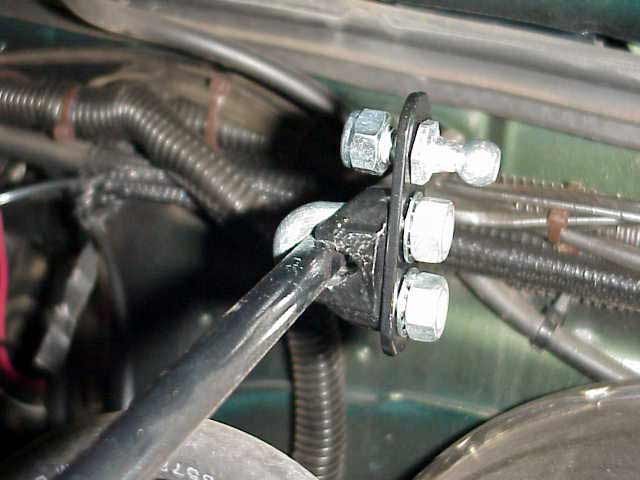 After checking out the bag of hardware, we started with the lower ball stud mounts. The directions give you some good tips on where you want to locate the hardware and we found very little reason to stray from what was suggested. The lower ball stud mounts are attached to the brace rods that run from the firewall to the radiator mount. Since I've never been fond of mounting my Hi-Lift jack in this area (was a common mod done by a number of folks….but I couldn't see grabbing a jack that has been heated to a couple hundred degrees by the engine just before you decide to use it!), there was no conflict with putting the ball stud mounts in the suggested location. The mount on the passenger side was installed. We used a tape measure to position both mounts equal distance, from the firewall, on the brace rods.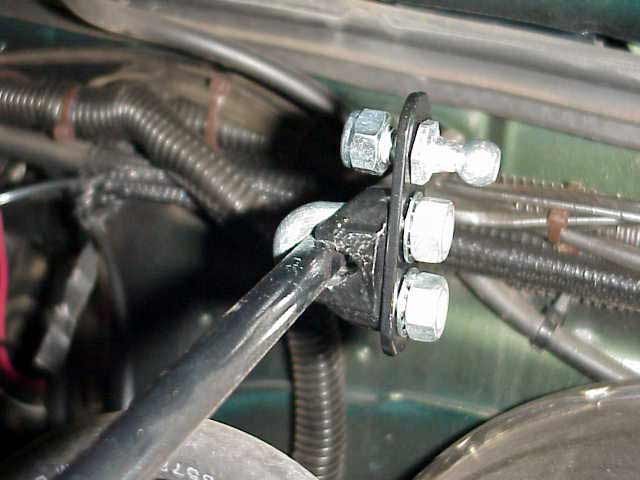 You will need to remove the existing hood support rod and bracket. The holes are recycled for the upper front bracket on that side of the hood. So, now I can add my hood rod to my slowly growing pile of stock parts. Actually, I am going to take a close look at it and see how it will work for pushing a broken axle stub out of a D44. I think it is going to be just about right for that task. Now, if I can store it in the hollow factory tie rod that is zip tied near the rear bumper…hmmm….sounds possible. Once the factory hood support was removed, we located a piece of PVC pipe to use as a hood support until the project was finished.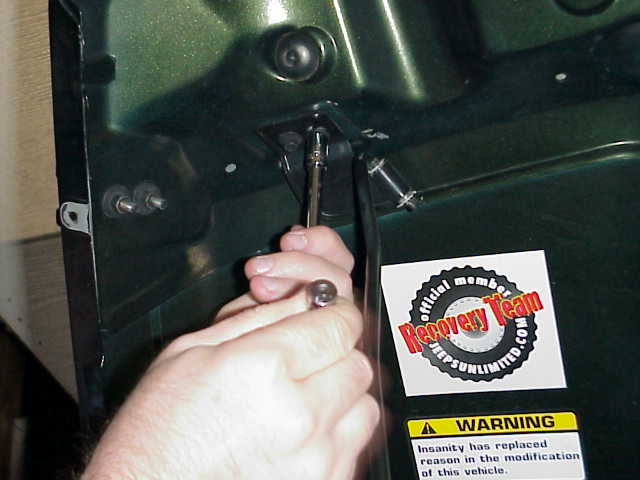 It was time to position the upper rear brackets. Jim's instructions mentions that duct tape can be temporarily used to hold a bracket in position while you are checking for proper clearance, etc. Had he not mentioned it, I would have been pulling the roll out anyway. Here is the passenger side rear bracket with some duct tape holding it in place. The bracket has some 7 holes in it so as to provide you with optimum placement and mounting solutions. You will use 4 of the heavy duty sheet metal screws to hold the bracket in place. Even the left and ride sides of the TJ's rear hood brace are not symmetrical, so having the extra mounting holes will enable you to find solid metal beneath the bracket and ensure you get a solid mount.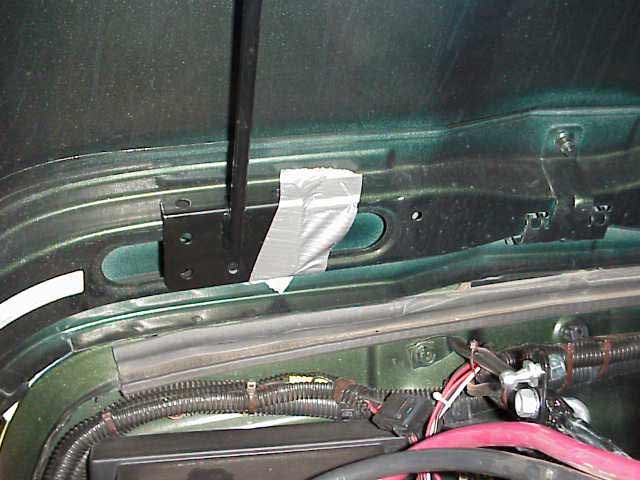 Yes, duct tape was used to hold the front upper bracket in place too. While this picture shows the driver's side bracket, we duct taped all four bracket in place and then spent some time raising and lowering the hood, checking for clearance issues. I do not have the factory air cleaner setup so we wanted to make sure that the aftermarket air cleaner would not be an issue. As noted in the instructions, you want to make sure that the brackets on the driver's side are lined up properly to clear the windshield washer bottle. While this may sound like a lot of hassle, trust me, it was not. Jim's suggested placements work pretty good and this is just some fine tuning like is commonly done on almost any aftermarket modification.
So, with the duct tape being used to position all four brackets, we tweaked the position of a couple of them a few times. Don't forget that the rear brackets need to be placed so that you have solid metal under 4 of the screw holes. Once you have these lined up, carefully close the hood and again check for proper clearance on both sides.
Jim Piatt's Hood Lift
Checking the install directions yet one more time, we broke out the electric drill and a sharp 1/8″ drill bit and proceeded to make some holes in the bottom side of my hood brace. As cautioned in the directions, be careful when drilling the holes so you don't push through the under hood brace and drill into the hood itself. Jim recommends you wrap some tape around the drill bit so as to prevent it from going too deep. Good idea!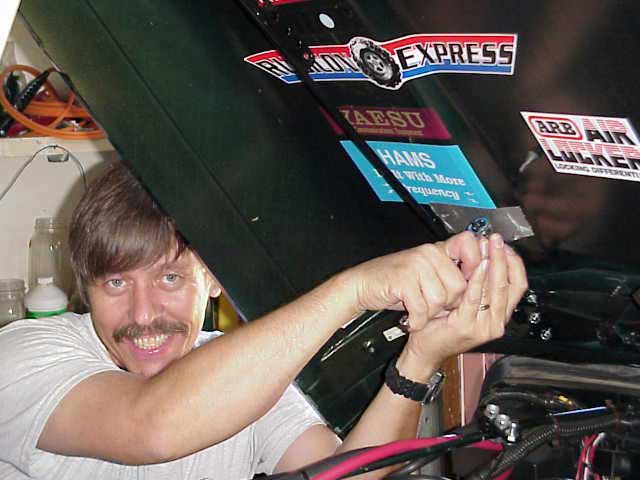 With the holes drilled for the rear upper brackets, we started bolting the brackets into place and said good bye to our pieces of duct tape. Scott grabbed my Sony and snapped a picture of me (yes, I really do my own work).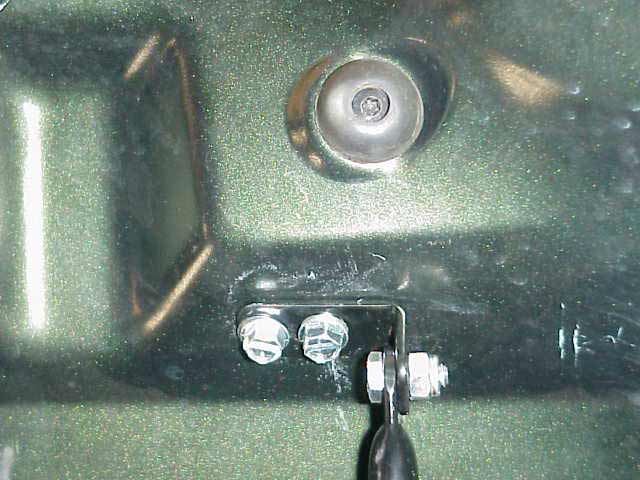 We finished the rear brackets and stepped back to look at our work. Of course, I got anal again and had to pull the PVC pipe out of the way so we could lower the hood one more time and check for proper clearance. It was still looking good so we went ahead with the drilling and then bolted the front brackets in place. Here is a picture of the driver's side front bracket.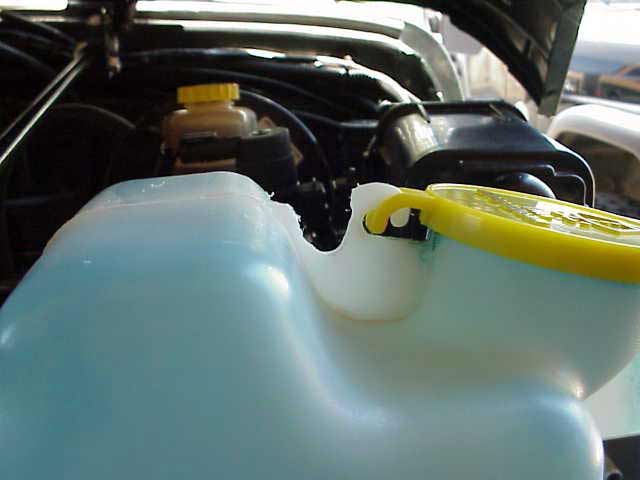 As mentioned in the directions, the driver's side rod just rested on the top of the windshield washer bottle. I grabbed a round file and made short work of the little bit of plastic webbing that lay in the way of the driver's side support.
We were closing in on the final steps of the project. The support rods and brackets were firmly in place and all that was left was to install was a couple of ball studs on the support rods and then to attach the gas springs. Hey, we were almost done and we had only burned up a bit over an hour. Given three guys with three opinions about where everything was suppose to go, that is pretty good progress!
The lower ball stud mounts were tightened and one end of the gas spring was attached to it. Jim cautions that the ball studs should NOT be tightened too much (only 15 ft. lbs.) as they can break and leave you waiting for a replacement to arrive. Jim supplies Nylock nuts for these so you don't have to worry about the nut backing off even though it is not on very tight.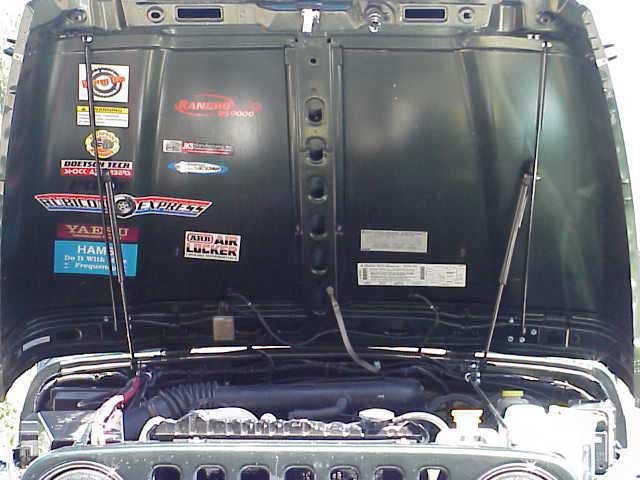 You can select the opening height of the Hood Lift based on which mounting holes you choose for the upper ball studs. A mounting hole towards the front results in a lower height while one selected more towards the rear results in a higher hood opening. Since I am not all that tall and my TJ is not all that short, I picked the 2nd hole from the front (I gotta be able to close the hood without Scott or Les' help!). This setting also allows me to open the hood with the TJ parked under the garage door and not have anything hit. In case you were wondering, you can pop one end of the gas springs off and lay the hood back onto the windshield frame. That was one of things I verified with Jim before installing the Hood Lift.
Total time for the install was about an hour and a half. Just right for a Saturday morning project before it gets too hot (hey, it is summer in Phoenix right now). I am very pleased with the end results. Yeah, my crawl ratio is still the same and the TJ doesn't sit any higher than it did yesterday. But, I can open my hood with one and during this time of the year and I am all for just flipping the hood up and not leaving my burnt fingerprints on it any more! I would recommend this mod to anyone.
Since this mod is better viewed than described, I thought a movie might give you a better idea of how well it works.
Pick from 56K dial up (325KB) resolution or bandwidth hogging DSL.(3MB)
Enjoy and remember to TREADLightly!