I was visiting a friend of mine who I had not seen for about a year. In fact, the last time he saw me, Lady was sitting on 32″ tires and had her first lift still on. As we chatted about the various mods that had been done since our last meeting, my friend asked if I had put on a new oil pan. I told him it was the original pan and he commented that it was impossible to have a 4 year old Jeep with an dent free oil pan. Now….switch to a telephone conversation with a SoCal friend of mine where we are discussing a trail he very much enjoys running and one that I'm thinking might be on the agenda when I next make SoCal. He asks if I have an oil pan skid. A local Jeeper friend recently replaced his oil pan due to an unexpected encounter (do we ever expect it?) with a rather large rock. OK….I put two and two together and decide it was time to put one on Lady before I lived to regret it. (Kind of the way it was when I peeled my rear diff cover up…..and I had thought about getting a guard for that just 3 days before it happened.)
My buddy from SoCal told me that the TeraFlex oil pan skid would most likely suit my needs. He uses one that he modified slightly and he said in its stock configuration, it should be just fine for my setup. I gave Bob Supplee a call earlier this week and had him ship one out.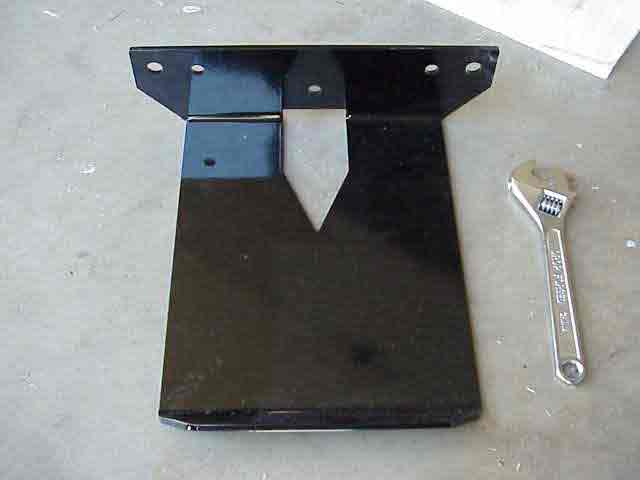 Here is the 3/16″ thick skid as it comes out of the box. It uses the factory bolts on the bottom of the bell housing….the ones that keep the inspection plate in place. There are three of them that you will remove so that you can bolt the skid into place.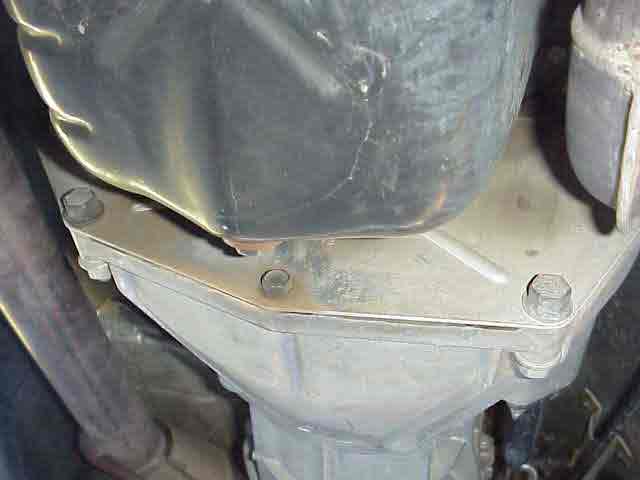 The three bolts in the above picture are removed and then installed once the skid is in place. This is pretty much a no-brainer mod. I was happy to say that the bolt holes lined up just fine.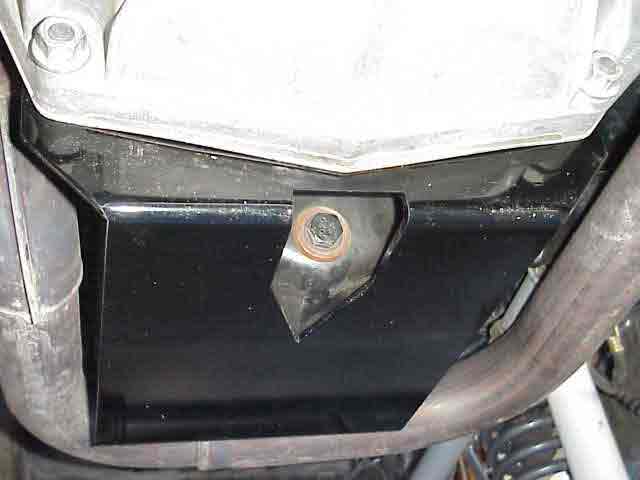 In about three minutes, the skid plate was in place and I was ready to put the two wrenches away. Boy…this one was a tuff one! LOL I'll see how well the oil pan drain plug hole in the skid works when I do the next change. It looks like it should allow an unrestricted flow from the drain hole. I hope so, else I'll be wiping oil off of too many places!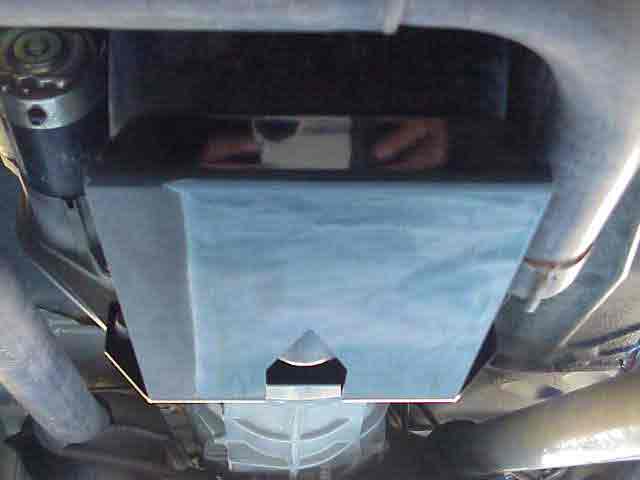 A pic of the installed skid, this time from the front view. The leading edge of the skid is bent up at about a 30 degree angle so that it does not catch on a rock and cause problems. As with most skids, I hope this is one that never gets much use….but I am glad it is now in place. I'll have to go over to my friend's place and show him that I shouldn't be hitting my oil pan in the future either!
Update: July 6, 2002
I was reading this write-up the other day and noted I had expressed a concern about the oil draining from the pan with no problems. It works just fine. I've done an oil change or two since installing the skid and find it works just as well now as it did before the skid was installed. Now if I could just get the oil filter off without sloshing oil around…..hmmmmm