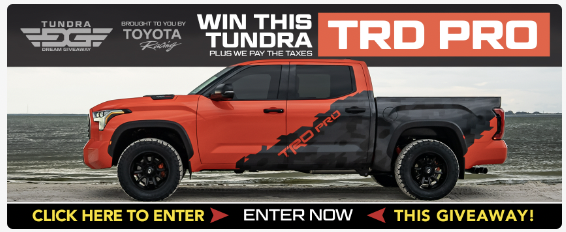 by Dave Gallegos (TJBoomer on JU)

If you are looking to implement a sun roof into your soft top, then check out what Dave has put together for himself. He was nice enough to share his idea on the JeepsUnlimited TJ forum and when he asked if I wanted to include this on the site, I thought that some of you might enjoy seeing what he did. This is not Dave's first appearance here….he did an outstanding York compressor install that he shared with us some time ago. So with that, here is Dave's information….
Wow… This is so cool and cheap. What with Spring just around the corner… How about your very own Flip Top sun roof for a fraction of the cost? The Best Top Supertop Sunrider sells for $700 plus shipping and doesn't even include the soft upper door halves. Well, for probably $10 and a little time, you can do it yourself in about 1 hour.
The only thing I'm skeptical about, is driving down the freeway at 65 or 70 mph. I suggest speeds no greater than 45 mph. I haven't tried it out at speeds greater than 45 mph as I was a little concerned about the top half that folds back, ballooning and doing damage to the soft top frame.
Anyway, if you want to try it, follow along. This is what I did and it works great with no ill side effects to the soft top when it is all the way up and installed.
Things to have or buy before getting started…
| | |
| --- | --- |
| Hammer | Black Heavy Duty Thread – $1.00 – Walmart |
| Scissors | 2 – 1/8 inch Pop Rivets – Walmart |
| Hacksaw or Tube Cutter | 2 feet of 1″ wide Nylon Webbed Strap – $2.50 – Walmart |
| Drill with 1/8 inch drill bit | 2 – 1 inch wide buckles for nylon Strap – $2.00 – Walmart |
| Center Punch to keep drill bit from walking when drilling the frame tube | 2 feet of 2 inch wide Hook Side Velcro – $1.00 – Walmart |
| Lighter | 2 feet of 2 inch wide Loop Side Velcro – $1.00 – Walmart |
| Ice Pick | 4 – 3/4 inch plastic tube ends – $2.50 – Home Depot |
| Needle | Pop Rivet Tool |
Step 1
Start by lowering your soft top and cutting the two soft top frame tubes that go from the roll bar main hoop forward to the windshield header. Cut the frame tubes 1 inch forward of where the solid short frame bar is attached using a hacksaw or tube cutter and install the 4 – 3/4 inch plastic tube ends. I used a tube cutter for a nice smooth straight cut and deburred the tubes so that the 3/4 inch plastic tube ends would slide on easily. See Figure 1 and Figure 2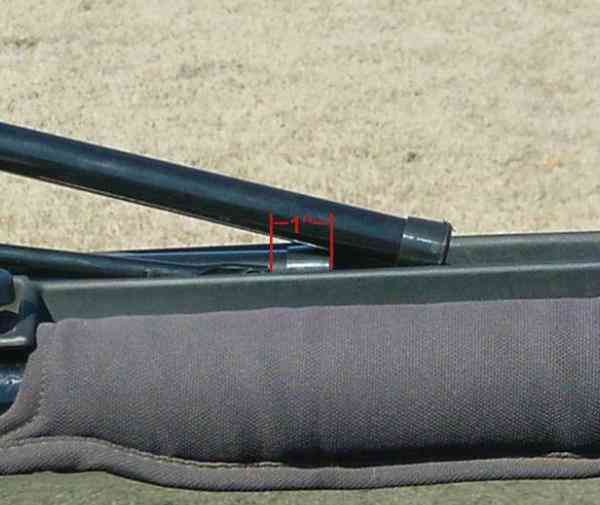 Figure 1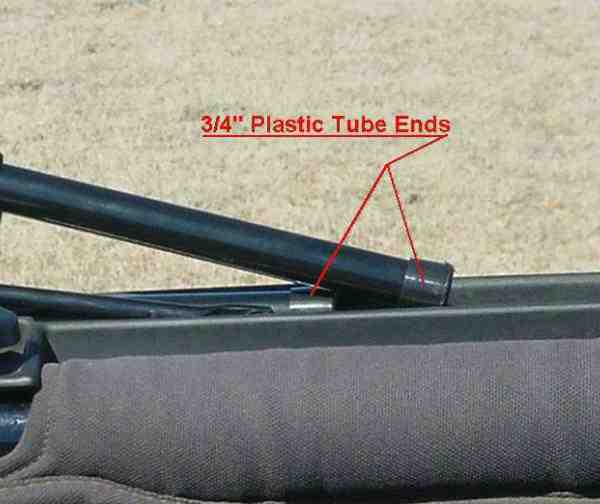 Figure 2
Step 2
Next, with the 1 inch wide nylon strap and buckles, create two straps with buckles using the black heavy duty thread and, with a lighter, carefully melt both ends of each strap so they don't come unraveled and fray. Each strap with buckle should be approximately 8 inches long. (They can be cut to length and the ends re-melted after installation.)
With the lighter, heat the tip of the ice pick and melt a hole (about 1 1/2 inches from the buckle) through each nylon strap to allow a 1/8 inch rivet to pass through.
Using the drill with 1/8 inch drill bit, hammer and center punch, punch the location to drill a hole in the frame tube that is attached to the header in the desired position or as shown.
With rivet tool, rivet each strap to the frame tube using the rivet tool. See Figure 3 and Figure 4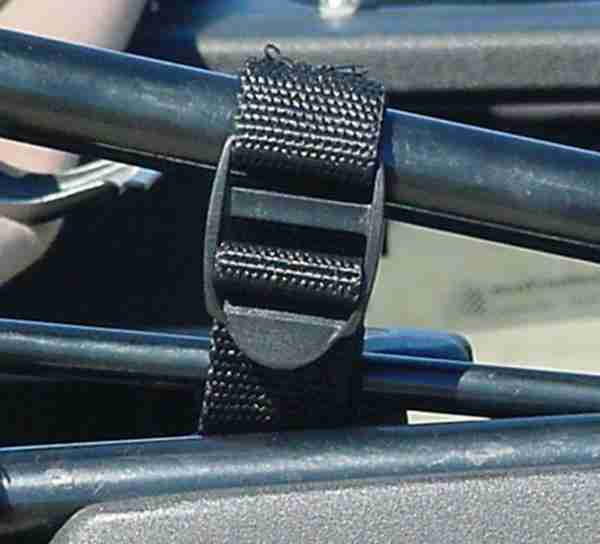 Figure 3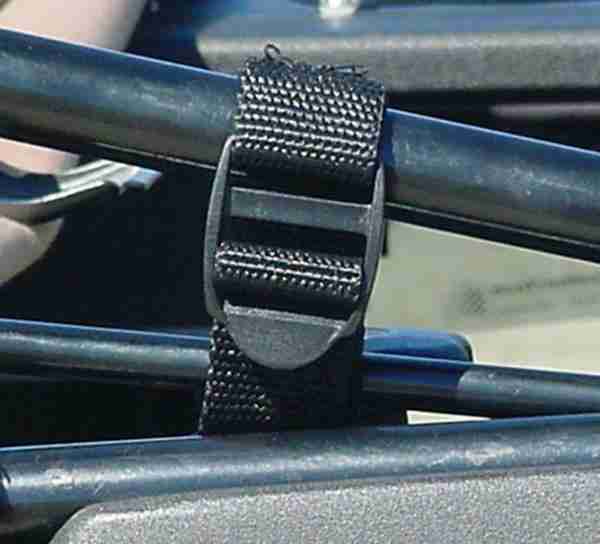 Figure 4
Step 3

Now it's time to make two straps using the hook and loop Velcro as shown. See Figure 5

Figure 5
Raise the top into position and, using the newly created 2 inch wide straps, strap the two soft top frame tubes that go from the main roll bar hoop forward to the main hoop as tight as you can. See Figure 6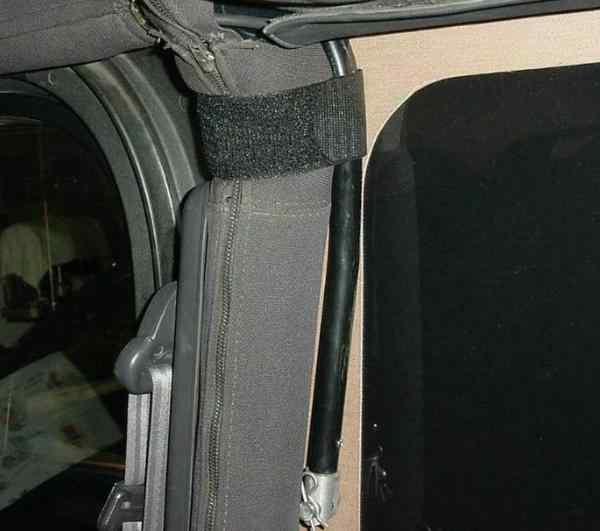 Figure 6
That's it. You're done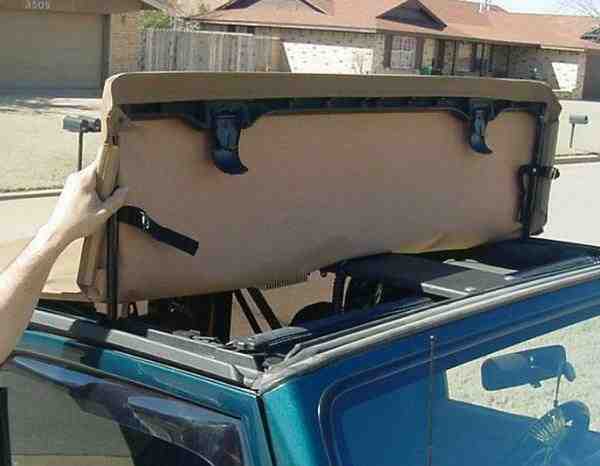 Figure 7
Quick and easy to fold back for one person. Fold the top back in a "Z" fashion with the header bars forward and securely strap the header bars down (this would be a good time to cut the 1 inch wide straps with buckles to the desired length and re-melt the ends). See Figure 8 and Figure 9
Figure 8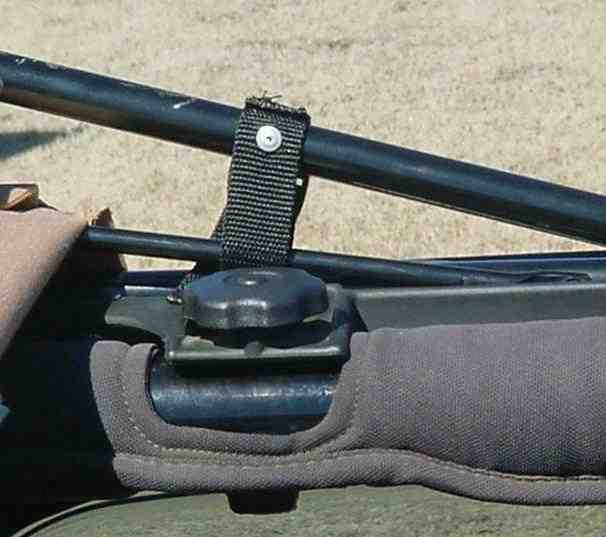 Figure 9
Break open your favorite cold beverage and enjoy the breeze in your face as you drive!