About 15 years ago, I had a custom trailer built for my then quite new '89 XJ. We had 4 kids at that time and a big dog. When the family wanted to go camping, there wasn't enough room in the XJ for more than a picnic lunch. I found a local company that made reasonably priced trailers to spec so I had one made.
The cargo area is 6'x4′. I run 5 on 4.5″ XJ wheels and the axle width is the same as the track made by a stock XJ or TJ. At the time, I wasn't sure just where the trailer may be going and I decided that having to make only one set of tire tracks (mud or snow) would be the best way to go.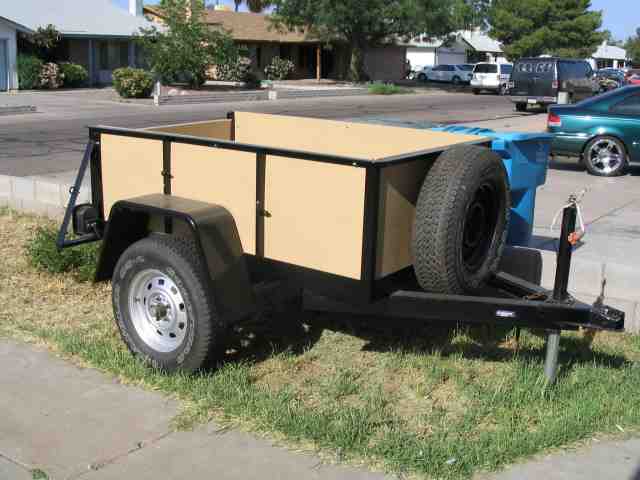 The tires are the old reliable Goodyear Wranglers that I took off of my once stock TJ. The trailer's axle is rated at 2500 lbs. and I have 1250 pound springs installed. (The 2500 pound springs that were originally on it rode too rough unless I had well over 1000 pounds of weight in it…..not very likely.)
The first (and only) mod made to this trailer happened just a couple of weeks ago. MikeW came over to do some wrenchin' and we decide to spend a few minutes on the trailer. It was running a simple spring under axle suspension. We did a spring over axle conversion on it and gained 4″+ of lift at the frame. It still is a little "short" for the TJ but the SOA helped quite a bit.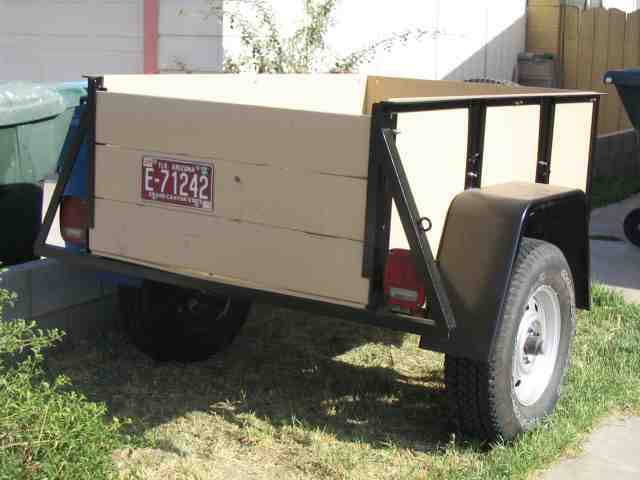 The tail gate is very simple…..three 2″x6″ boards drop into retaining slots on both sides of the frame. The frame is all angle iron construction and very solid……overkill come to mind but I would rather have it that way than one of those Home Depot trailers made out of sheet metal. Those trailers would not stand up to the rigors of trail life out here.
So with new plywood and fresh paint on all of the wood and the frame, I am looking to get another 15 years of service from this 4×4 trailer. It has faithfully followed me to 4×4 trails in Nevada, California, Utah, and of course Arizona. It has taken the family camping, hauled our gold prospecting equipment (dry washer and high banker), been the duty ham radio field day utility trailer, and handled odd jobs and chores (like hauling bags of cement from Home Depot).
NOTE: If you happen to see my trailer rolling along behind some vehicle, please call the Phoenix PD and report that you've spotted a stolen trailer. Some scum bag, the lowest kind of parasitic life known to mankind, decided he/she needed my trailer more than I did.