So, there I was after the Round #2 build up. I had 35″ MTRs on Lady. I was sitting on 6″ of lift and the Tera 4:1 was going to get me over obstacles that I had not tried before. So…..yep….I was a bit nervous about the stock tie rod setup. I mean, have you really taken a close look at it? It is not exactly what one would call over built, if you know what I mean. With the possibility of a Rubicon trip looming in the future, I wanted something up front that was going to keep the front tires pointed in the right direction.
I spoke with the guys at O-R Fab, who have done some steering conversions for TJs. Scott K., a local Phoenix Jeeper I run trails with, had O-R Fab do a heavy duty tie rod conversion on his '97 TJ. If memory serves me, they used 1 ton GM components. It involved drilling out the steering knuckle to accept the larger ball studs that were used. After considering this method, I decided to go a different route.
One of my California Jeepin' buddies, Robert Yates, told me about using a ZJ tie rod from a V-8 on his TJ. He said it was a bolt on replacement for the stock tie rod and resulted in a much stronger setup. I exchanged some e-mail with Robert some time back and got some more info on it. This topic also comes up fairly often on JU and I copied some of the info from a thread the last time it was discussed.
Since I was due for a front end alignment after having had some welding done on the D-30, I decided I might as well get the new tie rod before the alignment. If not, I would be back at the shop for a toe-in adjustment once the tie rod was installed.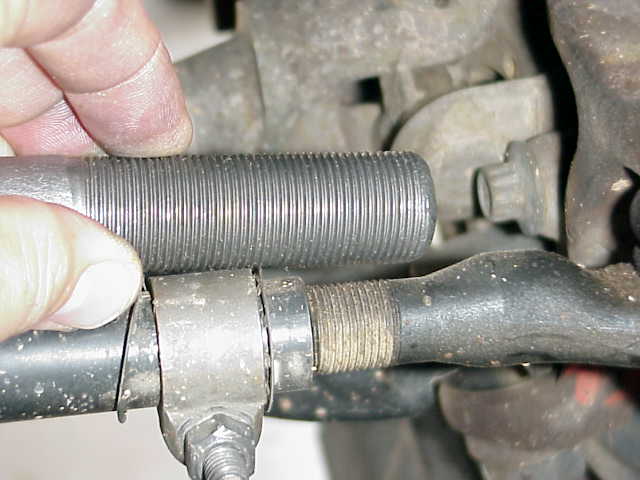 Here is a picture of the soon to be replaced tie-rod end and the threaded end of the new tie rod end. As you can see, it is a bit larger. I took some measurements while in the garage. The threaded section of the factory tie rod end measures .65″ in diameter. The ZJ end measures 1″.
The other major difference is the construction of the tie rod itself. The factory TJ rod measures .88″ O.D. and is hollow tubing. On the other hand, the ZJ tie rod is 1″ O.D. The ZJ tie rod and tie rod end are joined by a regular adjusting sleeve, like the one located near the pitman arm end of the drag link.
I purchased the replacement ZJ parts at a local Napa Auto Parts store (another reason I like this conversion because spare parts can be obtained from virtually any auto parts outlet….no custom ends to get from the aftermarket manufacturer). Here are the Napa part numbers in case you want to save some time with the counter person. You will need one each of the below listed parts. These are for a '98 Jeep Grand Cherokee w/ 5.2L V-8 engine. It is my understanding that the same parts are valid starting at the '95 model year, but I have not verified this. Note that the Moog tie rod was obtained at the NAPA store….it just doesn't have a NAPA part number.
Item

Part Number

Tie Rod End

269-2788 (Napa #)
ES3096L (Moog #)

Adjusting Sleeve
269-1134 (Napa #)
ES2079S (Moog #)
Tie Rod
NCP 269-6085 (Napa #) or
DS1312 (Moog #)

NOTE: Although I have not verified this personally, I got the NAPA # for the TJ drag link off of a forum. It is supposedly 269-6090. NAPA lists it as a R.H. Outer Tie Rod instead of a drag link. The price quoted in the forum posting was about $70. The poster stated it was dimensionally identical to the factory drag link. If you have bent your existing drag link (35″ tires will slowly do that) or you are looking for a spare, this sounds like reasonably priced option.
July 16, 2001
I stopped by my local alignment shop (Roosevelt Alignment) this morning to have my caster and toe adjusted. I had stopped by last week and set up an appointment with Joe. Since Joe and Vince where going to be right there where the old tie rod was, I figured they might as well install the new tie rod and do the alignment after that. Joe removed my old tie rod and end together, so I'll be able to use it as a trail spare. As it is now, it is "sitting close enough" so I can use it to drive home with and still have tires left when I get there.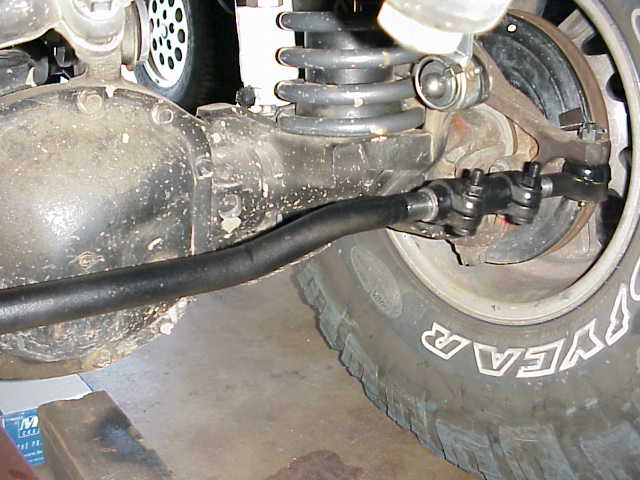 Here is the business end of the new ZJ rod after Joe and Vince got it into placed and all locked down. As I indicated above, it is substantially "beefier". Before Joe installed it, he handed me both tie rods. Needless to say the ZJ assembly was much heavier. It will go a long ways in keeping the MT/Rs pointed straight ahead.