Welcome to the JeepSpecs.com in-depth page on WJ Generation Jeep Grand Cherokee Xm radio compatibility. We have organized as much information as we could find into a helpful table below. Is something incorrect or missing? Please get in touch with us and we'll fix it!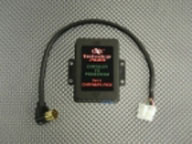 As an alternative to the Sirius satellite radio system, the XM satellite system can be installed in WJ Grand Cherokees and even integrated into selected factory radios. XM features 68 Commercial-Free Music Channels, 33 Channels of News, Sports, Talk & Entertainment, 21 dedicated Channels of XM Instant Traffic & Weather, and "the Deepest Playlist in the industry with access to over 2 million titles!". Subscription costs for XM are currently at $9.99 per month.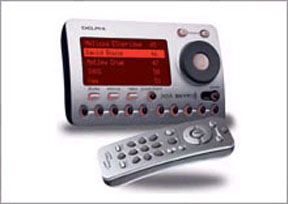 The Delphi XM SKYFi, "XM's most advanced display"
A variety of different receivers can be purchased for your car (and home). Vehicle units that work via a cassette adaptor in your factory radio start at around $100.00. The premium SKYfi model, shown above, runs around $130-$170 depending on the type of installation kit. Other units can transmit to your factory radio via a wireless FM signal.
For more details on the XM system and some of the available receivers visit the XM Radio website at XM Radio.com
Installing an XM receiver using the factory radio
Here are a few options for installing XM radio in 2002-up Grand Cherokee's that have satellite radio capable radios, or in 1999-2001 Grand Cherokees that have a satellite radio capable 2002-up radio installed:
1. Delphi XM Receiver Cassette Adaptor – If you have a factory AM/FM/Cassette radio, many receivers have kits that utilize a cassette slot adaptor to transmit the signal to the head unit. The display can then be mounted permanently or temporarily around, on or under the dash. MSRP $69.99.
2. Delphi XM Receiver Universal FM Modulated Audio Adaptor – Offers a fast and easy set-up with no cassette player required. Low profile design and is compatible with all vehicle FM radios. Selection of eight FM Frequencies [MHz]: 88.1, 88.3, 88.5, 88.7, 107.1, 107.3, 107.5, or 107.7. MSRP $29.99.
3. CHRY02/PC-PIOX Precision Interface Electronics (PIE) interface – For Pioneer brand XM receivers and Pioneer CD changers. Plugs into the rear 10-pin CD changer connector on the back of the factory radio. This interface will allow the Pioneer XM receivers listed below to be integrated into the factory radio. It will also allow the use of selected Pioneer 6-disc changers but will not allow the use of the factory 10-disc changer. This interface does not allow presets or direct channel access for the XM tuner.
Jeep radio models "RBB" and "RBK" will display "SA" and the channel number only.
Jeep radio models "RBU", "RAZ", and "RBQ" will display full text (channel name/number, artist & song title)
The CHRY02/PC-PIOX is NOT compatible with the RB1 or RB4 Navigation radios.
Compatible Pioneer XM Satellite Radio Tuners:  GEX-P900XM, GEX-FM903XM and GEX-P910-XM
Compatible Pioneer 6-Disc CD changers:  CDX-P676, CDX-P680
| 1. Cassette adaptor kit | 2. XM Universal Adaptor | 3. CHRY02/PC-PIOX interface |
| --- | --- | --- |
Authorized XM Radio dealers

Note: This list of retailers is provided as a convenience and is not meant in any way to endorse or approve of one particular dealer or another.

  Amazon.com

Shop Now!

  Best Buy

Shop Now!

  CarToys.com

  Crutchfield

Shop Now!

  HP Shopping

Shop Now!

  PC Connection

Shop Now!

  Satellite Radio Superstore

Shop Now!

  Wal-Mart

Shop Now!