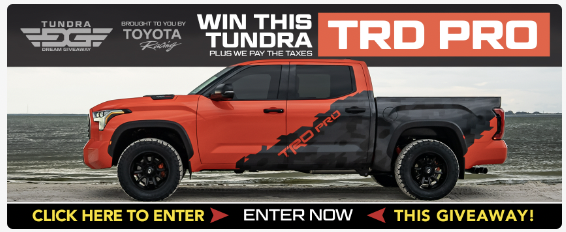 Welcome to JeepSpecs.com's archived photos for Jeep's final production of the WJ Generation Jeep Grand Cherokee. Get in touch with us and let us know what you think!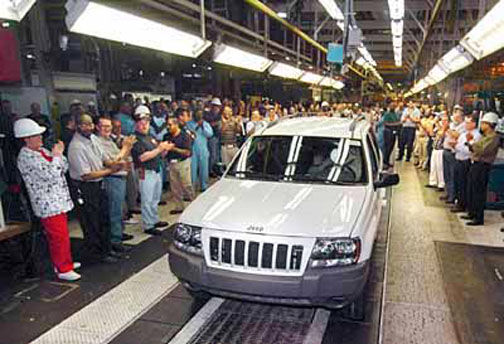 May 21st, 2004
The last WJ Grand Cherokee: No. 1,557,859 rolls out of JNAP
Friday May 21, 2004 — The last WJ series Grand Cherokee, a white Laredo model, rolled off the assembly lines at the Jefferson North Assembly Plant. Introduced 6 years ago in 1998, the 2nd generation WJ series has been very successful sales-wise. At retail, it is estimated that more than 1.4 million WJs will have been sold – incredibly close to the number of 1st generation '93-'98 ZJ's sold (1,428,095). The total number of Grand Cherokees produced now stands at more than 3 million.
During the last month of production the Jeep plant ran extra overtime to stockpile enough Grand Cherokees to last until the new model becomes available in early October. As of May 1st Jeep had 73,700 units in inventory, a 125-day supply. The sixteen production days in May added to that supply which should comfortably get Jeep through the end of the 2004 sales year.
Jefferson North will shutdown production for more than 9-weeks to retool for the all-new 2005 Grand Cherokee. Extensive remodeling and modernization will be done at the plant and when finished Jeep will be able to run multiple models while simultaneously piloting another vehicle on the same line. Productivity and efficiency will also be increased dramatically. Pilot production of the redesigned Jeep will begin in June with production versions rolling off the lines starting July 26th. In the summer of 2005, Jefferson North will be producing both the 2006 Grand Cherokee and the new 2006 "XK" 7-passenger "Commander" Jeep. Grand Cherokee production for model year 2005 will end on July 8th 2005, with 2006 production starting on July 18th.
Dealer orders for the new 2005 Grand Cherokee were accepted starting in mid-June.
-[WJJeeps.com]
For information on the all-new 2005 "WK" Grand Cherokee,
please visit our companion web site:  WKJeeps.com
Production started July 17, 1998 and commenced on May 21st, 2004
For more WJ sales numbers and other information see WJ sales, production dates & milestones