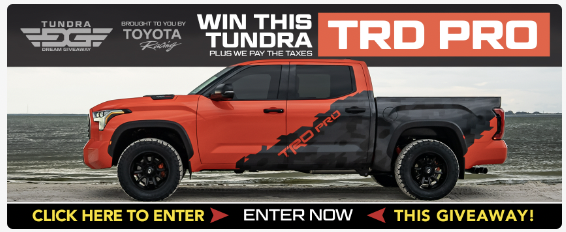 Sample Grand Cherokee WJ VIN number
The Vehicle Identification Number (VIN) plate is attached to the top left side of the instrument panel. The VIN contains 17 characters that provide data concerning the vehicle. Refer to the decoding chart below to determine the identification of a vehicle.
To protect the consumer from theft and possible fraud the manufacturer is required to include a Check Digit at the ninth position of the Vehicle Identification Number. The check digit is used by the manufacturer and government agencies to verify the authenticity of the vehicle and official documentation. The formula to use the check digit is not released to the general public.
VIN #
1
J
8
G
W
6
8
J
9
4
C
3
9
9
0
9
5
Position
1
2
3
4
5
6
7
8
9
10
11
12
13
14
15
16
17
Interpretation
C
O
U
N
T
R
YO
RM
F
R
M
A
K
E
V
E
H
I
C
L
ET
Y
P
E
G
V
W
R
V
E
H
I
C
L
EL
I
N
E
S
E
R
I
E
S
B
O
D
YS
T
Y
L
E
E
N
G
I
N
E
C
H
E
C
KD
I
G
I
T
M
O
D
E
LY
E
A
R
A
S
S
E
M
B
L
YP
L
A
N
T
6-digit
vehicle serial number
1999-2004 Grand Cherokee

Vehicle Identification Number decoding chart

Position
Interpretation
Code = Description
1
Country of origin
Manufactured By DaimlerChrysler Corporation
2
Make
J = Jeep
3
Vehicle type
4 = MPV (Multi-Purpose Vehicle)
8 = MPV With Side Air Bags
4
Gross Vehicle Weight Rating
G = 5001-6000 lbs.
5
Vehicle Line (North America)

Vehicle Line (Export)

2 = Grand Cherokee 2WD (1999-2000)
X = Grand Cherokee 2WD (2001-2004)
W = Grand Cherokee 4WD (1999-2004)W= Grand Cherokee (LHD, 1999-2002)
2 = Grand Cherokee (LHD, 2003-2004)
8 = Grand Cherokee (RHD, 1999-2004)
6
Series
1999
5 = Laredo
6 = Limited2000-2004
3 = Sport
4= Laredo
5 = Limited
6 = Overland

Note: All Columbia, Freedom, Rocky Mountain and Special Edition's use the same "Series" number as Laredo.

WG Family (With Euro Group)
B = 4spd Auto Transmission
E = 5spd Auto Transmission

7
Body Style
8 = 4dr Sport Utility
8
Engine
4 = 3.1 Liter Turbo Diesel (export, 1999-2001)
A = 2.7 Liter Turbo Diesel (export, 2002-2004)
S = 4.0 Liter
N = 4.7 Liter
J = 4.7 Liter High Output
9
Check Digit
0 thru 9 or X
10
Model Year
X = 1999
Y = 2000
1 = 2001
2 = 2002
3 = 2003
4 = 2004
11
Assembly Plant
C = Jefferson North Assembly Plant (Michigan, USA)
Y = Steyr (Graz, Austria)
12 – 17
Vehicle Serial Number
000000 (6 digits)
Vehicle build stages
After the design is complete, there are three main builds in the process called S0, S1 and S2. As the first attempt, the SO is used to identify potential issues. This is where the Error Mistake Proofing (EMP) process kicks in.
S0 VEHICLES: S0 VEHICLES: Prototype vehicles built to provide verification that the production design and the intended production process for components, systems and vehicles meet objectives. "Production" means that the product and process design release is complete for the Product and Process Design Complete (PPDC) milestone. These components may be built using hard or soft tools, as determined to be appropriate based on part or process knowledge required. Design verification testing should be successfully completed before parts are submitted for S0 Build. PPSR's are required for all non-PPAP approved parts.
S1 VEHICLES: S1 VEHICLES: are vehicles built to confirm production design intent, validate parts, and prove out vehicle and assembly processes (at the assembly plants when feasible). All parts used are required to have full PSO and PPAP Approval. S1 vehicles provide early detection, identification and resolution of production process issues prior to S2 vehicle build. Production Control Systems are used to order, track and supply parts. Production intent containers/racks should be tested using S1 level parts. Grained and new color mastered materials are required and should be accompanied by a part inspection report for each Supplier shipment.
S2 VEHICLES: sellable vehicles built by manufacturing at the assembly plants to verify Corporate and Supplier production tooling, equipment and processes, and to confirm successful resolution of any CN's written to correct problems found in the S0/S1 Build or testing. All parts, including powertrains, supplied by the Production Suppliers must be manufactured using production tools (on their home lines) and processes.
For the 1999 Grand Cherokee there were 32 employees assigned to the Pilot team. The team works on the prototype builds of the vehicle, evaluates the assembly process and suggests how the parts could be improved. They also stay with the vehicle all the way from the first "SO" build through the launch. Some members of the team will continue to work on training and making improvements throughout the rest of the model year.
Once the vehicle is set for launch there is a ramp-up process that occurs. All of the components are brought to the line in time to build the vehicles as they start to come down the assembly line. Production starts out slowly and is accelerated in the days or weeks following.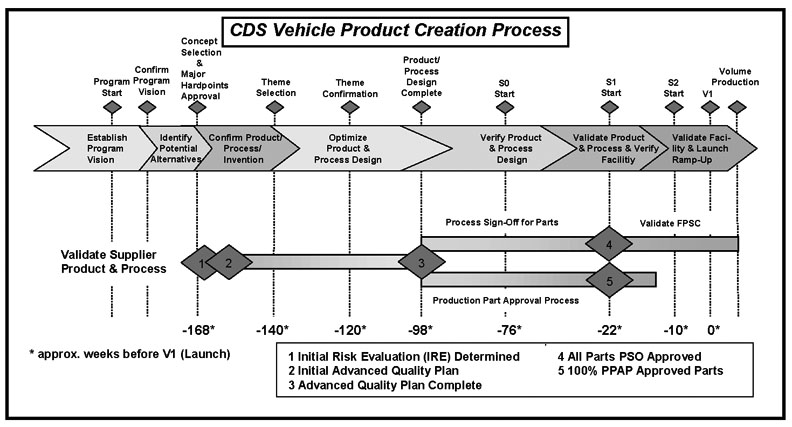 Vehicle Product Creation Process timeline
Body Code Plate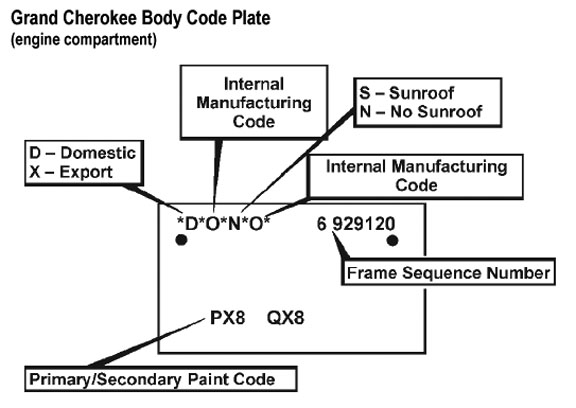 A metal Body Code plate is located in the engine compartment and attached to the top of the right frame rail. The information listed on the plate is used for manufacturing and service purposes. Information on the plate includes whether the vehicle is Domestic or export, the Primary and Secondary paint codes, frame sequence number and internal manufacturing codes.
Grand Cherokee paint codes for all model years can be found on our Exterior colors page and on our Interior colors page.
Vehicle Certification Label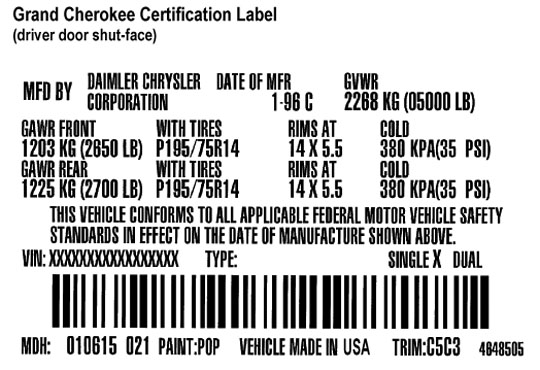 A vehicle safety certification label is attached to every DaimlerChrysler Corporation vehicle. The label certifies that the vehicle conforms to all applicable Federal Motor Vehicle Safety Standards. The label is located on the driver-side door shutface.
On the example above, "Date of MFR" is listed as "1-96" which is "January 1996". At the bottom left of the plate the Month, Day and Hour of manufacturer is listed as "MDH 010615", this means that the vehicle was built January ("01"), 6th ("06") at 3:00PM ("15").
The label also lists:
Month and year of vehicle manufacture.
Gross Vehicle Weight Rating (GVWR). The gross front and rear axle weight ratings (GAWR's) are based on a minimum rim size and maximum cold tire inflation pressure.
Vehicle Identification Number (VIN)
Type of vehicle
Type of rear wheels
Bar code
Month, Day and Hour (MDH) of final assembly
Paint and Trim codes
Country of origin
Vehicle build sheets
Vehicle build sheets are forms that list all of the colors, features and options of a particular vehicle along with the corresponding sales codes. The top of the form lists the Vehicle Identification Number, model year, model family, build date and trim color. Every single feature and option is noted, if a particular item is not listed then it did not come equipped that way from the factory. Dealer add-on accessories are not included on build sheets.
Build sheets can be obtained from your local dealer by presenting your VIN number and requesting a printout, or also online in the Customer Service section of Jeeps.com. Build sheets can be very handy when trying to determine color or option codes for ordering replacement parts and accessories. In addition, when shopping for a used vehicle, build sheets can provide a complete list of the vehicle options. They will also list if a vehicle was originally sold to a rental company.
Vehicle Build Sheet – example data

VIN
1J8GW58N54C181205
Model Year
2004
Family
WJ
Engine
EVA – 4.7L Power Tech V8 Engine
Market
USA
Body Model
JP74 – JEEP GRAND CHEROKEE LIMITED 4X4 4WD 105.9
Build Date
2003-05-18
Trim
*XL – Seats – Leather Low-Back Bucket
Trim Color
-T5 – Sandstone
Sales Codes (partial list)
*XL Seats
Leather Low-Back Bucket
-T5
Sandstone
191
Zone 91-Drop Ship
1AC
U.S. Zone Inventory
28K
Customer Preferred Package 28K
2TK
Customer Preferred Package 2TK
32F
Limited Equipment Discount
3C3
V-8 Bonus Discount
4BD
Vehicle Order Tracking
4BD
Vehicle Order Tracking
5I1
WJ-Vehicle Family
5I4
Four Wheel Drive (4WD)
A82
4.7L Eng (EVA)/5Spd A/T 5-45Rfe(DGQ)
ADE
Cold Weather Group
AFF
Luxury Group
AHX
Trailer Tow Group IV
APA
Monotone Paint
ATC
Radio-CD/Cass/10 Disc/Infinity Spkrs
AWB
Quadra-Drive 4WD System
BAZ
Alternator – 136 Amp
BC6
Battery – 625 Amp Maintenance Free
BRY
Brakes – Anti-Lock 4-Wheel Disc
CAC
Seats – Low Back Bucket
CBW
Door Trim Panel – Highland Vinyl
DJJ
Axle – Front, Dana 30/186MM
EVA
4.7L Power Tech V8 Engine
HAF
Air Cond ATC w/Dual Zone Control
JJJ
12V Rear Auxiliary Power Outlet
JTF
Seats – Power, 10-Way Heated, Memory
MWE
Side Rails – Roof
Vehicle Order Number (VON) and vehicle tracking
Once a special order is placed for a vehicle, a document is generated that details the vehicle and exact options that you want. A VON (Vehicle Order Number) is assigned that will allow tracking of your vehicle until it gets assigned a VIN (Vehicle Identification Number).
To obtain the current order status of your vehicle:
1. Call 1-800-992-1997
2. The input sequence is 1, 2, 5, 2, 3… and then your phone number, then 1. This brings you to an operator who can give you details on the status of your order. A complete list of Order Status Codes is shown in the table below.
Chrysler Order Status Codes
UnscheduledBA – new order that hasn't been checked/approved
BB – fleet order only – review by Bid Department
BD – special equipment processing
BE – edit error – coding error which must be corrected before the order can be considered for scheduling
BG – order has passed edit but cannot be considered for scheduling
BG F – finance hold – automatic cancellation after 15 days
BG B – model or option hold / build out hold
BG L – material restriction hold
BG M – material hold (fleet)
BX – good order, available for scheduling
ZA – cancelled orderScheduledC   – tentative schedule
D   – firm schedule: serial number is assigned.
D1 – gateline: plant has sequenced the unit for production, estimated ship date assigned
D2 – gateline: framing and build imminent, usually within 3-6 daysNote: Once a vehicle reaches scheduled (C or D) status, it cannot be cancelled by the dealer. Orders can sit in D-status for up to 60 days.BuildE – framing
F – paint
G – trimBuilt

I – unit is pending final inspection
J – vehicle has passed final inspection, but has not been released to carrier
JB – shipped to body vendor
JE – shipped to emissions
JJ – consigned body vendor
JS – shipped to storage
KZ – released by plant and invoiced

Note: Vehicles must reach KZ-status before an invoice can be generated.

Traffic Codes

KZ L – released but not shipped
KZ LD – in transit, delayed
KZ M – in transit, first rail departure
KZ N – first rail arrival
KZ O – delayed/received, in transit issues
KZ OA – plant hold, quality audit
KZ OB – zone or dealer hold, sales hold, vehicle prep hold, tax hold, finance hold, dealer refusal, diversion hold, vehicle diverted, derailment hold
KZ OC – carrier delay hold, rail car shortage, bad load, insufficient load, inclement weather, need shipping order, manifest error, strike-bound hold, emission or safety hold.
KZ OD – mechanical failure, glass damage, vehicle lacking parts, vehicle in repair, storage hold
KZ OE – misdropped or misshipped vehicle
KZ OF – shipped air freight, stolen vehicle recovered, show vehicle, test info code, vessel sailed
KZ OG – damaged vehicle, stolen vehicle, abandon to carrier, vehicle scrapped, donate vehicle, repair and auction
KZ OH – all other carrier codes that currently post an "O" delay code that are not included above
KZ P – arrived at Body Vendor / upfitter
KZ Q – completed at ship-thru
KZ R – vehicle within a few days of arrival to dealer (also first move to rail station)
KZ S – second move To rail station
KZ T – second rail departure
KZ U – second rail arrival
KZ X – delivered to dealer
KZ Y1 – major damage – must not be sold as new
KZ Y2 – major damage – vehicle sold at auction

ZA – cancelled order
Additional information for this page provided by Hooligan