Welcome to the JeepSpecs.com in-depth page on WJ Generation Jeep Grand Cherokee chrome exhaust tip installation. We have organized as much information as we could find into a helpful article below. Is something incorrect or missing? Please get in touch with us and we'll fix it!
As a cost-cutting measure, the chrome tip was deleted on all models with the HO engine starting with 2003 model year production. The OEM tip is not available separately, and if desired must be purchased as one assembly with the muffler. A much cheaper alternative is to purchase an aftermarket exhaust tip such as the model 35171 from Magnaflow, shown below.
Magnaflow Chrome tips

Jeeps Unlimited member Kodiak added a Magnaflow exhaust tip to his 2002 V8 Limited. The Magnaflow tip, which features double-wall construction and rolled oval edges, is the closest match to the factory HO exhaust tip. It has an inlet diameter of 3″. The Magnaflow tip is available from Kolak.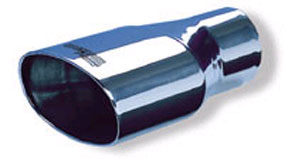 Magnaflow #35171 chrome tip
Mopar Chrome tips
Mopar offers chrome stainless steel exhaust tips for 2003-2004 model Grand Cherokees, one for the V8 and one for the I6. The Chrome tip slips over your existing exhaust pipe and secures with a fastener, "adding extra street smarts to your vehicle". Meets all DaimlerChrysler standards for corrosion resistance.
P/N 82208472 Chrome Exhaust Tip, V8 $89.00
P/N 82208473 Chrome Exhaust Tip, 6-cyl. $89.00
Mopar chrome tip shown installed on a 2004 Limited Grand Cherokee
Mopar chrome tip installation
Stock exhaust shown on a 2004 Limited
1. With a sawsall or equivalent, cut off 7-1/2″ of the existing factory tailpipe, as shown in the photo. Follow the curve of the pipe to obtain the measurement and mark with a grease pen.
2. Photo of tailpipe after being cut
3. Photo of piece that was cut off
4. Photo of the new Mopar chrome tip and installation clamp
5. The new tip is slid onto the tailpipe
6. Tighten the clamp bolt using a 15mm socket or box wrench
7. Confirm that there is at least 1″ (25mm) minimum clearance between the chrome pipe and the vehicle fascia
8. View of the finished installation