Welcome to the JeepSpecs.com in-depth page on WJ Generation Jeep Grand Cherokee fuel filters. We have organized as much information as we could find into a helpful article below. Is something incorrect or missing? Please get in touch with us and we'll fix it!
All WJ models have two fuel filters, a strainer filter at the bottom of the fuel pump module inside the fuel tank and one exterior filter within the fuel pressure regulator. Both filters are designed for extended service. They do not require normal scheduled maintenance. Filters should only be replaced if a diagnostic procedure indicates to do so.
The combination fuel filter/pressure regulator is located in front of the fuel tank and above the rear axle. It is transversely mounted to a chassis crossmember (left-to-right). The filter/regulator is equipped with 3 fuel line fittings (2 at one end and 1 at the other end). The single fitting facing the left side of the vehicle is the supply line to the fuel rail. The 2 fittings facing the right side of the vehicle are connected to the fuel tank. Of these 2 fittings, the fitting towards the front is used for fuel return to the fuel tank. The fitting towards the rear is a pressure line.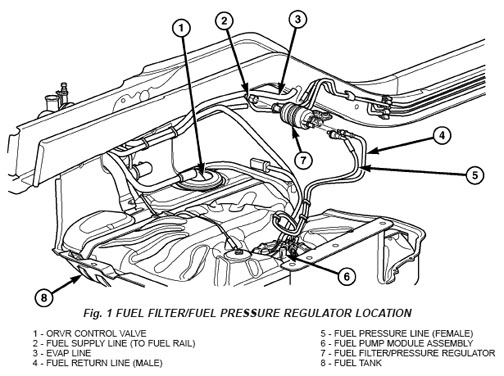 External filter/regulator removal
WARNING: THE FUEL SYSTEM IS UNDER A CONSTANT PRESSURE (EVEN WITH THE ENGINE OFF). BEFORE SERVICING ANY FUEL SYSTEM HOSES, FITTINGS OR LINES, THE FUEL SYSTEM PRESSURE MUST BE RELEASED.
1. Remove fuel fill cap.
2. Remove fuel pump relay from Power Distribution Center (PDC). For location of relay, refer to label on underside of PDC cover.
3. Start and run engine until it stalls.
4. Attempt restarting engine until it will no longer run.
5. Turn ignition key to OFF position.
6. Disconnect negative battery cable at battery.
7. Raise vehicle.
8. Clean area around 3 filter/regulator fittings.
9. Disconnect fuel supply, fuel return and fuel pressure lines at filter/regulator. Special tools may be required, see "Quick-Connect Fittings" (PDF file).
10. Remove 2 mounting bolts and remove filter/regulator.
External filter/regulator installation
1. Before installing filter/regulator, be sure all fittings are cleaned of all dirt and contaminants.
2. Be sure o-ring is positioned into fuel return fitting in filter/regulator.
3. Apply a small amount of clean engine oil to o-rings.
4. Position filter/regulator to body and install 2 bolts. Tighten bolts. Refer to Torque Specifications.
5. Connect 3 fittings. Refer to Quick-Connect Fittings PDF file.
6. Connect negative battery cable to battery.
7. Start engine and check for leaks.
WJ fuel filter/regulator part numbers

(Numbers in bold represent recommended part/newest part for the model year listed)

Engine
1999-2004
MSRP
4.0 / 4.7
52100283AG
$83.75
Fuel pump/sending unit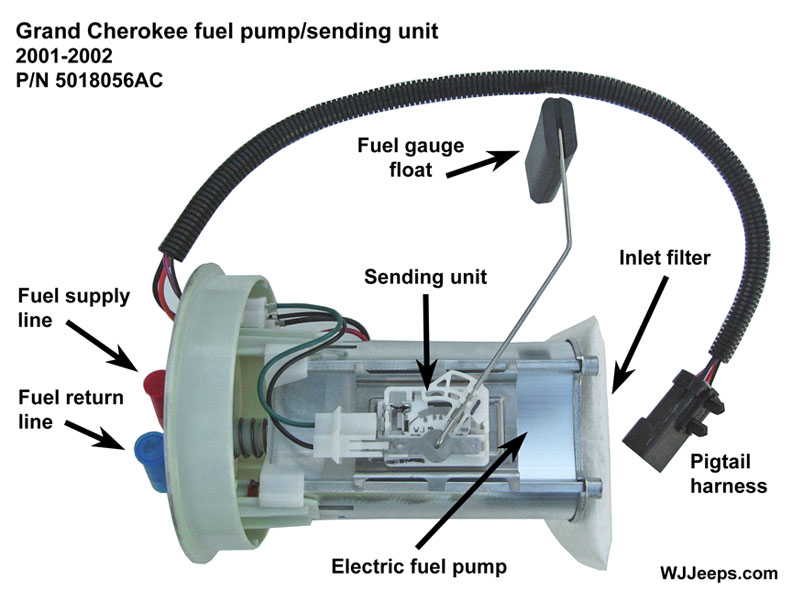 All Grand Cherokee WJ's feature a combination fuel pump/sending unit that is mounted inside the gas tank. Replacing the fuel pump is a somewhat involved process that requires removal of the fuel tank. For information on this procedure reference the Factory Service model for the specific model year.
(Prices listed are for reference purposes only and may vary by dealer. Parts are not available from this web site.)