Welcome to the JeepSpecs.com feature of some WJ Generation Jeep Grand Cherokee custom tuning systems we saw in July 2019 . Want to feature your Jeep? Please get in touch with us and tell us about it!
Erebuni Shogun style 454
454 kit features:
Front Bumper Spoiler with grille
Rear bumper apron
Door caps
Front fender flares
(wheels shown N/A from Erebuni)
Suggested Retail price: $2143.00 (unpainted)
About Erebuni Corp.
EREBUNI CORP., located in California and New York, has been in business since 1979, but it actually came to life many years ago through its founders who have been in automotive related business since 1946. Presently we are importers, distributors and manufacturers of ground effect kits and wings which is what makes EREBUNI stand out from the rest. There is no other outfit that can claim to be all three and for that reason you will not find any where else the extensive variety and the large inventory that you will find at EREBUNI. Recently we have branched out into other fields of the automitve industry starting with the addition of the Toora line of wheels made in Italy to our extensive line of ground effects. For more information visit the Erebuni Aerodynamics web sitte.
A 2002 Grand Cherokee shown with the Erebuni 454 kit. The Jeep also features Toyo tires and wheels by TSW. Other mods include PIAA lighting, custom audio/video system and more.
Grand Cherokee Adventure Edition
(Custom leather interiors)
Katzkin Leather Interiors (Montebello, California) is a manufacturer of custom leather interiors for a wide variety of vehicles. A wide variety of different colors are available in a series designated as the "Jeep Grand Cherokee Adventure Edition". The high-quality leather seating material is designed to be installed with a minimal amount of stitching required. An exterior name badge is also included in the package. For further information visit Katzkin's web site.
Custom WJ tuning acessories
4x4x4.com is a British company that specializes in Bodykits, Bars, Steps, Wheels, Lowering kits, Springs, Tires and more. They feature a nice selection of custom parts for the Grand Cherokee WJ, and ship to the U.S. For complete information, more photos, price lists and other information visit the 4x4x4.com web site.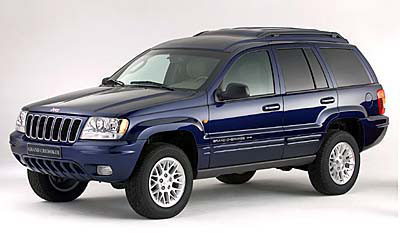 Jeep Grand Cherokee with raised rear roof (Export)
Tuning / Customization Links