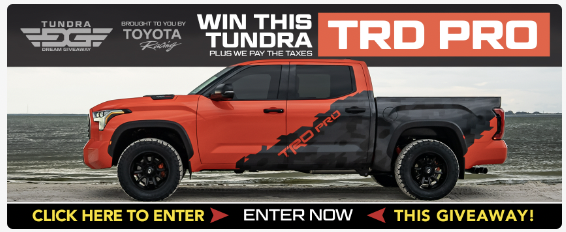 Welcome to the JeepSpecs.com in-depth page on WJ Generation Jeep Grand Cherokee Interior Trim Mouldings and Bezels. We have organized as much information as we could find into a helpful article below. Is something incorrect or missing? Please get in touch with us and we'll fix it!

1. Radio / air vent bezel

under construction…
The radio bezel is a one-piece unit that includes the center air vent grilles. The bezel is held in place with 4 spring clips. With a wide flat tool (a 3″ plastic spackle tool works great), gently pry on each vertical side and carefully pull the bezel out a little at a time until it is free. The red areas in the center picture are the felt-lined receptacles that the bezel spring clips fit in to, which shows the general area of where to pry when removing the bezel.
Radio bezels

Year
Color
Part #
MSRP
1999 (Laredo)
Black
55116277AB
$ 41.70
1999 (Limited)
Woodgrain (Desert Zabrano)
55116256AB
$ 67.50
2001-2003
Aluminum
55116506AA
$ 95.45
2000
Black
55116277AC
$ 62.00
2000-2003
Woodgrain
55116479AB
$ 95.45
2. Front instrument panel strips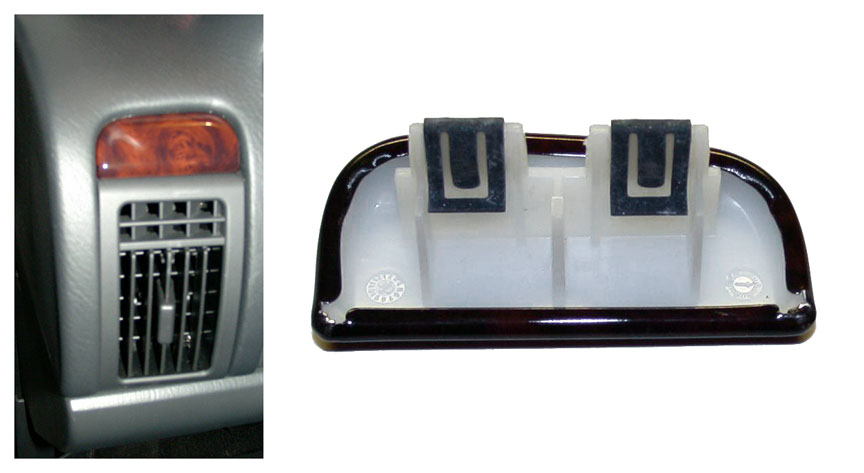 The small trim piece on the left side of the instrument panel is the easiest of all to remove and paint or replace, it is held in by two spring clips (shown in center photo) and can be popped out from the front using a trim stick. The passenger side piece, above the glovebox, is a different story. Due to safety considerations in the event of an acident, it is securely attached from the back with four screws, and is glued on as well. To remove it requires the disassembly of the entire instrument panel, including the cluster, radio, A/C unit, glovebox, ashtray and so on. Although not as difficult as it sounds, it could take a few hours to disassemble the dash.
Some owners have just masked and painted these and the other bezels to match, or have applied a vinyl material. Several companies manufacturer complete interior wood overlay kits. If installed professionally the results can be quite nice. Aftermarket stick-on moulded pieces are also available, but only for these two trim parts.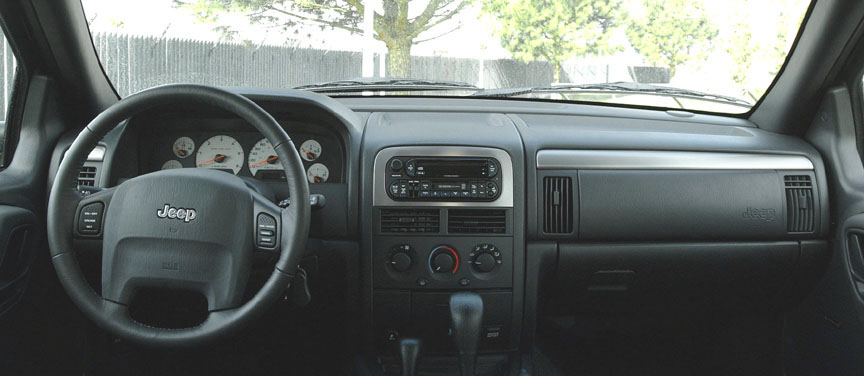 nterior with factory aluminum trim
Front instrument panel strips

Year
Color
Part #
MSRP
1999 (Left)
Woodgrain (Desert Zabrano)
55116405AA
$ 18.25
1999 (Right)
Woodgrain (Desert Zabrano)
55116508AA
$ 46.20
2001-2003 (Left)
Aluminum
55116497AA
$ 22.50
2001-2003 (Right)
Aluminum
55116509AA
$ 50.10
2000-2003 (Left)
Woodgrain
?
$ 18.25
2000-2003 (Right)
Woodgrain
?
$ 46.20

2002 Limited with factory Burlwood trim
1999 Limiteds with Desert Zabrano factory woodgrain accents.
3. Front and rear door trim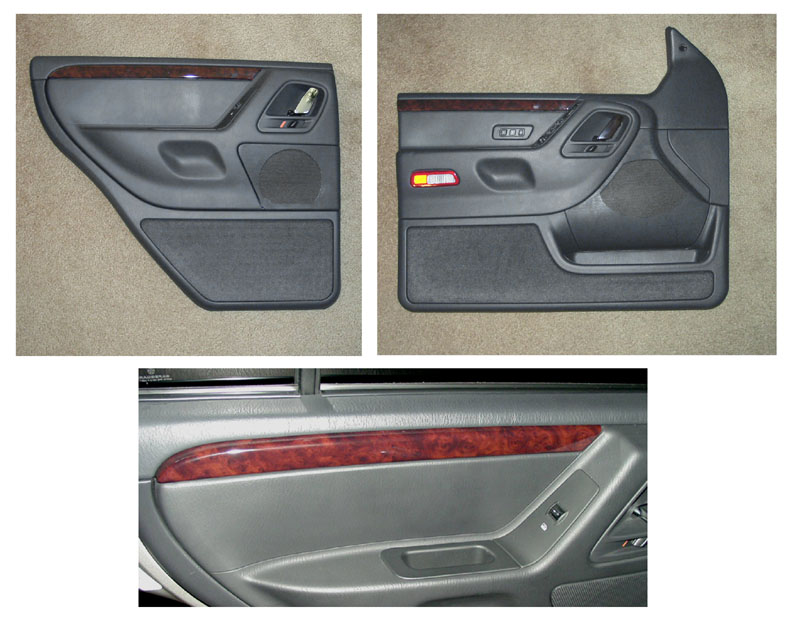 The door trim, unfortunately, is neither removable nor is it available separately as a replacement part. The only way to change it is to either paint it, or use one of the aftermarket stick-on trim kit pieces.
4. Cluster bezel

The cluster bezel trim piece is held in place by 4 spring clips, one at each corner, and pulls straight out. On the left side, you can reach your thumb behind the bezel rubber at the tilt wheel lever cut-out and pull forward. If so equipped, you'll need to unhook the Adjustable Pedals harness from the back of the bezel. . The 2002-2003 cluster bezels, with or without the built-in switch can be ordered and easily installed on 1999-2001 WJ models if a color change is desired. Adding a bezel with the switch to a WJ without Adjustable Pedals allows one to conveniently control a selected accessory of their choice. The switch is momentary-on but could probably be modified to work "on-off". The "Pedal Adjust" writing could be painted over and new lettering added for a very professional looking installation.
Cluster bezels
Color
1999
2000
2001
2002
Agate
5FZ23LAZAC
5FZ23LAZAD
N/A
Black
N/A
N/A
?
N/A
Brown
5FZ23Wl8AC
5FZ23Wl8AD
N/A
Suede
5FZ23VK9AC
5FZ23VK9AD
N/A
5FZ23XTMAD (w/o switch)5HK51XTMAA (pedal switch)
Taupe
N/A
N/A
N/A
5FZ23WL8AD (w/o switch)5HK51WL8AA (pedal switch)
5. Steering wheel trim, lower

The lower steering wheel trim cover is held in place by one screw, two bolts and three spring clips. The clips are very snug, requiring a fairly strong pull on each side remove the trim piece. When replacing, make sure to align the two plastic guide pins as well as the spring clips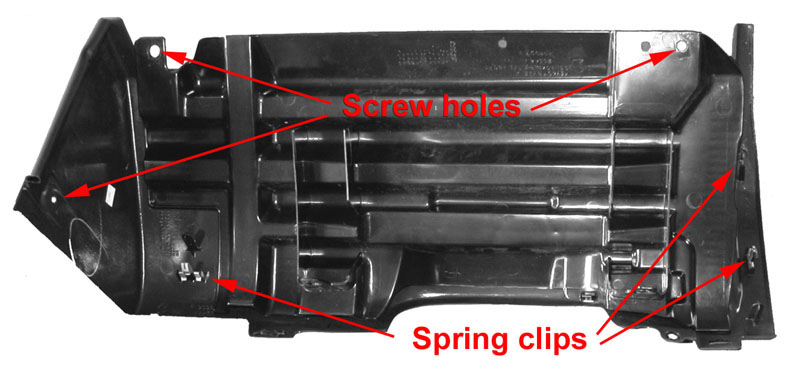 Steering wheel lower bezels

Year
Color
Part #
MSRP
1999-2001
Agate
5EY40LAZAE
$ 80.85
1999-2002
Brown
5EY40WL5AE
$ 80.85
2001-2002
Black
5EY40XT5AE
$ 80.85
2002
Quartz
5EY40XDVAE
$ 92.35
1999-2000
Tan & Agate
5EY40RK5AB
$ 80.85
6. Lower center bezel / ashtray
Three different bezels – woodgrain, black, and for 2003 a cubby hole instead of an ashtray.
The lower center bezel assembly is held in place by strong snap clips near each corner which can be gently pried out with a plastic putty knife or trim stick. Tip: The bezel will come out much easier if you remove the plastic tray below it. Once you have the bezel out a few inches the wiring harnesses for the power outlets, ashtray light and heated seats can be unhooked and the bezel removed. The power seat heat buttons can be easily unscrewed from the back for installation into a new or different bezel.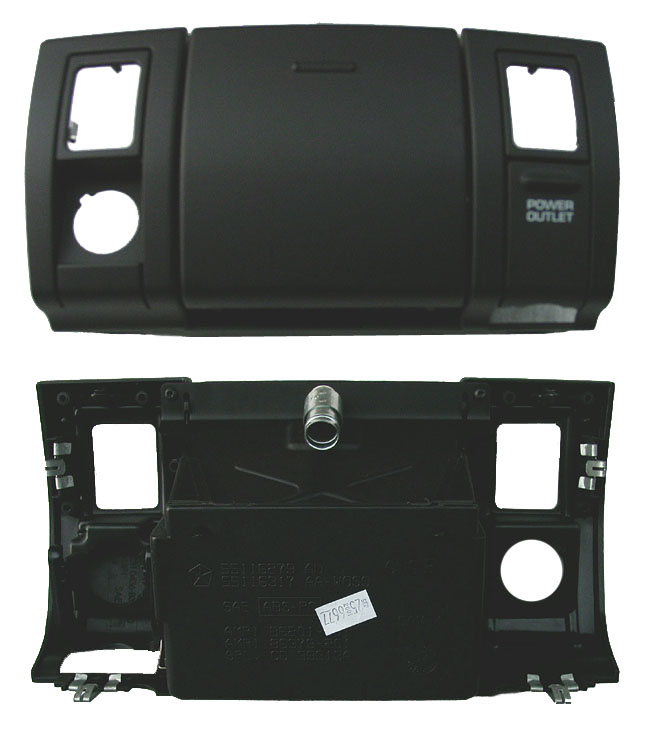 Shown above is the black lower center bezel, front and reverse (with power outlet and seat switches not installed). Note the location of the four snap clips on the back. Five wire harnesses attach to the bezel, one for each power outlet, one for each heated seat switch (if so equipped) and one for the ashtray light.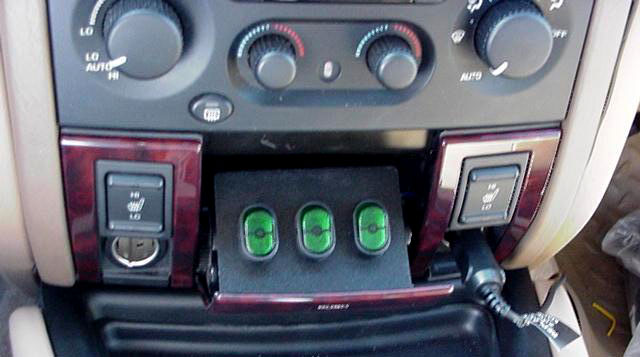 Some owners have found unique uses for their center console ashtrays, including this clever installation featuring switches mounted for overhead Hela lights.
Lower center bezels
With heated seats
Year
Color
Part #
MSRP
1999 (Laredo)
Black
5014055AA
$ 74.00
1999 (Limited)
Woodgrain (Desert Zabrano)
5014054AA
$ 118.00
2000-2001 (Laredo)
Black
5014055AC
$ 99.35
2001 (Limited)
Woodgrain
5019799AA
$ 127.00
2002 (Laredo)
Black
5014055AH
$ 102.00
2002 (Limited)
Black
5019799AB
$ 000.00
2003 (All, no ashtray)
Black
?
$ 000.00
Without heated seats
Year
Color
Part #
MSRP
1999 (Laredo)
Black
55116280AA
$ 77.50
1999 (Limited)
Woodgrain (Desert Zabrano)
55116223AA
$ 121.00
2000 (Laredo)
Black
55116280AC
$ 119.00
2000 (Limited)
Woodgrain
55116483AA
$ 144.00
2001 (Laredo)
Black
55116280AC
$ 119.00
2001 (Limited)
Woodgrain
55116483AB
$ 156.00
2002 (All)
Black
?
?
2003 (All, no ashtray)
Black
?
?
Aftermarket dash kits
under construction – coming soon