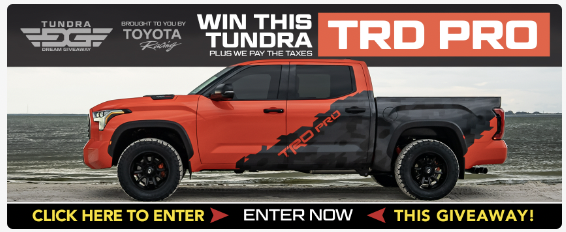 By 2006, the WK Grand Cherokee was poised to enter its sophomore year. Though sales figures from the year prior proved promising, critics had been largely mixed in their early reviews of the third-generation Grand Cherokee. While many had praised the WK's revised styling, others had been far more critical of the newly revised Jeep Grand Cherokee as a whole.
Nonetheless, the WK's production run continued. However, at the same time, the Grand Cherokee's role within Jeep's product lineup was beginning to evolve. Following the Jeep Commander's 2006 release, the Grand Cherokee no longer served as the brand's only full-size SUV. As a result, the Grand Cherokee began taking on a somewhat more sporty persona.
A Change Of Course
Those at Chrysler originally envisioned the Grand Cherokee as their luxury wagon of choice, intended to compete within the new, yet rapidly growing domestic SUV market. The earliest of Grand Cherokees served as direct competition to the Ford Explorer, which traditionally reigned supreme in this market space.
By 2006, the Grand Cherokee had transitioned into a sportier, somewhat more performance-oriented wagon. The WK was more agile than the ZJ or WJ before it, thanks to the use of a revised suspension, yet more than powerful enough to tackle anything that the road, or trail, threw its way. Jeep then further built upon this progress by offering a number of specialty packages, aimed at enhancing the Grand Cherokee's performance attributes.
Multi-faceted Appeal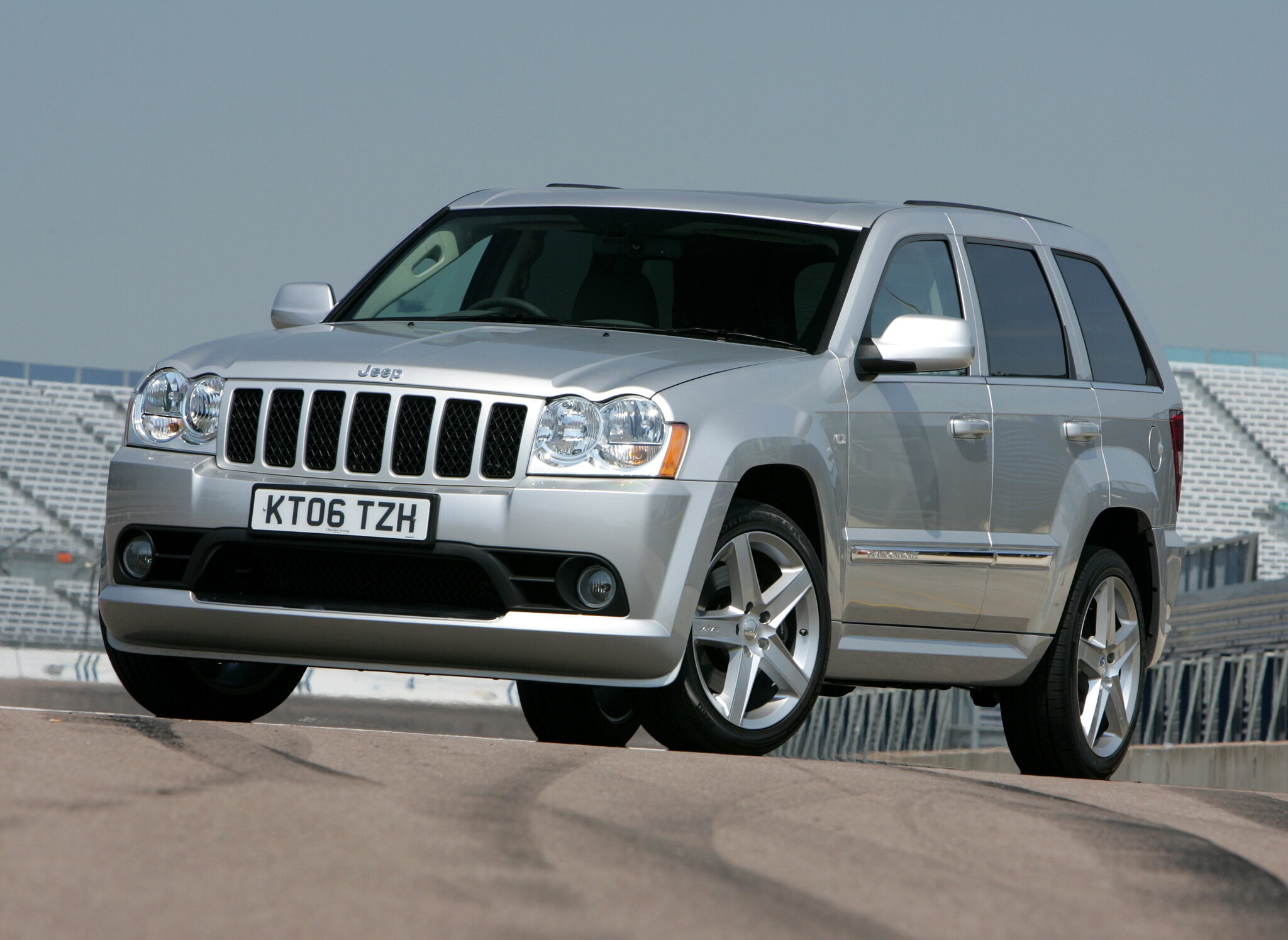 The 2006 Jeep Grand Cherokee was offered with a total of four available engines. The first, and most modest of which, was the 3.7-liter V6, which had replaced the long-standing 4.0-liter inline-six before it. Jeep's new V6 churned out 215 horsepower, and 235 lb-ft of torque.
Also available were two optional V8 powerplants. The mid-range 4.7-liter V8 produced a total of 230 horsepower, along with 295 lb-ft of torque. Meanwhile, the top-tier 5.7-liter Hemi dished out 325 horsepower, as well as 369 lb-ft of torque, making it quite popular with performance-minded consumers.
As if the 5.7-liter Hemi's output was not impressive enough, those at DaimlerChrysler had a little something special up their sleeve for the 2006 model year. When purchasing the Grand Cherokee, consumers could opt for the SRT8 package ($39,700), which included a fire-breathing 6.1-liter Hemi V8. This powerplant was capable of conjuring up 420 horsepower, with 420 lb-ft of torque, providing a thrilling experience for all.
Additional high-points of the 2006 Grand Cherokee included Jeep's use of a new independent front suspension, the availability of three individual 4WD systems (Quadra-Trac I, Quadra-Trac II, and Quadra-Drive II), and the implementation of rack and pinion-based steering.
Several specialty packages were also available for the 2006 Jeep Grand Cherokee. In addition to a new 6.1-liter Hemi, the SRT8-optioned Grand Cherokee also came equipped with track-ready suspension, permanent AWD, and high-performance Brembo brakes. Also available was a specialty Overland package, complete with platinum trim, wood/leather interior, and integrated navigation.
Poised For Success
The 2006 production year proved to be an interesting time in Jeep Grand Cherokee development. It seemed as if DaimlerChrysler had finally stumbled upon a recipe for appealing to virtually every consumer under the sun.
The newly offered SRT8 package catered to those in search of balanced performance with a sporty edge, while the Overland Grand Cherokee took luxury to the next extreme. All gaps in between were filled by Jeep's base Limited and Laredo trims. Nonetheless, only 139,148 Grand Cherokees were sold during the 2006 model year, approximately 70,000 less than that of just a year prior.
2006 Jeep Grand Cherokee Specifications
Engine
3.7L V6

4.7L V8

5.7L V8

6.1L V8

Horsepower
210/230/325/420 horsepower
Torque
235/295/369/420 lb-ft torque
0-60 MPH
4.6 sec SRT8
Quarter Mile Time
13.2 sec SRT8
Weight
4,421-4,788 Lbs
Price
$27,415/$29,385 Laredo/4WD

$33,615/$36,205 Limited/4WD

$39,440/$42,680 Overland/4WD

$39,700 SRT-8 4WD

Production Numbers
139,148
Available Exterior Colors
The 2006 Jeep Grand Cherokee was available in Light Graystone Pearl, Inferno Red Crystal, Black, Red Rock Crystal, Dark Khaki, Jeep Green Metallic, Deep Beryl Green, Light Khaki, Midnight Blue Pearl, Jasper Blue, Stone White, and Bright Silver.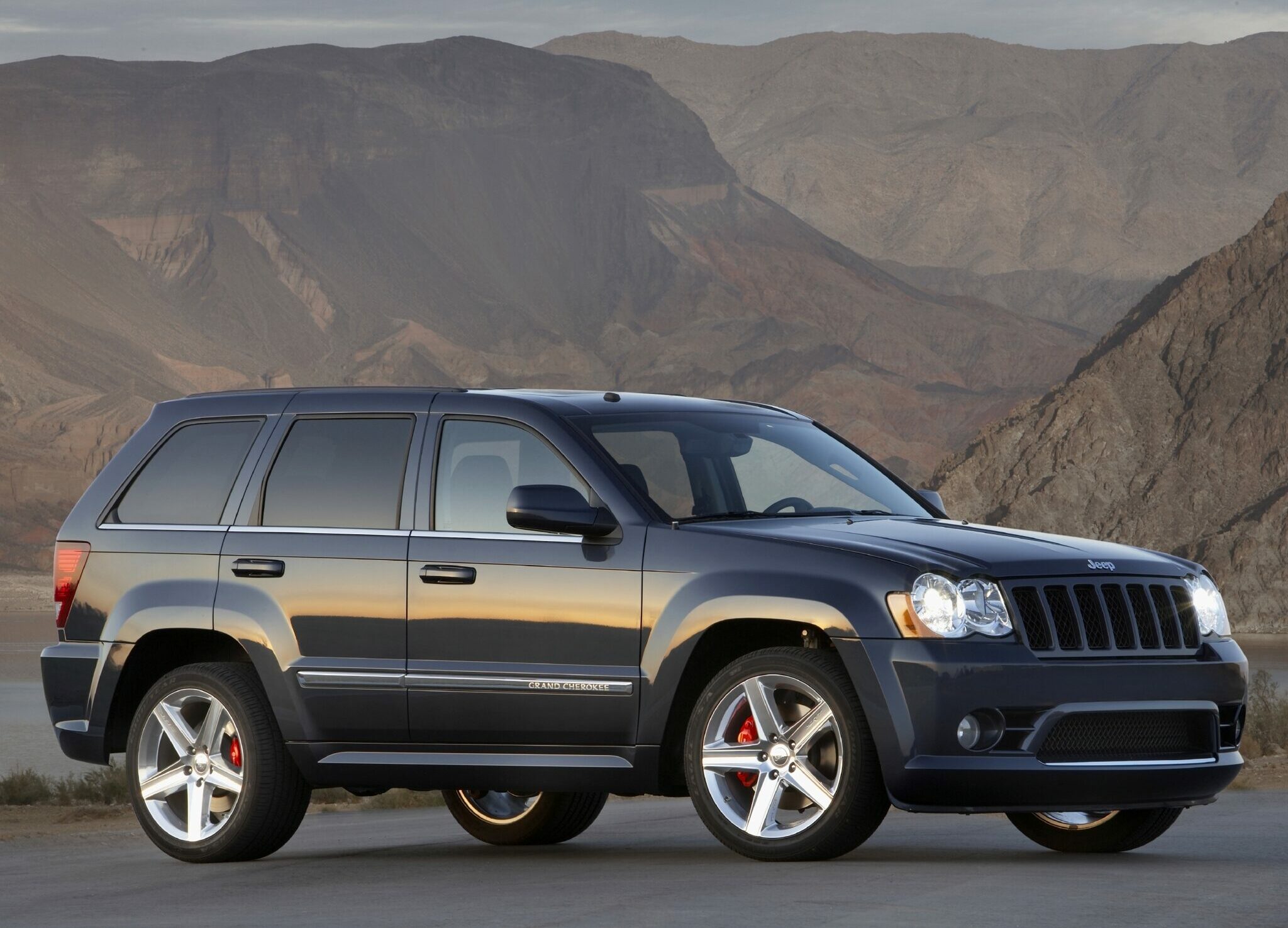 Available Interior Colors
The 2006 Jeep Grand Cherokee interior was available in Quartz, Khaki, and Gray.
2006 Jeep Grand Cherokee Video
We found a great video about the 2006 Jeep Grand Cherokee.