There have been few more difficult times weathered by the automotive industry than the economic crisis of 2008. In fact, all U.S. automakers faced extreme hardship during this period, leading to the near demise of several manufacturing giants. One such company, which nearly buckled under the economic stress of this period, was Chrysler, the parent company of Jeep.
Astonishingly, Chrysler survived, albeit after facing a complete shut down in production during December 2008 at the hands of impending bankruptcy. As such, the Jeep brand persevered, as did the Jeep Grand Cherokee itself. The 2008 Jeep Grand Cherokee stood as a testament to this perseverance and received a warm reception from consumers.
A Diamond In The Rough
Though 2008 proved to be a tumultuous time for U.S. automakers, Chrysler managed to make the most out of the model year by turning out one of the most refined iterations of the Jeep Grand Cherokee to date. Chrysler expanded upon the Grand Cherokee's already lengthy list of available options, allowing consumers to customize their new SUV as they saw fit.
Additionally, the 2008 Grand Cherokee played host to a number of new technological advances, many of which were model exclusive. The WK Grand Cherokee also proved to be a trend-setter of sorts, as much of this technology would later find its way into other luxury vehicles of various makes.
The Lap Of Luxury
The 2008 Jeep Grand Cherokee was offered with a total of five available powerplants. The first of these engines was a 3.7 liter V6, which produced 215 horsepower, and 235 lb-ft of torque. While this engine came standard in the Grand Cherokee, many consumers felt that the 3.7 liter V6 left the WK somewhat underpowered.
Also available were two individual V8 powerplants, which included an all-new 4.7 liter V8, and a larger 5.7 liter Hemi V8. The former of these two engines produced 305 horsepower, along with 334 lb-ft of torque, while the latter churned out 325 horsepower, and 369 lb-ft of torque.
Two specialty engines were also available to consumers. A Mercedes-issue 3.0 liter V6 diesel could be selected for purchase, no matter one's choice in trim. This engine produced 215 horsepower, and 376 lb-ft of torque, while still proving quite fuel-efficient. Additionally, a fire-breathing 6.1 liter V8 Hemi served as standard fare for all SRT8-edition Grand Cherokees. This beastly powerplant dished out 420 horsepower, as well as 420 lb-ft of torque.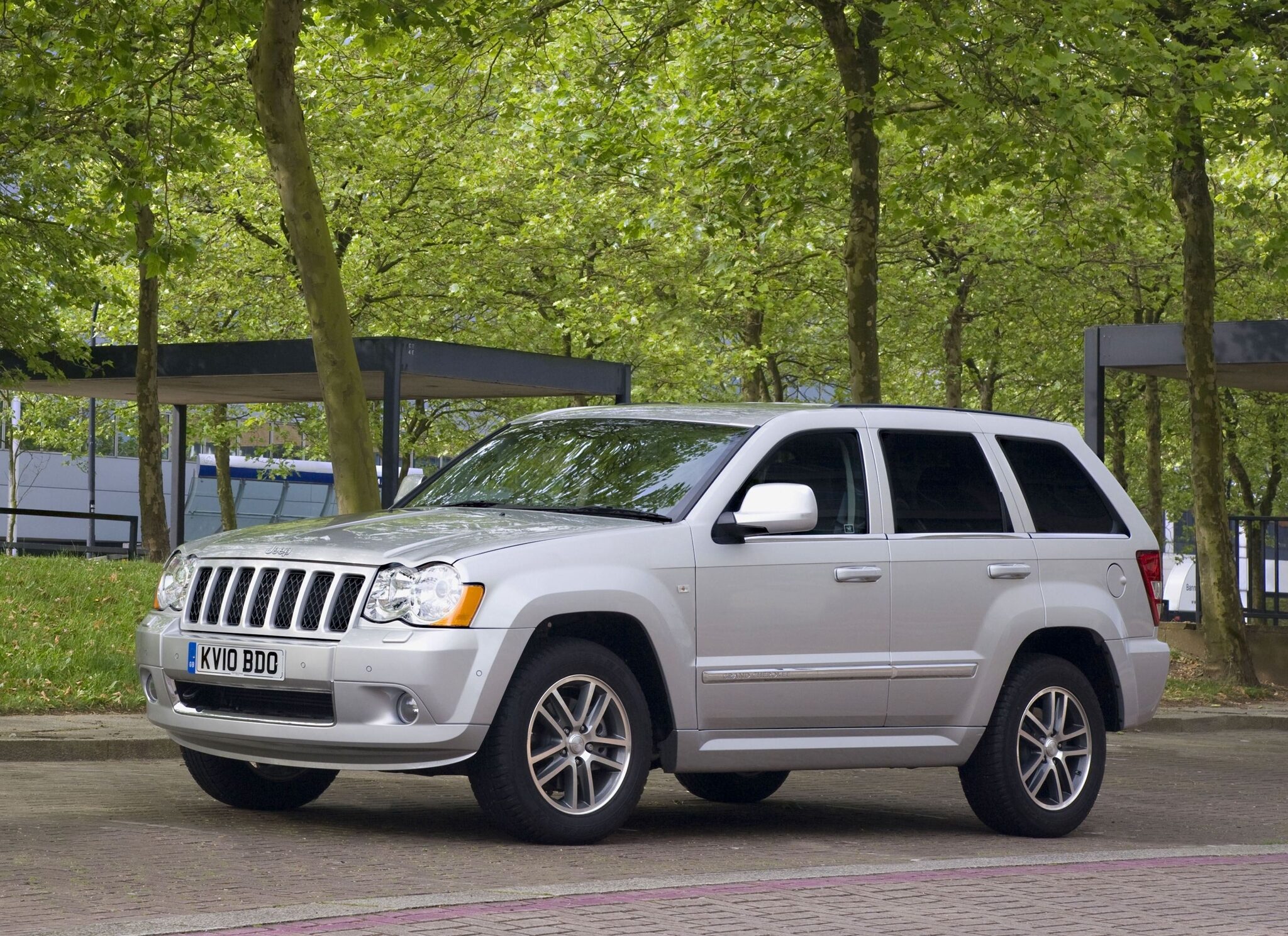 Also of note, was the 2008 Jeep Grand Cherokee's use of rack and pinion power steering, in place of earlier gearbox-style power steering. Additionally, consumers could select from their choice of three individual 4WD systems (Quadra-Trac I, Quadra-Trac II, and Quadra-Drive II). Also signature of the third-generation, WK, was independent front suspension.
New for 2008, were several innovative safety features, aimed at avoiding collisions. The first of these features was Hill Descent Control (HDC), which automatically asserted brake pressure when traversing downhill grades. The second such feature was Hill Start Assist (HSA), which prevented back-roll when taking off on-grade, from a standstill. Also featured was Trailer Sway Control, so named for its ability to enhance towing stability.
Inside, the 2008 Jeep Grand Cherokee received a revised interior, complete with a host of luxurious amenities. One of the most noteworthy of these additions included Sirius Backseat TV, which allowed rear-seated occupants to watch their choice of satellite-broadcast television shows. Other notable upgrades included a MyGIG Multimedia Infotainment System and ParkView rear-facing camera.
Multi-Layered Appeal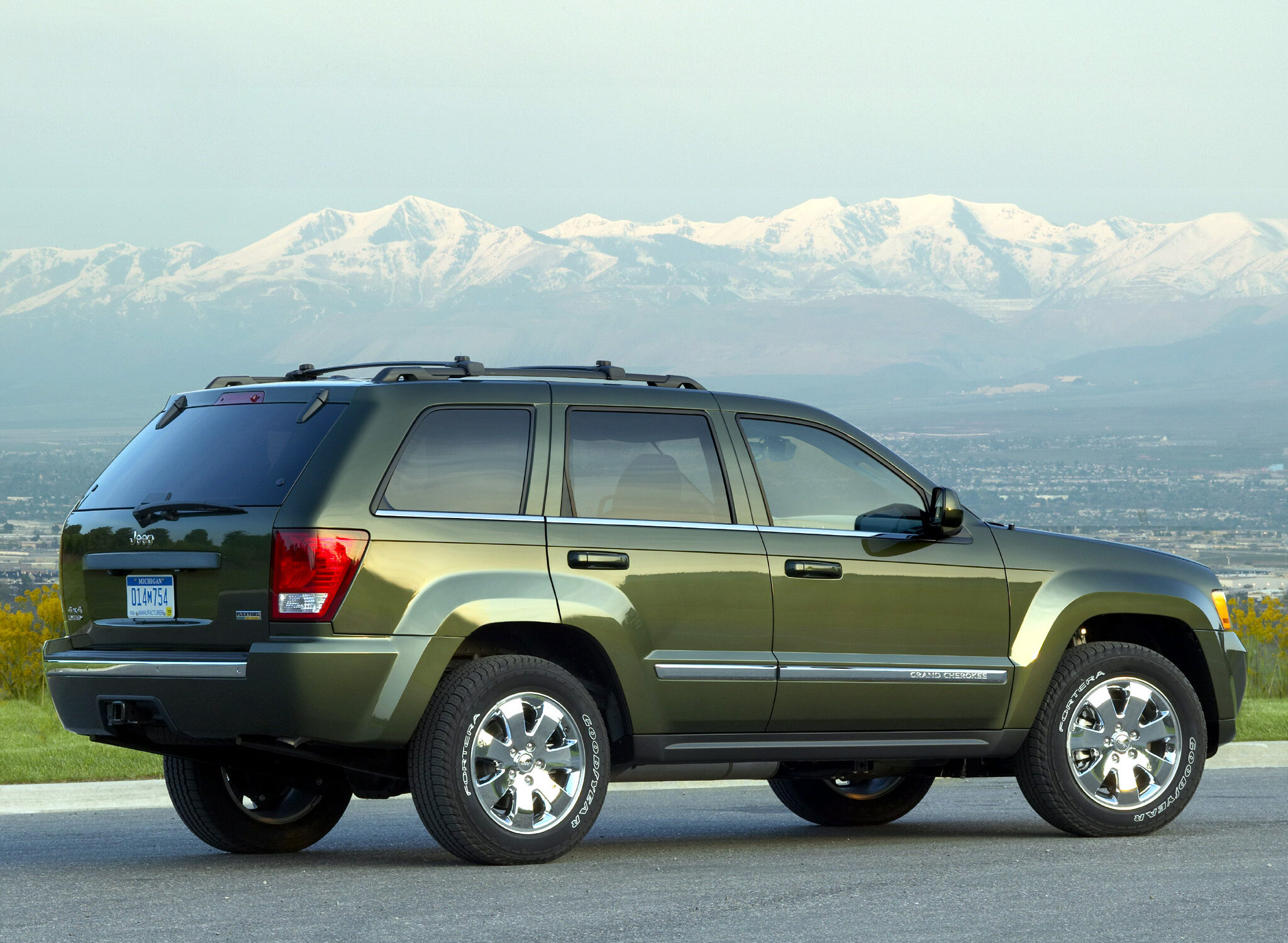 After more than a decade and a half of production, the Jeep Grand Cherokee had matured into a unique, yet highly refined SUV, capable of appealing to an extremely broad consumer base.
While only 73,678 Grand Cherokees were sold in total during the 2008 model year, the popularity surrounding Jeep's luxury SUV continued to grow. Though threatened by the tumultuous events surrounding the decade's financial crisis, the Grand Cherokee persevered largely unscathed.
2008 Jeep Grand Cherokee Specifications
Engine
3.7L V6

4.7L V8

5.7L V8

6.1L V8

3.0L V6 Diesel

Horsepower
215/305/325/420/215 horsepower
Torque
235/334/369/420/376 lb-ft torque
0-60 MPH
4.7 sec SRT8
Quarter Mile Time
14.5 sec SRT8
Weight
4,149- 4,780 Lbs
Price
$29,420/$31,390 Laredo/4WD

$36,715/$39,305 Limited/4WD

$39,855/$43,290 Overland/4WD

$41,575 SRT8 4WD

Production Numbers
73,678
Available Exterior Colors
The 2008 Jeep Grand Cherokee was available, Deep Blue Pearl, Jeep Green, Black, Stone White, Bright Silver, Olive Green, Light Graystone Pearl, Mineral Gray, Red Rock Crystal, Brilliant Black, and Jasper Blue.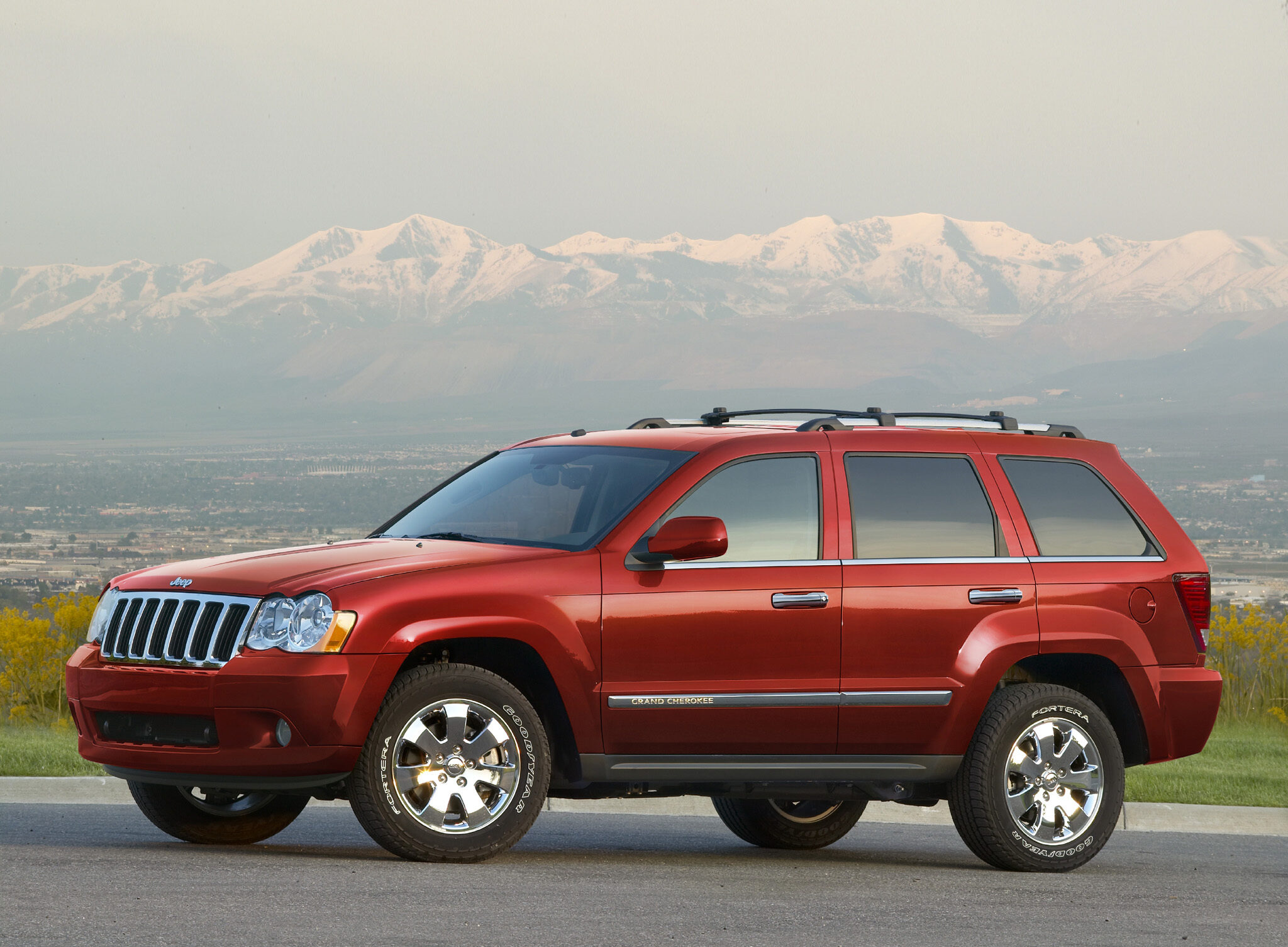 Available Interior Colors
The 2008 Jeep Grand Cherokee interior was available in Slate/Graystone, Dark Slate Gray, and Khaki.
2008 Jeep Grand Cherokee Video
We found a great video about the 2008 Jeep Grand Cherokee.