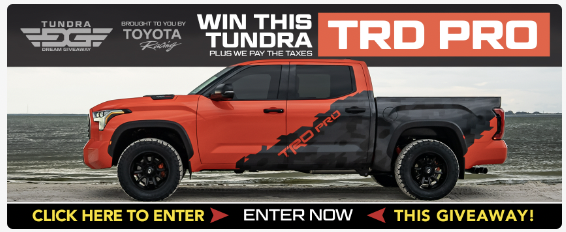 Welcome to the JeepSpecs.com in-depth page on the WK Generation Jeep Grand Cherokee ParkView factory rear back-up cameras. Did we miss anything? Please get in touch with us and tell us about it!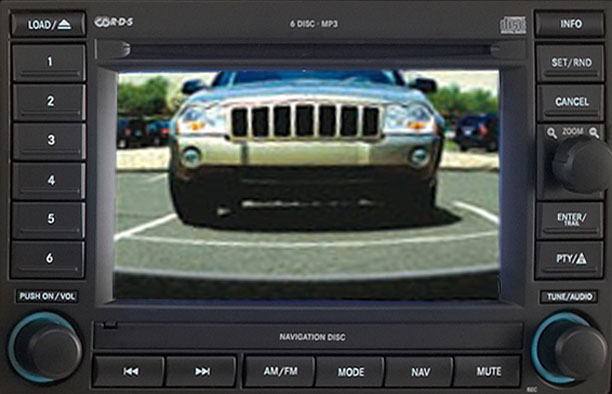 Knowing what's behind you as you travel in reverse helps eliminate surprises and increases safety – that's what ParkView® Rear Park Assist Camera is all about. This factory available rearview camera features a center-instrument panel-mounted 5.8-inch diagonal screen that shows a real-time view of what's behind your Grand Cherokee. ParkView works in conjunction with the model "REC" GPS Navigation radio and debuted in 2007 models of the Grand Cherokee. The camera is standard on Overland models and an available optional on all others. ParkView also works with the available ParkSense® Rear Park Assist audio alert system.
1. Adding the factory ParkView camera to 2005-2006 model Grand Cherokees
Note: This project has been put on hold, so far no one has been able to get the camera to work properly. The installation requires dealer programming (to enable the camera) and at this time Jeep has not made this function available via the dealer scan tool.
2. Adding the factory ParkView camera to 2007 model Grand Cherokees
Requires the parts listed in the chart below, as well as running custom wiring (3 wires) from rear camera to REC navigation radio and 1 wire from the rear camera to the Integrated Power Module (located under hood). A wiring harness for this portion is not available from Mopar/Jeep but the 3-pin connector end for the radio side input is. Dealer programming is required to activate the rear camera function. At this time we do not have any documented installations for 2007 models. When we do, more detailed installation information will be added.
ParkView camera parts for 2007 Grand Cherokee

Description
Part #
MSRP
1. Rear camera unit
5026338AB
$ 275.00
2. Rear camera mounting bracket
68011584AA
$ 28.45
3. Screw (x1), hex head, camera bracket to brow
6104626AA
$ 2.25
3b. Screws (x3), camera to camera bracket(4mm or 4.2mm 1/2 inch self-tapping fender screws)
(not available from Mopar)
– – – –
4. Liftgate trim brow assembly (optional)NOTE: This part is not needed if you want to cut your original factory liftgate brow to allow fitment of the camera mounting assembly. If the existing brow is used, the camera wiring harness (#5 below) will be required.

NOTE: Includes item #5 wiring harness, does not include backup lamp lenses.

1FN57WSBAA (Bright Silver) ($399.00)
1FN57DX8AA (Black) ($434.00)
1FN57EGJAA (Jeep Green) ($399.00)
1FN57EDAAA (Lt. Graystone) ($424.00)
1FN57DBMAA (Mineral Gray) ($434.00)
68003271AA (Satin) ($492.00)
1FN57EEMAA (Red Rock) ($399.00)
1FN57CDMAA (Steel Blue) ($399.00)
1FN57SW1AA (White) ($449.00)
$399.00-$492.00
5. Wiring, license plate lamp/camera harnessNOTE: Included with item #4 above. The harness is not included on vehicles that come from the factory without the rear camera option.
68020994AA
$ 38.35
6. Wiring connector, radio C3 camera inputNOTE: Includes wiring (12-inches long) attached to connector.
05161929AA
$ 25.75
7. Wiring, 3-way 16 gauge x 25-foot lengthNOTE: Routes from radio connector C3 to camera harness inside of rear liftgate
(not available from Mopar)
– – – –
7. Wiring, 12-foot length x 1
(not available from Mopar)
– – – –
8. Navigation Radio model "REC"NOTE: A 2007 model REC navigation radio is required for the factory rear camera. 2007 models added a new 3-pin rear jack for the camera signal. Radios started with a part number suffix ending in "AA" and have since superseded to "AF". Any of these models should work, but the later the part number the newer the radio.
P/N 5064184AA
through
P/N 5064184AF
$ 2335.00
NOTE: Prices listed are for reference purposes only and may vary by dealer. Prices are current as of October 2013. Parts are not available from this web site but can be ordered from JustForJeeps.com (see link below).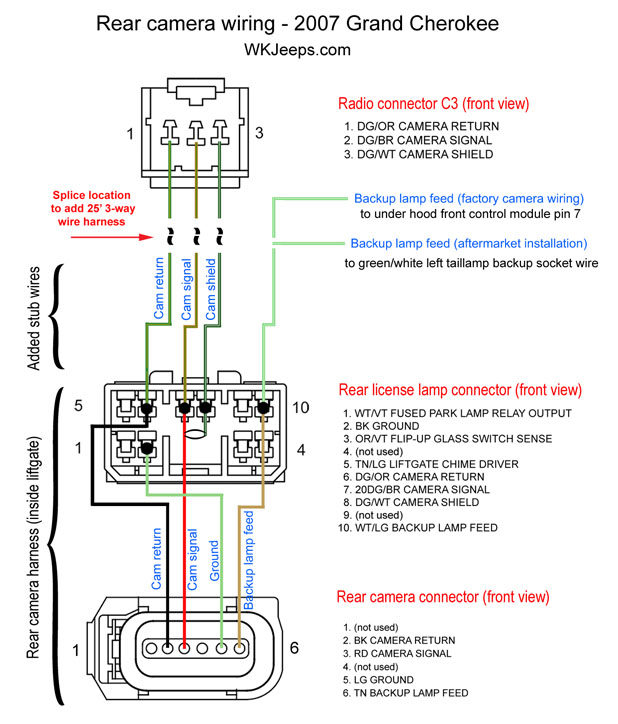 2007 rear camera wiring pinouts
                  2005-2006 models (no camera jack)                                  2007 models (with camera jack)
3. Adding the factory ParkView camera to 2008-2010 model Grand Cherokees (requires MyGIG radio)
Production wide angle lens video camera kit. Integrates with production models of the MyGIG RER and REN radios. Includes wide-angle weather-proof camera, wiring harness from camera to radio, installation hardware and instructions. For 2008-2010 models of the Grand Cherokee (Mopar p/n 82211346) and 2008-2009 models of the Commander (Mopar p/n 82211293). MSRP: $184.00.
(Note: Requires dealer programming after installation).
Mopar camera kits 82211346 (Grand Cherokee) and 82211293 (Commander) – installation instructions (PDF)
2008-2010 MyGIG back-up camera kit parts