Welcome to the JeepSpecs.com in-depth Table on the WK Generation Jeep Grand Cherokee. Did we miss anything? Please get in touch with us and tell us about it!
2008 Grand Cheorkee SRT8
Inferno Red (2006, 2009-2010              Black Clear Coat (2006-2008)                  Silver Metallic(2006-2010)
   Steel Blue (2007-2008)                       Red Rock Crystal (2007-2009)                     Modern Blue (2008-2010)
Production launch: November 2005
On sale: January, 2006 (July 2006 for U.K. models)
Base MSRP at launch: $39,995.00 (including destination)
420 HP, 420 lb.-ft. torque
0-60 mph in under 5 seconds (wet or dry)
Quicker than Porsche Cayenne Turbo, BMW X5
Top speed: 155+ MPH Quarter mile: Low to mid-13's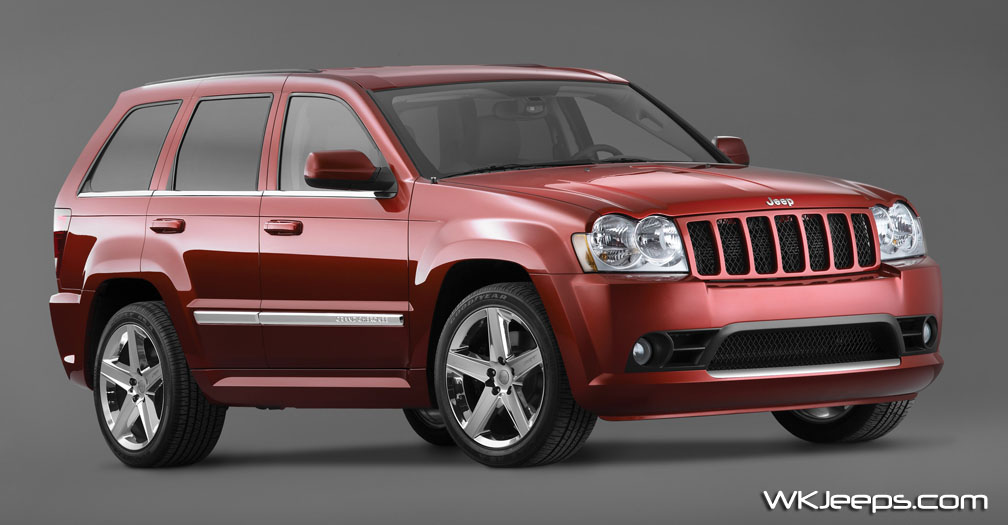 Grand Cherokee SRT8 world debut (TV)
The world premiere of the Grand Cherokee SRT8 occured on Friday March 18th, live on the Regis and Kelly Show in New York. The segment featured the Grand Cherokee SRT8 for about 30 seconds and continued with several other reveals including the Mercedes-Benz ML500, Subaru Tribeca B9 and the Honda Ridgeline. The SRT8 Grand Cherokee will be officially introduced to the press and public starting Thursday March 24th at the NY Auto Show.
The SRT8 Grand Cherokee will begin production on November 5, 2005. Listed below, for the first time anywhere, is our exclusive list of features and options that we have confirmed for the 2006 Grand Cherokee SRT8.
SRT8 world debut video reveal  (MPEG file 3.44MB)